I'd never even heard of jackfruit until I moved to Los Angeles.  Apparently it's a pretty popular vegan replacement for meat in dishes that would otherwise use shredded chicken or pulled pork.  Something about the stringy consistency.
What the heck is jackfruit anyway?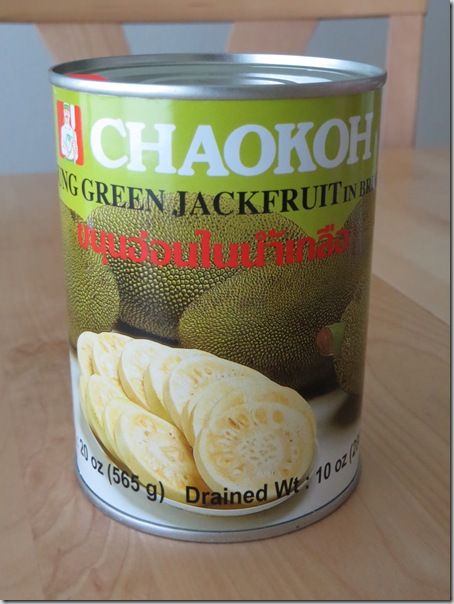 It's a fruit, native to Southeast Asia, with starchy fibrous flesh.  The flavor (of the ripe fruit) is said to be comparable to a combination of apple, pineapple and banana – naturally sweet with subtle flavoring.
"It can be used to make a variety of dishes, including custards, cakes, halo-halo…

The seeds from ripe fruits are edible, are said to have a milky, sweet taste, and may be boiled, baked or roasted. When roasted the flavor of the seeds is comparable to chestnuts…"
But this canned stuff isn't the same at all.  What you need for making jackfruit "meat" is unripe young jackfruit.
"It is especially sought after by vegetarians who substitute this for meat…

The skin of unripe jackfruit must be peeled first, then the remaining whole jackfruit can be chopped into edible portions and cooked before serving. Young jackfruit has a mild flavor and distinctive meat-like texture and is compared to poultry. Meatless sandwiches have been suggested and are popular with both vegetarian and nonvegetarian populations."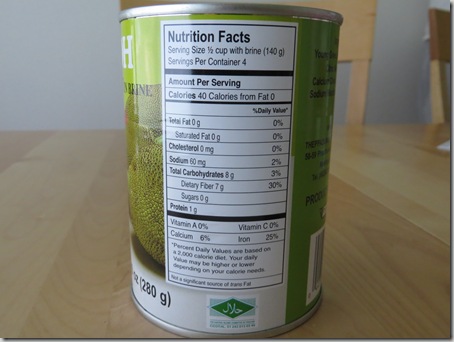 I've looked for canned young jackfruit in conventional grocery stores, but never found it.  You have to go to international markets that have more specialty/traditional items.
It's kinda ironic that I never did this in LA, where Asian and Latino markets are plentiful.  What can I say?  I was a lazy typical Santa Monican who didn't want to deal with the traffic and hassle of leaving the West Side.
Here in Davis, there's an Asian market right in the middle of downtown (Kim's Asian Market).  I walked past it while doing errands and decided to pop in and see what they had.  And what do you know!?  Jackfruit!  [Along with 935 other things I can't wait to try]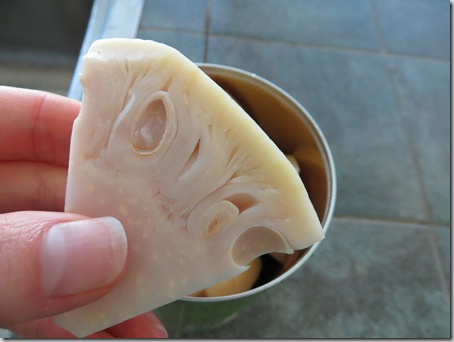 How weird does this stuff look?
It's kinda like a pineapple in that it has a core that's different in texture/consistency than the outside portion.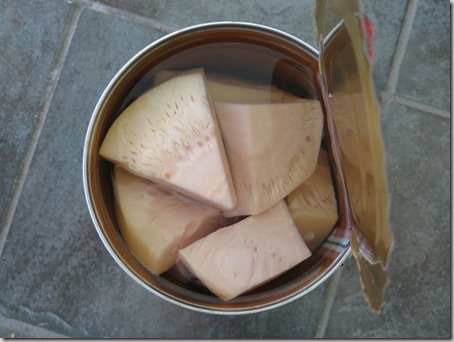 It comes soaking in a salty brine.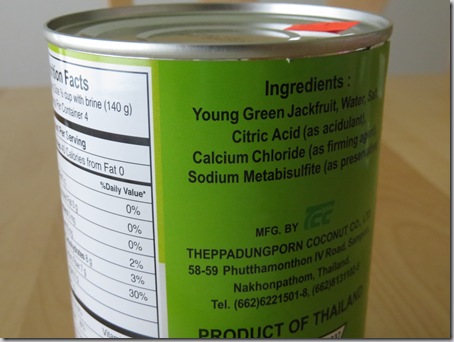 Brainstorming time.  What to make, what to make…
How about vegan pulled pork?  I know that's what is often made with jackfruit.
What's odd about my decision to try to make this dish now is that (a) I've never had real pulled pork in my life and (b) I'm no longer vegan.
Timing isn't everything (and I still love vegan food).  Also, I had just gotten this Stubb's BBQ sauce.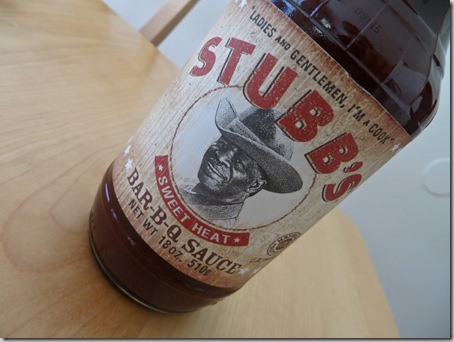 Kyle is obsessedddddddd with Stubb's.  Like, totally over the moon in love with their BBQ sauce.
And after trying it, I totally know why.
Sweet Heat is the perfect name for this flavor.  It's just that.  Slightly sweet with a touch of heat.  I can't wait to try it with tofu, tempeh and roasted chickpeas.  I know they will all be amazingly flavorful.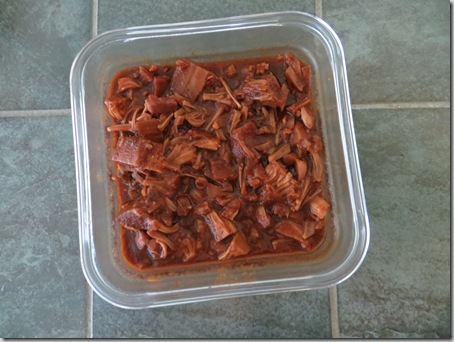 Crock-pot BBQ jackfruit [vegan, gluten free]
Ingredients:
1 (20 oz) can young jackfruit
3/4 cup BBQ sauce
1/2 cup water
Directions:
Drain and rinse the jackfruit from the can a few times to remove the salty flavor.
Add it into the slow cooker along with the BBQ sauce and water so that the jackfruit it submerged in BBQ sauce-y goodness.
Cook for 6 hours on low.
Use a fork and pull the strands apart from the core of the fruit so it creates a shredded consistency.
Serve atop toasted buns.  Avocado recommended.
I made it a day in advance so it had all night in the fridge to absorb extra flavor.  It was definitely tasty but to be honest, jackfruit is pretty meh in my book.  It doesn't have any flavor so the entire dish relies on the BBQ sauce.  Pick a good one!  I'm at a loss in attempting to describe it, because there's not much to describe.  The texture was similar to really soft heart of palm.  And it may as well have been heart of palm!  All I tasted was Stubb's delicious BBQ sauce smothered on stuff.  Not bad I guess.  But not meat like that's for sure.  And not anything I'd go out of my way to find in the future.  Maybe I had too high of hopes though.  Maybe I could fry it on the stove top with spices and make jackfruit tacos and it would be more exciting.  Anyone else a fan of jackfruit?
Update!  Kyle basically had the opposite reaction as I did to this dish so I felt compelled to edit my review…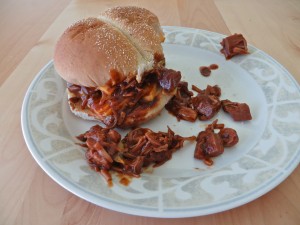 As you can see, he wasn't joking around in his sandwich construction.  He thought it had excellent flavor and texture and was pretty impressed that the "meat" was made from a canned fruit.  But then again, he's the Stubbs lover, so his taste buds may be biased.
To each his own…give it a shot?!