Prepare to be insanely jealous because this next birthday post comes from my middle sister Laura.  You know, the one who has been traveling the world for nearly 8 months now.
I got to spend time with her on the Euro leg of her fun (in Paris and parts of Spain), but since then she's been to dozens of other countries spanning multiple continents. 
Now you guys can live vicariously through her like I have been…cheers!
A guest blog for the birthday girl!  Happy Birthday Sister!!!
Though I have always been open to all types of cuisine, I used to think (and admittedly very rarely still do) that in order to have a complete meal, some form of meat should be involved.  Particularly chicken, fish, or the occasional delicious steak.  On the other hand, I have been a legume lover my whole life and would happily replace my daily protein with beans, lentils, etc.  Over the past several years of Elise's exploration into different diets, I have been introduced to a whole new world of vegan cuisine.  We have gone to countless vegan and raw food restaurants and what I have learned is that while I cannot bring myself to cut meat out of my diet entirely, I often prefer a solely veggie or vegan meal – and not only cook it for myself but constantly seek out new restaurants to try.
I have been traveling around the world for the past 7-ish months (shameless plug: laurasplanet.com) and find that some of the best meals I have had were at green/veggie restaurants.  Often my friends and I will find one of these restaurants and literally eat breakfast, lunch, and dinner there multiple days in a row.  Not just because we want the wait staff to think were crazy, but mostly because there are too many things on the menu we want to try – and if you're only going to be in a place for 2 or 3 days, there's not much time to explore other restaurants at the risk of regretting not going to the place you KNOW had delicious food, right?  So, without further ado…here is my top 10 cities for healthy, green, AND delicious cuisine, in no particular order.
[Disclaimer: as previously mentioned, some of these locations are based on only 1 or 2 restaurants, but were so good, they make the list anyway]
1. Cusco, Peru
The first time I went to Cusco was last April for the Machu Picchu trek and I absolutely fell in love with the city.  It is rich with culture, both Incan and Spanish, and due to frequent rainfall boasts some of the most beautiful lush gardens and courtyards surrounded by green mountains, Inca sites, and Spanish cathedrals.  On top of all of that, the food is absolutely incredible.  Most dishes are prepared with an abundance of veggies and quinoa. Quinoa actually originated in Peru, making it available in almost every dish…the soup is best.  At first I thought the food was so good because I was coming off a week-long meat binge in Argentina, but somehow I found myself back to Cusco again 7 months later and it was just as delicious as I remember.  Best restaurant: El Encuentro, Calle Tigre.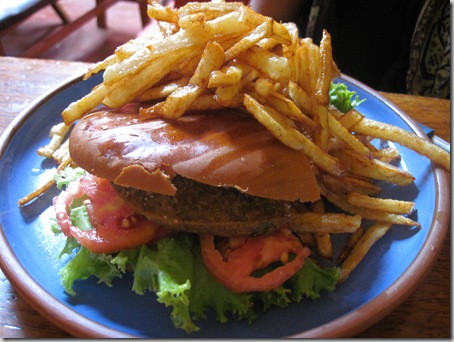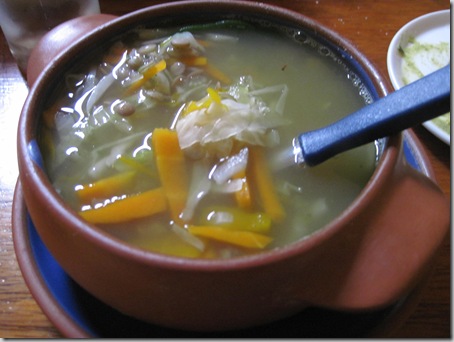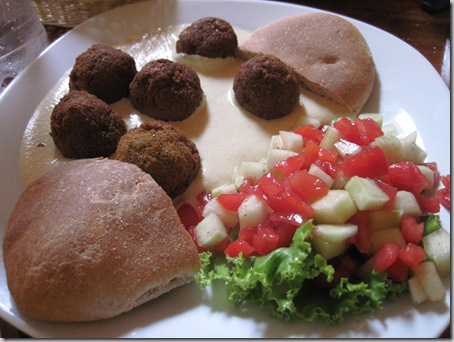 2. Granada, Nicaragua
I was only in Granada for a day, and one of my first impressions was the street markets, which was not a great one….hanging chickens and various other meats on display left for a terrible sight and even worst stench.  After making it through (breathing through my sleeve) we emerged into a gorgeous courtyard – a complete contrast to the Thailand-esque markets we had walked through.  Much to my delight, Granada turned out to be a really lovely little town!  Per the Lonely Planets suggestion, we went to The Garden Cafe.  It is owned by a California and Nicaraguan couple, so there was plenty of that California comfort food that I had been missing so much.  i.e. avocado and bottomless ice teas.  It was just what the doctor backpacker ordered.  In addition to this cafe, there are plenty of other note-worthy restaurants on the main street, of which we tried 3…looking back I'm not sure how we managed to go to so many places to eat in just ONE day…hmm.
3. Pucon, Chile
Though Pucon, the adventure capital of Chile, is known for its massive everything-but-the-kitchen-sink hamburgers, it also had some great organic/vegan restaurants if you're looking for a break from all the red meat.  One hostel/cafe in particular, Ecolé, had the best lentil soup I think I have ever tasted.  Definitely worth the trip down…well that and the volcano hike that Pucon is actually known for.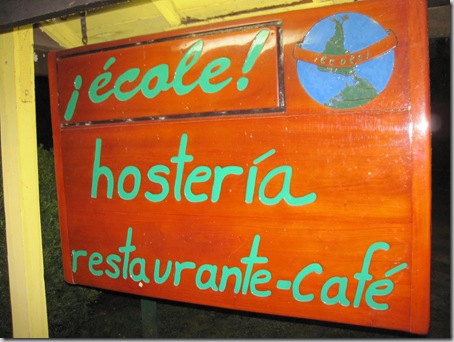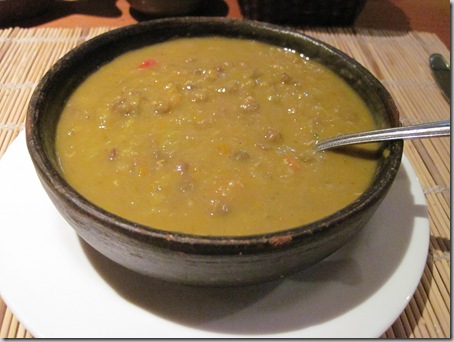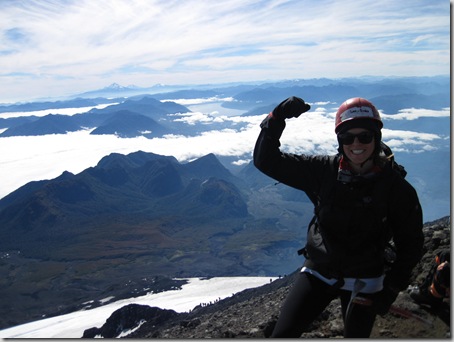 4. Cappadocia, Turkey
When one thinks of vegetarian cuisine, I doubt that Turkey is the first place that comes to mind.  And to be honest, its not…there is plenty of meat to go around here.  Cappadocia really makes the list for its green/sustainability efforts, because the entire region is run on solar energy.  Where is Cappadocia?  It's a 40,000 square mile area pretty much smack in the middle of Turkey…and its ALL solar-powered.  Thats impressive.  The food isn't too bad either.  I got a tofu clay-pot stew not to mention the AMAZEBALLS fresh-squeezed pomegranate juices on every corner.  Cant beat that!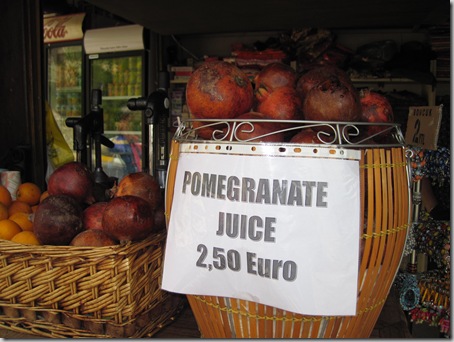 5. León, Nicaragua
I told you this was in no particular order…if I was smart I would have clumped both of the Nicaragua restaurants together…oh well.  León in general doesn't really have THAT much to offer from a tourist perspective.  Though we did do one of my favorite adventures of the trip here – volcano boarding!  What is worth talking about, however, is the Pure Earth Cafe.  This is one of those places I was talking about earlier how we went there for breakfast, lunch, and dinner 2 days in a row.  They would go out every day and get their ingredients fresh from their garden, and instead of saying they were "out" of something, they would just walk out and get some more…it was truly incredible.  Also, it is a nonprofit benefiting the Pure Earth Project for sustainability awareness.  Go Nicaragua!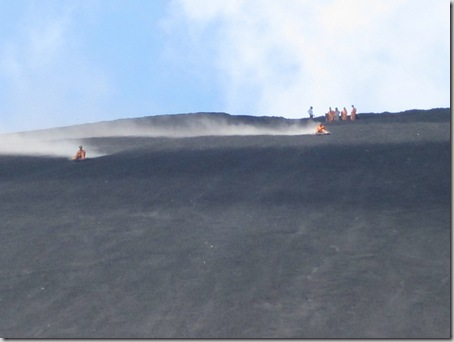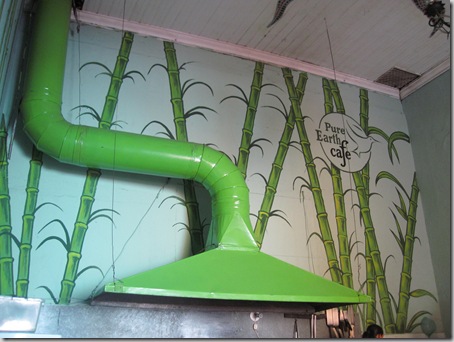 6. Santa Teresa, Costa Rica
Due to my backpacker budget, I was eating a whole lot of rice and beans in Central America, and Costa Rica especially.  On occasion, however, I allowed myself to splurge on a good meal, and when I did…those meals were some of my favorite of the whole trip.  The moral of the story: if you go to Costa Rica and are not on a penny-pinching budget, spent just a couple of Colones more and you wont regret it.  In Santa Teresa, this restaurant was Natura Mia.  Just thinking about the lentil burger and passionfruit sorbet I ordered here is making my mouth water.  It's a bit off the main road and a slight trek up a hill, but oh-my-tastebuds it is worth it!
7. Santa Elena/Monteverde, Costa Rica 
Again, a bit of a splurge in Costa Rica and I found what could be one of my favorite restaurants of. all. time.  Not just this trip.  Trio is in Santa Elena which is in the Monteverde Cloud Forest region.  This means that just about every afternoon (and some mornings) the clouds come in and rain all over the region.  It makes for some of the most beautiful, lush forests, but is not ideal for sight-seeing.  So what did we do until the rain passed?  Eat at Trio.  I'm not exaggerating when I say that we would plan our orders in advance.  Some of the best salads, soups, and a delicious chicken main dish as well…I have to eat meat sometimes :)  The starter that I got for all 3 meals at Trio (appropriate, no?) was a jicama, tomato,and avocado tower…it will change your life.  I would have taken a photo and framed it had I not been so busy eating it…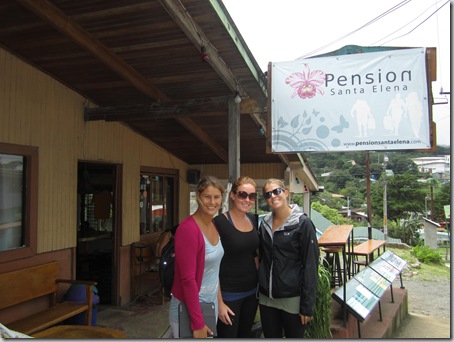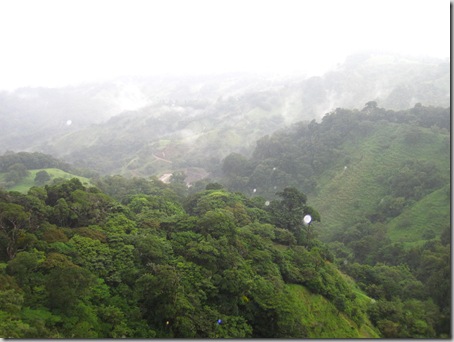 8. Puerto Viejo, Costa Rica
Costa Rica again??  Geez.  La Botanica Organica in Puerto Viejo was so good that it made the list for this one restaurant alone.  All the other food in Puerto Viejo was, well….rice and beans. We stopped in here on a bike ride to the beach.  They were getting ready to close, but stayed open for us.  The owner was SO nice and took the time to recommend different menu options.  They also had soy milk here which is pretty much the ONLY place in Latin America where that was an option for lactards like myself.  The salads, "burgers," and wraps were all completely licked clean from our plates.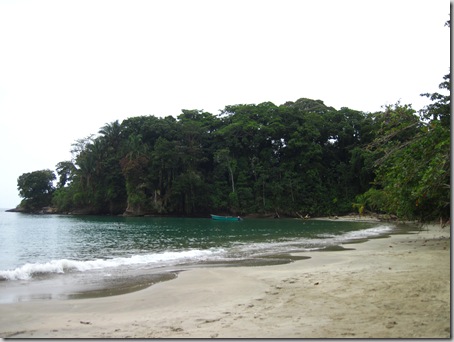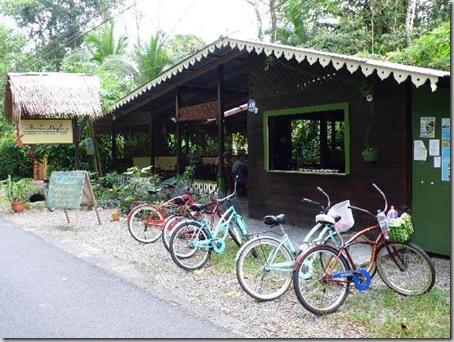 9. Panama City, Panama
Casco Viejo is the charming and rustic old town neighborhood of Panama City.  It boasts wonderful views of the Panama City skyline, a maze of old streets and buildings, and some of the best restaurants that Panama City has to offer.  El Restaurante del Carmen was the first place we tried, and our last meal in town also.  (I told you we like to go back…)  It is owned by a Spanish and Argentine couple which makes for a delicious fusion of cuisines.  Tortilla española, salmorejo with eggplant, and SUCH good salads.  Not to mention incredible Argentinian and Spanish wines.  We may or may not have tasted quite a few of those :)  In addition to that restaurant, there is honestly, no exaggeration, the best ice cream shop ever: Granclement.  They have dozens and dozens of flavors, most of which are dairy-free.  I was so full from my lunch, but still managed to get a double scoop of fresa y maracuya (strawberry and passionfruit)…a delicious combination that had me coming back for more…literally (the next day).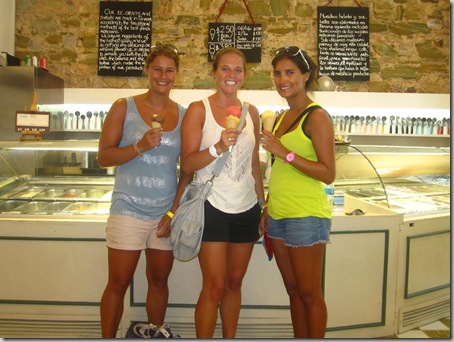 10. Bariloche, Argentina
Okay, this one is not veggie and is actually 100% opposite, but I'm throwing it in for good measure.  The most juicy and delicious steak I have ever had was at El Boliche de Alberto in Bariloche, Argentina.  And that's all I have to say about that.
If you ever make it to one/any of these places you're in for a real treat!  In the meantime, I'm going to keep on traveling and hope to try new cuisines and eat at as many delicious restaurants around the world!
*I'm so happy that you are living your dream Laura.  I hope that someday I will make it to a few of these places on your list!