Ever since I mentioned that I received Jillian Michaels' Body Revolution for Christmas, I have gotten a few questions about how I'm liking it and if I'd recommend it.
In a word, YES!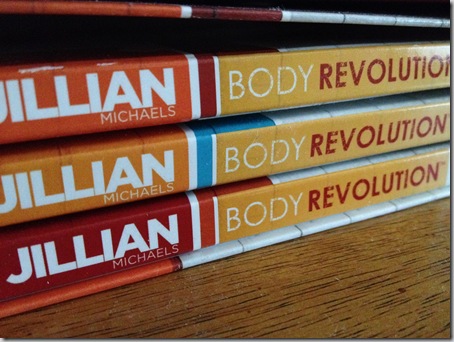 I love it.  I love what she has done to take my fitness to the next level (which wasn't a major step since I was still barely making my way back into the scene after having P).  In all honesty, I'm surprised at how much better this workout program is than her other DVDs, because I looooove her other ones so much and felt like I'd reached the end as far as her difficulty level goes.  Sure, I have been known to "phone it in" a number of times, but I also do the more advanced tweaks and rarely got sore afterwards.  I didn't realize how much I missed that day after burn!
Regular readers know I adore Jillian and own almost all her workout DVDs.  They are the perfect tool for those winter months when you're trapped indoors with a little one. 
As much as I like long runs, I can definitely appreciate the time crunch when it comes to life (with or without kids – we all have crap to get done), so squeezing in a REAL workout session in 30 minutes is a huge deal.
These workouts are the real deal.  They make me sweat.  They make me sore.  They make me strong.  I won't post a photo of my abs because that's obnoxious (I've done it before and since regretted it), so you'll have to trust me when I tell you they are legit.  My arms and core are super strong too.  Stronger than they've ever been I think (and for sure stronger than I thought possible for such limited exercise time).
For those interested in knowing more about the DVDs, there are 3 levels – and each level has 4 strength workouts and 1 cardio workout.
Each strength workout is ~30 minutes while the cardio ones are somewhat shorter (~25 minutes).  You need weights, a resistance cable, and a mat for the strength training sessions (and enough room to put a mat on the floor).
There's a program telling you when to do what but I don't follow it (there's also an eating plan which I don't follow).  I basically do 4 strength training workouts each week + 1 cardio workout + 1 run outside (weather permitting).  Sometimes I mix it up and throw in a yoga session or if the weather is especially nice I'll do more outside walks/runs, but for the most part I've been doing her Body Revolution exclusively since December and I haven't even gotten to the 3rd level yet.  Truthfully, I'm scared about what's coming.
There are descriptions of the workouts, including the focus muscle groups, so you can target different areas and not burn out one part of the body by doing the same muscles in back to back workouts.  I especially like this because then when my biceps are super sore I can do a workout that focuses on the back of the legs.  And then the next day when I can't squat because I'm in agony, I can go back to pushing my arms to the limit.  I've never been one to pay attention to this kind of thing, but it's cool to get a full body workout without doing the planning yourself.  Basically Jillian is your personal (bad ass) trainer and she's letting you decide how much you want to kill yourself.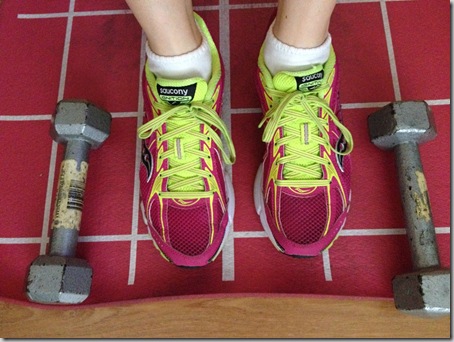 And I'm a glutton for punishment.  🙂