I've been following Danielle's blog for a while and she frequently alludes to recipes in her various cookbooks that sound delicious.  Her blog is very allergy conscious, which is one of the many reasons I started following it (back when P was diagnosed with multiple allergies).  She also comes from an SCD background (similar to FODMAPs) and so that was another key thing that intrigued me (because so few people are knowledgeable in both cooking/recipe writing AND IBS dietary treatment protocol).  So I decided to check out her cookbook from the library to see if it might be worth the purchase.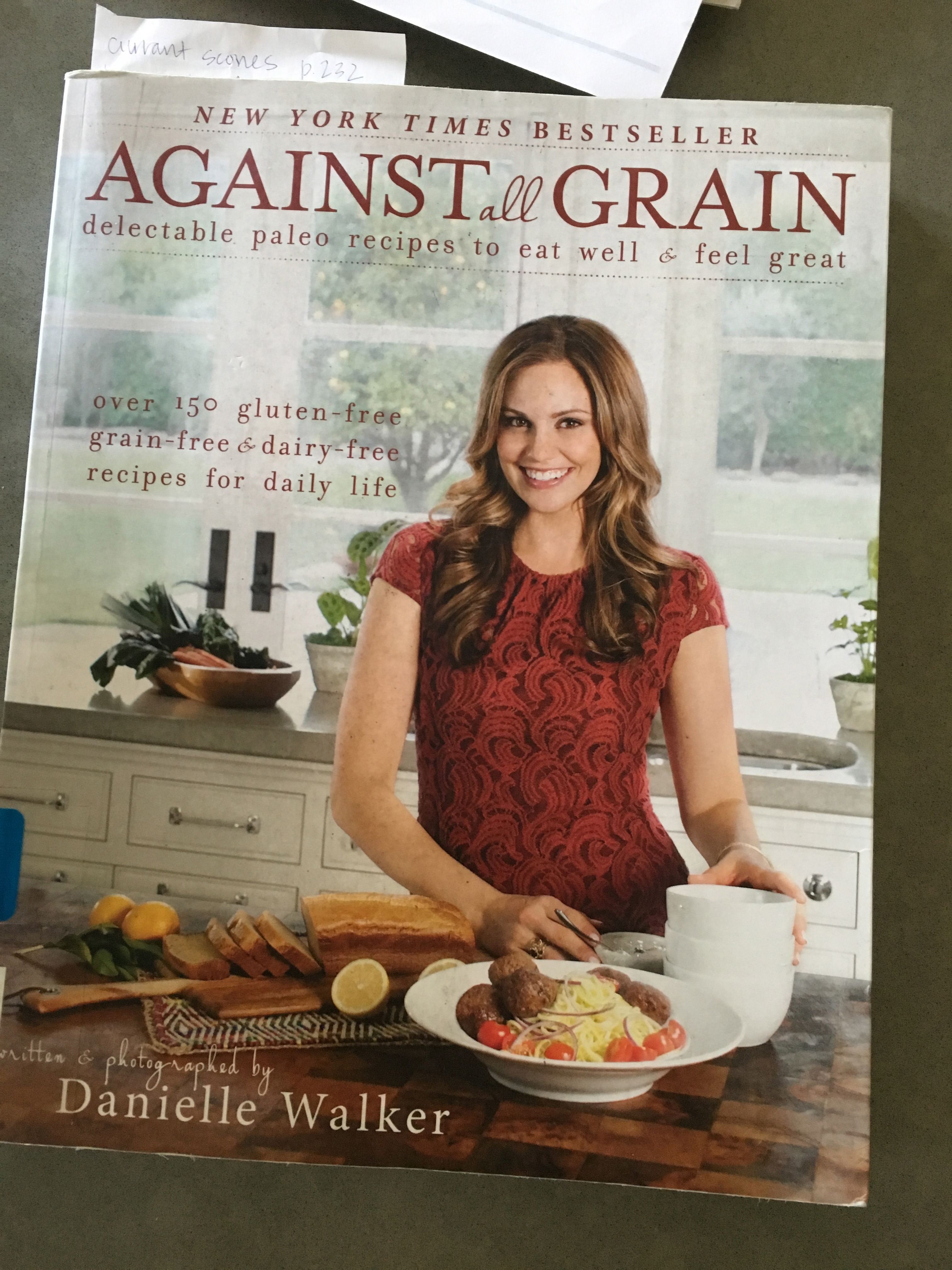 And in the few weeks I had it, I managed to make a BUNCH of recipes…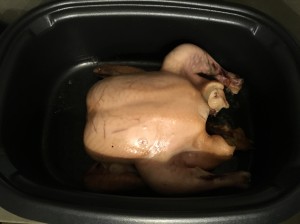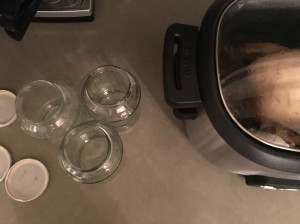 Thanks to the WF #onedaysale a couple weeks ago, I got to test out the recipe for home-made stock.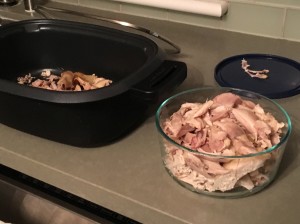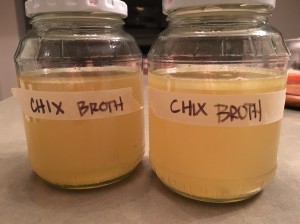 Then I shredded a bunch of meat to have on hand for other recipes that week.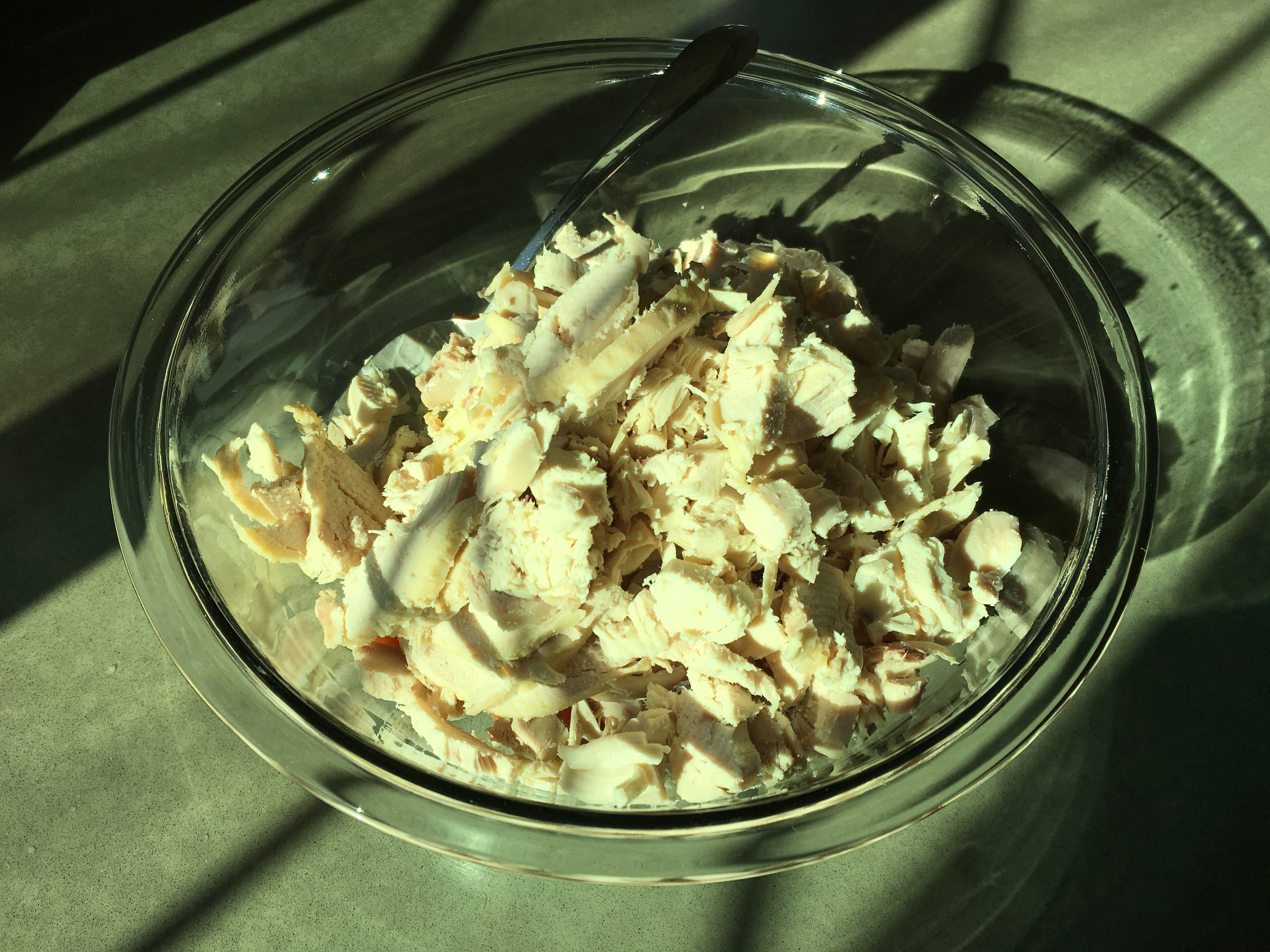 First I made the Mexican chicken chowder (p 92) which was kind of like tortilla soup but with sweet potato and spinach.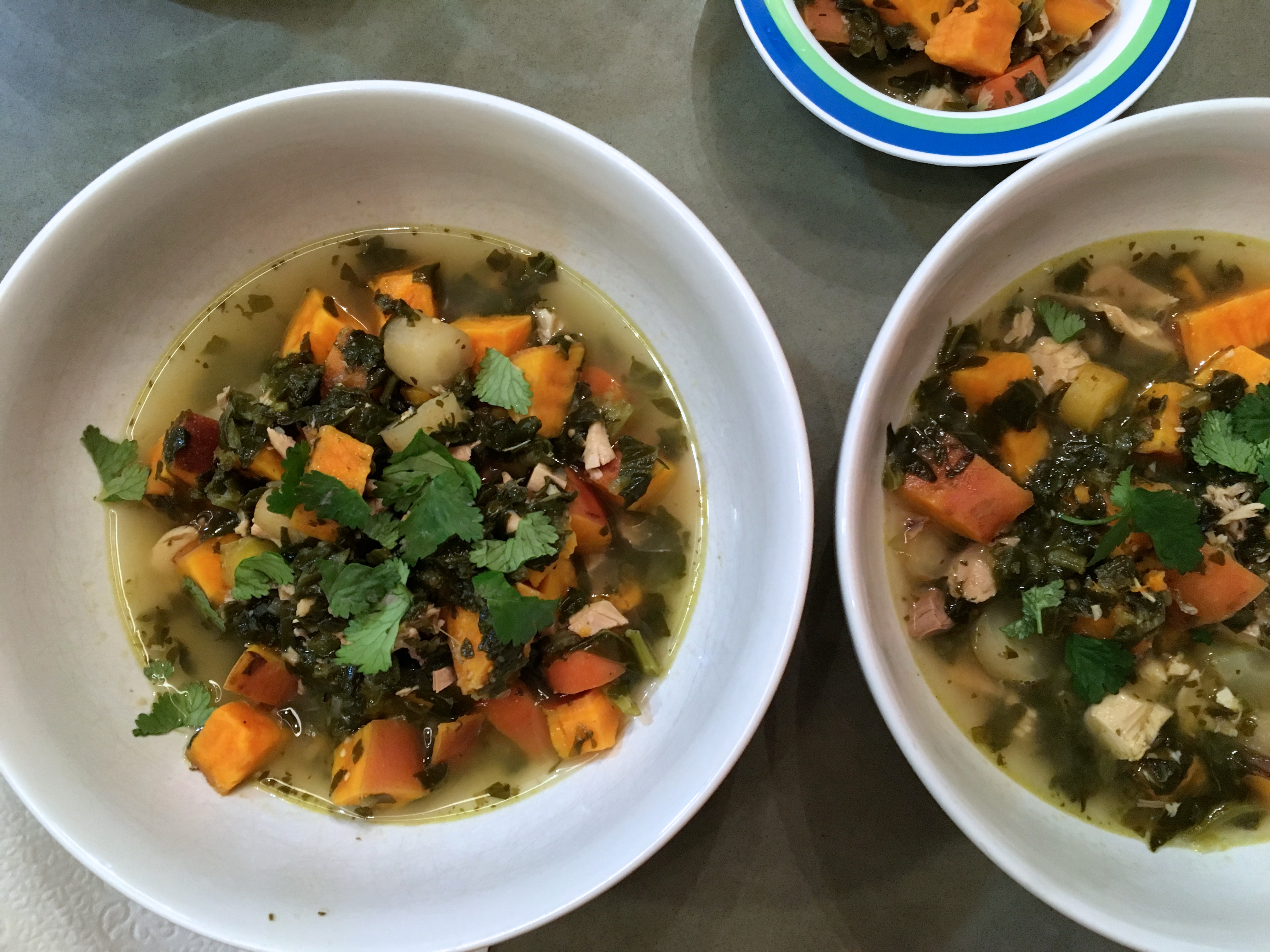 Since we are not a grain free family (at all) we enjoyed ours with tortilla chips on top and on the side and all around.  🙂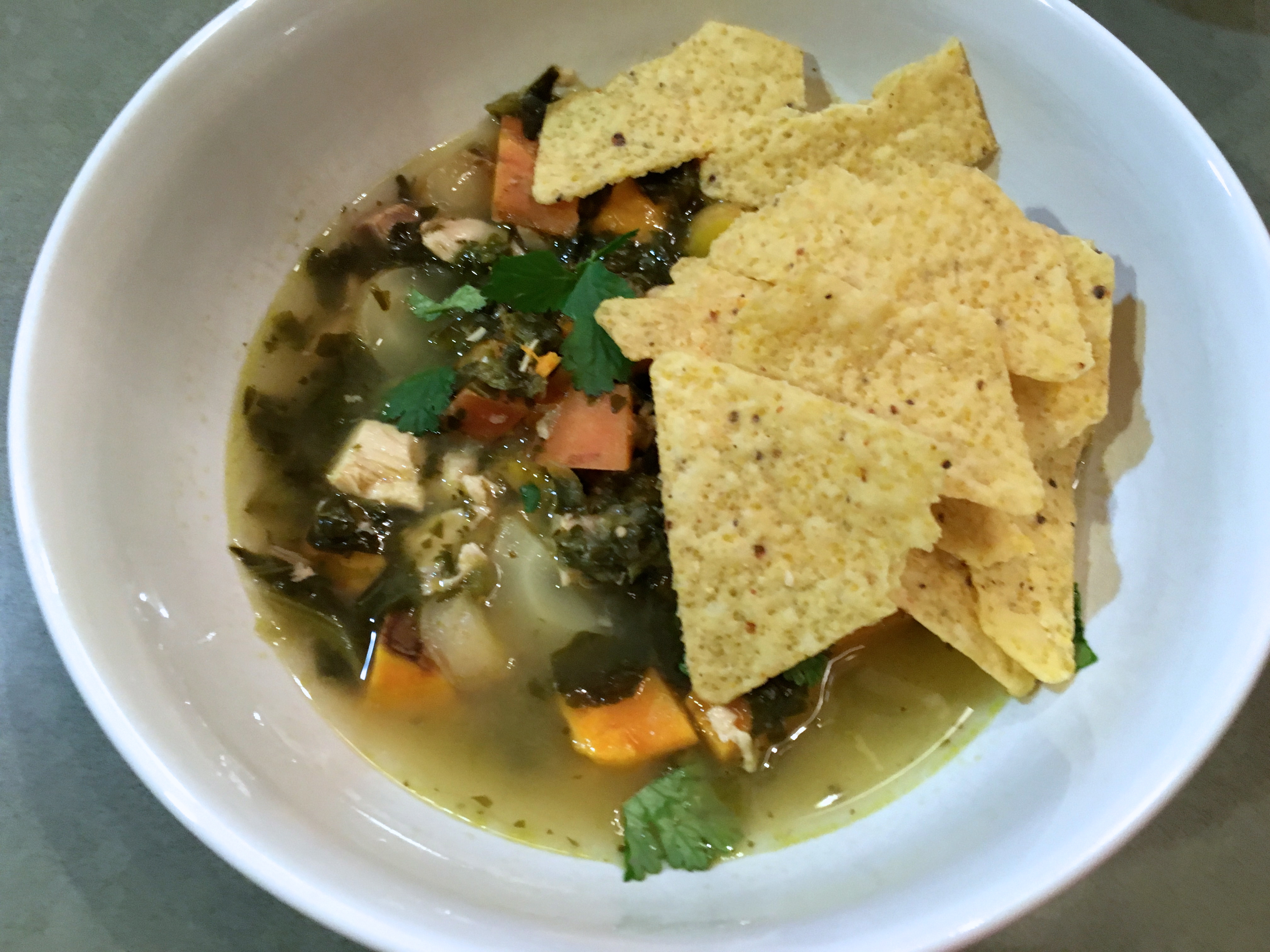 The lime juice at the end really made the recipe pop.  Kyle commented on the flavors and I definitely agreed.  It was delicious for how simple it was.  I cheated and used jarred tomatillo salsa because it's winter and I don't have access to tomatillos (or time to make my own salsa).   Also, TJs makes a great salsa verde so why not.  I like meals that the whole family digs into enthusiastically.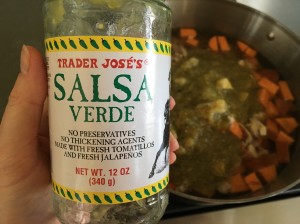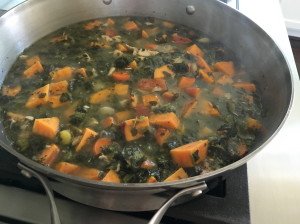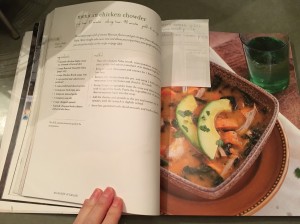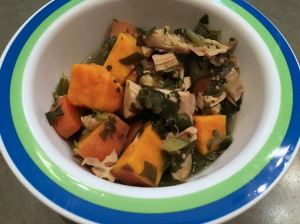 I also used the shredded chicken for her curried chicken lettuce cups (p 102).
I bought mint just for this recipe and then forgot to use it so now I need to figure out a use for mint.  I'm thinking the mint ice cream recipe in her book may be the answer (Kyle's definitely hoping for the same).  Truth be told, this recipe isn't exactly novel, but it was still great and I found myself adding it to the menu two weeks later.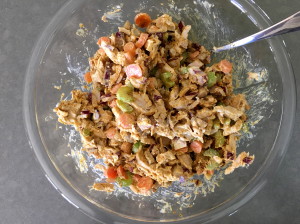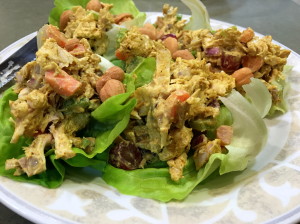 And you guys!  P was SO CUTE with these.  Initially, I gave him a scoop of curry chicken separate from some ripped up pieces of bibb lettuce, but he was watching us and decided to make his own lettuce wraps.  And he did it so well!  It was so cute.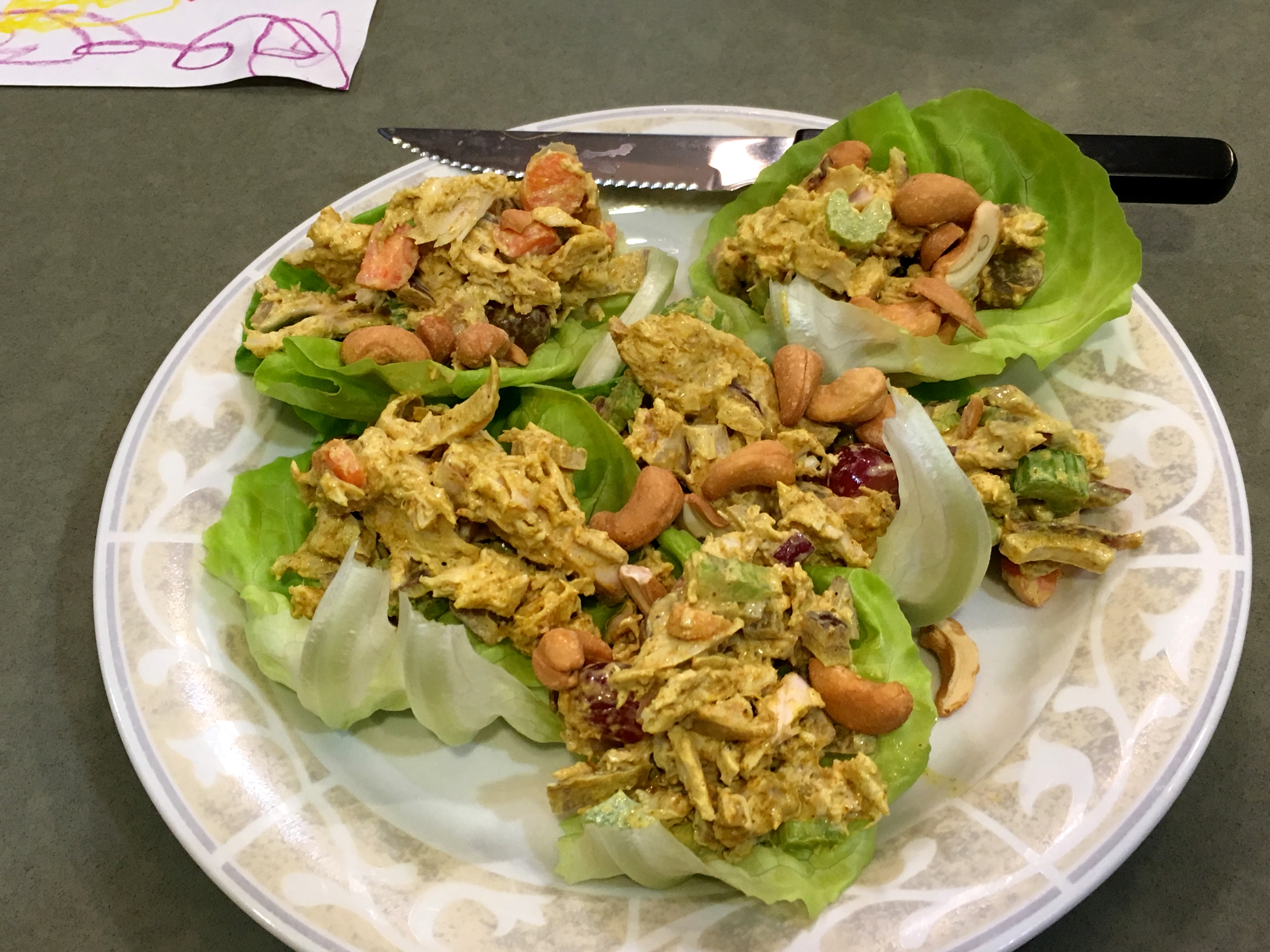 Obviously his portion couldn't have nuts, so I added cashews to ours after we scooped it out and onto the lettuce.
The second time I made it, we used golden raisins in place of grapes (because we couldn't find any organic grapes) and it was still awesome.  I also remembered the mint.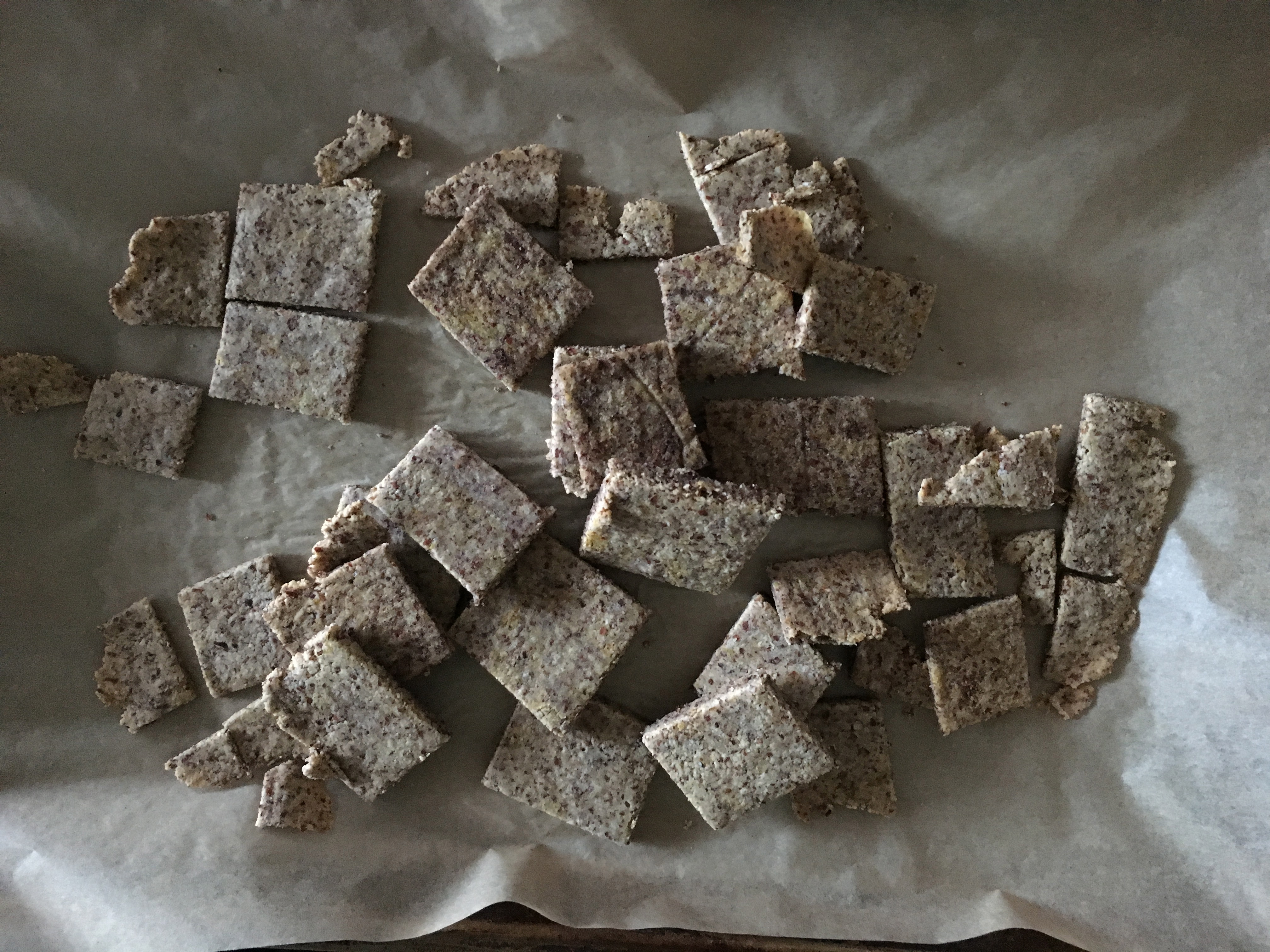 Crackers!
You all know I'm into making my own crackers, but it was nice to try a new recipe out.  Her cheesy crackers (almond crisps p. 218) were sorta fluffier than the ones I make.  That's probably because mine use a ton of coconut oil, but I also may not have rolled the ones I made with her recipe out thin enough.  They had baking soda in them, so I thought that was a little odd, but maybe that is why they were a little softer and puffier too.  Either way they were good.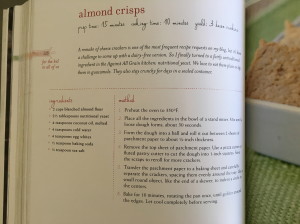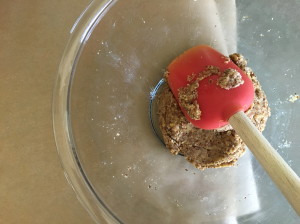 P and I both liked them.  He definitely tolerates nutritional yeast and I feel comfortable giving it to him now as long as it's not from bulk bins (I order it from Thrive).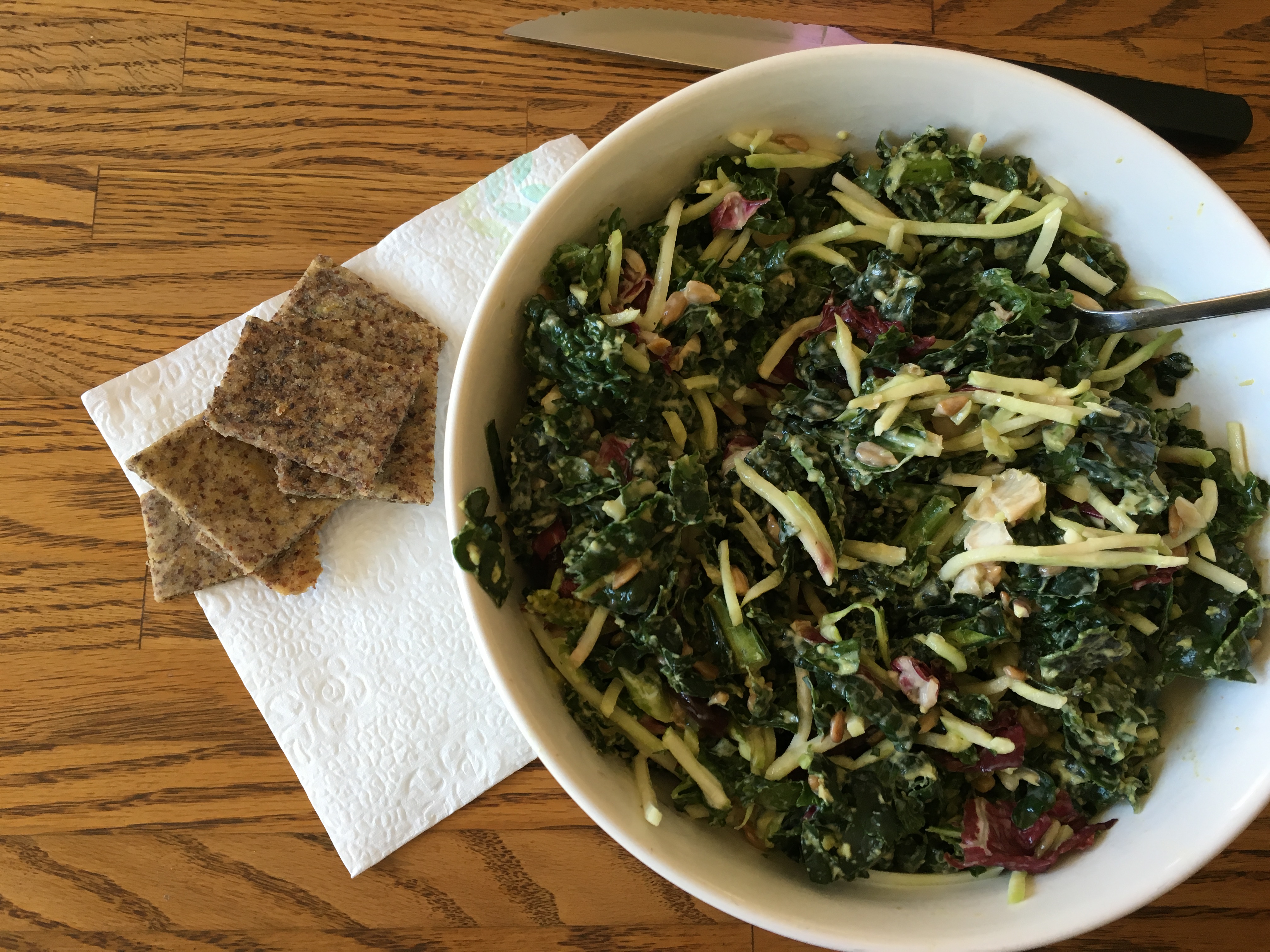 They were awesome kale salad accompaniments.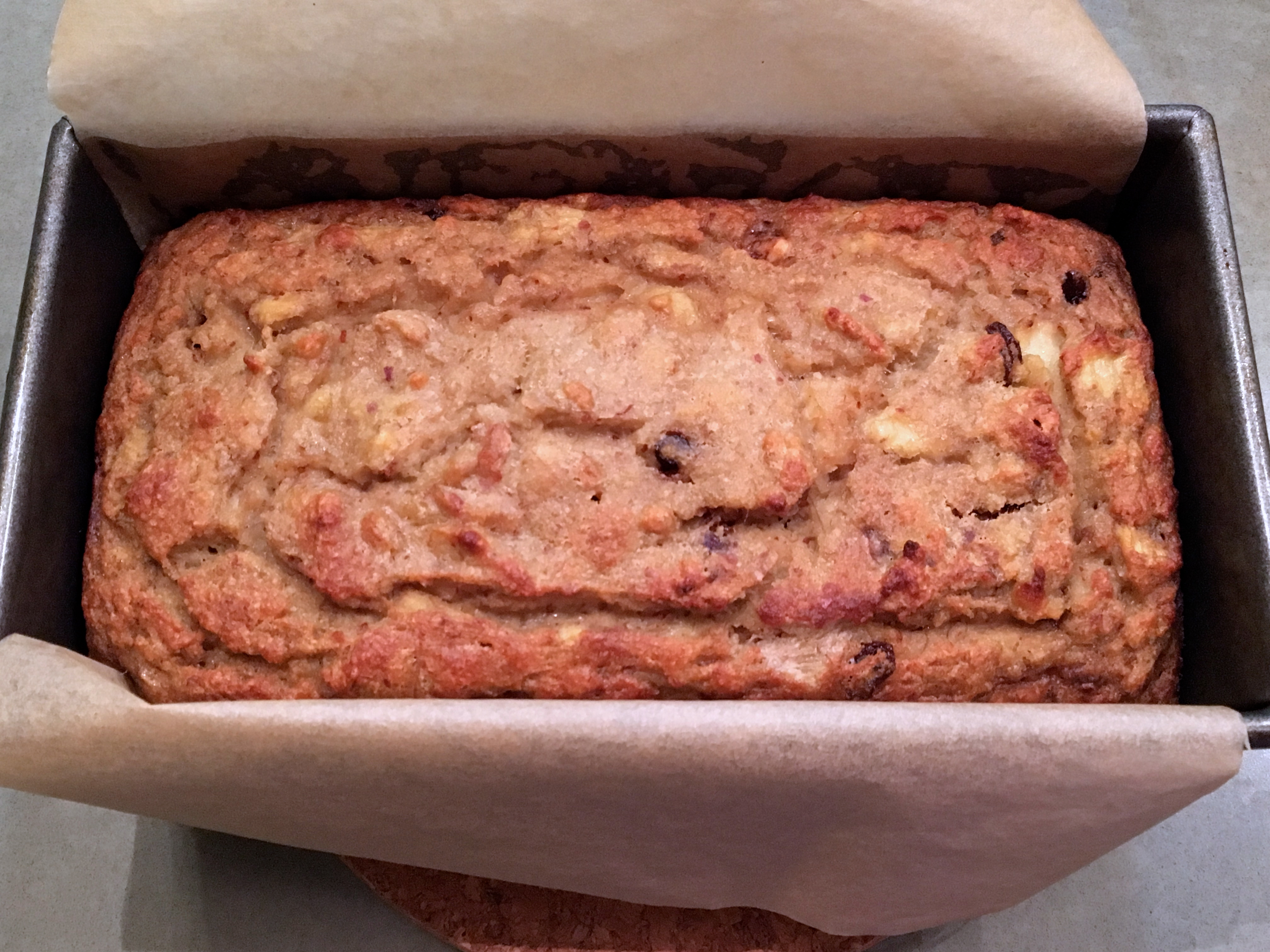 Next up was the banana bread (p. 224).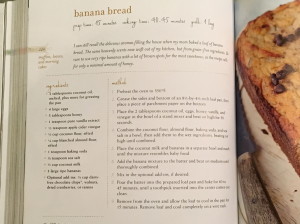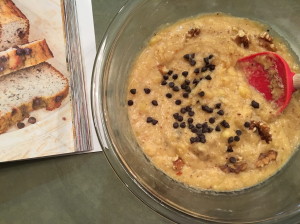 It's pretty rare for me to follow any recipes for quick breads – even my own.  I make banana breads SO OFTEN that I hardly measure things, I just go by look.  This one was done by the books though.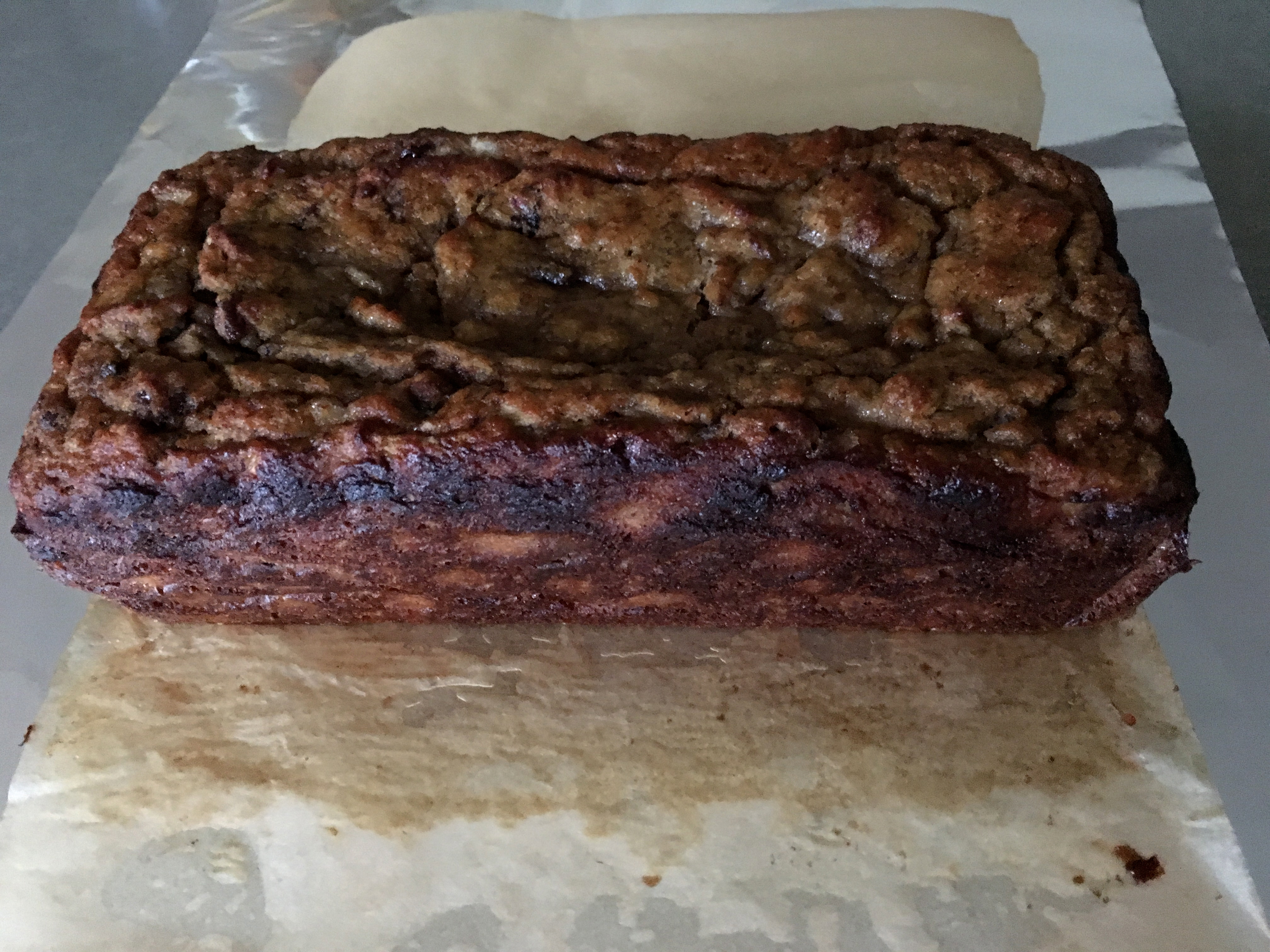 The center sunk a little overnight but it was still very tasty.  The texture is one I'm familiar with in terms of grain free baking – extra moist (sorry) on in the inside without the bread-like crumble.  I don't mind it since I've been baking with almond and coconut flour for years.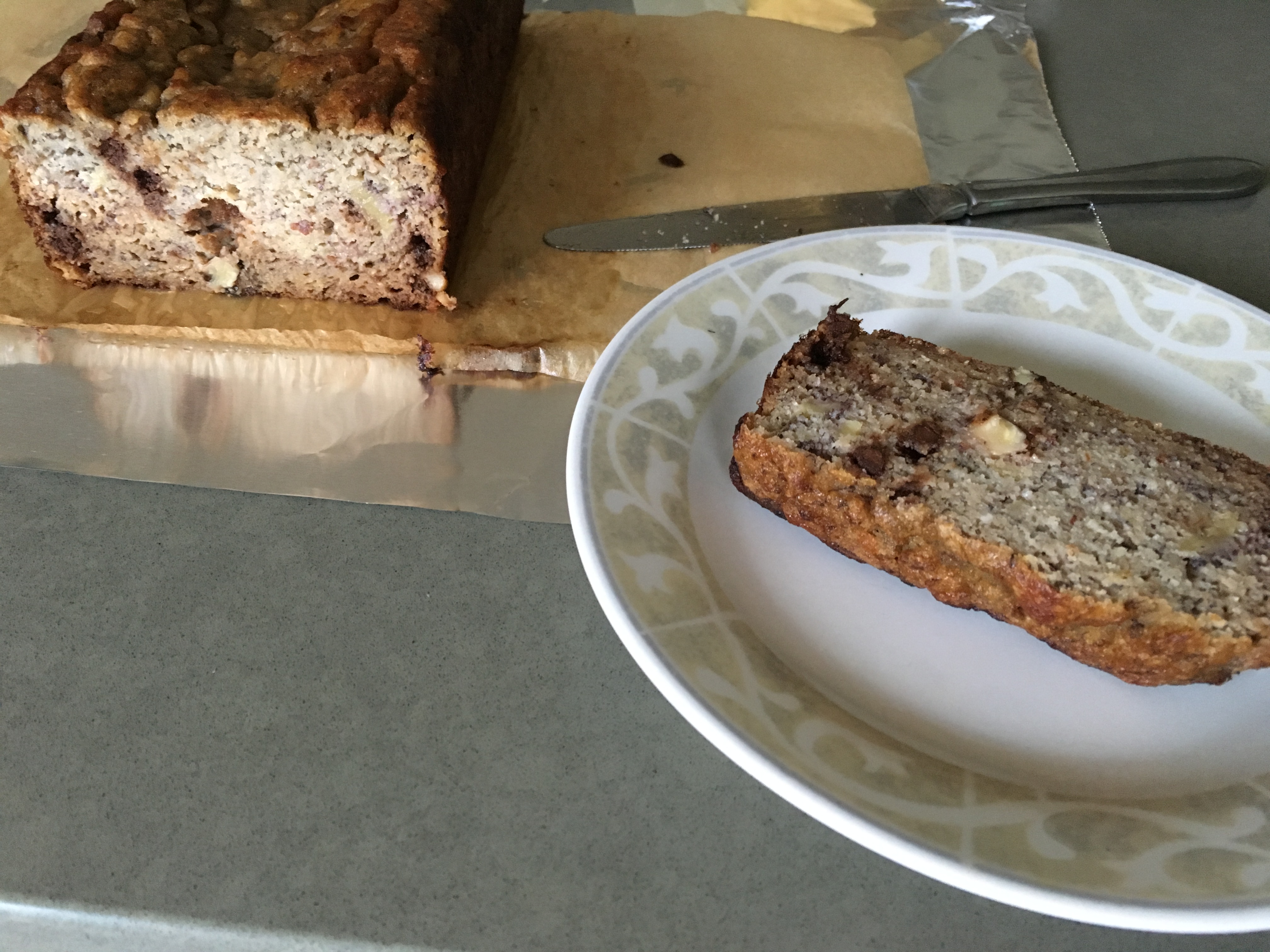 I added walnuts and Enjoy Life chocolate chips for fun.  I ate it mostly myself but P did have some.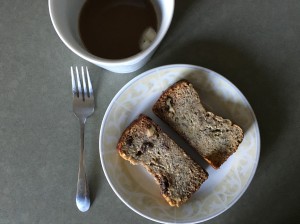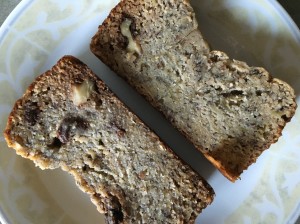 Kyle's not a sweet breakfast person, but he does occasionally like banana bread.  Still, he skipped this loaf because I already baked kumquat poppyseed muffins for him.
Here's a glam shot of those bad boys (to be clear, these were not from Danielle's book) with extra butter on top.  I'm making another batch soon.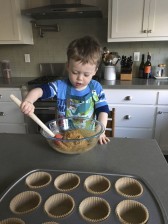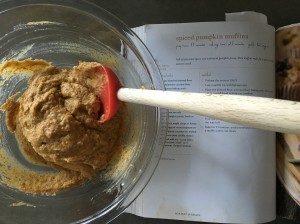 P and I made the spiced pumpkin muffins (p 228) for a brunch date.   I liked that they weren't too sweet and offered more nutritional oomph than your average gluten free carby treat.  P ate the leftovers for breakfasts over the next couple of weeks (they lasted a long time in the fridge).
Her final recipe I have to share was the one I was most excited about when I first got the book, and that is her hamburger "buns" recipe (p 242).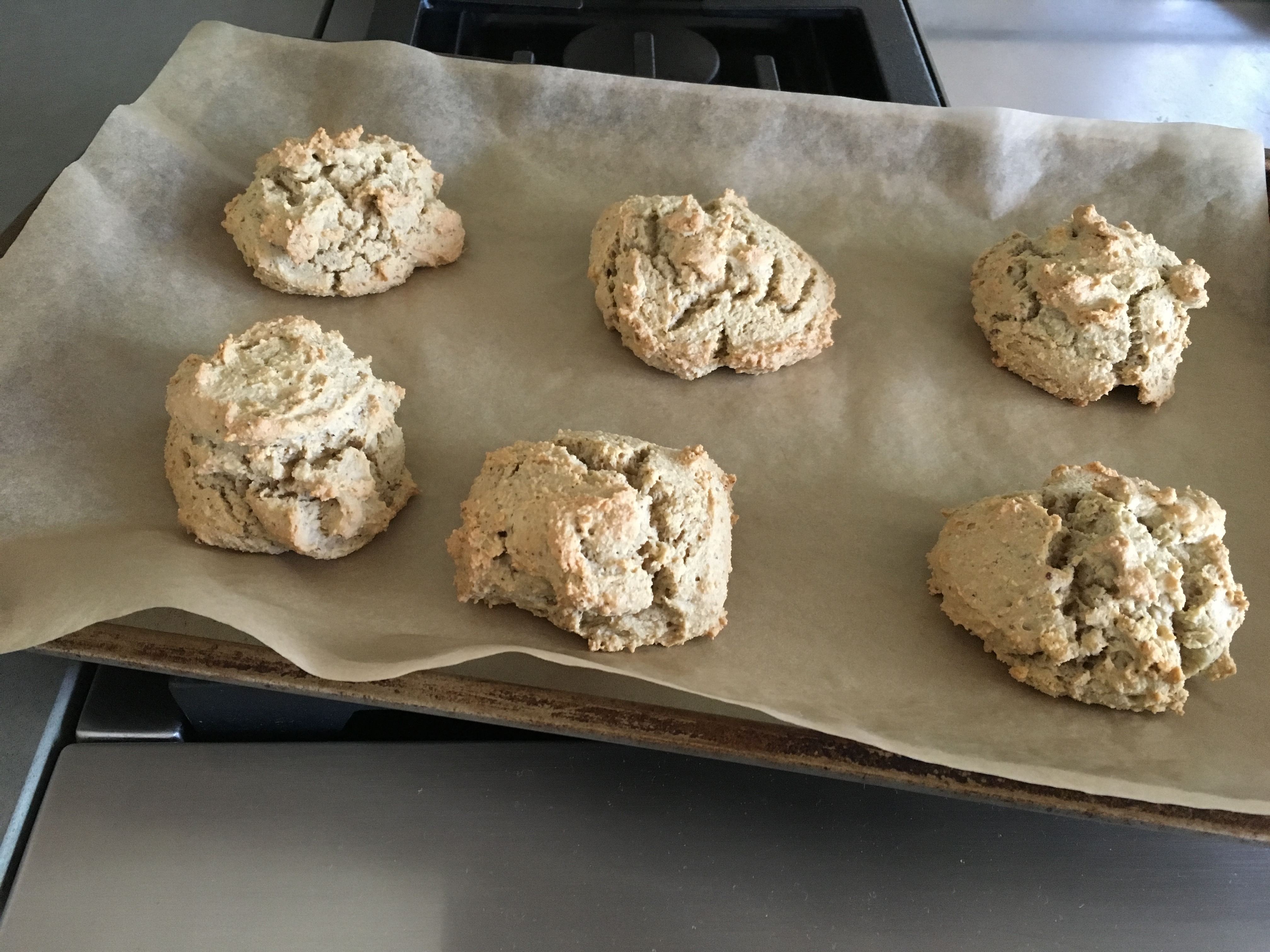 They were definitely more labor intensive than the quickbreads I make so I saved them for a weekend (when Kyle was home to watch the kiddos while I did my thing in the kitchen).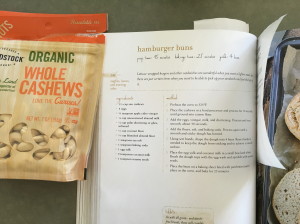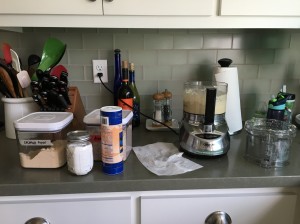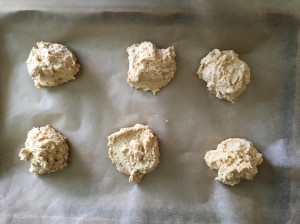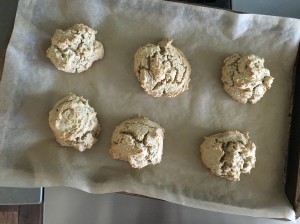 I omitted the sesame seed topping (because P is allergic) and I made 6 rolls instead of 4 (because I wanted them to last me longer and I wasn't planning on using them as buns) and they came out perfect.  I bought raw organic cashews from Thrive especially for this baking project.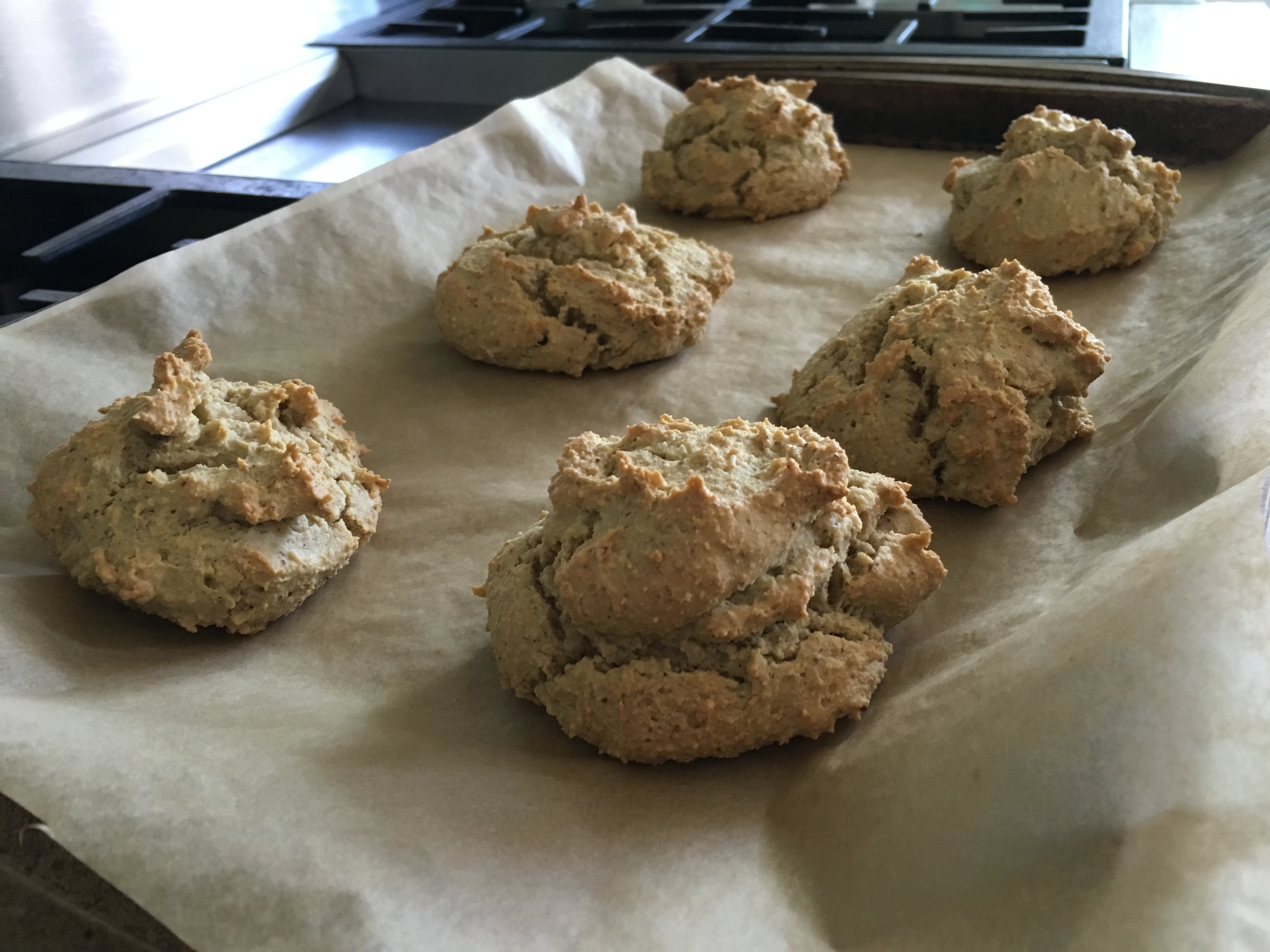 And that's all!
I take it back.  Once more thing.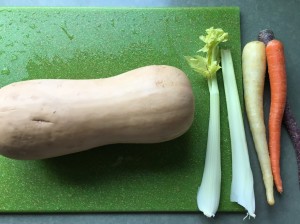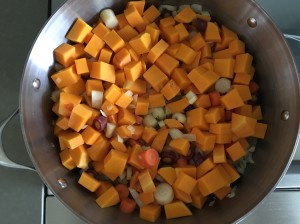 Based on her recipe for butternut squash soup with pork (p 94), I made this but tweaked the crap out of it thereby making it an entirely new recipe (vegan, in fact).
I know it's not the most appealing.  In terms of aesthetics….brown sludge doesn't photograph well.  But the flavors were out of this WORLD.  And did I mention this was a winner for the whole family!?!  As in, all of our diverse palates and allergies and number of teeth enjoyed this dish!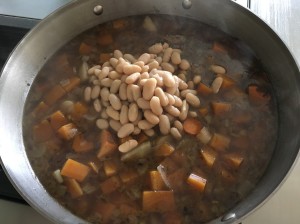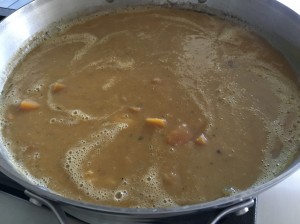 Butternut White Bean Soup [vegan, gluten free, soy free, dairy free, nut free]
Ingredients:
2 tbsp garlic infused olive oil (feel free to use fresh garlic cloves and olive oil)
3-4 pounds butternut squash, peeled and cubed
2-3 large carrots, chopped
1 yellow onion, diced
2 stalks celery, chopped
1/2 tsp salt
1/4 tsp fresh pepper
3-4 cups vegetable broth
1/2 tsp ground ginger
1/2 tsp cinnamon
1/2 tsp crushed bay leaves
1/2 tsp ground thyme
1/4 tsp ground sage
1/4 tsp allspice
1 can white beans
Directions:
Add the onions and the olive oil to a large pot and cook until translucent, then add the rest of the vegetables (squash, celery, carrots).  Cover with a lid and cook until softened enough to pierce with a fork relatively easily.
Then add the spices and white beans and let it simmer a little bit more.
Finally, using an immersion blender, puree as much (or as little) as you'd like.  I left parts a little chunky but pureed about half of the white beans to thicken up the broth so it would have a creamy smooth texture.  I feel like it gave the soup some oomph (broth just seems too weak to carry a meal sometimes) while still letting you have stuff to chew (because I don't necessarily want to drink my whole dinner).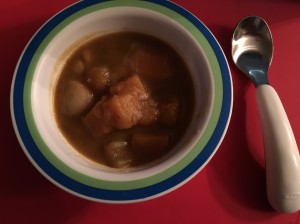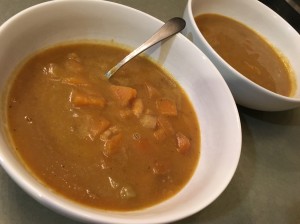 I thought this soup was SO GOOD.  And I'm not even a big soup person.  Seriously, Kyle and I kept commenting over and over again about how much depth there was in the flavors.
Normally I don't like leftovers, but this was one I was SUPER excited to eat again and again.  P and V were both big fans as well.