Coincidentally enough…
My baby is the size of a spaghetti squash.  Which was exactly what I had for dinner last night.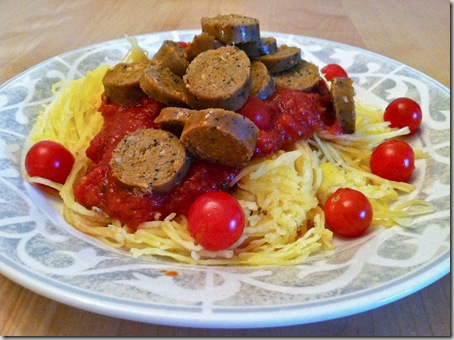 Oh man was this ever a fantastic meal. 
I knew a spaghetti squash would kick start my motivation! 
Dear Fall,
Thank you.
Love, Elise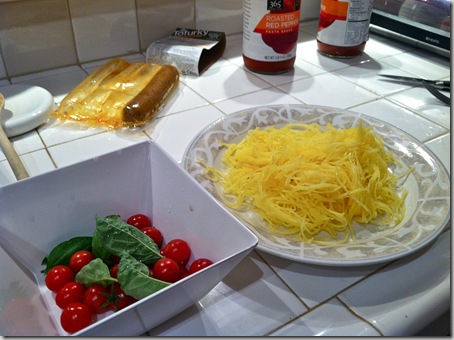 I roasted the squash the lazy way.  Stabbed it with a knife a few times and let it bake in the oven for ~40 minutes on 375.  Once it had cooled, I cut it open and the stringy flesh just about separated itself from the skin.  Seriously.  Not only was the outside shell incredibly soft (I could have probably pried it open with my hands – no utensils necessary), but it was also roasted just enough to make it crispy and separate from the squash inside.  Which was perfect spaghetti, of course.  I scooped 2/3 of it into a tupperware to use this week and froze the remaining 1/3 for later.  The seeds were semi-annoying to fish out, but it really only took 5 minutes.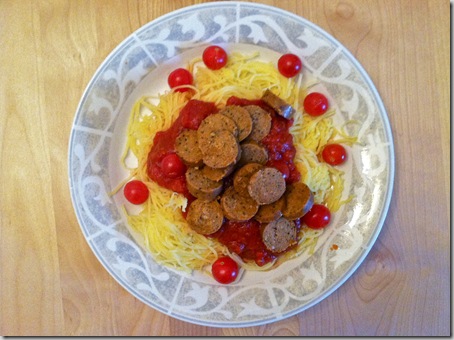 For dinner I used about 1/4 of the squash (but then I went back for seconds).
On top was Whole Foods' marinara (the roasted red pepper flavor is so so good), Tofurky beer brats, and some tomatoes from the garden.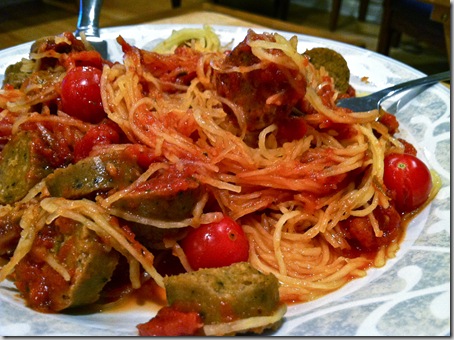 I was so in love with this meal that I went overboard and by the end of my second helping I had a fiber baby and a real baby.  Not enough room in my belly!
It's just been so long since I've looked forward to a meal all day long.  Including the prep.  Makes me happy.
The only issue I had with the dish was the saltiness.  For someone who usually adores all things sodium, this was a bit too much for my taste buds.  Must have been the combo of the sausage and the sauce.  I did have 2 whole sausages (hello appetite!).  As a result I was guzzling water the rest of the night and didn't have any room for dessert (always a sad occurrence).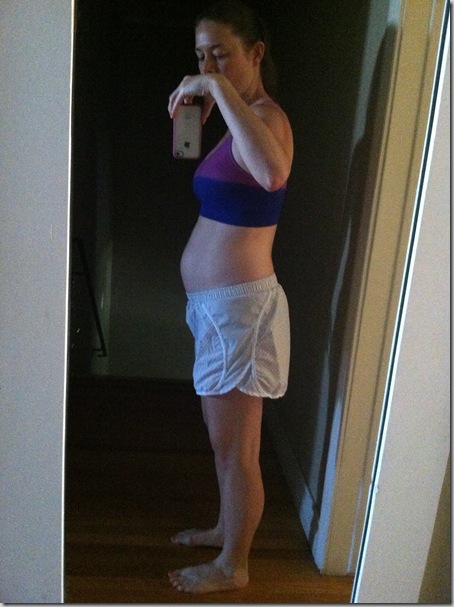 I know it's dark, but here's my little spaghetti squash sized babe.  🙂