I've been back on the meal plan wagon now that we are all settled and our kitchen is unpacked and I can find stuff, so I wanted to share some of the latest.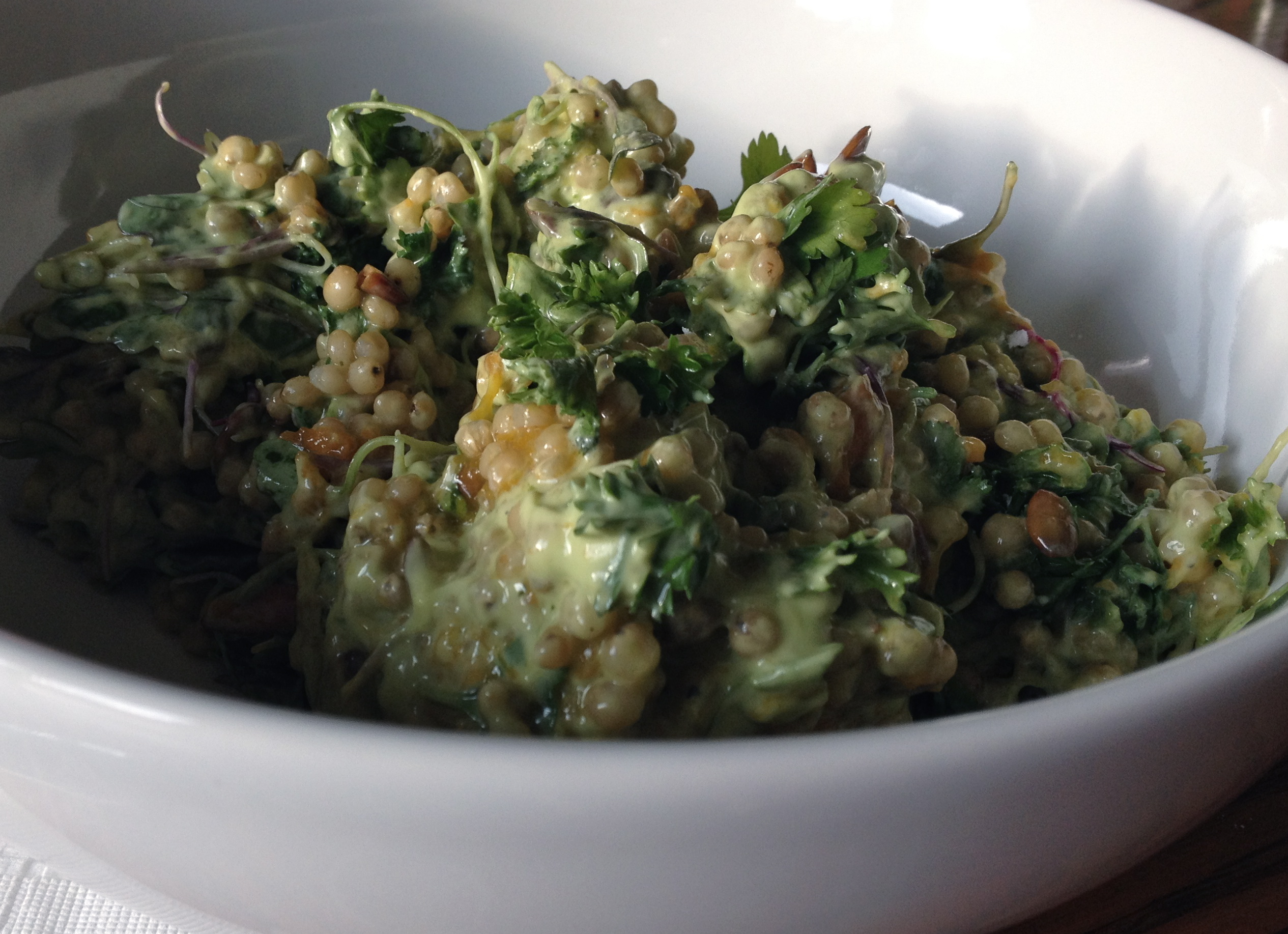 I got a nice framed chalkboard from Cost Plus – I'd been wanting a white board / chalk board to put up on the fridge because I always write it out on paper each week and post it there.  It seemed like an erasable (reusable) version would be much better so I'd been keeping my eyes out for one that was cute.  I didn't plan on making it a permanent wall fixture, but this was nice and so I figured why not (sorta cheesy but whatever).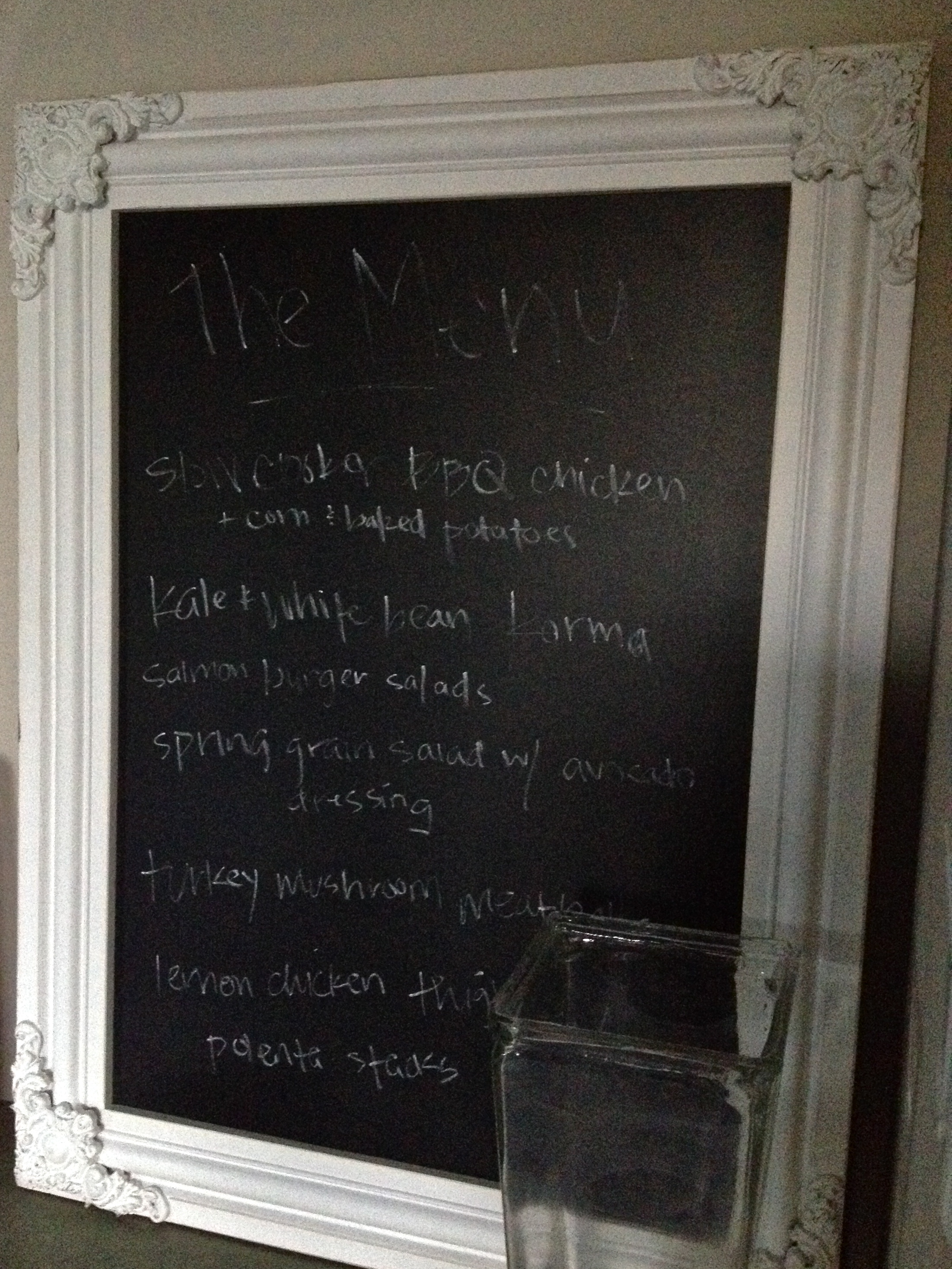 [It's not yet hung on the wall because we still have paint touch ups that need to happen]
Anyway, in addition to noting the meal plan for the week, it's convenient to write other random notes.  Kyle never knows what leftovers are in there fridge so maybe it will help him on weekends when he's on the hunt for grub (I make and pack his week day meals) and can't find anything.  In his defense, there are an overwhelming number of tupperware in the fridge at any given point and unless you're me (the one who made them), you'd never know what was in what unless you opened every single one.
I digress.
Above was the meal plan for last week, but then we had a few unexpected nights so a couple got reallocated to next week's plan.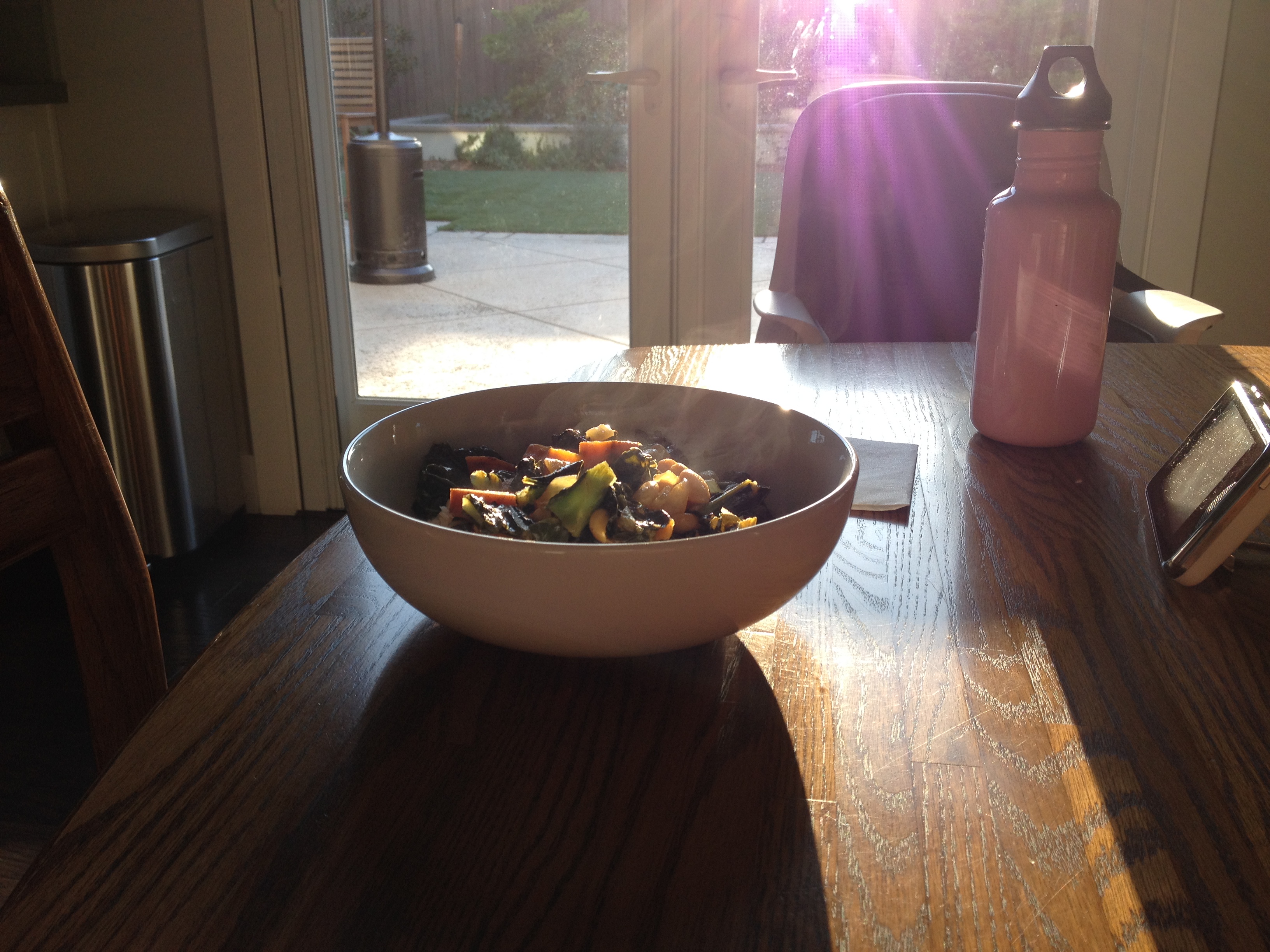 Vegan kale & white bean korma by Food52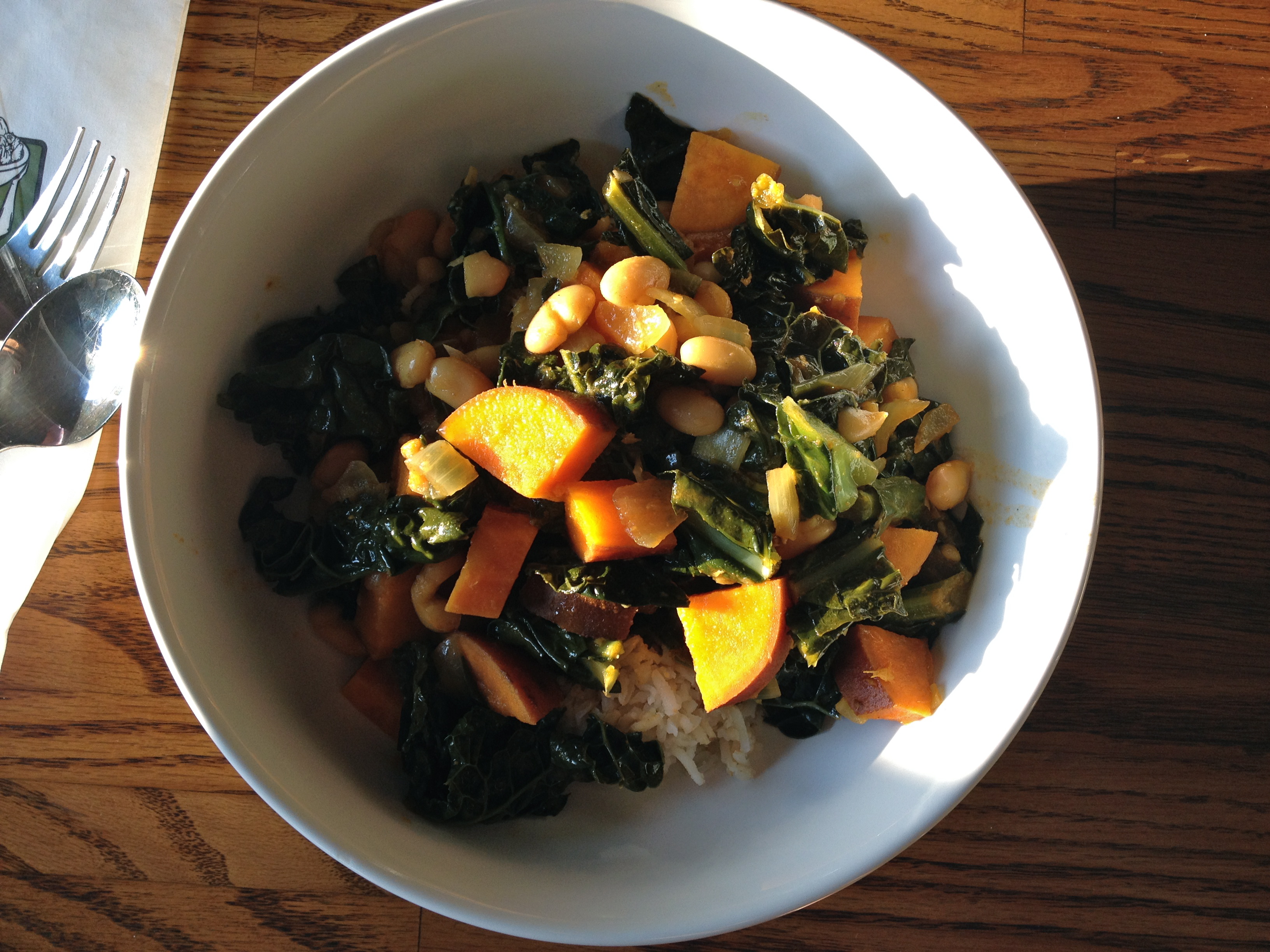 We both totally loved this dish and I guarantee I will make again.  Easy, delicious, winner – and I didn't change a thing!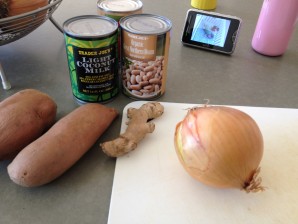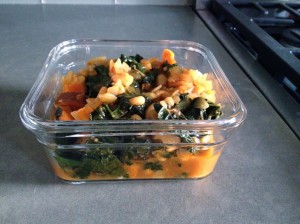 Kyle got the leftovers for lunch the next day.  Sadly P wouldn't have anything to do with the white beans or potatoes so I ended up giving him different eats (chicken, avocado, peas, carrots and corn and watermelon).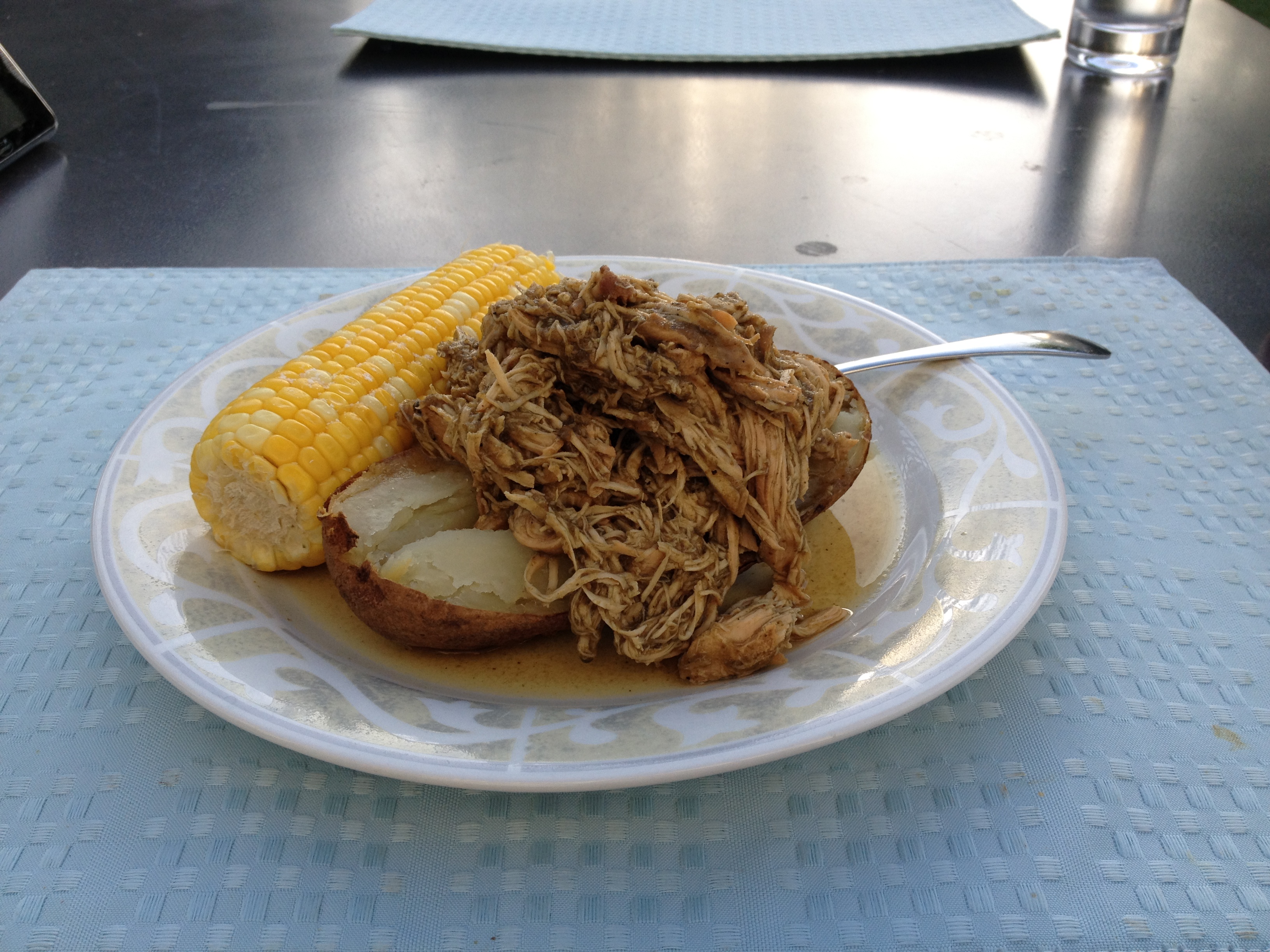 Slow cooker BBQ chicken with corn on the cob and baked potatoes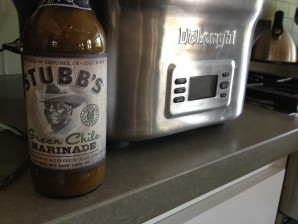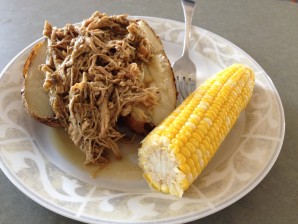 I used the whole bottle of Stubb's green chile BBQ marinade and damn it was spicy!  It was freakin' easy to make though.  I just dumped the bottle over the chicken breasts and set them to cook for 6 hours in the crock-pot.  Right before serving I shredded the meat (which took <1 minutes because of how tender it was).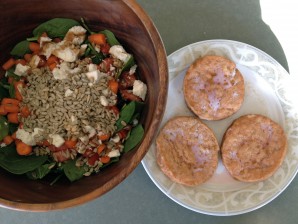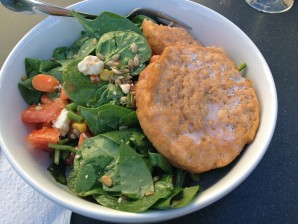 Salmon burger salads
Nothing much to this meal, just salmon burgers (from Costco) served over a spinach salad with Redwood Hill Farm's goat cheese feta, sunflower seeds, carrots, tomatoes, corn and avocado.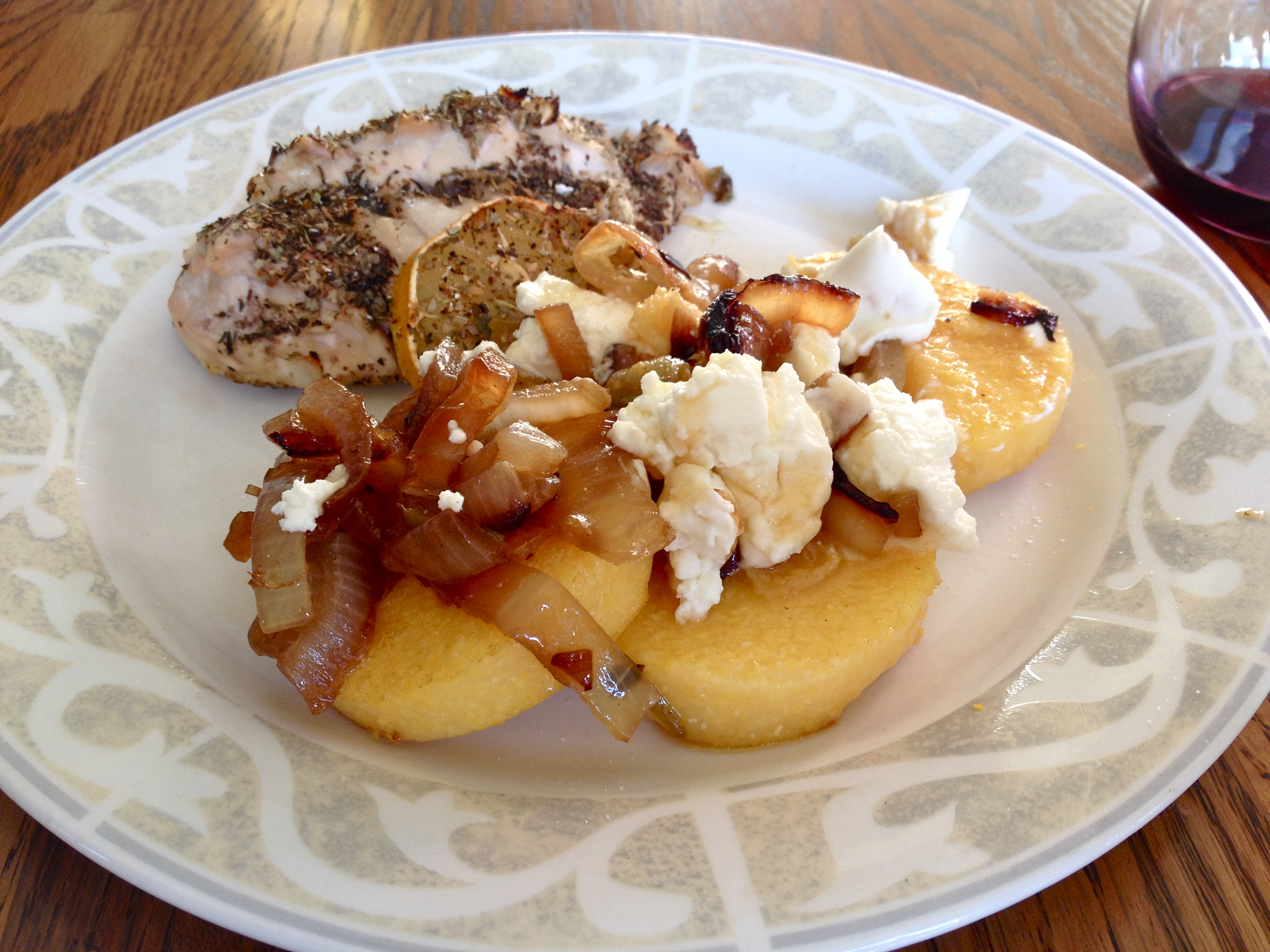 Shutterbean's lemon chicken thighs with griddled polenta cakes with caramelized onions, goat cheese, and honey from Food52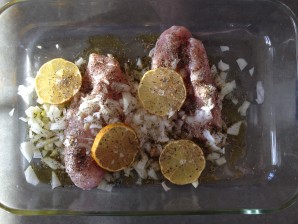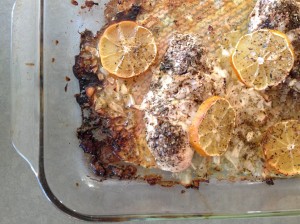 I had to improvise with the lemon thighs because the meat was bad when I opened it up (super gross).  Thankfully we had breasts in the freezer so I swapped those in and adjusted the amounts of the other ingredients accordingly.  It was a simple but great recipe that turned out well with the breasts too.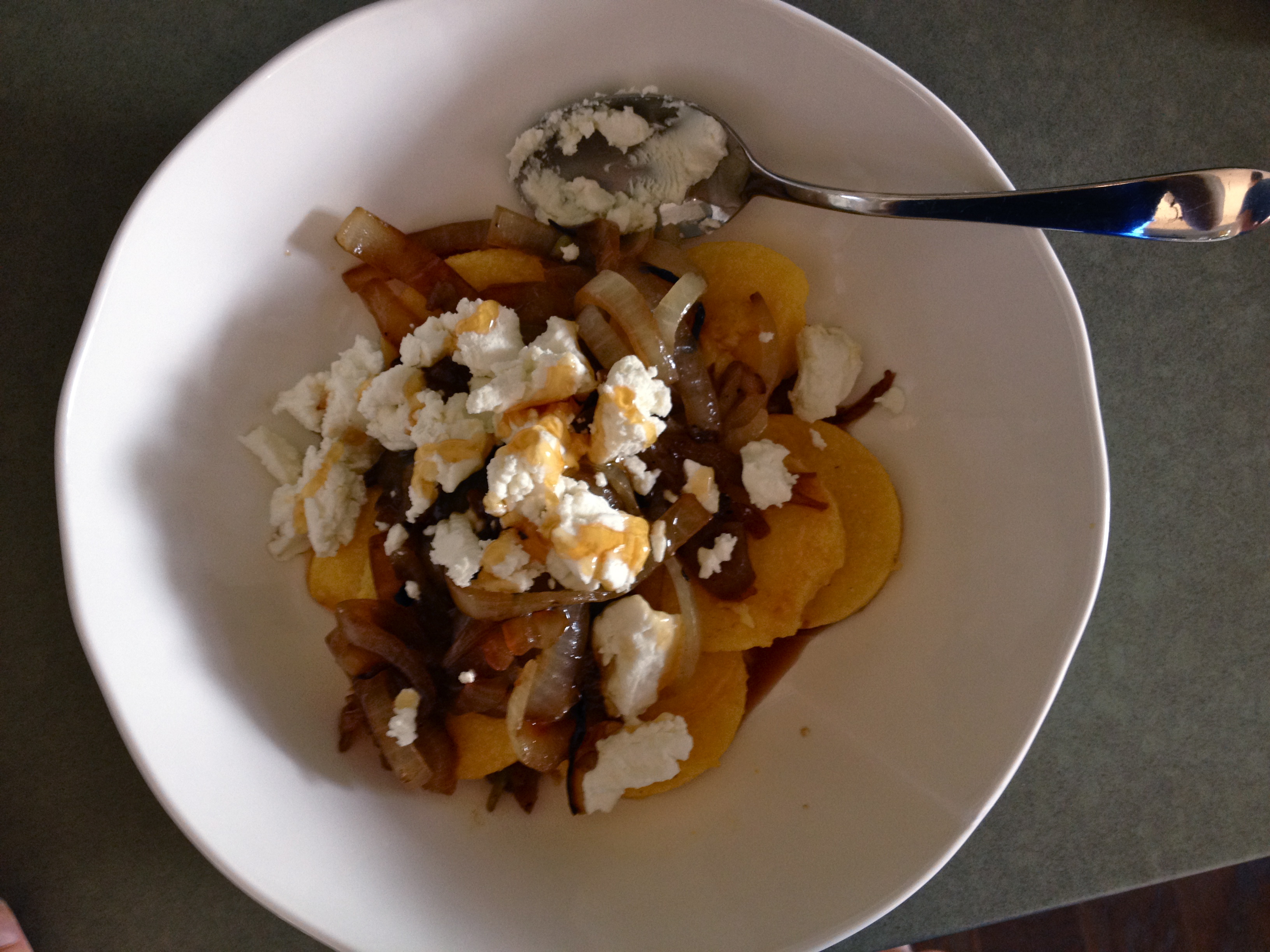 Sorry for the hyperbole, but the polenta recipe was literally OMG SO GOOD.  These are something you all need to make.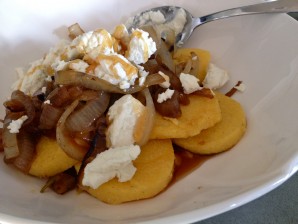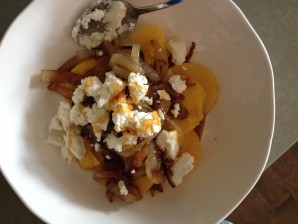 I used TJs polenta because it's dairy free, inexpensive and a time saver but you could make your own if you're so inclined (the recipe linked above has dairy but it is easily vegan-izable).  The combo of sweet and tangy and sweet and fried…mmmmmbaby.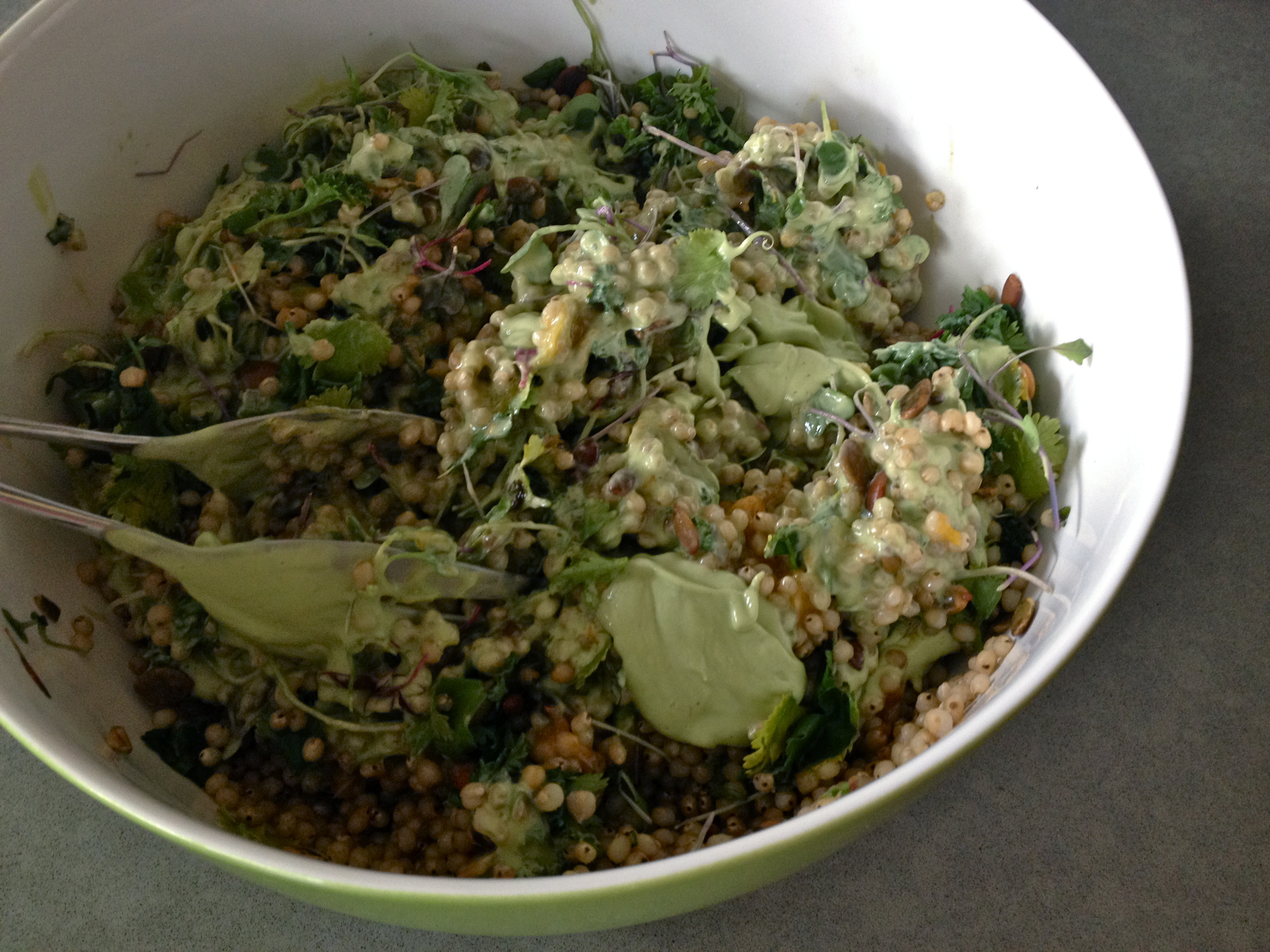 Grain salad with mango, sprouts, and creamy avocado dressing from The Kitchn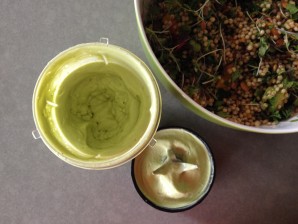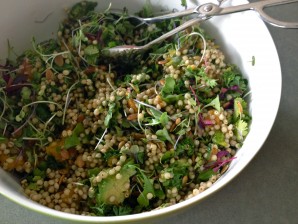 I spent all of P's afternoon nap destemming / chopping cilantro and parsley.  Anyone have quicker tips on how to do this?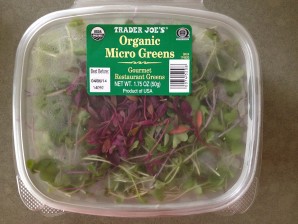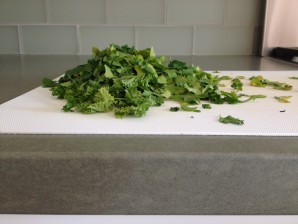 This is a perfect spring recipe.  I made it GF by using sorghum instead of wheat berries.  First time with sorghum and I'm a big fan!  I used the same water:grain ratio (2:1) as I would any other grain and cooked it in the rice cooker.  It's nutty with a chewy texture similar to wheat berries so I think it was a great swap.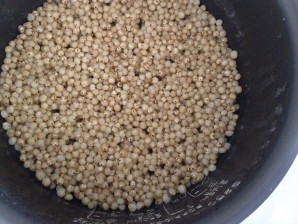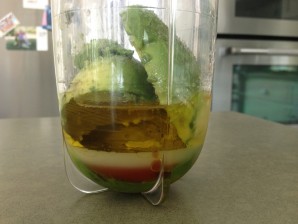 The avo dressing reminds me of Holly's fantastic avo dressing.  Note to self: make that again soon.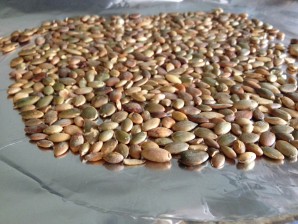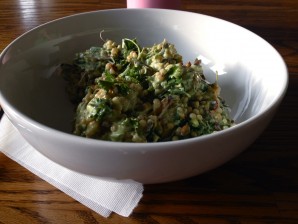 Oh and toasted pepitas?  Yes.  Just.  Yes.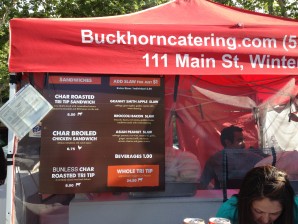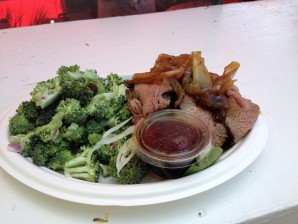 Tri-tip with broccoli slaw from the Buckhorn stand at the Farmer's Market.
After several Wednesdays of rushing home from the market to put P down and then eating our planned dinner, we decided to cut ourselves some slack in the budget and live a little.
The Farmer's Market is so fun and tons of our friends with babies are there hanging out and enjoying the nice weather, food, music, etc.  It's become a tradition we all look forward to and while I have a bit of anxiety about our current finances, life is too short to pass up these opportunities.  So Wednesday nights are now market nights and I plan on trying everything over the course of the summer.  Even though my food didn't have any of P's allergens in it, he still got exposed to something (there were babies, kids, and adults with food all over the place so it was impossible to keep them away from him…without putting him in a bubble).  His face and arms were red and he had some eczema flares but he didn't have hives or anything more serious so we didn't do anything.  These milder reactions are unfortunately par for the course with our little one.  🙁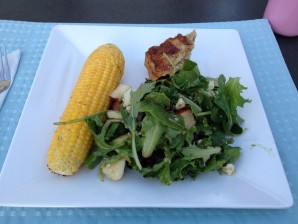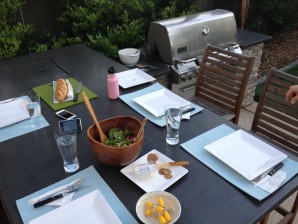 BBQ chicken, corn on the cob, and a mixed greens salad with my mom and dad.
My parents came to see our place (my mom had already been but my dad hadn't yet) and they ended up staying for dinner so we decided what to make while at the grocery store.  The fish selection wasn't very inspiring so we went with chicken.  My dad made a marinade and he and Kyle got to grilling after we put P down.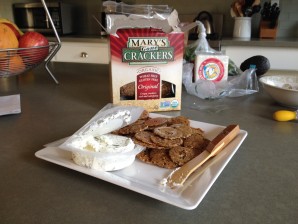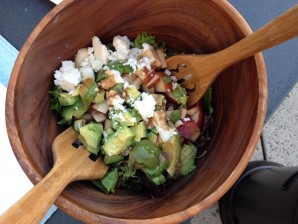 We snacked on goat cheese and crackers while the chicken cooked.  The salad had mixed greens, avocado, pears, dried cranberries, and Redwood Hill Farm's goat cheese feta, with a balsamic vinaigrette.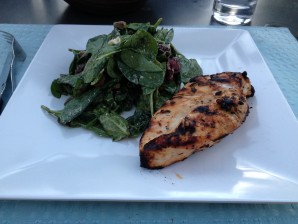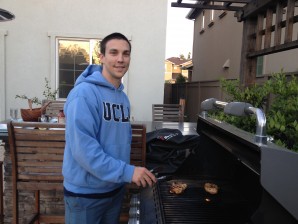 Grilled chicken breasts with spinach salad
The salad had chèvre goat cheese, dried cranberries, avocado, and pistachios.  And if you're worried about the lack of carbs, fear not, we attacked the blueberry pie from our neighbors shortly thereafter.
Of course there were pre-chalkboard weeks of eats that I planned into a menu too…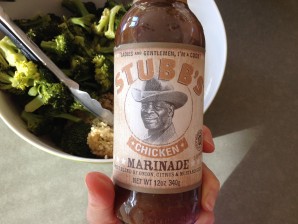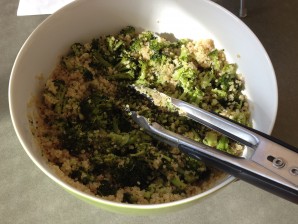 Broccoli and Quinoa Salad
I made this (pathetic) dish when our kitchen was still barely unpacked but we were sick of take-out.  I used another Stubb's marinade but I didn't really like this one very much (not a whole lot of flavor in my opinion).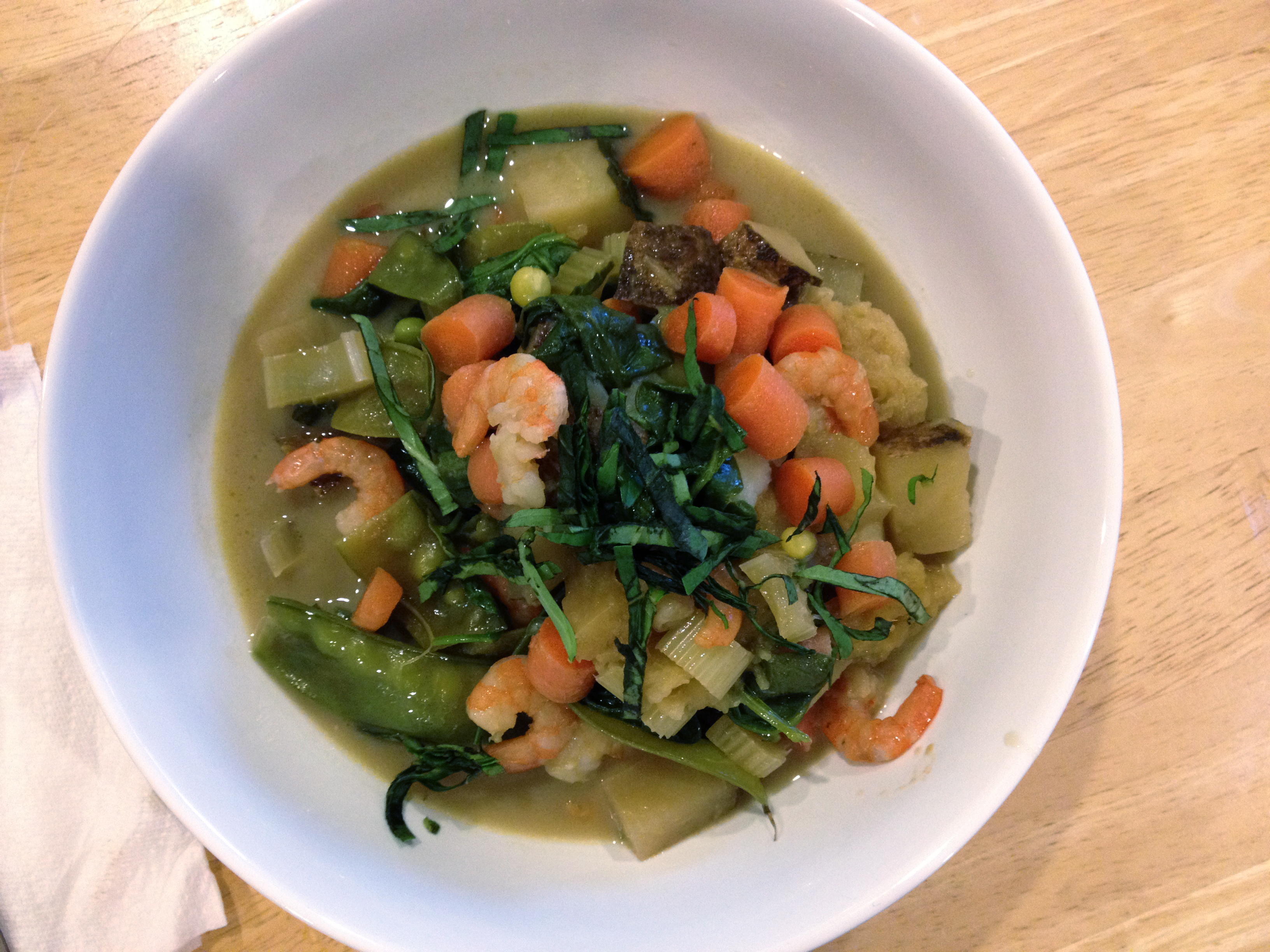 Coconut veggie soup with shrimp
I can't find the recipe (or inspiration) that I used for this one, but I do remember that I forgot to even add the green curry paste and it was still really really tasty.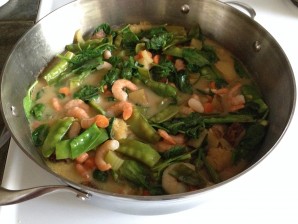 I packed the leftovers for Kyle to take to work along with a packet of TastyBite's Thai lime rice that I unearthed when packing/unpacking our pantry.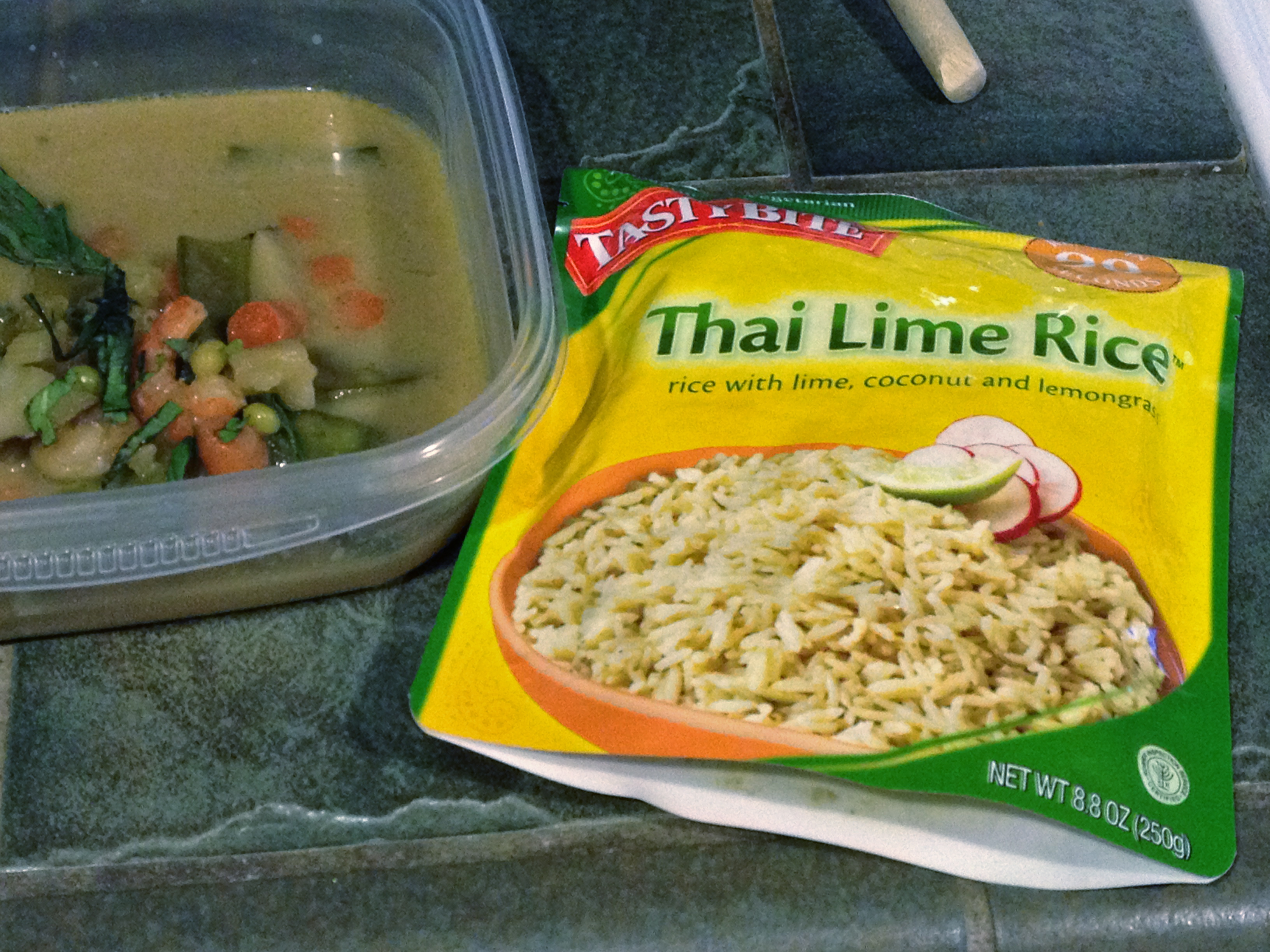 Seemed like a decent match in flavors.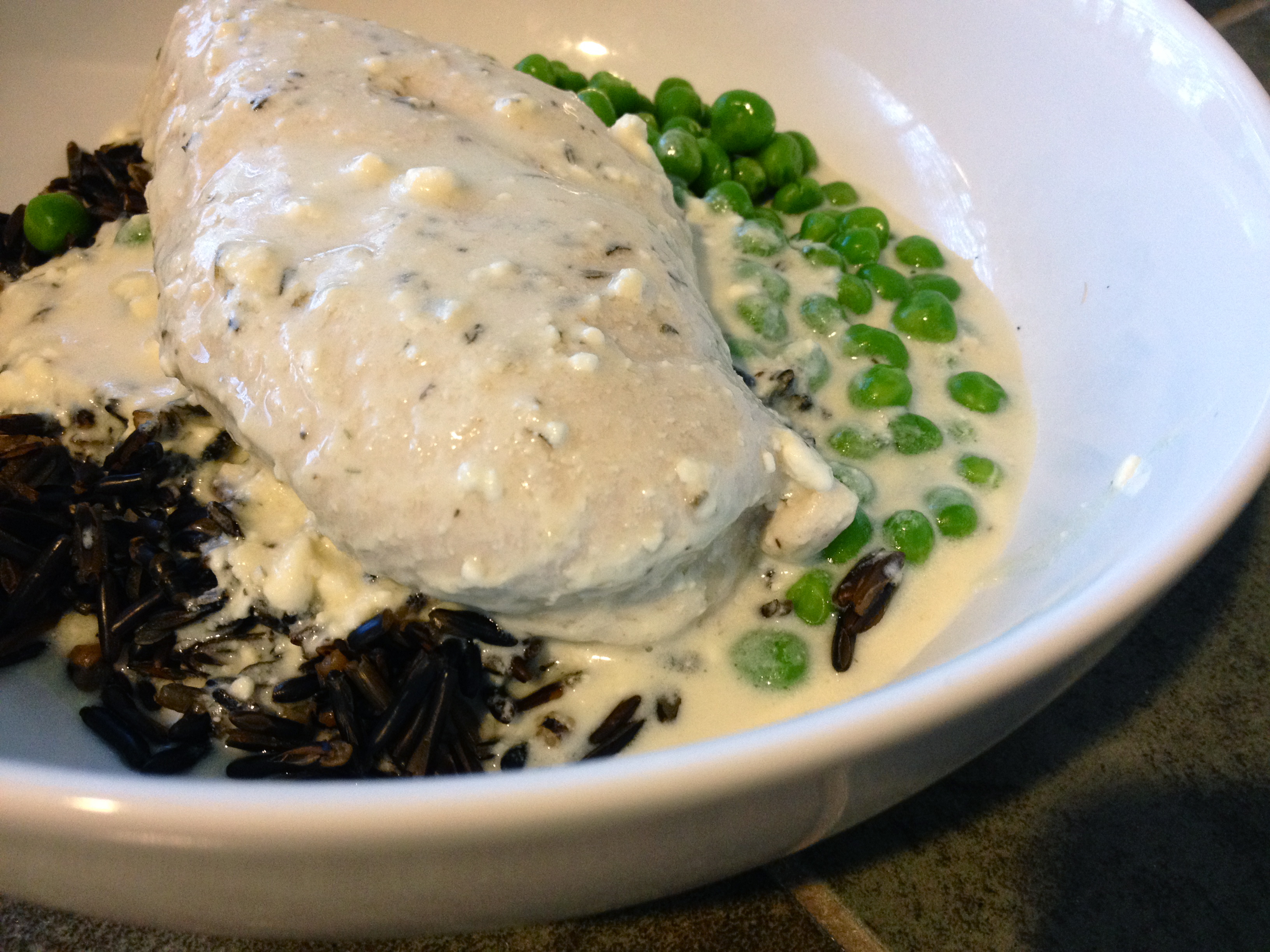 Dijon Chicken (very loosely based on Elise's recipe)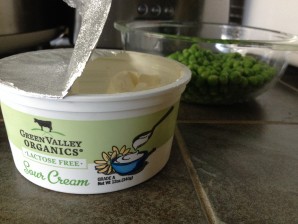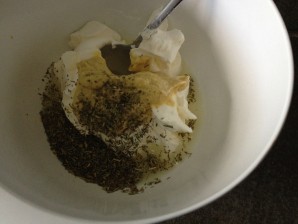 I used Green Valley Organics lactose free sour cream (instead of full cream) and didn't bother pounding out the breasts before cooking them on the stove top.  I paired the chicken with wild rice and peas.  The extra sauce was awesome.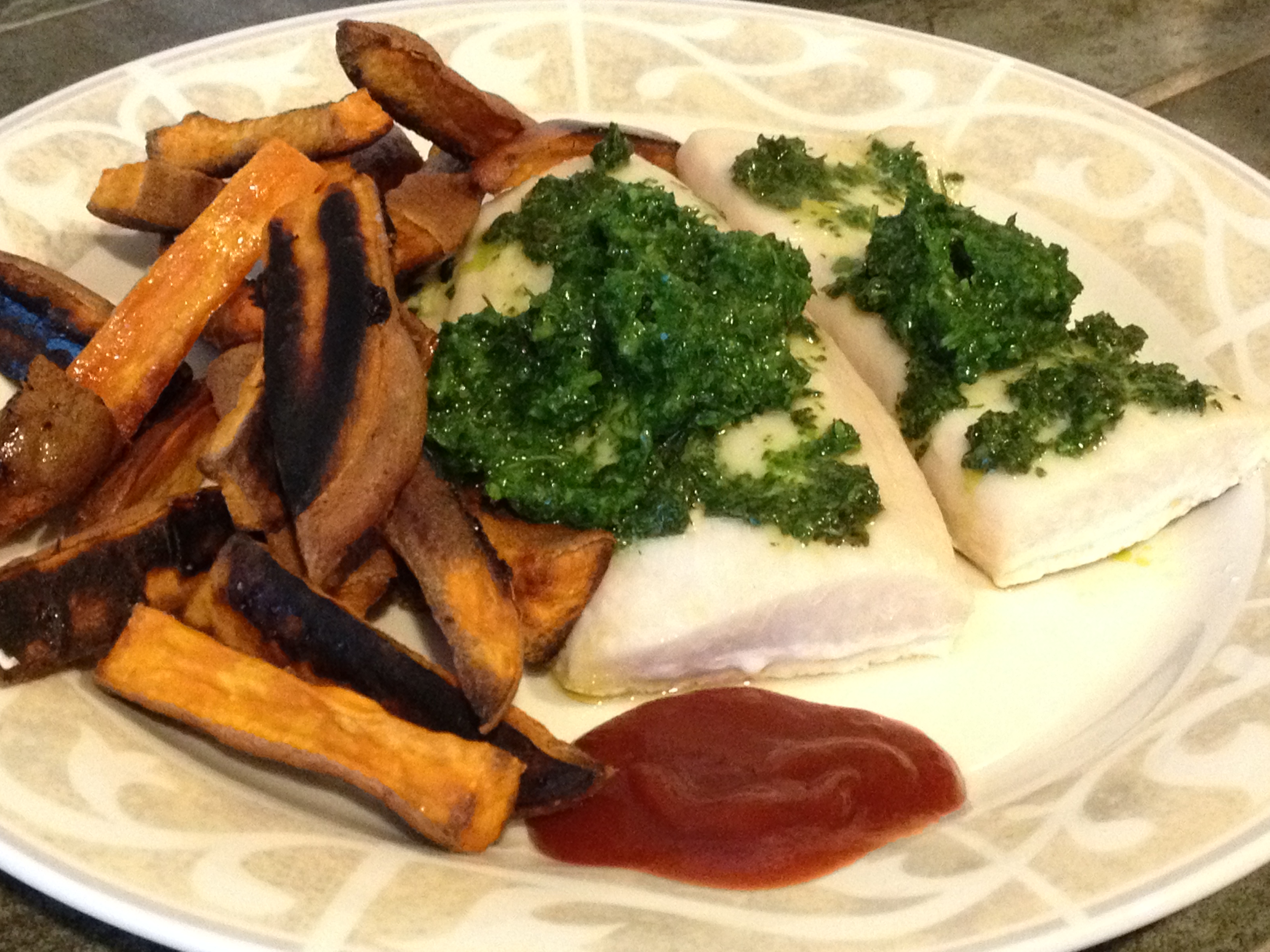 Baked mahi mahi with chimichurri from The Kitchn with sweet potato fries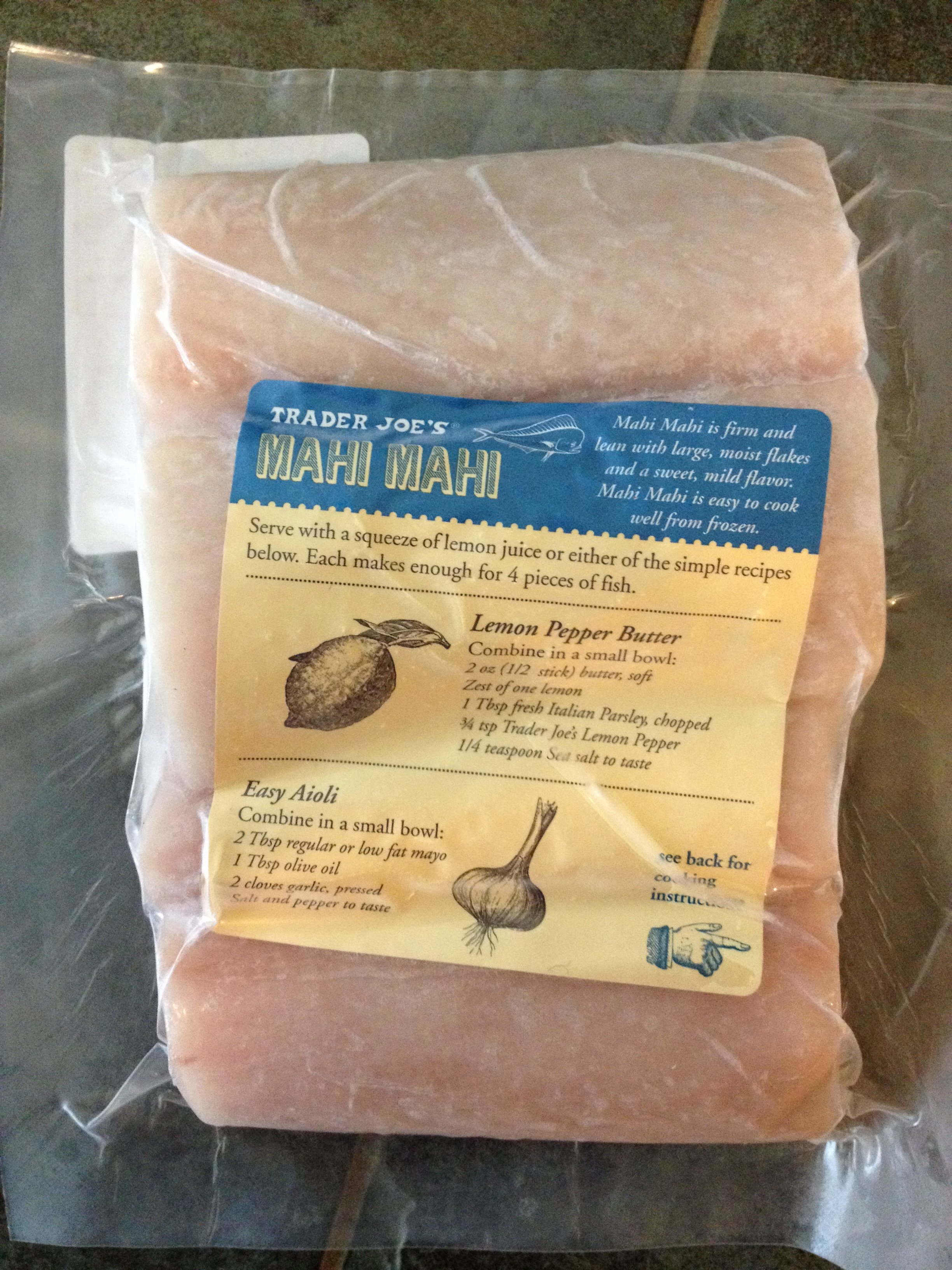 The OG recipe calls for halibut, which was too pricey and not in stock/season.  So we went with mahi mahi (frozen from TJs).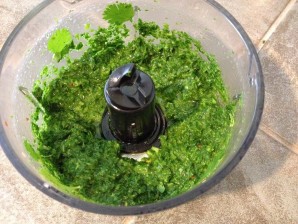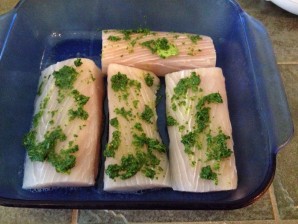 I slathered some of the chimichurri on both sides prior to baking and then served it with the rest atop.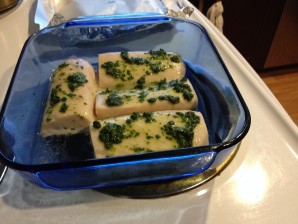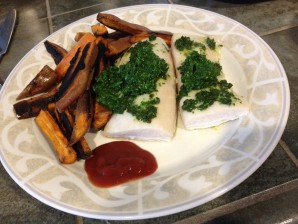 Kyle and I agreed this was not the most flavorful (more salt? more fat? more something!) so I wouldn't recommend it.  The sweet potato fries made up for it though.  🙂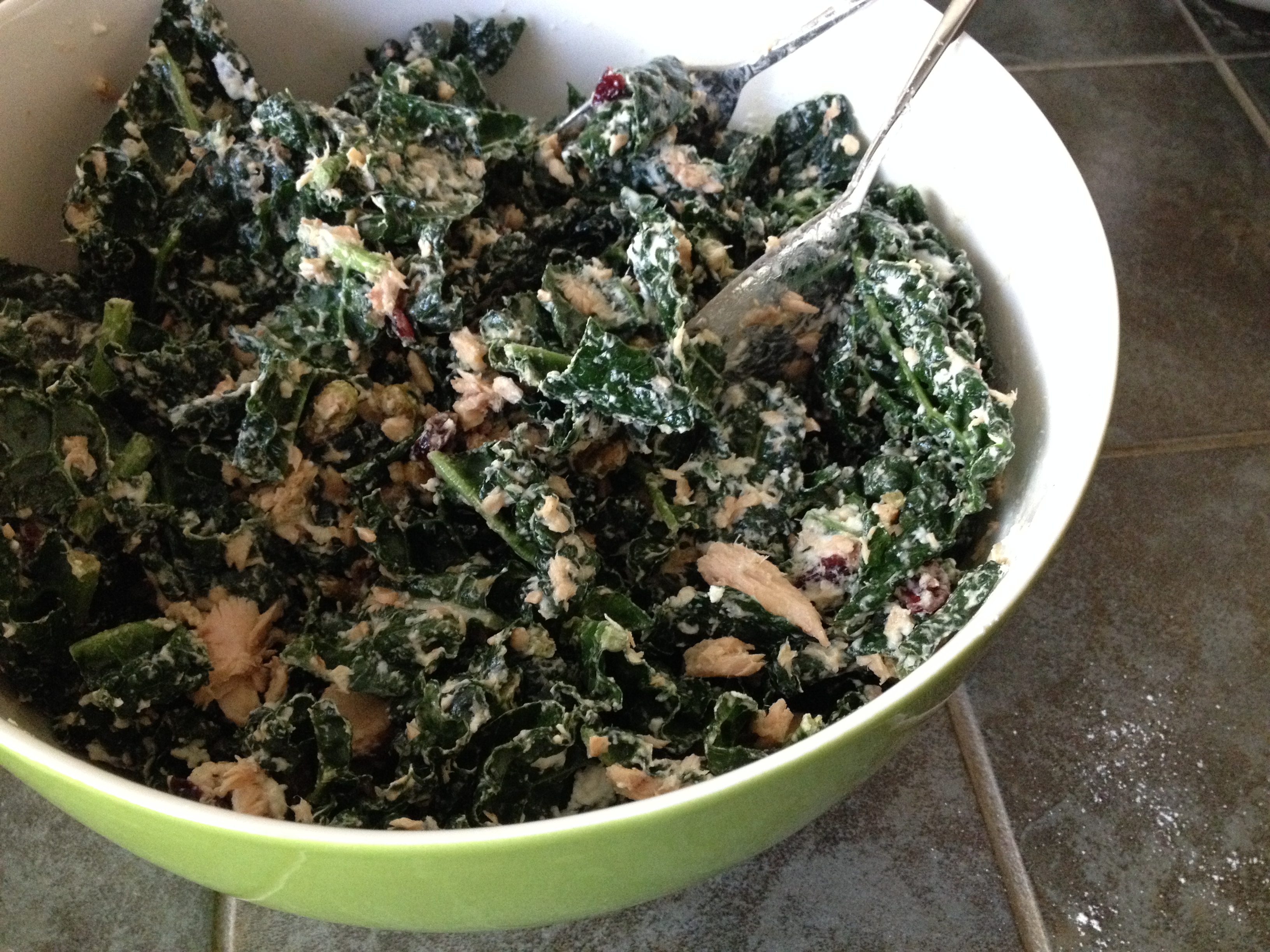 Massaged kale salad with goat cheese, (canned) salmon, dried cranberries, and pistachios
We do these kale salads a lot.  Canned salmon and/or salmon burgers are an easy protein to throw on top (and great for the busy days without much time to make a real dinner).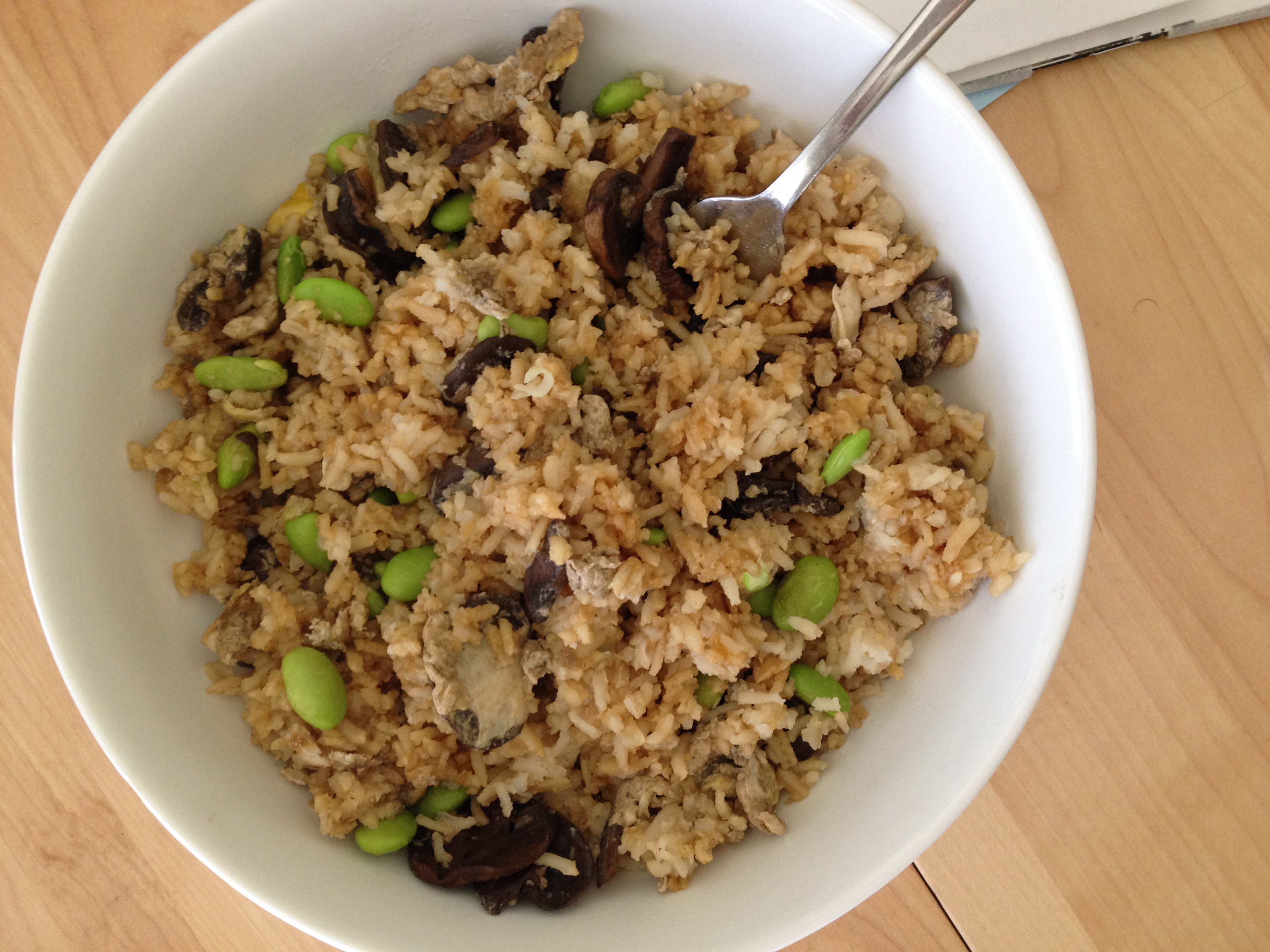 Jessica's 30 minute portobello fried brown rice
So simple.  A definitely solid vegetarian weeknight meal.  I added edamame for some oomph.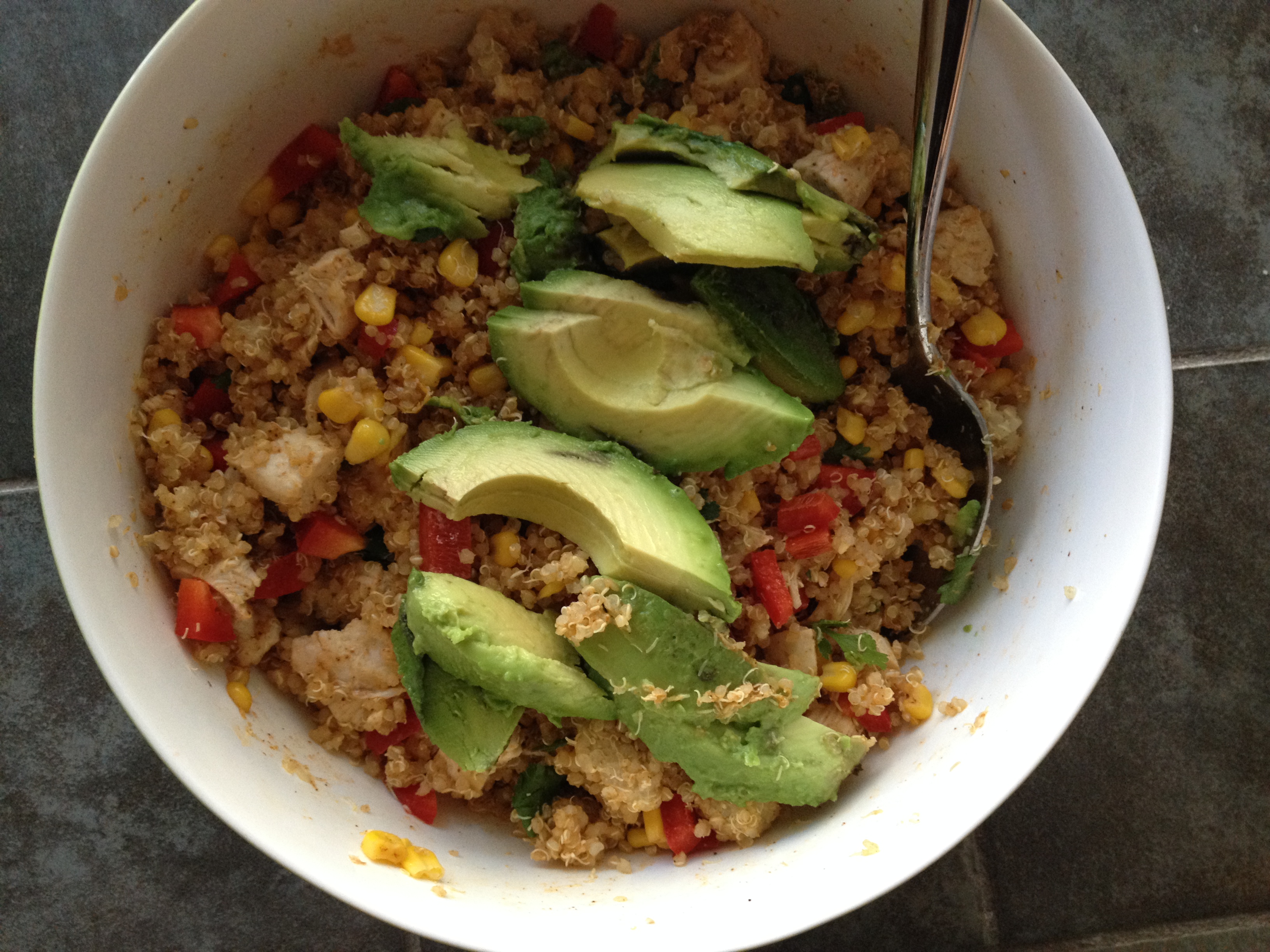 Southwestern Quinoa Chicken Salad
I made this recipe up but I'm sure there are versions of it all over the interwebs.  It's not exactly a novel idea – I just threw a bunch of stuff in quinoa including red bell peppers, corn, cilantro, and chicken (baked plain then seasoned with paprika, chili powder, cumin, and cayenne).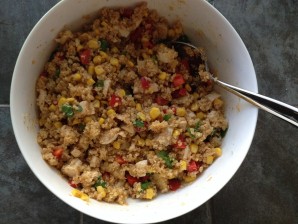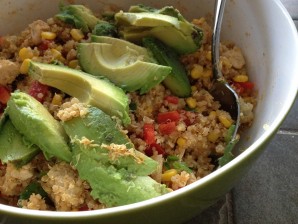 And (of course) I added avocado on top.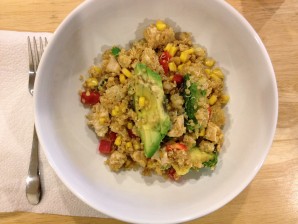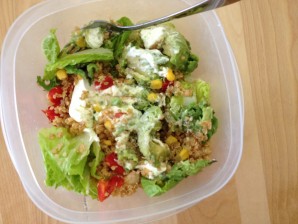 There wasn't much in the way of leftovers so I bulked it up the next day for lunch by serving it over romaine and adding lactose free sour cream.  Plus tortilla chips.  Because salt for the win.
Hooray for meal planning. 🙂