My dream life would consist of waking up, cooking and baking to my heart's content, hanging out with my family and friends all day, exploring new and familiar neighborhoods in LA, eating at my favorite spots while trying new places, and having big family style meals a few nights a week at our new place.
This is basically what I did these past few days.  I wish it didn't have to end.
I woke up Monday morning and immediately began baking Kyle's birthday treat.  He requested chocolate brownies, so that's what I made.
After that I had a few work related things to do, but eventually a few of us headed off to Venice Beach.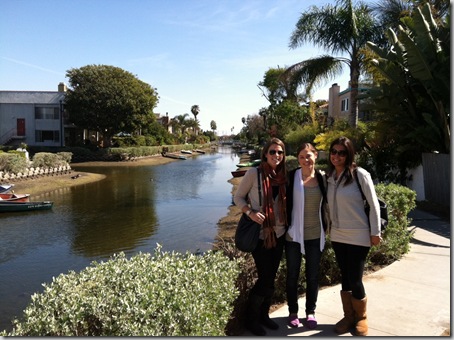 Every time my sister visits she brings rainy weather with her, so I was pretty worried she'd never get to see Los Angeles in all it's sunny glory. 
Thankfully the curse is broken.
We hit up Seed Bistro for lunch, and I got the Asian Kale salad with seitan added.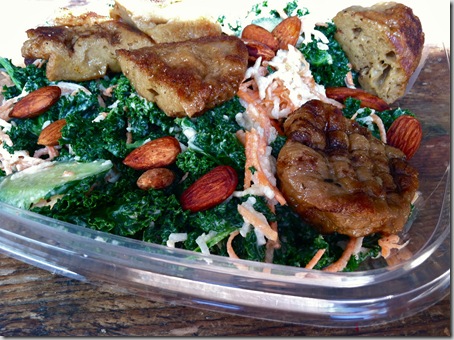 It has steamed kale, jicama, carrots, cucumber, roasted almonds, and a miso-sesame dressing.  How awesome does that sound?!?!  The extra oomph of protein from the deliciously juicy seitan put it over the edge.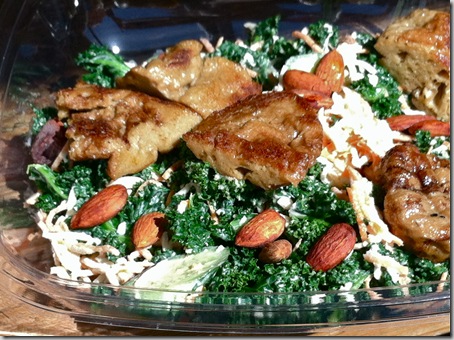 Sorry about the crazy overexposed iPhone pics (but I'm not going to complain about the excess sun after the nasty, stormy weekend we just had).
I could seriously eat this for lunch every day of the week and be content.  It's basically all my favorite things minus quinoa.
Laura and Vandria both got the southwest burger which had a bean and grain patty with lettuce, vegan soy cheese, guacamole, and an ancho chili spread.
Kyle got the seitan sirloin burger with caramelized onions, a seitan "steak", soy "bleu cheese", greens, and a dijon spread.  On the side he got sweet potato fries.
To say he was extremely pleased with this meal would be an understatement.  He is still raving about it. 
We walked around a bit afterwards, exploring the canals and such and eventually made our way to Abbot Kinney.
Laura stopped in at N'ice Cream for a chocolate sorbet (dairy free and delicious).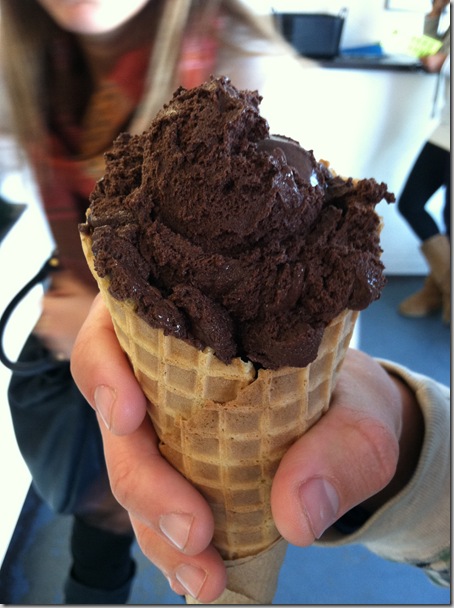 N'ice Cream makes fresh organic gelato and sorbet every morning.
I, too, was jonesing for an afternoon fix…in the form of caffeine.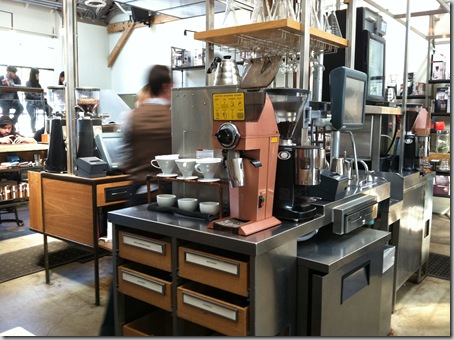 Enter Intelligentsia.
Drip drip drip…ahhhh…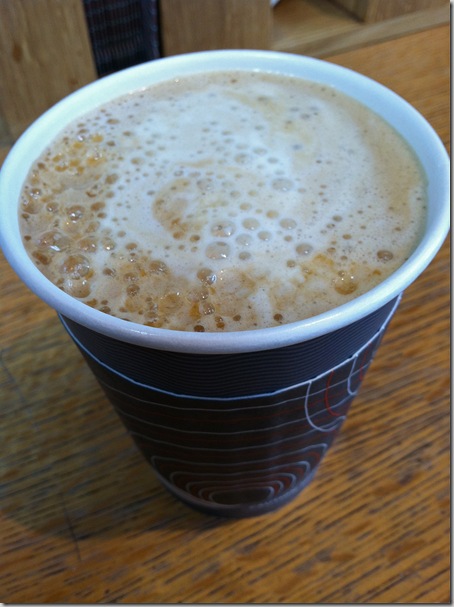 Soy cafe au lait.  They chose the best bean for the soy milk and I just went with it.  If there's one thing I know about this company, it's that they know coffee. 
Did you know you can get Intelligentsia delivered to your doorstep? 
I'm really tempted to get bulk chai tea too.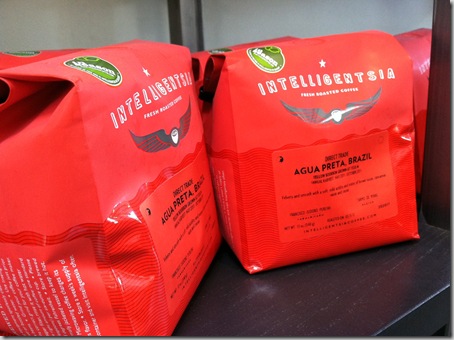 This is the actual blend I had and it was yum. 
Kyle got an iced coffee with soy milk.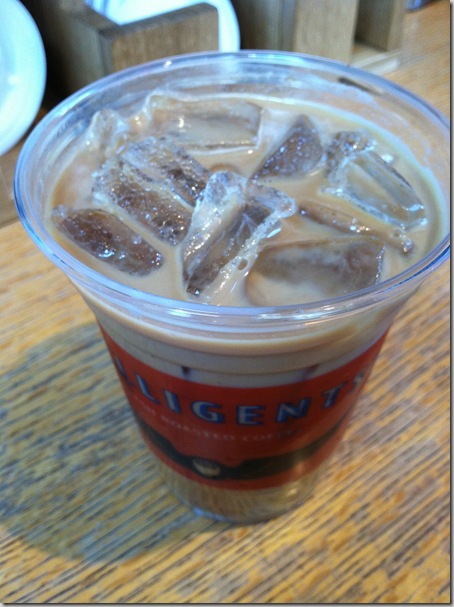 Eventually we were all ready to head home.  And not long after, Ethel came over with a birthday dinner for Kyle.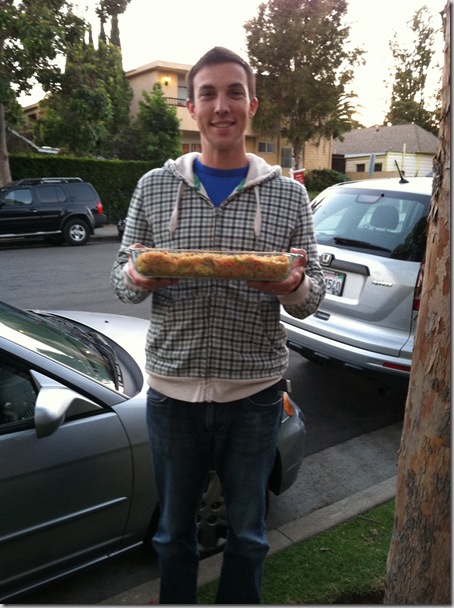 Kyle has been a fan of Ethel's Filipino dishes since our college days.  He used to hoard lumpia like it was his last supper.  And when Ethel made me vegan pancit for my birthday, he didn't even tell me it was vegan (or that it was intended for me) and ate the entire thing himself.  How rude!
So this time around I got to try it.  Plus I laid claims on ALL the leftovers.  That's only fair right?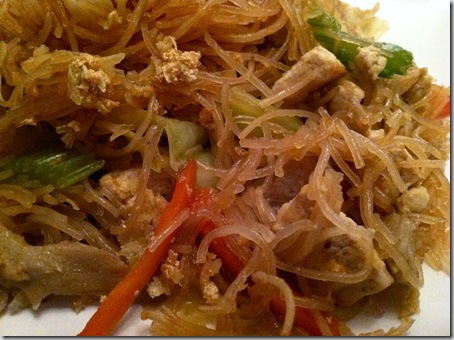 Mmmm.  Vegan pancit.
The next day Laura and I ventured over to Hollywood, then Glendale, then Larchmont Village for more sister bonding and vegan eats.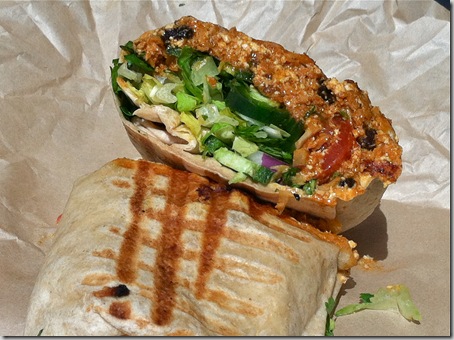 Stay tuned…so many delicious meals!
How does your dream life compare to mine?  Hard to top good food and good company, huh?