They seem to come up with new terms and definitions for anything and everything these days.  Case in point, drunkorexia.
Drunkorexia: depriving oneself of food as a way of "saving calories" for booze. 
I'm fairly certain this phenomenon is mostly seen in the college age bracket, but you never know.  I lived in a sorority house for two years and there was definitely a mix of healthy and unhealthy dietary habits – as well as drinking habits.  You don't need to be a registered dietician to know that replacing vital nutrients with alcohol is a bad idea.  Depriving your body of key vitamins and minerals is bad enough.  But filling the calorie gap with EtOH almost seems worse. 
Personally, I tend to do the opposite.  I'm a "lightweight" and I know it, so there's no way I can handle drinking on an empty stomach. 
For the college kids out there (or alumni), have you noticed drunkorexic behavior?  Is this a thing?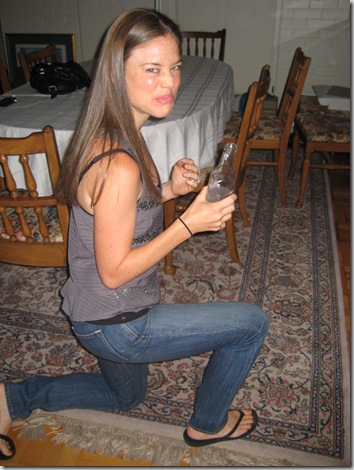 Me, getting "iced" at 7 am before heading to Vegas for my bachelorette party.