On the fourth day of Christmas my true love gave to me in Sevilla, we only had time for breakfast before we were off to the train station.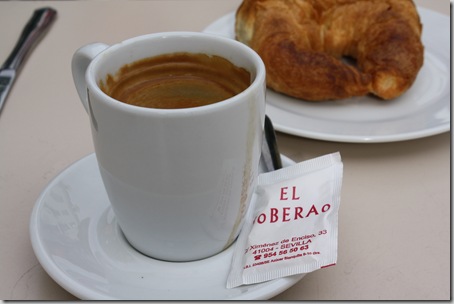 The cafes weren't open as early as we were hoping…but that's what you get when you're vacationing in a country that values siestas over commerce (sounds harsh, but 1 in 5 Spaniards are unemployed, so don't bother arguing the stats).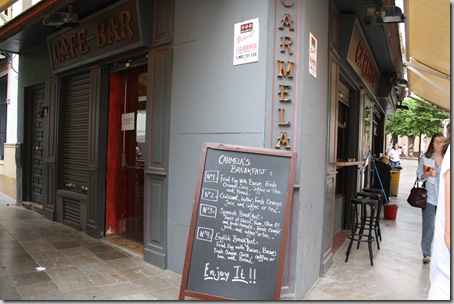 Carmela's refused to seat us, even though they were a mere 5 minutes from opening and their outside seating was already set.  Whatever.  We walked four steps over to the neighboring cafe instead.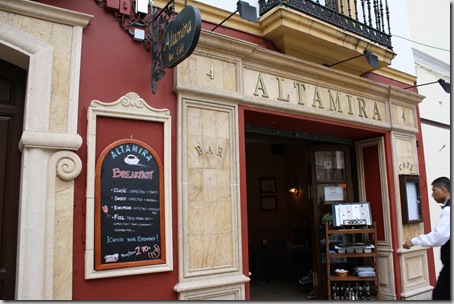 Altamira for the win.  It really made no difference to me, as I was only getting un cafe solo.  Actually, my dad and Marie were in the same boat, getting tea and nada mas.  My mom and Laura got croissants, but even that proved to be an ordeal.  30 minutes to get some friggin' jam?  Were they making it from scratch?  We asked 4 times before resorting to swiping some from another table.  Problem solved.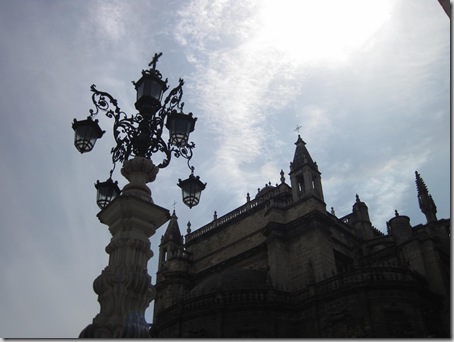 We got distracted on the way back to the hotel because there was a candy stand…which is a sore subject in my family.
As the story goes, back in 2003, Marie and I racked up a 30 Euro bill at a similar candy stand in the Tuileries in Paris.  Of course once we saw the astronomical bill, we put our bags of sugar down and said never mind….which (naturally) infuriated the man selling the sweets.  We then engaged in a long negotiation period, at the end of which, Marie and I emerged the victors.  I'm sure our dentist would be willing to verify that, too.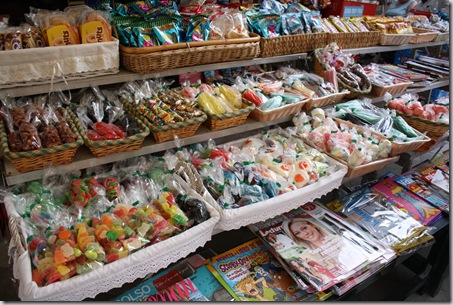 Even though I no longer eat marshmallow fluff and sugar coated sour straws for breakfast, lunch, and dinner, there's still a soft spot for such goods in my heart.  I'm not proud of this, but I used to live on the stuff.  No joke.  My expenses when I was studying abroad were either for candy (Si o Si was my favorite shop) or American books.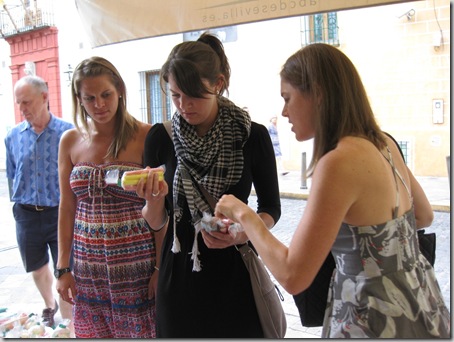 My knowledge of dulces is on par with my knowledge of cardiac arrhythmias.  I'm dead serious about the stuff.  So I felt obligated to share my info with Marie as she chose some goodies for the road.  Please note Laura's look of extreme disdain (she's a savory girl), and my dad's complete disinterest (actually, he's probably eyeing the chocolate).
This photo really brings back the memories.  😉  They just don't make candy the same here in the states.
After our sweet detour, we set off for the train station.  Since there were 5 of us, this was no small feat.  The kind doorman at our apartamento had arranged for 2 taxis to schlep us to the station.  In reality, I think we could have used 3 cabs because our luggage took up as much room as we did.
We eventually did make it to the station, though, and with plenty of time to spare.  I made use of the time by shopping and then digging out my extra chocolate muffin from the previous day's trip to Veganitessen.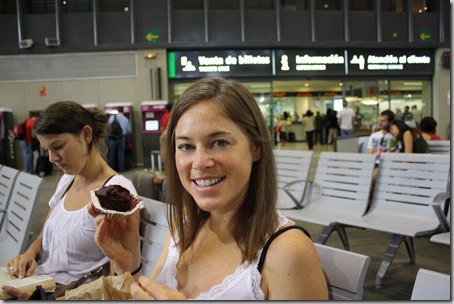 Breakfast is served!  I was only half way through it when our train started to board though, so I scrambled to reassemble my bags and get my ticket out.
I didn't know they were going to check our passports (again) as we boarded the train, or put our bags through the x-ray scanner, so I was a bit flustered.
And my passport definitely had cake on it.  And I'm 99% sure the agent knew it.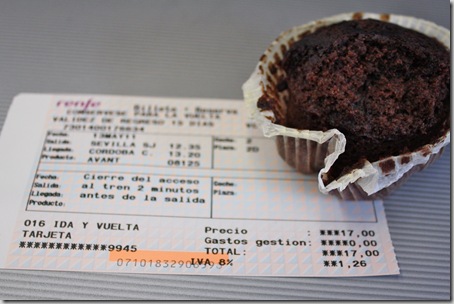 That, friends, is how you know you're a foodie.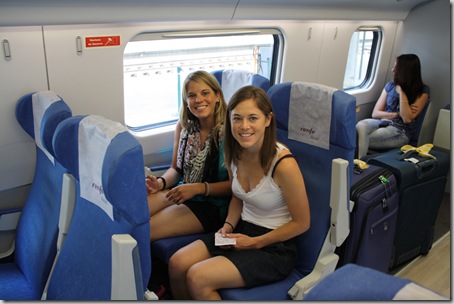 The ride wasn't too long.  I read and journaled and before I knew it we were in Cordoba!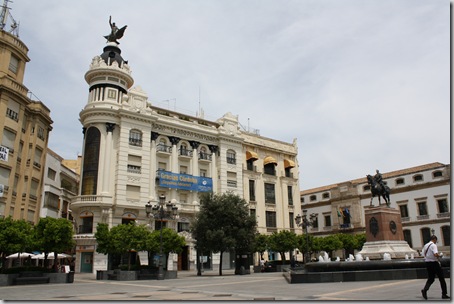 Hola Cordoba!
Priority #1 – check into the hotel
Priority #2 – get lunch
Again, we had to pile into 2 taxis.  The only real thing to see in Cordoba is the mosque.  There's other stuff too, like bridges and parks, but really, the city is famous for one thing.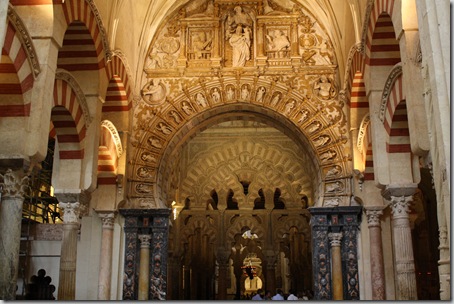 It's impossible to comprehend how amazing the mosque was from my photos.  But, I'm getting ahead of myself.
Knowing the main focus of our trip to Cordoba was the mosque, we chose a hotel across the street.  Not even.  The streets are so narrow, you could almost touch the mosque from our hotel.   You could also touch a mammoth-sized moth from our hotel.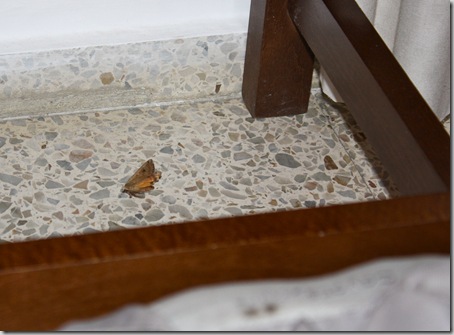 We had to keep a vigilant eye on this beast over the 30 hours we were in Cordoba.  I was the lucky one who chose the bed with it next to my head.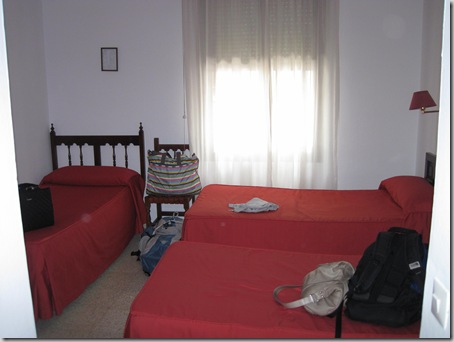 It's under that chair.  Joy.
After we put our bags down, we did a little bit of wandering, while simultaneously keeping an eye open for a good lunch spot.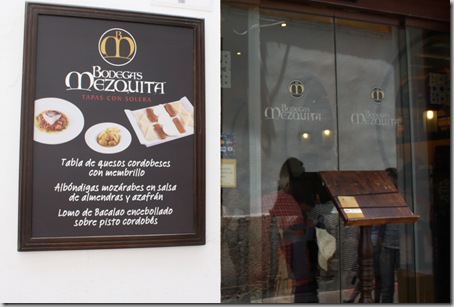 Bodegas Mezquita was recommended by the hotel (and trip advisor FYI) so it was the winner.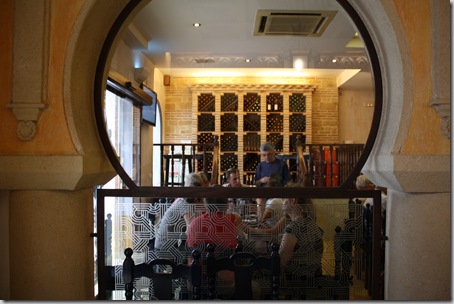 Bottles and bottles of wine?  Good!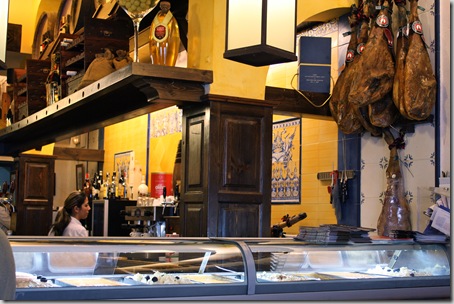 Legs and legs of animals?  Not good.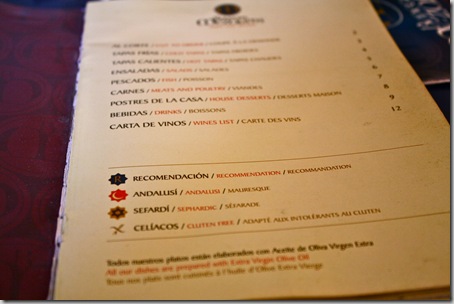 However, the restaurant really redeemed itself (and surprised the heck out of me) with it's menu that made note of gluten free options for "los celiacos".  Wow.  Go Cordoba!
We had a kind of share the tapas approach to lunch…starting with bread.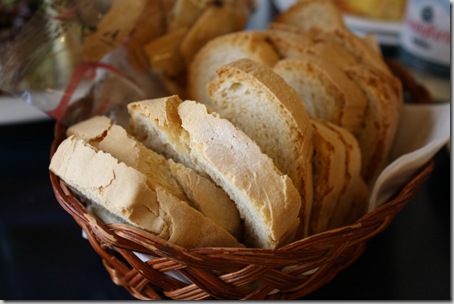 Do I ever have anything bad to say about bread?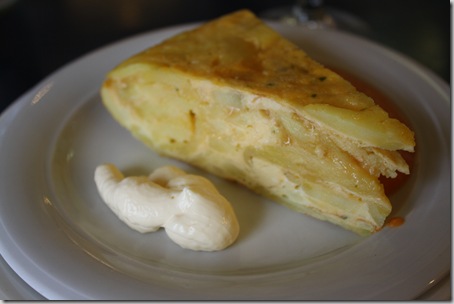 Next up tortilla espanola.  Since others asked before, I feel obligated to clarify, this has nothing to do with the tortillas we know of here in the states.  It's one of the most traditional dishes in Spain.  The best way I can think of to describe it is like a potato quiche.  As per usual, it was offered up alongside mayo (so weird).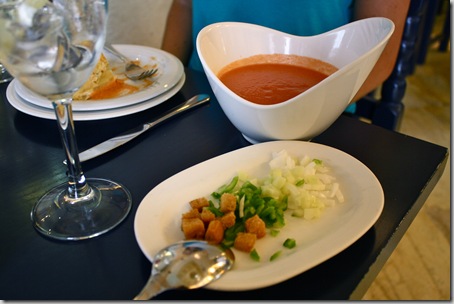 And then there was gazpacho.  If you are unfamiliar, it's essentially cold tomato soup.  It tastes like pureed salsa to me.  Then you add in whatever toppings you want (i.e. croutons, bell peppers, onions), which come on the side…thus making it exactly like salsa.
We also got an order of eggplant fries.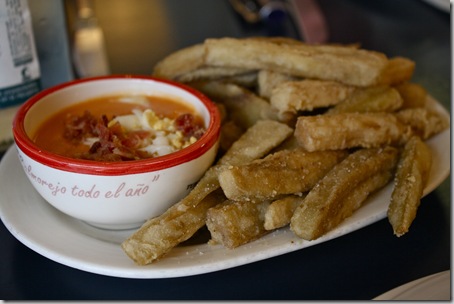 I was hoping these would wow me more, but they were pretty lacking in flavor.
The star of the show, in my opinion, was the salmorejo.  This cold soup is similar to gazpacho, but has a much thicker consistency.  Like gazpacho, salmorejo is made with tomatoes, bread, oil, garlic, and vinegar, but it uses way more bread, which gives it a much more creamy consistency.  I scooped away the ham and egg that came on top and enjoyed each and every bite.  Mmmm…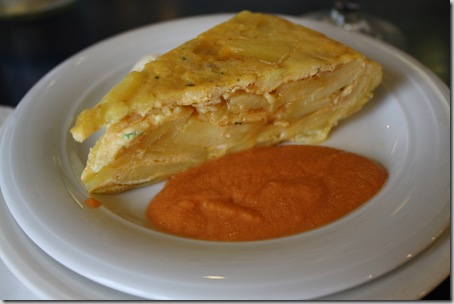 The second order of tortilla espanola had salmorejo on the side, so I was reallllly happy with lunch.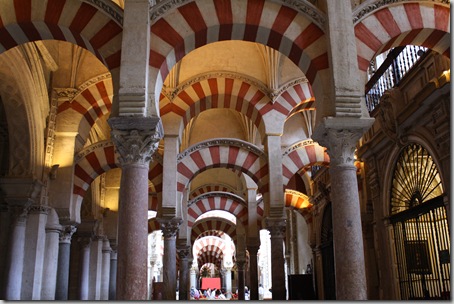 Up next, arches and arches.
How many stamps are on your current passport?  Any residual food?