I will never tire of puns.  Ever.  As long as I'm the one saying them, that is.  I don't have the same policy when it comes to my dad's or Kyle's. 
Last month I made baked BBQ tofu and promised you all the recipe.  Then I ate it all, took no photos, and realized I suck.  Blogger fail.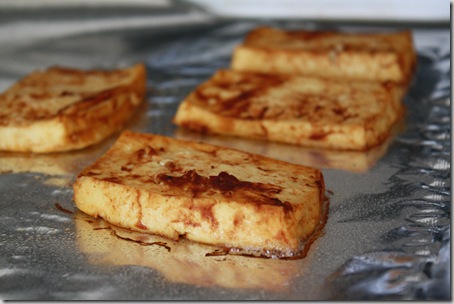 No worries, I made it again.  And it was just as good this time.  Here's what I used:
1/2 block pressed tofu (I used the other half for I don't remember what)
3 tbsp. of BBQ sauce (whatever your favorite brand is)
1 tsp. of honey mustard (Dijon works if you want it on the spicier side)
1 tbsp. Bragg's liquid aminos (or soy sauce)
1/2 tsp. lime juice
salt and pepper (to taste)
First, add BBQ sauce to the pressed tofu and rub it down so the sauce is coating the 'fu.  I am lazy and used the Nasoya container, but I'd recommend using a tupperware that seals so it can marinate in the fridge.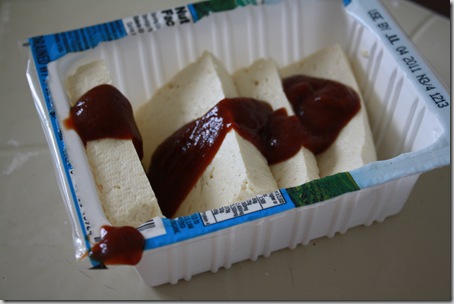 Next mix the rest of the ingreds together on the side and then dump on top.  [Just as as FYI, I'm sure using BBQ sauce alone will still turn out delicious, but I prefer to amp it up with some extras]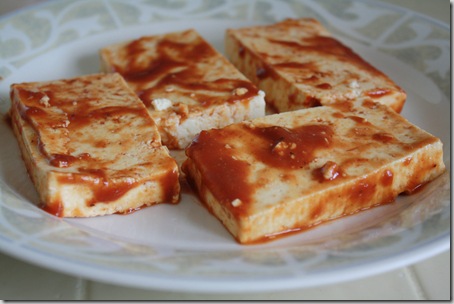 This is the tofu after bathing in the sauce bath.  Then I added it all to a tupperware, to soak up the flavors overnight.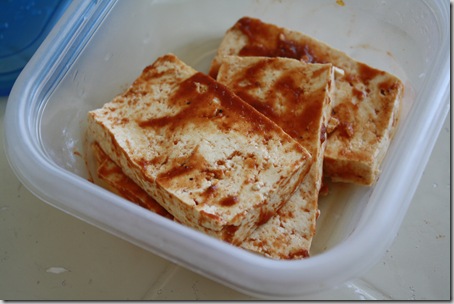 Here it is the next day…like a sponge, the tofu absorbed the sauce.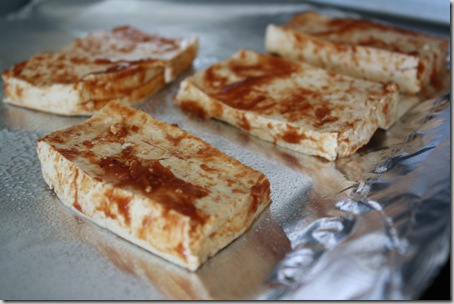 Added to a sprayed baking sheet, baked at 375 degrees for 20 minutes.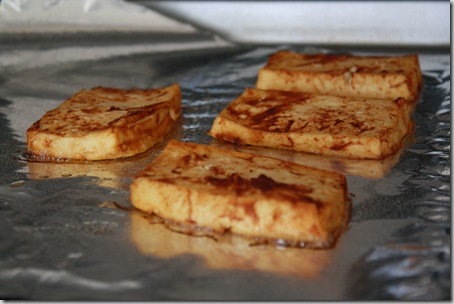 Sizzle.
Now what to do with it?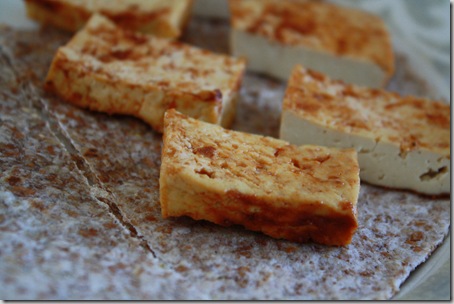 I was in a wrap kind of mood.  So I pulled out the last Ezekiel sprouted tortilla and scrounged through the fridge for filler ingreds.  I came up with hummus, sprouts, and bell peppers.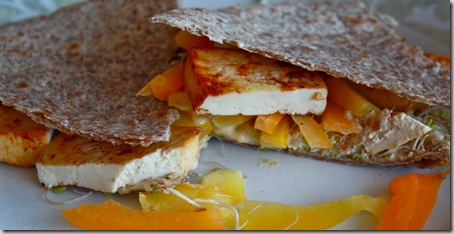 This is the only decent picture because it immediately fell apart. 
Note: Ezekiel tortillas are not meant to hold a wrap together.  Seriously, this is the second time I've attempted it, and it ended just as bad as the first.  They are hard and crack and basically have NOTHING on Alvarado Street's sprouted tortillas (which WF's has been awful at keeping in stock). 
On the plus side, the tofu was delicious.  I also love it when sprouts and hummus are together in a dish. 
To summarize, DO use this BBQ recipe for a yummy tofu dish.  DO NOT use these tortillas though. 
For another great BBQ tofu recipe, try BBQ tofu and quinoa.