Wow, Saturday went from sunny and nice to rainy and gross in a matter of seconds.  Good thing my 10K was early! 
I woke up at 7 am to get ready – and it was already warm and sunny out!
I knew exactly what I wanted before the race…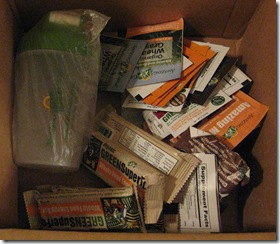 You see, a while ago I received a HUGE box of goodies from the wonderful people at Amazing Grass (thanks Brandon)!!!
So I knew the chocolate SuperFood powder would be the perfect pre-race fuel. 
I combined it with a shot of iced coffee (leftover from yesterday's morning brew) and some almond milk…perrrrfect 🙂
It was light on my tum tum, while still giving me enough of a boost to kick some 10K ass.  Plus, it's CHOCOLATE!  I wish I could have blended it, but I was trying to be quiet for Kyle since it was so early.  Now I really can't wait to try the other flavors!
After I sipped down my magic elixir, I laced up, and hit the road.  I listened to Jillian on the way there because I'm obsessed 🙂
The race started on the east side, so I arrived with a few extra minutes to stretch and get my nervous/excited jitters a-buzz. 
The horn blared and I was OFF!
In summary, this was THE best race EVER!  There were a few factors contributing to this:
1) Since I'm now an official NYRR member, I got to start way closer to the front of the pack, meaning I didn't have to navigate my way through a sea of slow-pokes (harsh much?).
2) The race starting point was right before the worst uphill part of the central park loop, so I was full of energy for the most difficult part.
3) I had the best playlist ever pumping me up the entire time (the new Black Eyed Peas cd is a MUST for all you runners out there)!
4) I took steroids before I left the apartment. 
4) They said there was a surprise frozen treat at the end 🙂
I'm still waiting on my official time, but I think I finished in 43 minutes.
I enjoyed a strawberry fresh fruit popsicle on the way back to the apartment.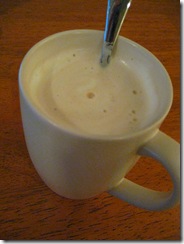 After showering, and then running to the store for more leche, I frothed up this bad boy and vegged on the couch with some fruity eats.
Blueberry Oikos isn't as good as Chobani, but I'm trying to use up things in the fridge.  Plus, massive amounts of melon make anything and everything great.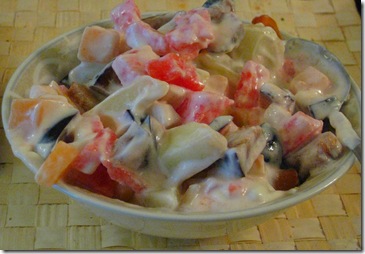 I added in the melon and a plum (which I also got after the race), and stirred away.  Free food is a good motivator for entering races btw.
I chatted it up on the phone with my momz for a while, and next thing I knew, it was well past noon and I was hungry.
I was feeling like some raw eats were on the menu for lunch.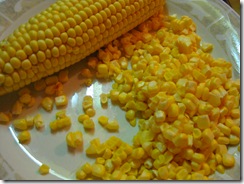 First, I de-cobbed some uncooked corn, then tossed it in with some other veggies to create this masterpiece.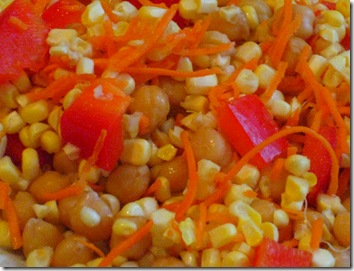 This salad contained: raw corn off the cob, red bell peppers, shredded carrots, and chickpeas.  It was so huge, it took forever to eat, which was delightful.  Plus I kept adding in scoops of roasted red pepper hummus…which is a sure-fire way to make a dish taste ah-mazing.  Pretty sure you could add sabra to poop almost anything and I'd like it.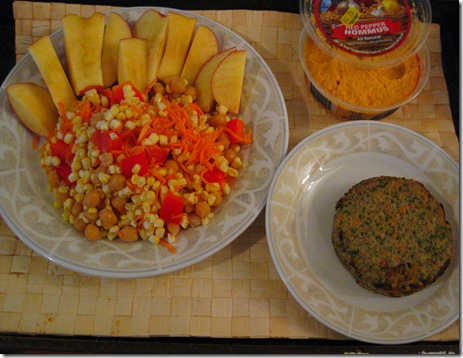 Also on the menu, apple slices, morningstar veggie burger, and red pepper hummus.  NOM!
This lunch hit the spot.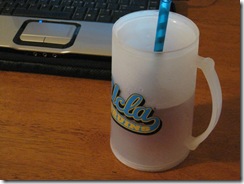 In my bruin mug: iced tea with my NEW (and oh-so-cute) straw!!
Since it was pouring outside, Kyle and I did nothingness all day…I did laundry and packed haphazardly threw crap in a suitcase.  I am so scared I'm going to end up in Hawaii without anything but a bathing suit (there could be worse things though, right?…like the lack of hummus tomorrow's travels will bring)!!!  Eek!  Do you think LAX has tubs of sabra?  I have a 3 hour layover there, so I have time to scavenger hunt.  Any So Cal bloggers wanna meet at the LAX starbucks smuggle some hummus through airport security?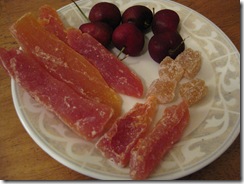 I did some dried fruit snackety snacking in the afternoon (cherries, papaya spears, and ginger cubes).
Look familiar?  Dinner was basically the same thing as lunch (the fridge is running on empty), sans chickpeas.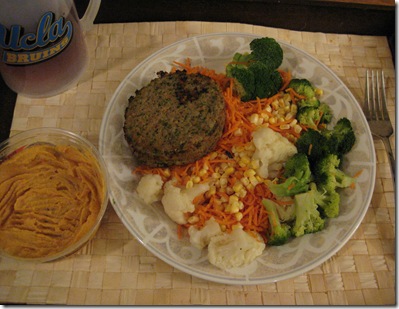 Broccoli and cauliflower were the new members to the meal, everything else was the same.  I finished the hummus (duh).
After dinner, we busted open ANOTHER Newman's Own Organic product.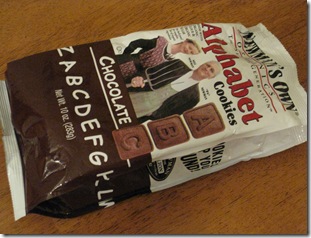 Jillian actually mentioned these Chocolate Alphabet cookies in a recent podcast (not in a good way, though)…I sampled a few, but decided I'd rather keep the crap intake to a minimum…the last thing I want are GI issues, while trapped on a 14 hour flight.
Kyle wrote me a message with his dessert…
I thanked him by sharing my grapes (dessert #2)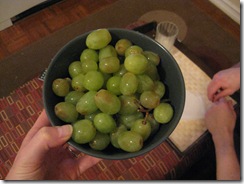 And now, for a Heather inspired ending to the post, here is Kyle's random comment for the day:
"Elise, wash those!!  They're from Mexico!" – about the non-organic grapes
he bought
One final thing I want to say: Thank you, thank you thank you!  I heart you guys so so much.  I can't thank you all nearly enough for your endless support and sweet comments about my computer woes.  You know how to make a girl feel loved, and it's just further proof that this blogging community is truly SO much more than just food/fitness.  I could go on and on, but in the interest of getting back to packing for Hawaii, I'll nip this sap-fest at the bud.