Recipe first, giveaway second.  Cool?
Or you can skip ahead to the end if you want.  I won't be offended.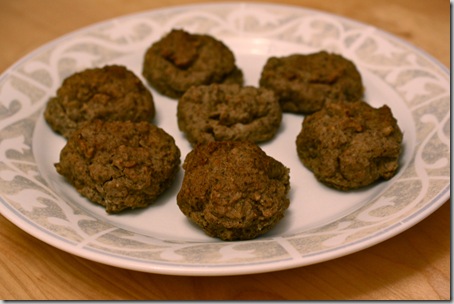 I was trying to make meatless meatballs, but they weren't really cooperating, so instead we got sliders.  The recipe still needs some work though (in my opinion).  They taste good, so that's not the issue.  And for anyone wanting to make sliders (or bigger veggie burgers?), these would probably be good enough.
I'm sure everyone is thoroughly sick of Super Bowl recipe ideas at this point (I know I am).  So make these whenever.  Or don't.  And if you want to throw them on top of a bowl of pasta with marinara, then by all means go for it.  They're basically massive meatballs after all.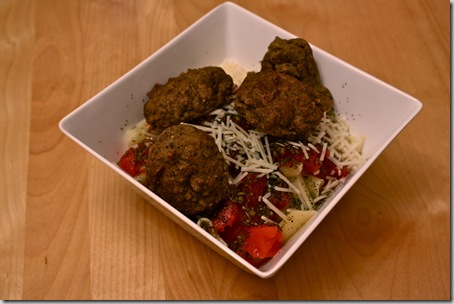 White Bean Balls [vegan, gluten free, yields 24 meatballs/tiny sliders]
Ingredients:
1 can (15 oz) cannellini beans + the liquid
3/4 cup cooked brown rice
7-9 white mushrooms (~1/2 of a 8 oz carton)
1/2 cup ground flax seeds
3 tbsp nutritional yeast
1 tsp dried basil
1/2 tsp dried thyme
1/2 tsp paprika
1/2 tsp onion powder
1/2 tsp garlic powder
1/2 tsp salt
Directions:
Pre-heat oven to 250 degrees F.
Mix everything together in a food processor.
Let it sit for a few minutes (so flax seeds can cause the "batter" to thicken).
Using a tablespoon measuring spoon and another spoon, scoop onto a pan lined with parchment paper.
Bake at 350 degrees F for 35-40 minutes.
Let rest until cooled.
I think my main issue with these was how soft and sticky the batter was.  It was hard to form balls.  And the final product wasn't as dense or hearty as I was hoping for.
In the future I think using really dried out old rice or fewer mushrooms or less liquid could help.  Who knows.  They still baked up fine.  They just weren't firm solid meatballs.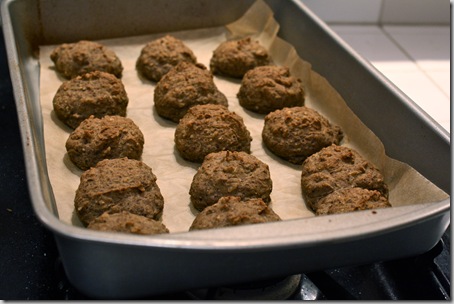 This is one of two trays.
I made them the day before we ate them so I just reheated them in the microwave for ~30 seconds before servings them.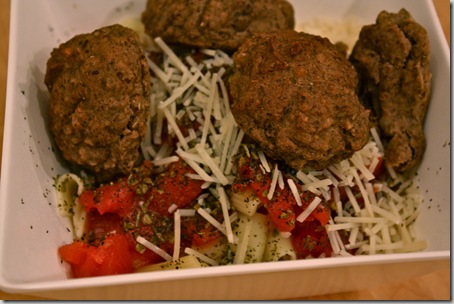 Kyle ate his with whole wheat pasta, tomatoes, Italian seasoning, and parmesan.
We were out of marinara, so I just used diced tomatoes and added seasoning and olive oil.  I didn't mind the difference at all.  Kyle never said anything, so I'm not sure he even knew he wasn't eating marinara.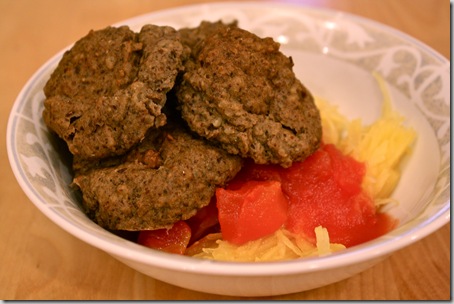 I had mine with spaghetti squash, diced tomatoes and nutritional yeast.
We both had seconds.  And Kyle had them plain for lunch the next day.
Texture wise they seem to be improving as the days go by.  I'm glad I made a lot.  I bet adding in some veggies (carrots, corn, etc.) and shaping them into larger patties would make perfect burgers.
But for now, I'll keep pretending they're meatballs.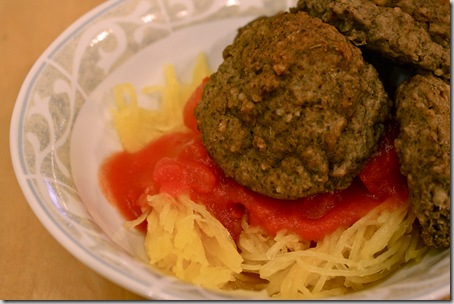 Now, about that giveaway…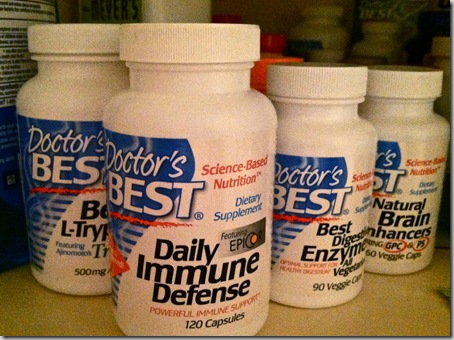 I'm a very loyal consumer of Doctor's Best supplements.  I have been taking their fully active folate and DHA throughout pregnancy.  I also take the digestive enzymes regularly (although I stopped all things herbal during pregnancy).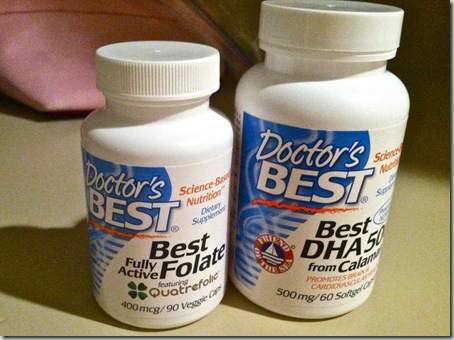 So guess what?  Doctor's Best is offering to give THREE readers a collection of nutritional supplements including:
SAMe
Fully Active Folate
Natural Brain Enhancers
High Absorption Magnesium
Curcumin Phytosome featuring Meriva
Kat James' book "The Truth About Beauty"
Cool right?  All that for three lucky readers.  *Open to US residents only*
You've got a couple of ways to enter:
1. Leave a comment telling me what supplements you take currently and why (if you don't take any you can say that too!).
2. Tweet about this giveaway mentioning @elisehippie and @DoctorsBestInc (and leave a separate comment telling me you did so).
I'll choose & announce the random winners on Friday February 1st (so get your entries in now!!).