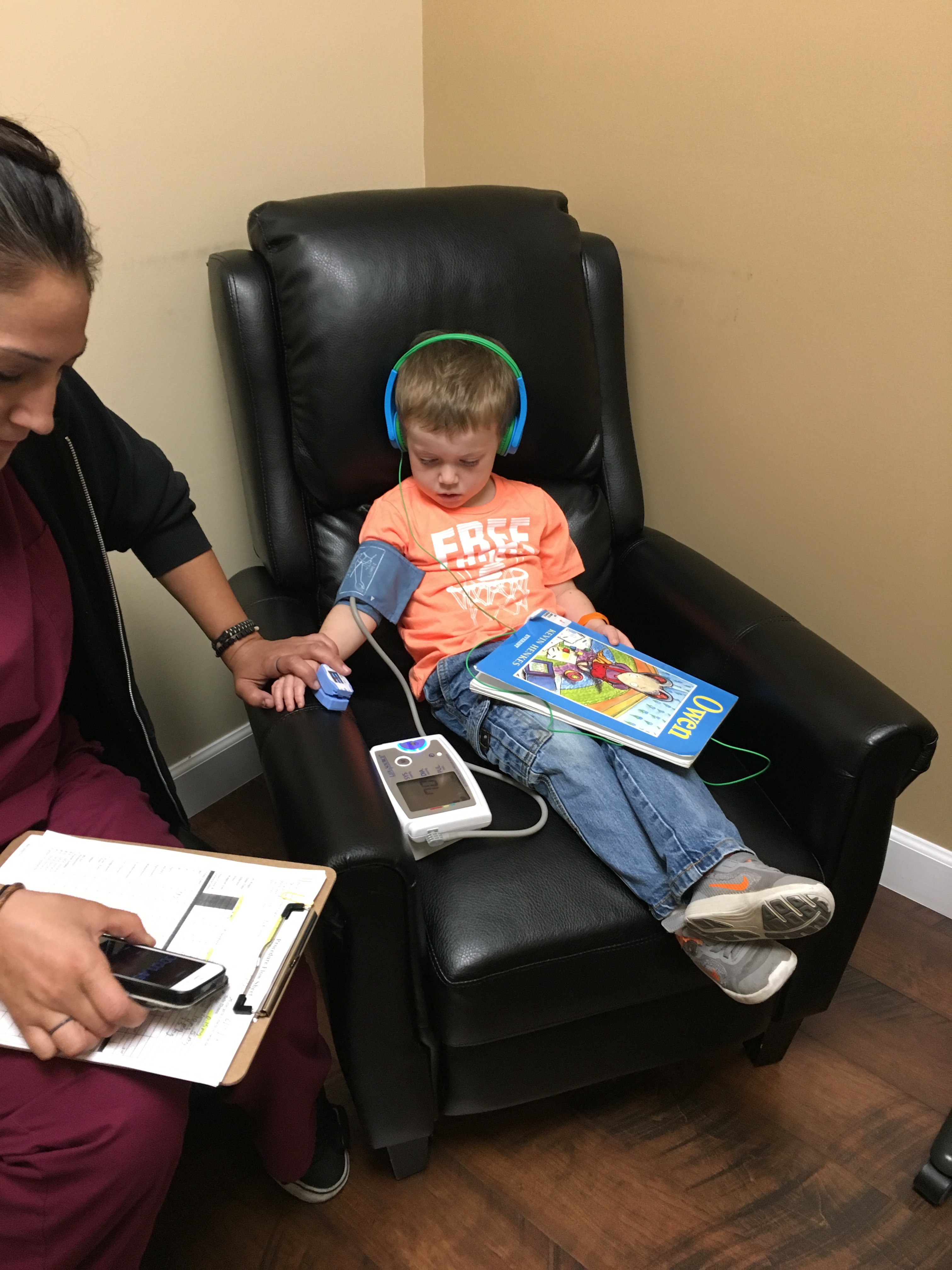 We decided to stick to one up-dose per appointment but we were still there until almost noon.  It was all good though.  He is officially at 1/4 cup of whole milk twice a day.
He read the same book on cd 5 times in a row!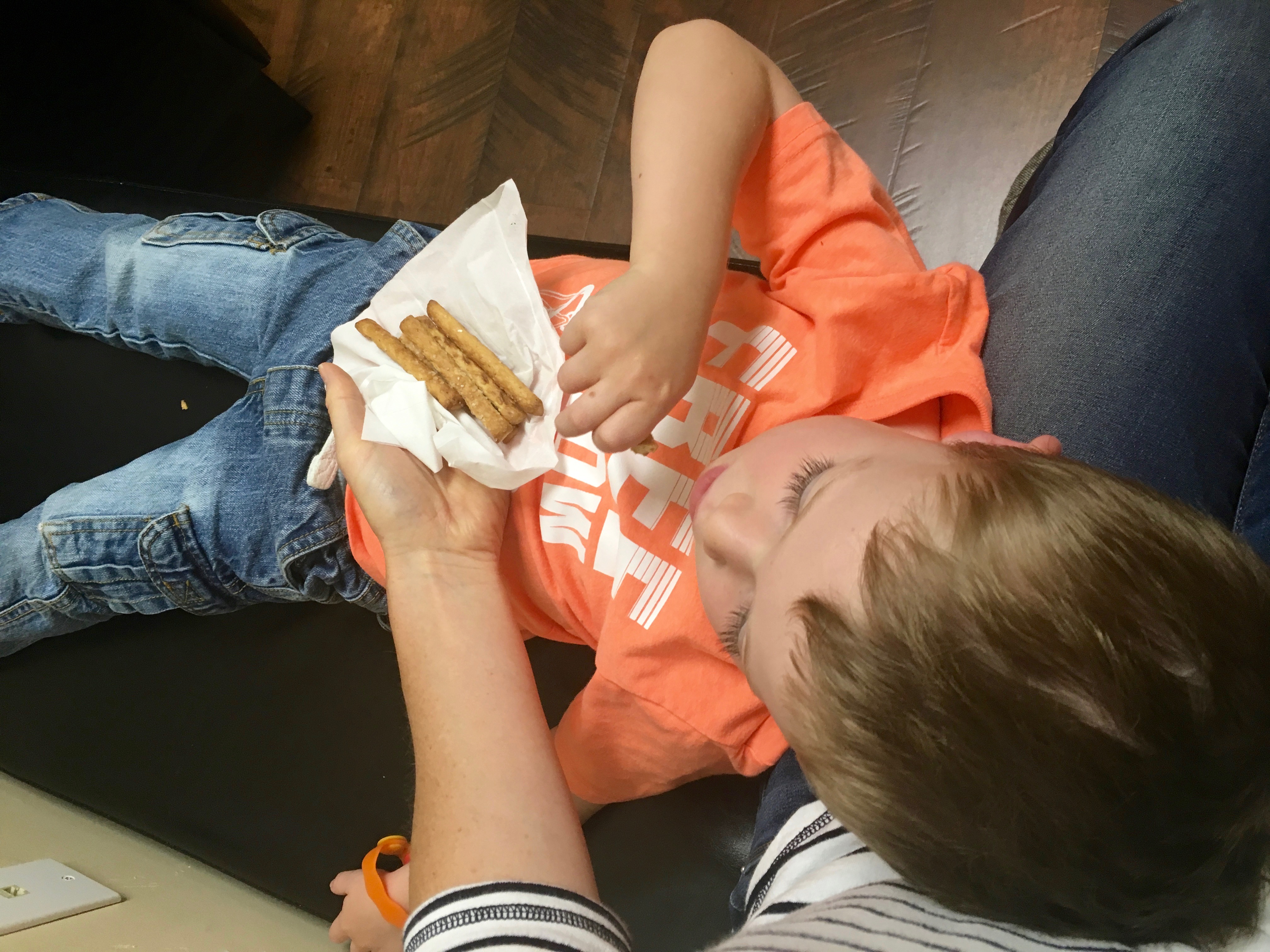 And ate pretzels while he snuggled on my lap to pass the time.  After we left, we quickly ran to WF, where I was planning to get something, but P was anxious to get home, so I scrapped my plan and just went back to my parents' house.  I was really really hungry because I forgot to pack any food for me.  He, however, had been snacking all morning, so he was good and ready to pass out on the ride home.  Which he did.  It was fine with me though, because I couldn't listen to anymore Mickey Mouse songs on my pandora station.  I got all caught up on the Comey testimony details thanks to the hours I spent surfing the internet in the MD office and then listening to podcasts while driving.
V was napping when I got to my parents' house, so I dropped off P, said goodbye, and then left!  Both kids were staying at camp grandma/grandpa the whole weekend long!!!!!  Weeee to freedom!
First things first, I needed to go to a proper mall to find shoes for my sister's wedding.  There aren't any decent stores in Davis, so obviously I had to go to Broadway Plaza.  I ended up finding some pretty rose gold heels at Nordstrom, so that was fun, but by the end of it I was starving.  It was already 2 pm and I had basically had nothing but coffee all day.  No bueno.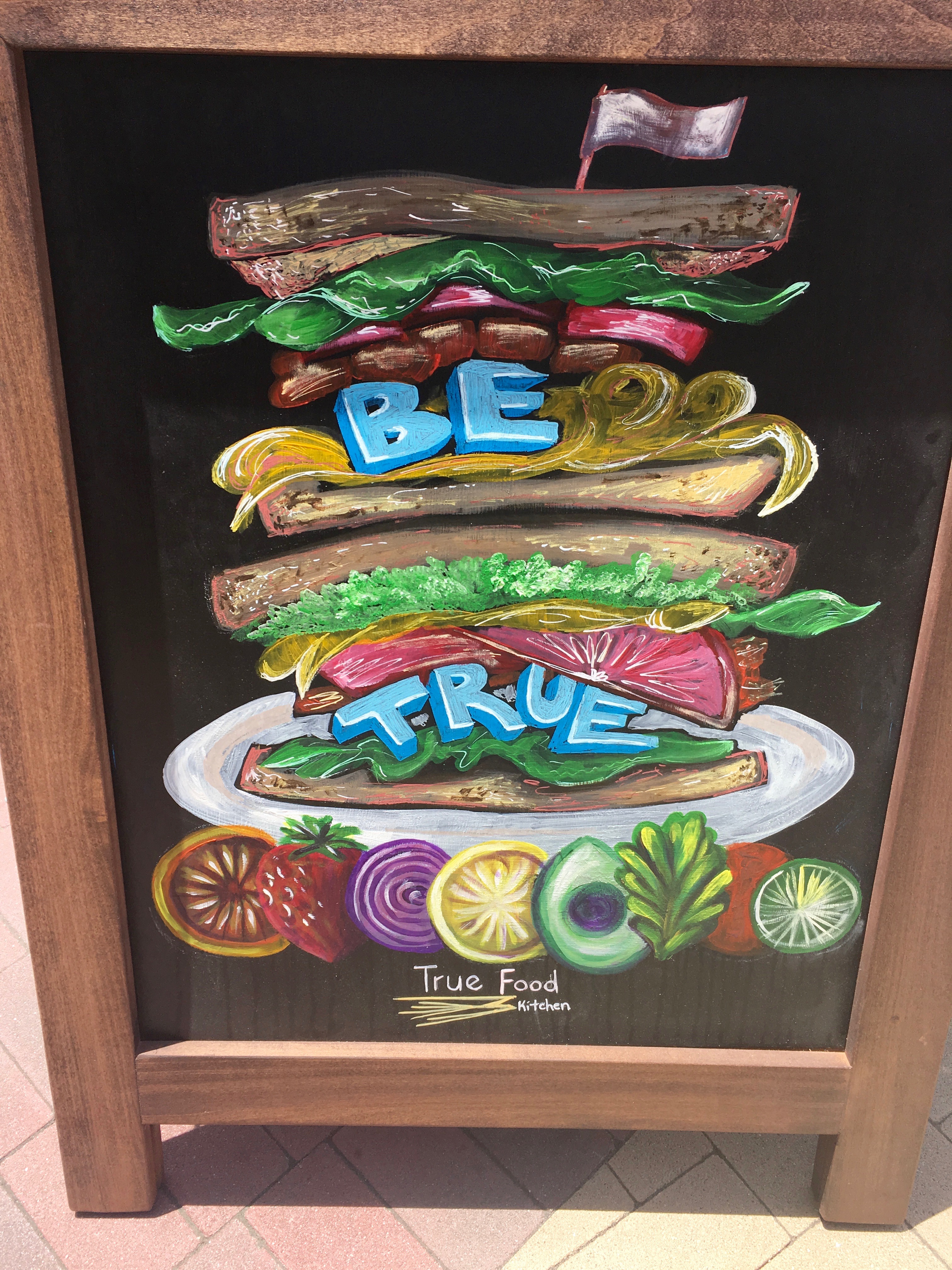 True Food Kitchen was staring me in the face on my walk back out of Nordy's so I grabbed a menu to look over.  I was super overwhelmed though and ended up folding under the pressure of ordering the "perfect" option.  I do this all the time at restaurants.  I truly have anxiety about picking the wrong thing.  I get FOMO about my food!  And if others get something that I was thinking of getting and it looks better I get angry.  It makes me crazy.  I am admitting this here because I know it's crazy but I feel like others may understand it.  Ugh.  Anyway, after my headache of an ordering dilemma came to a close, I got this salad.
It looked meh upon first glance, but thankfully I added avocado (which they didn't charge me extra for!) but wound up being pretty great!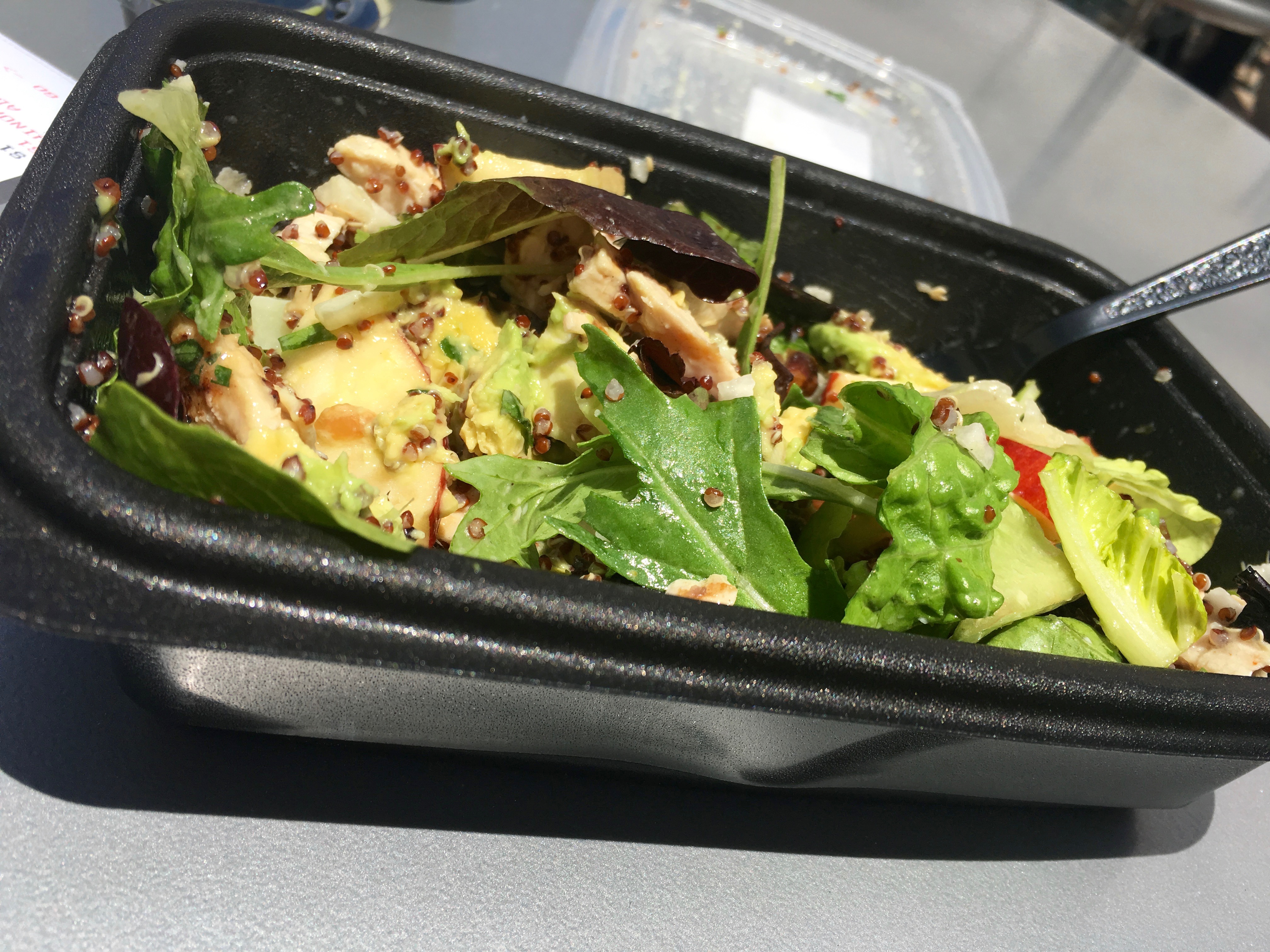 I ate it way too fast though and was annoyed at myself for that.  Here I am without kids and I'm still inhaling my food!?!?!  WTF man.  Enjoy it!
But I was in a bizarre mood.  I didn't really know what to do with myself without kids.  With nothing else to do in the East Bay, I got in the car to drive back to Davis.  Unfortunately I hit maaaajor traffic and it took me TWO hours (double the usual commute time) to get home.  I was so sick of sitting in the car by then and had pretty much listened to every podcast in my queue.  Blah.  But I finally made it home and then…what to do…!?!?  Kyle was still at work and I had no children to take care of.  What do I do with myself??  I chose vacuuming.  It felt a little ridic, but once the house was all clean it felt amazing.  Totally worth it.
Kyle got home and we vegged in the yard for a bit trying to decide what to do that night.  We had dinner reservations in Sac, but I was feeling so wiped out.  Not wanting to get dressed up or get back into a car, we decided to scrap those plans and keep it simple.  Instead, we walked to Nugget, grabbed a few ingredients, and came home.
Kyle grilled burgers while I prepped the toppings.  Easy peasy.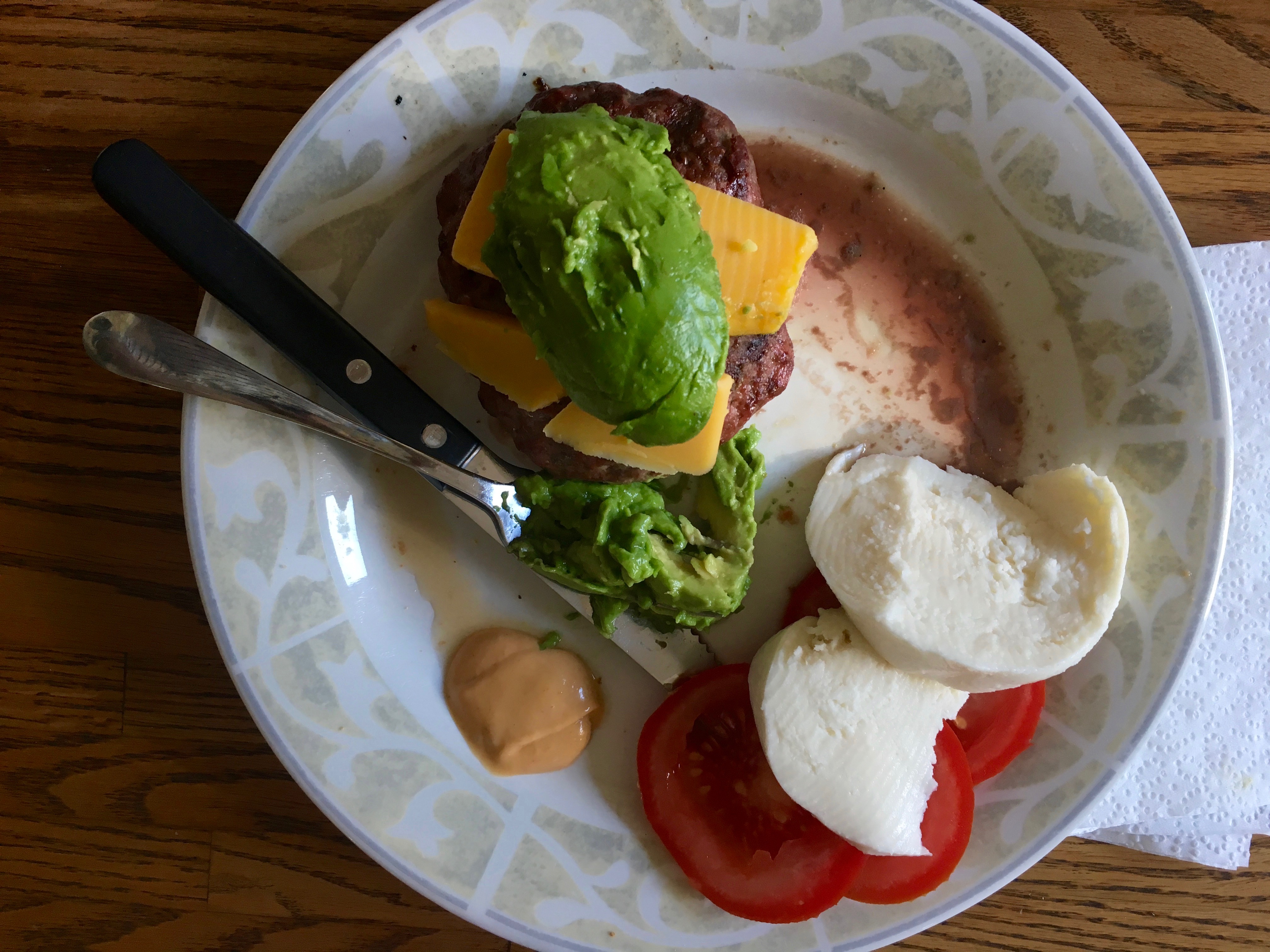 On the side we had a mozzarella and tomato salad.  It was exactly what I needed to get my weekend off to a chill start.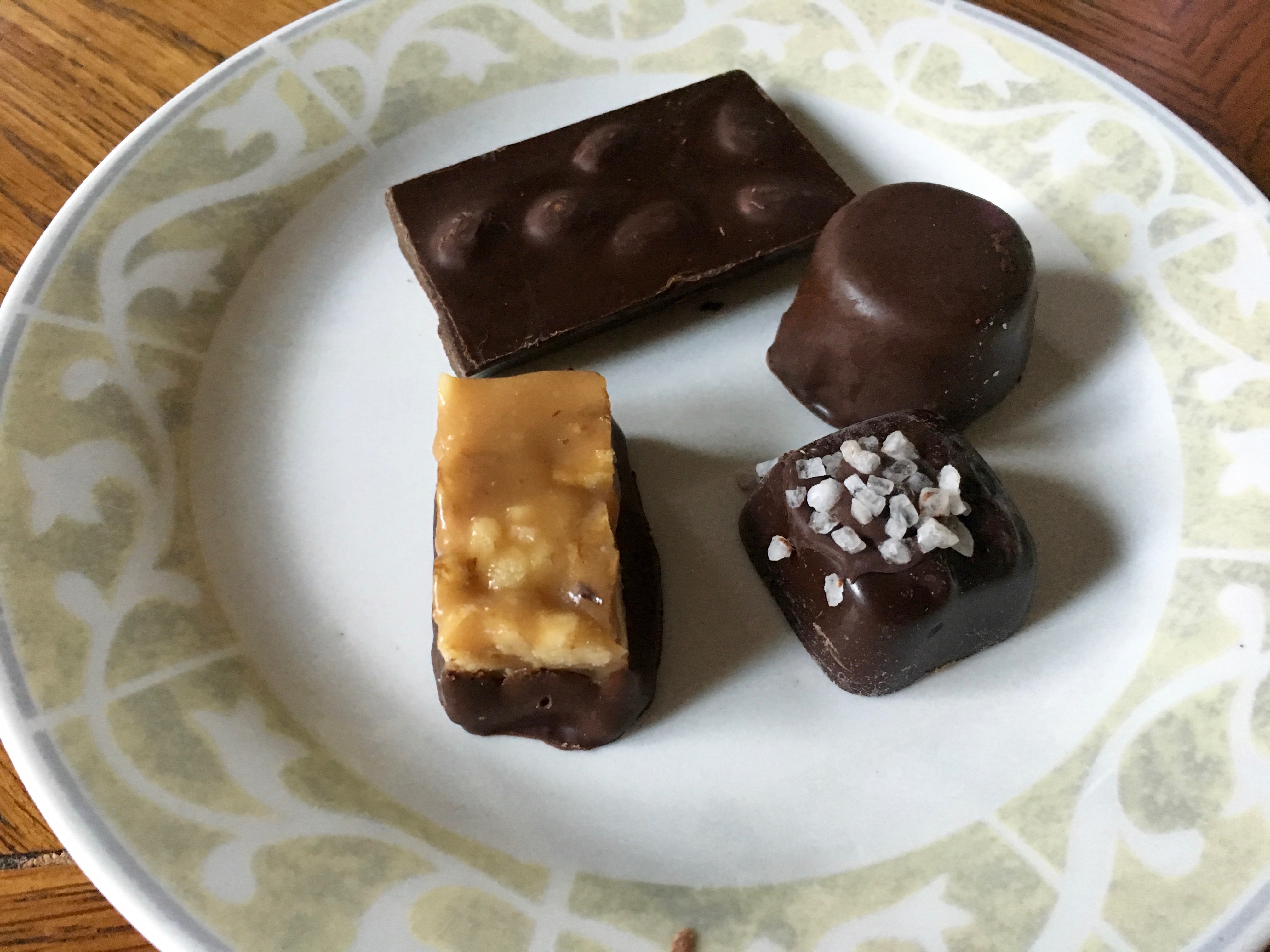 Without any kids to get to bed, we had plenty of time that evening for nothingness.  We stayed up late finishing Homeland and eating chocolate and then slept in til 8 the next morning.  Loving it!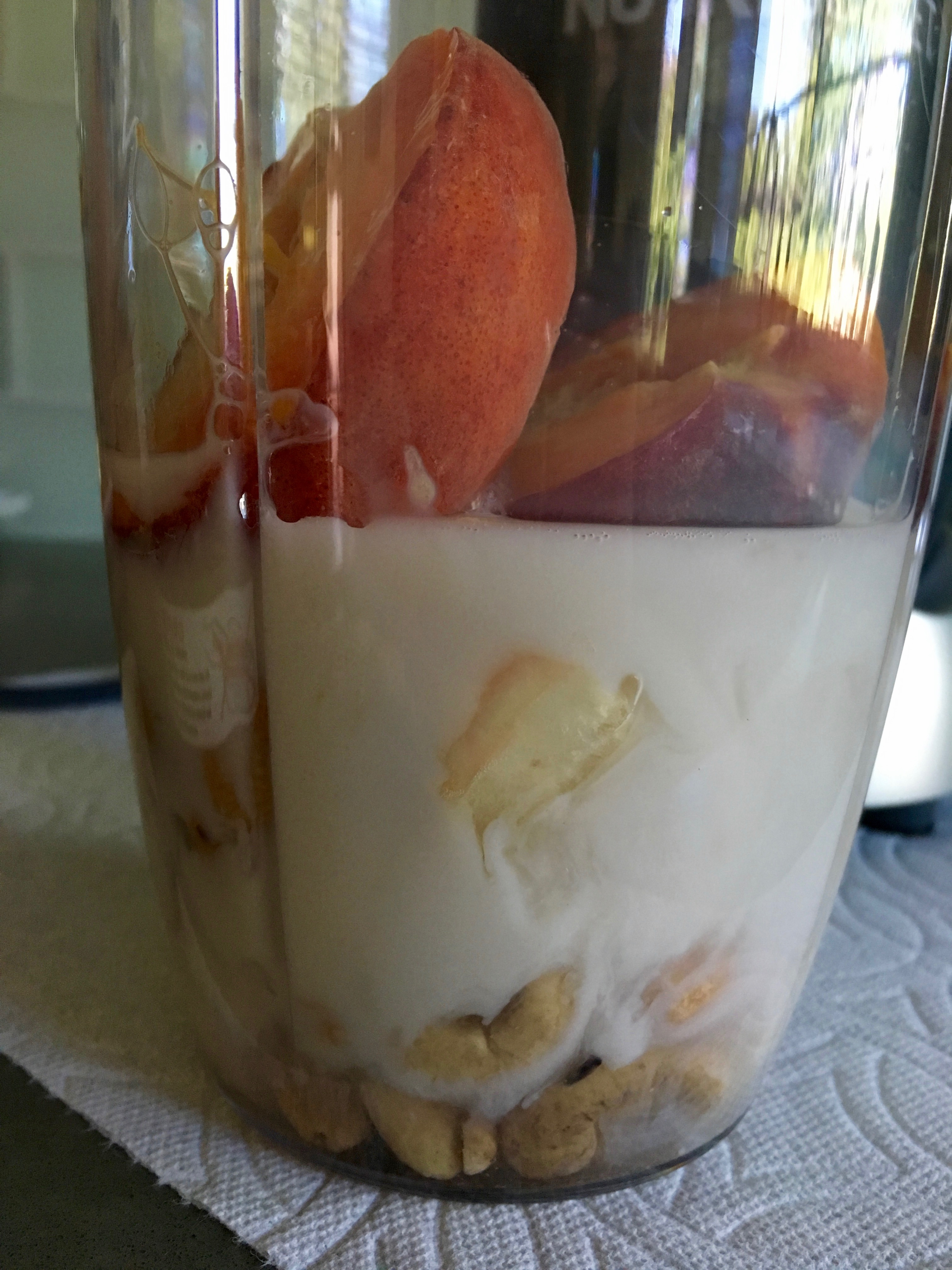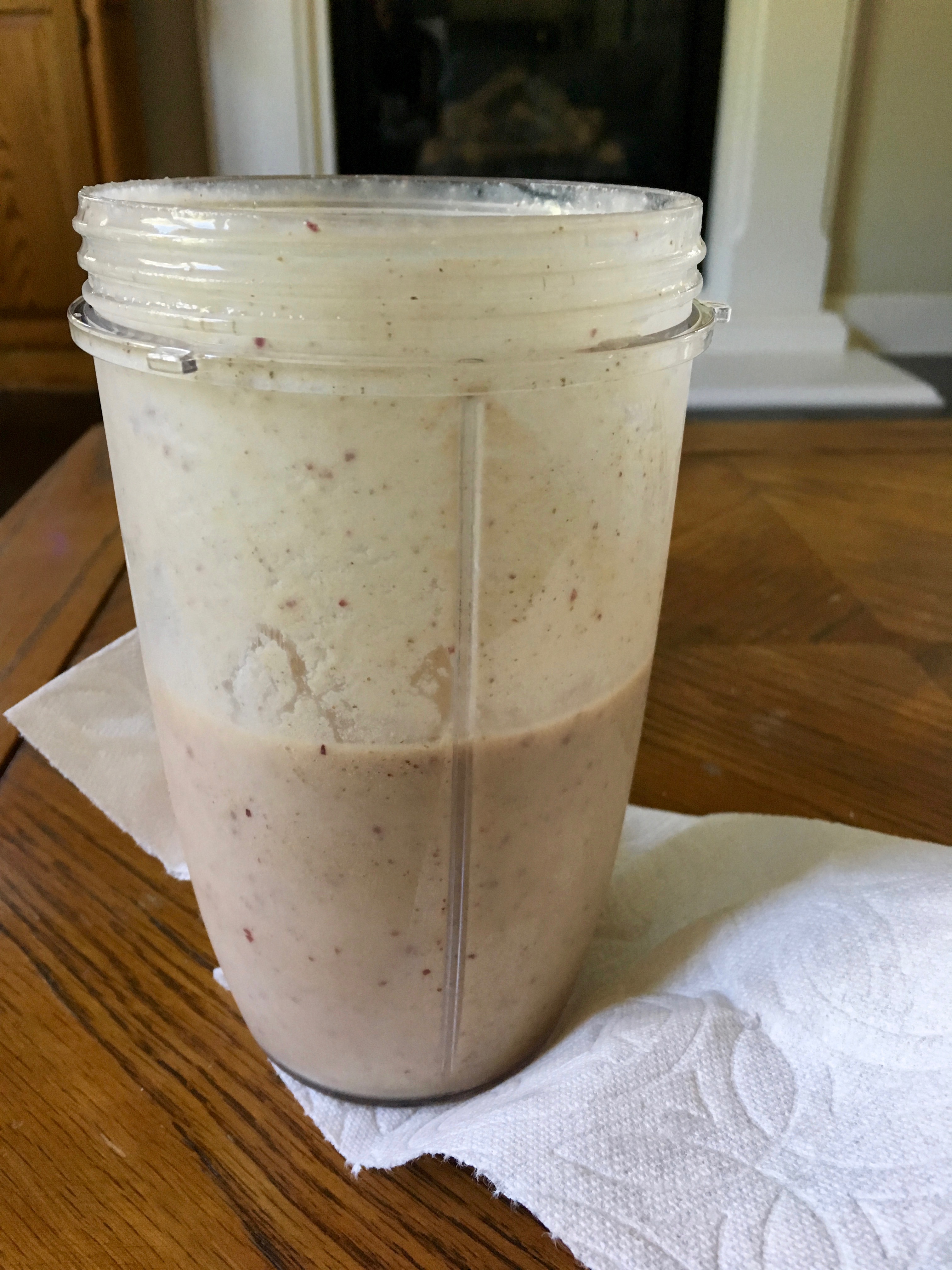 A late breakfast smoothie after working out.
We spent most of the day binge watching the new season of Orange Is The New Black.  I'm so into it.
We played tennis in the afternoon and then strolled around downtown.  It was so nice to be aimless.
For dinner we had super cool plans with friends.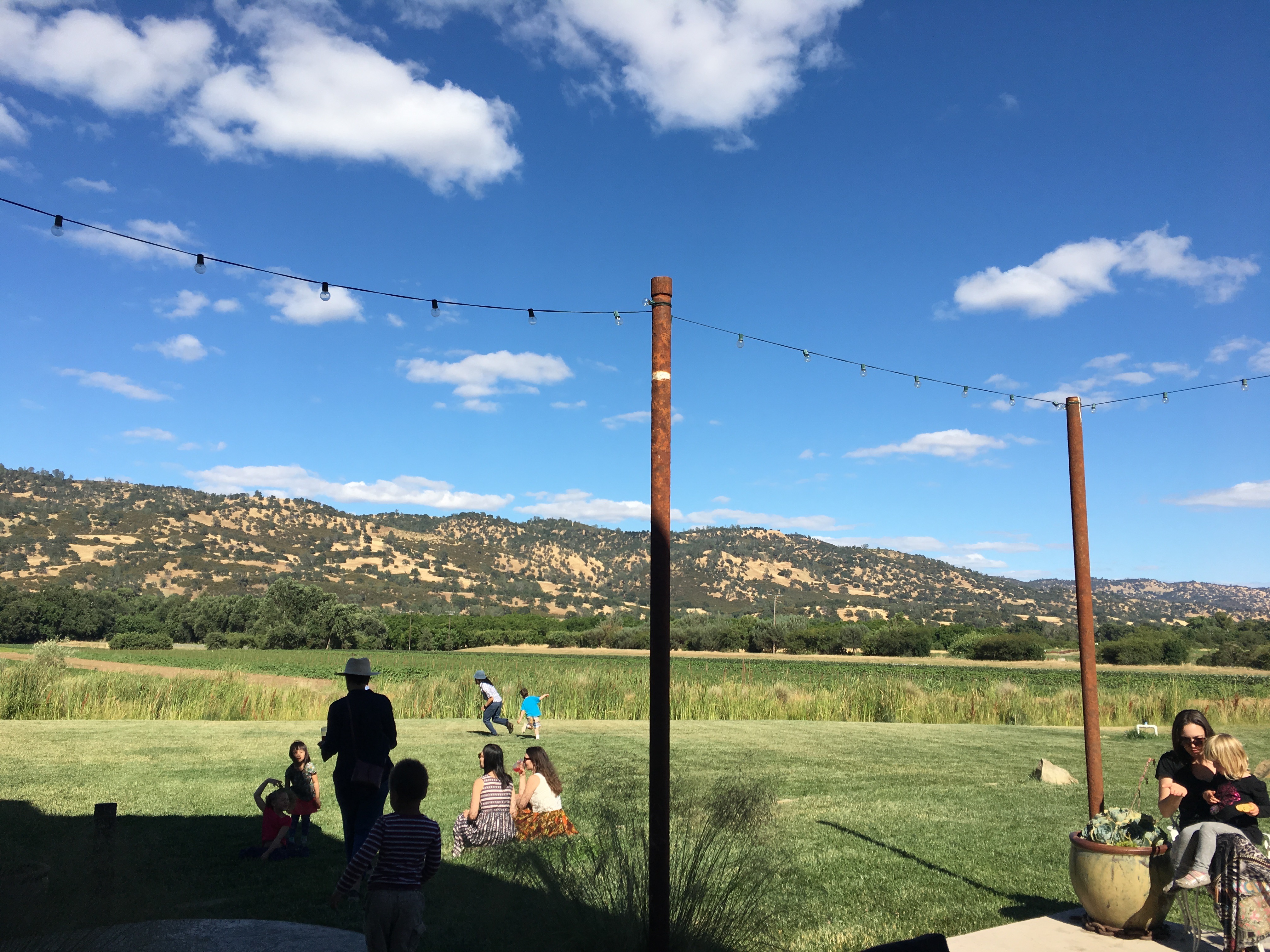 Full Belly Farm in Guinda has farm dinners every couple weeks and they sell out F A S T.  We bought tickets for June several months back and I've been eagerly anticipating it ever since.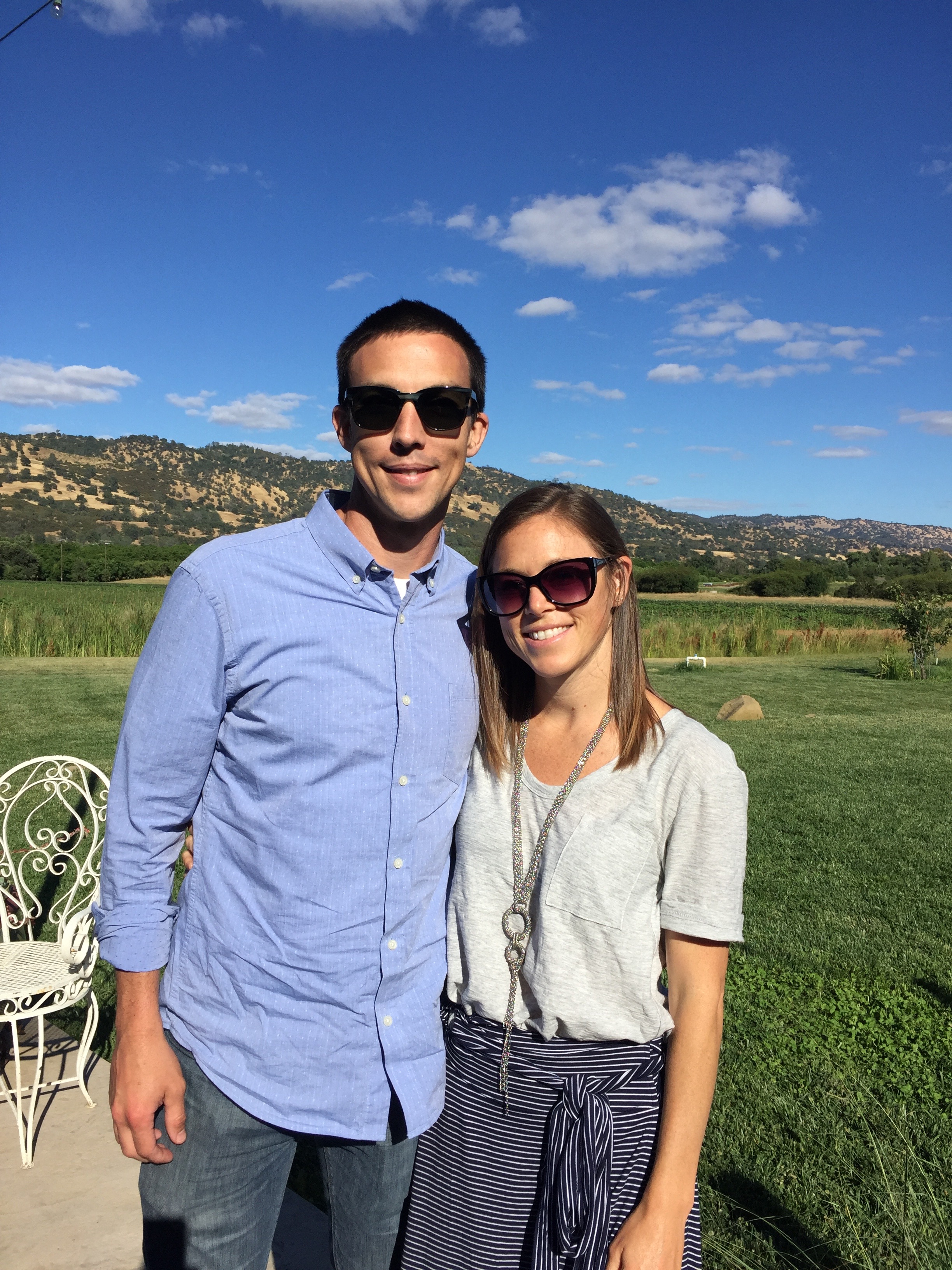 It was an hour drive to get there, but the setting could not have been more picturesque and the weather was perfect.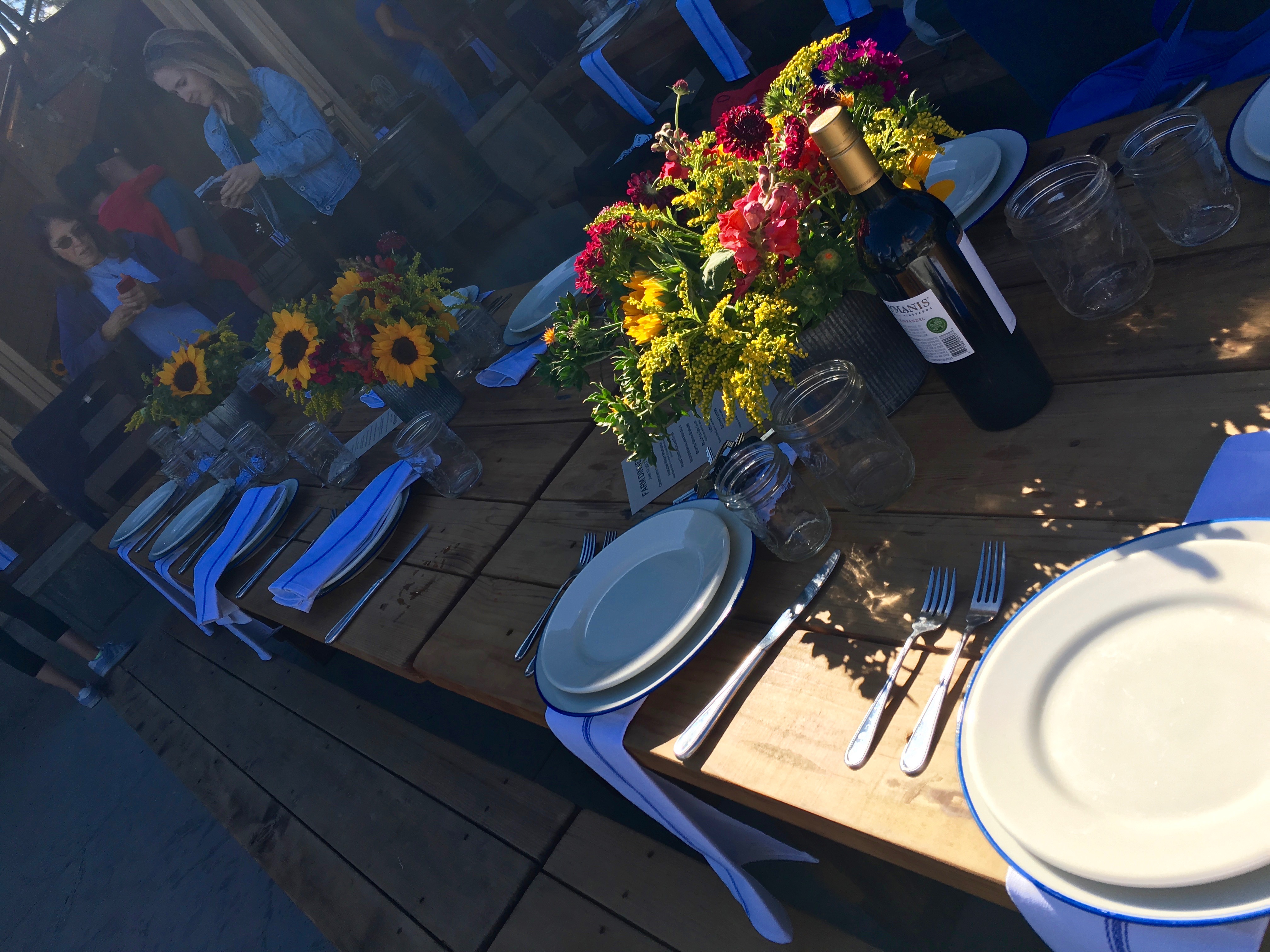 The place settings were gorgeous – they grow flowers for bouquets which they sell all year long, even dried in wreaths in winter!
We went on a quick tour of part of the farm right when we arrived…they grow 90 something crops but it's the most laid back environment ever.  I have no doubt they work crazy hard, but it was so sprawling and wild looking for such a productive plot.  They had organized crop rows for sure, but there were also random fruit trees all over and it seems like they didn't mess with the natural lanscape when they bought the property way back when so it doesn't look like the flat endlessness that most other farms look like.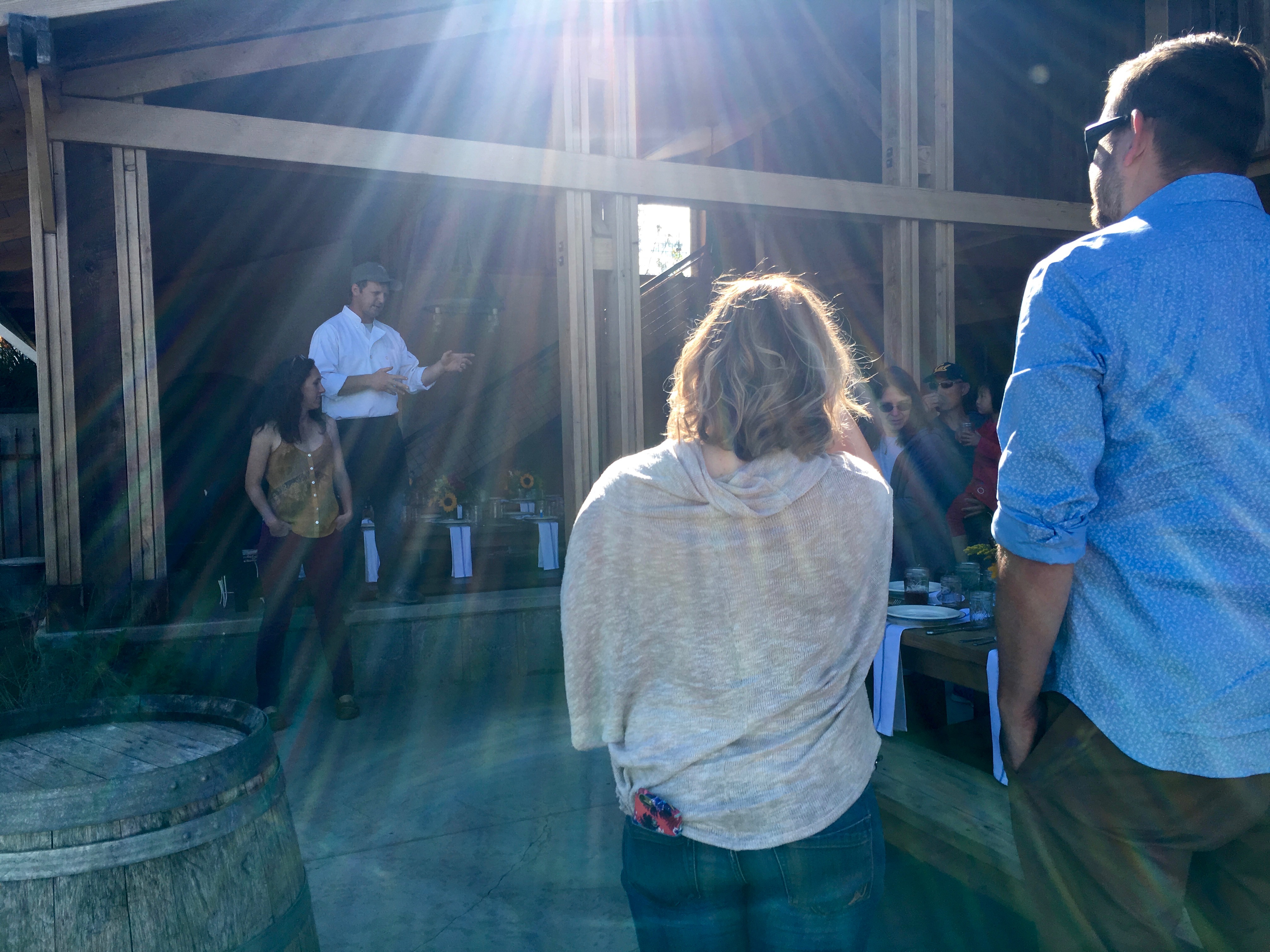 I think there are a bunch of owners because the family has a bunch of offspring, but these two were Jenna & Amon Muller.  They were the hosts of the whole affair.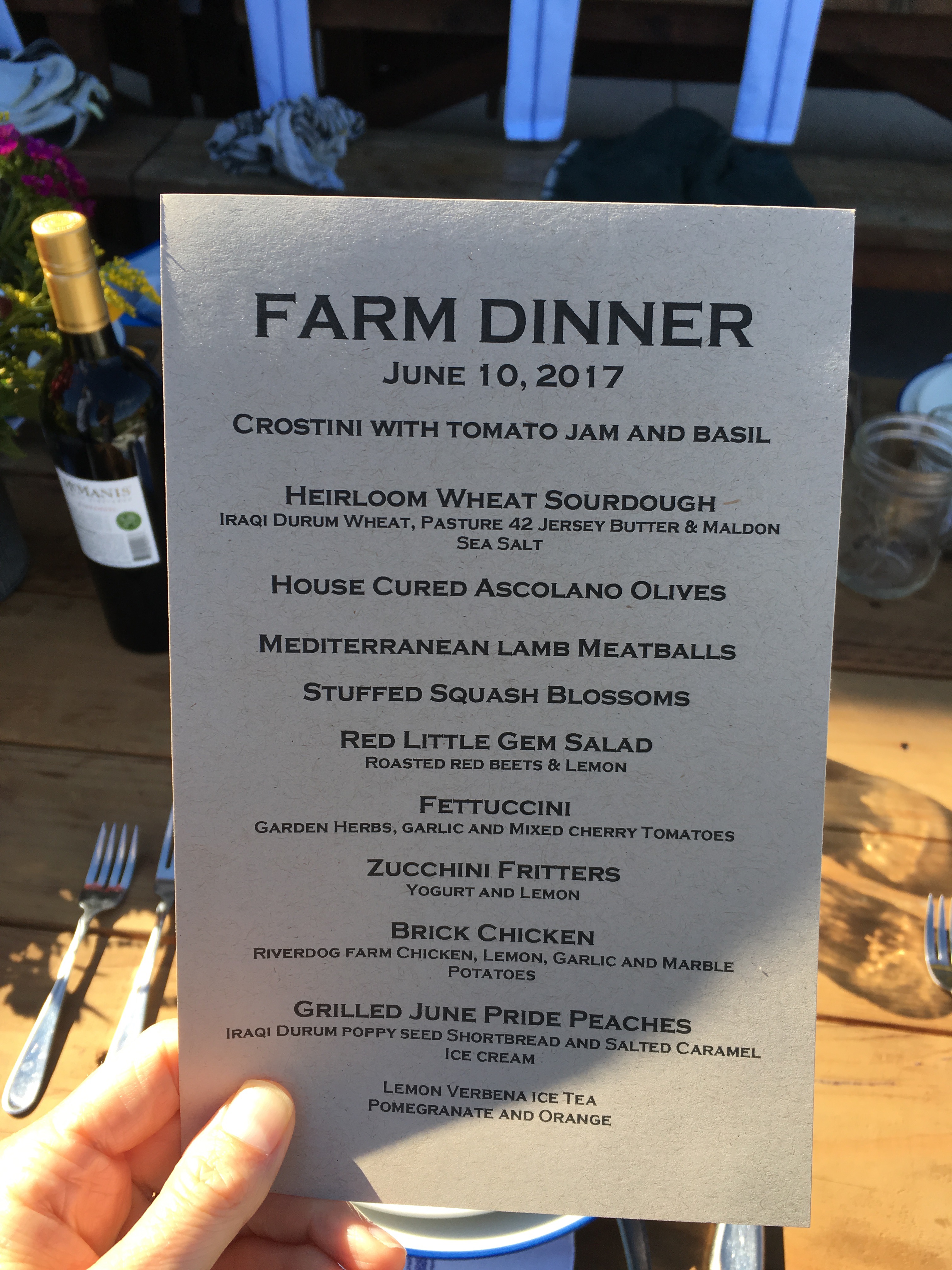 Here's the menu for our night.  YUM!
They have casual pizza nights throughout the month too, which don't require reservations.  The started doing those because their local restaurant shut down and they wanted a place for the community to gather and hang out.  They have a brick oven and they just keep it going all night as people come and go.  They are trying to get music for those nights, but it's super casual.  They have campers who come and go without any notice, staying on the property for a few nights or whatever since the place is pretty far out in the country.  That way you can just drink and hang out and not worry about getting back somewhere.  It just seems super friendly and communal.  It's basically Kyle's commune/homesteading dream.  I had to keep pinching him from getting too excited.  Pretty sure he would buy land in the boonies in a second if I were all the way on board.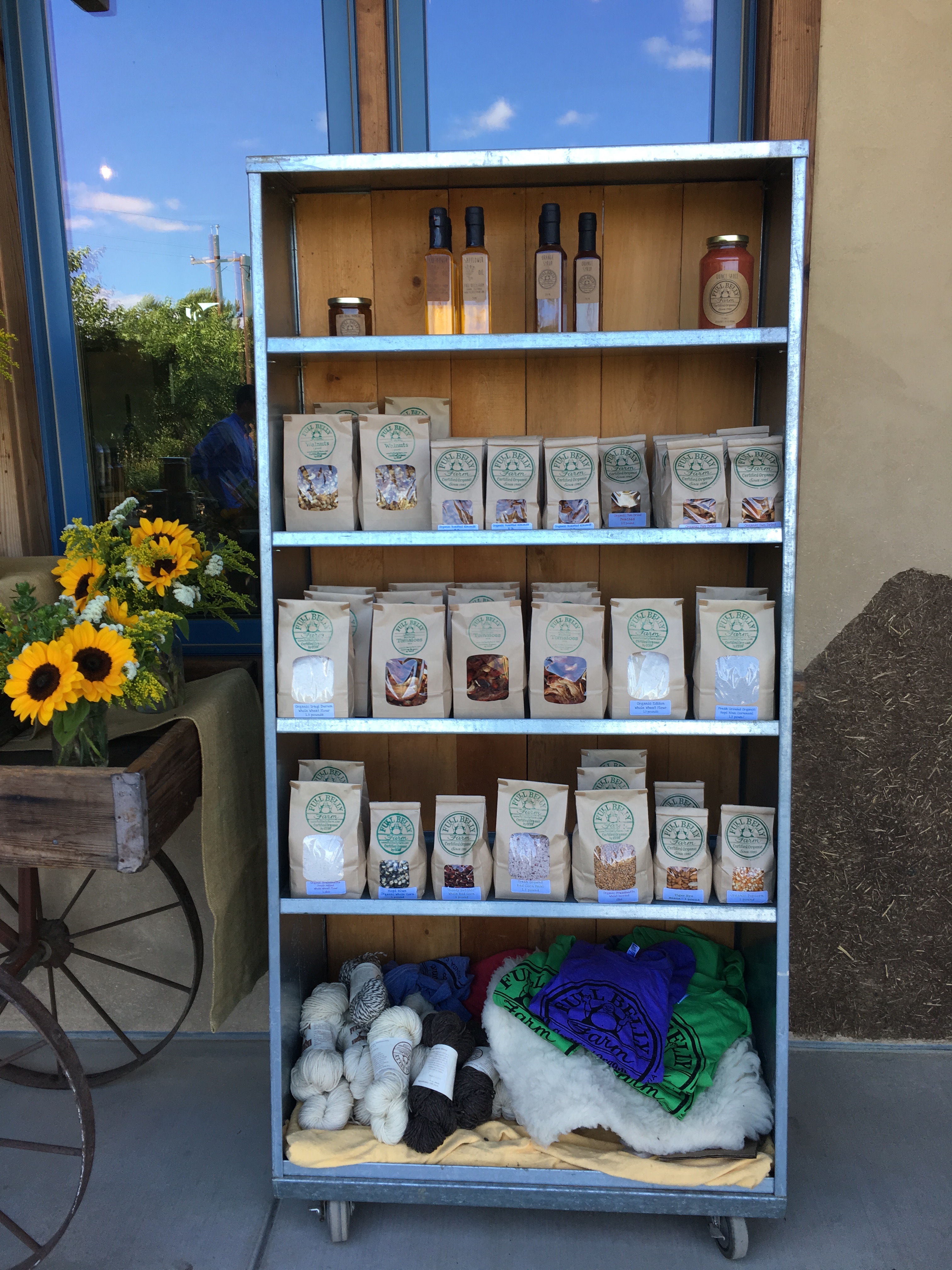 Other odds and ends.  They have a CSA and sell their products at numerous farmer's markets.  If you're in the Bay Area, keep your eyes peeled for their nuts and nut butters.  They're $$$ but so good.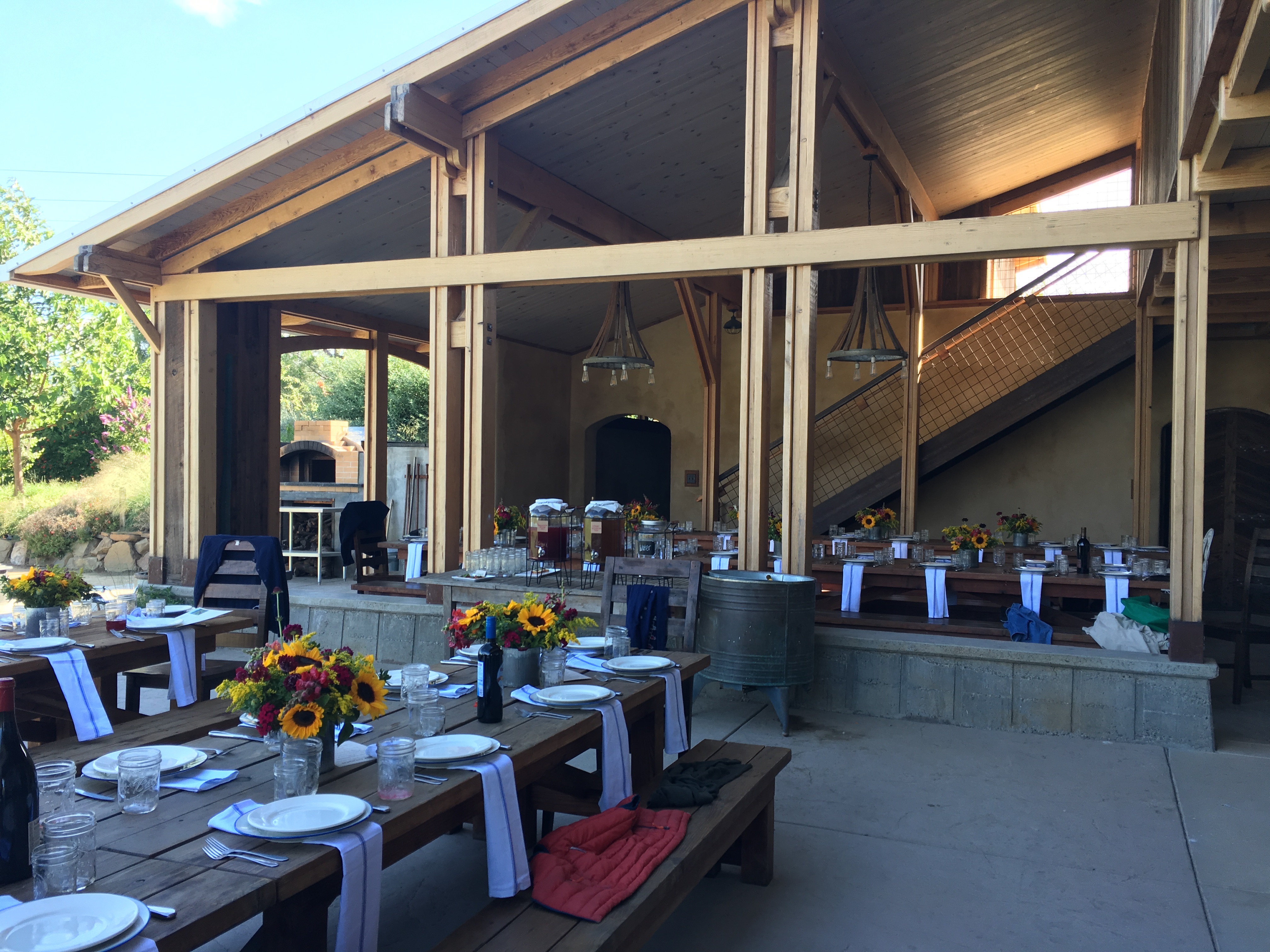 It's BYOB, but I was DD so I stuck to the juices and teas.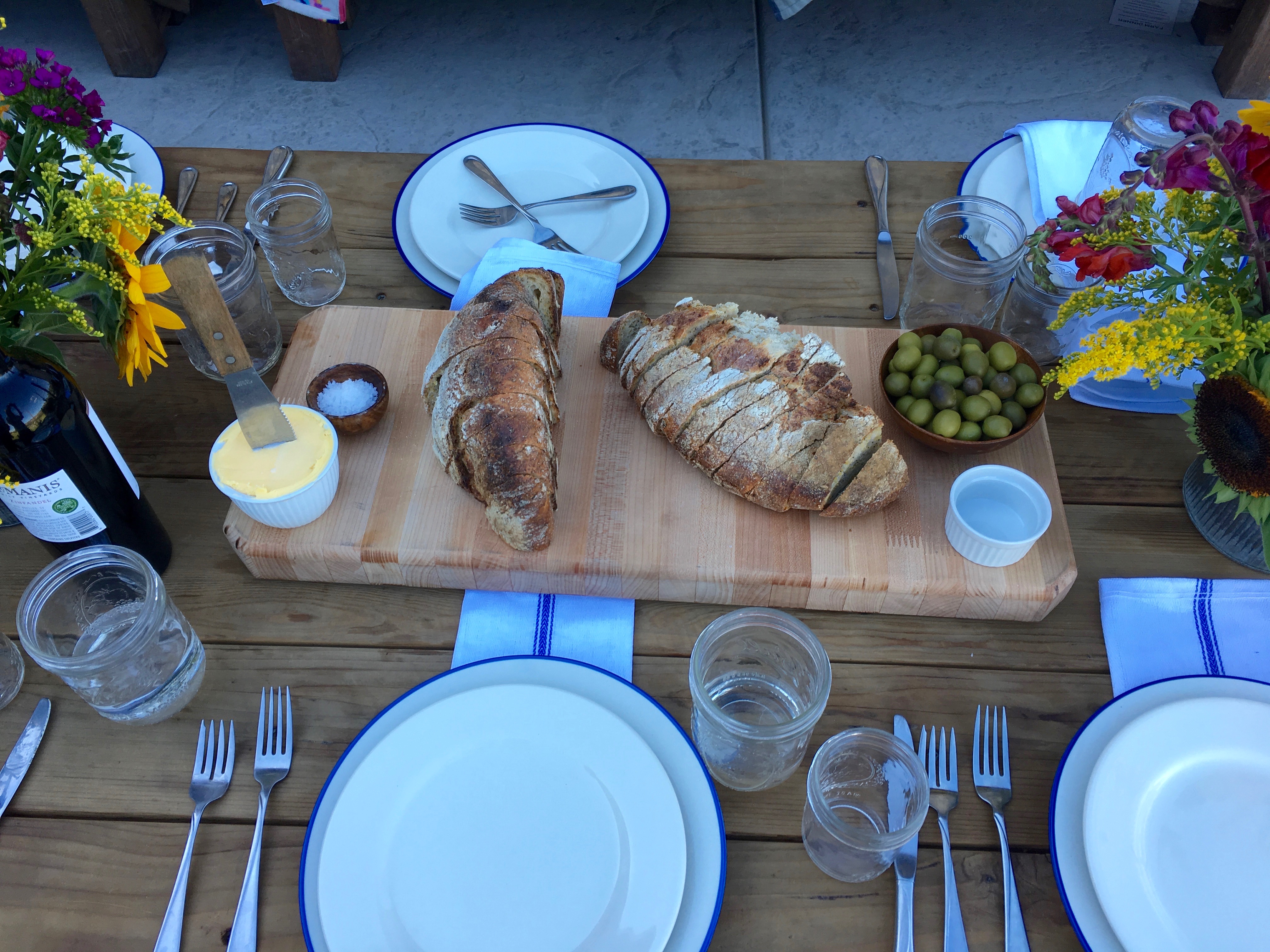 Let's get this party started!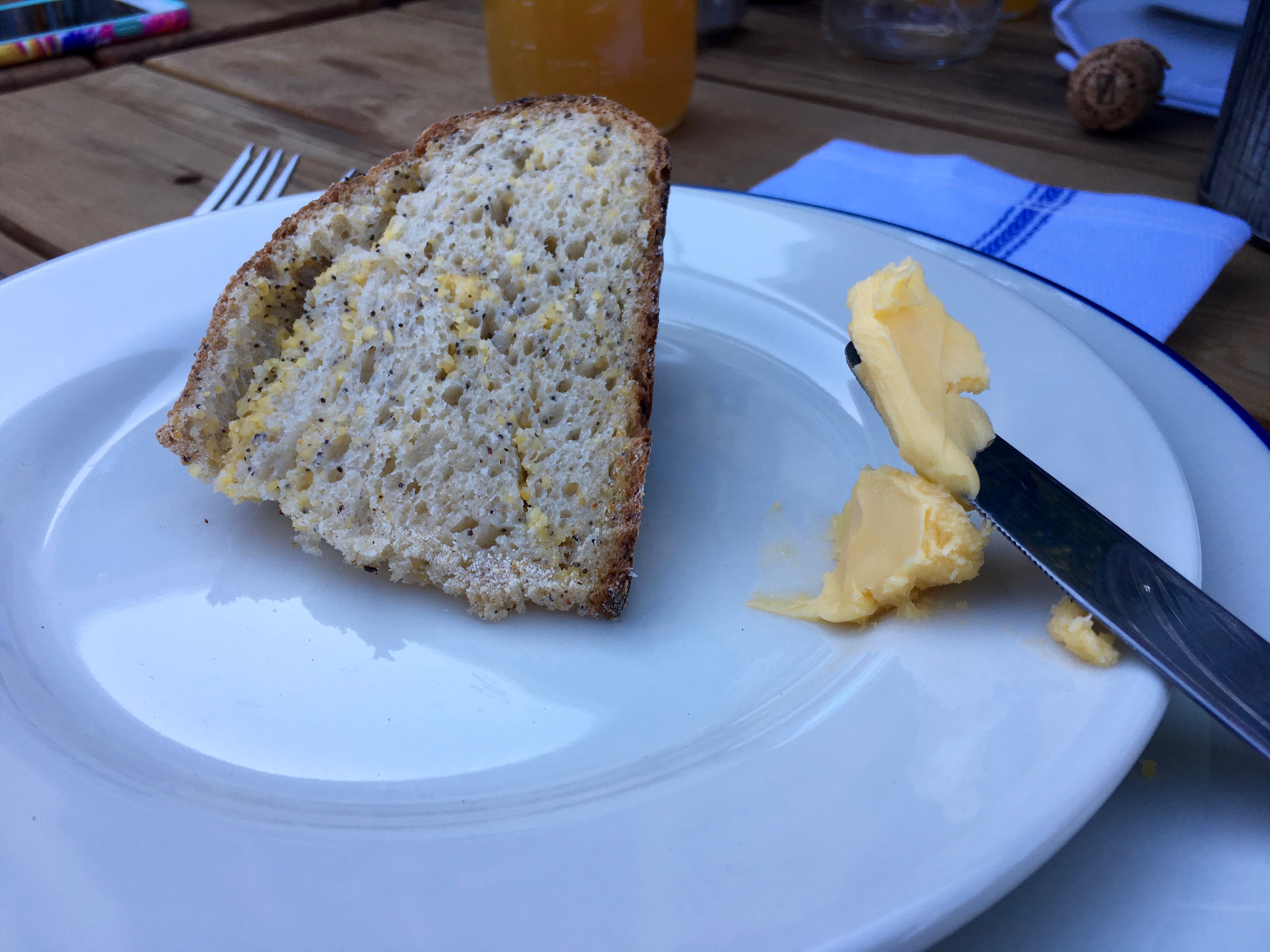 OMG this bread!  It was maybe my favorite thing of the whole meal.  Is that ridiculous to say?  But we were all going gaga over it.  I was practicing mayyyyyyjor self restraint from eating 5 slices before the second course arrived. It was, in fact, so good that we begged the owner to sell us a loaf to take home.  She agreed to give it to us for $10 (it was a huge loaf) which we didn't find out til the end of the meal (at which point I'd already smuggled 4 slices in my purse).  Great.  Nothing like a hand full of crumbs to remind me of the dinner every time I dig into my bag. Oh well!  More bread is always better than no bread.  It was so unique and we found out the baker actually makes polenta first to then add into the dough.  I'm telling you, it was out of this world.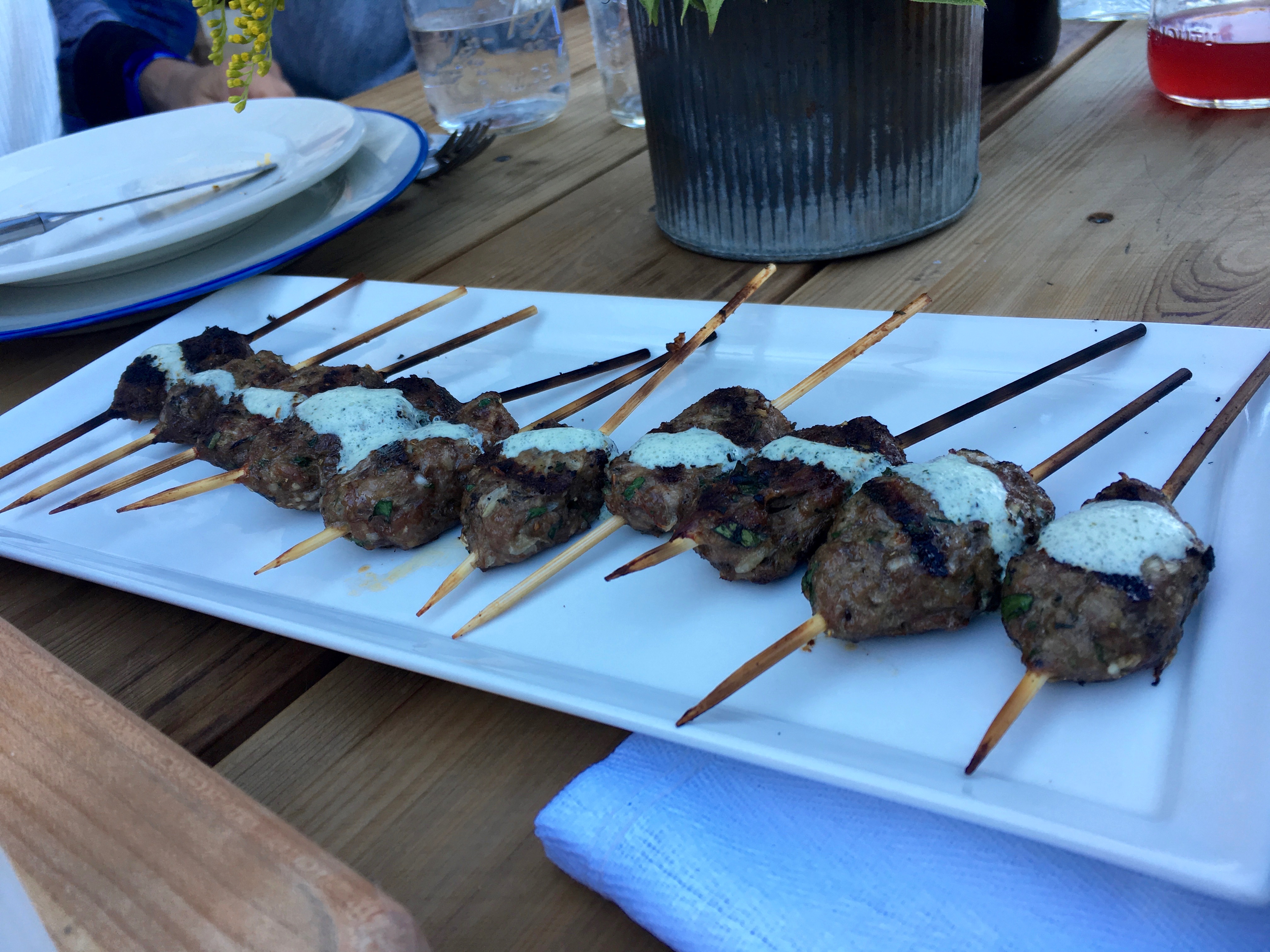 Onto the next!  I've only had lamb twice before in my life, and what I'm realizing is, I like lamb when someone else (professional) makes it.  These meatballs were great.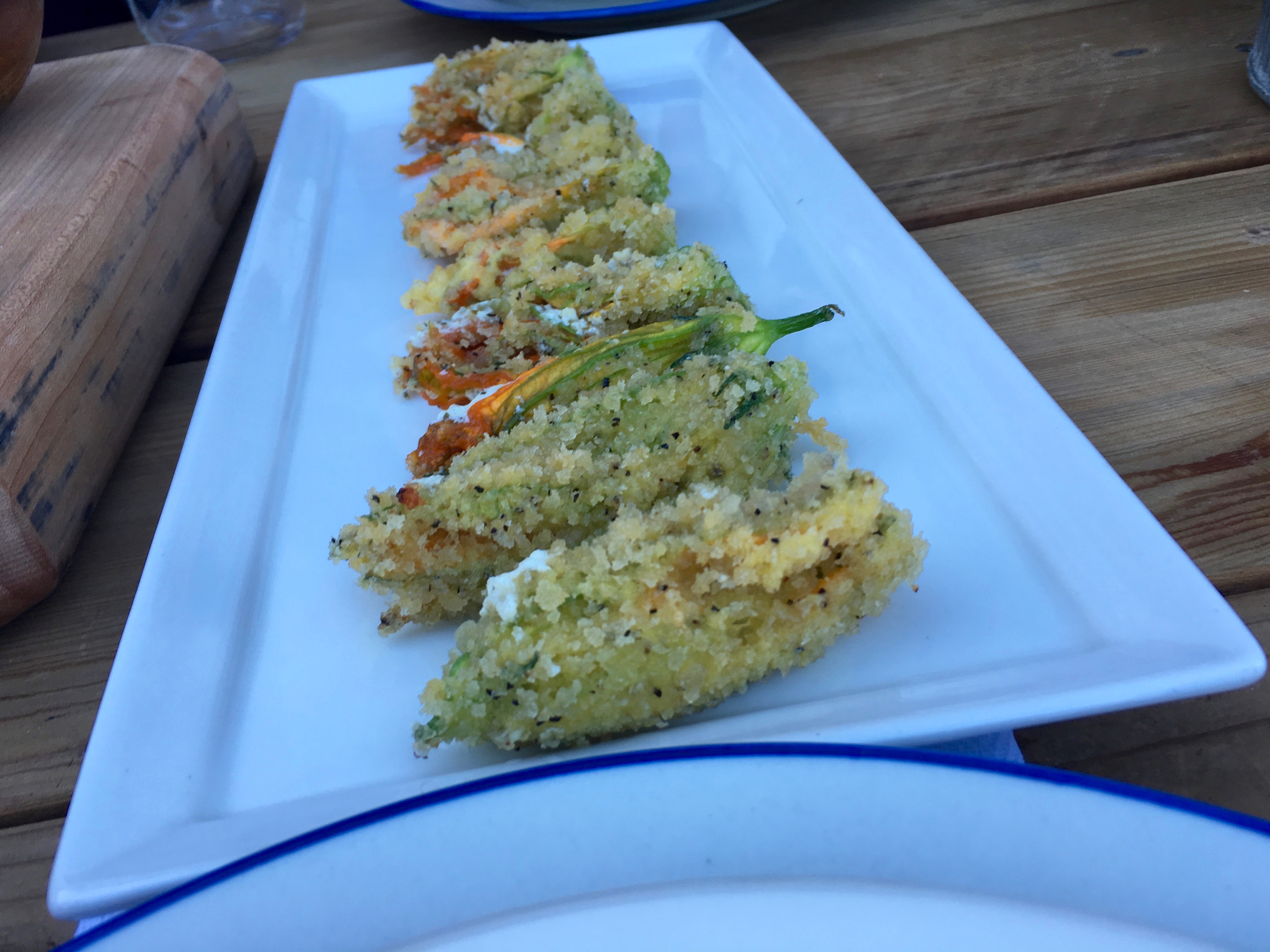 Then we got stuffed squash blossoms. Another wow of a course.  They actually knew I was GF and brought me out some that weren't breaded, but I was being pretty loose with the fodmaps for this meal (it's a once in a lifetime thing, ya know??) so I ate both.  😉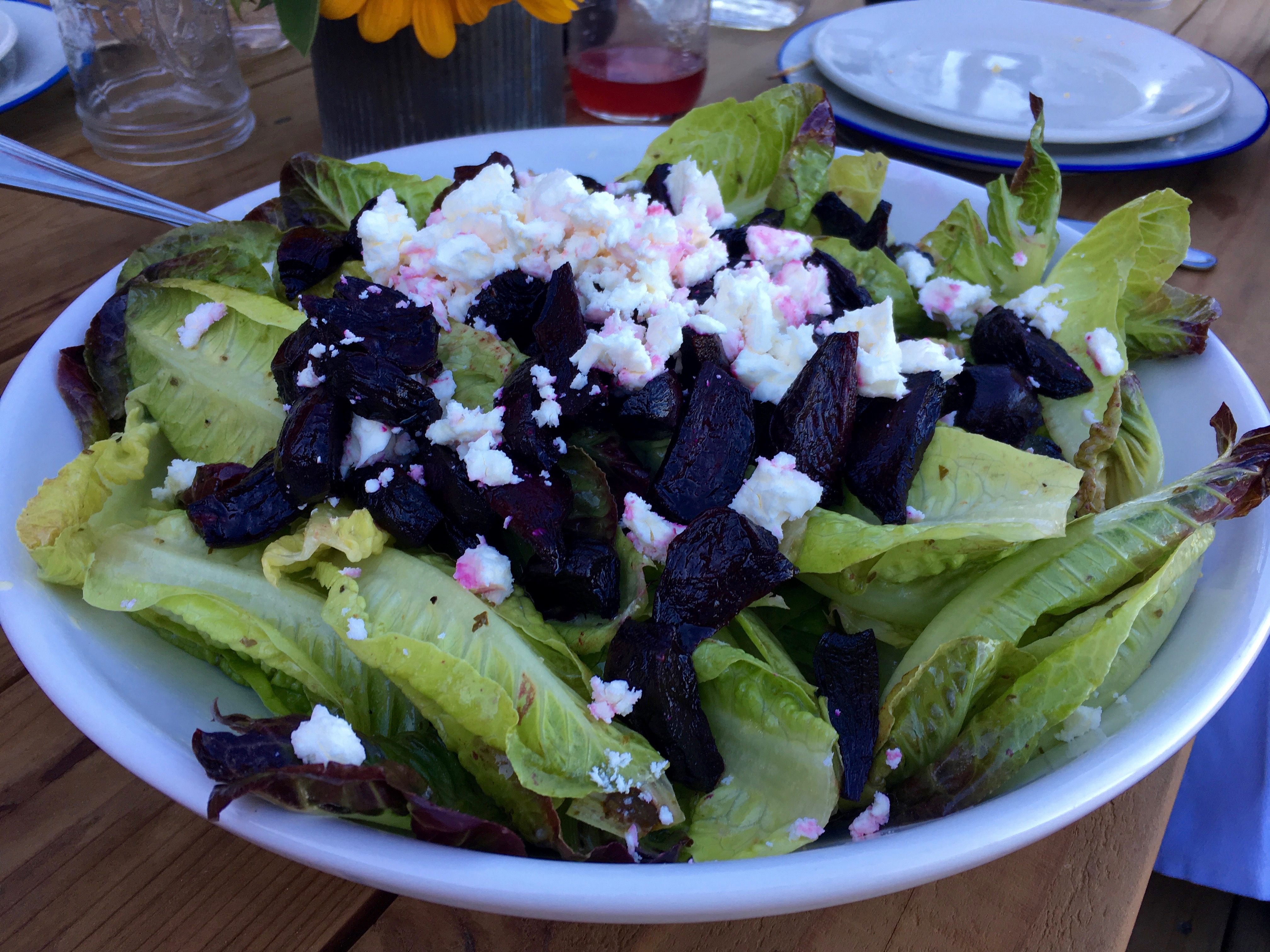 The combo of the roasted beets and cheese and dressing in this salad was incredible.  I would have been fine if this were the whole meal!  Honestly, there were no mediocre courses.  They all just blew us away.  A simple salad was still extraordinary – probably since it was as fresh as it gets.  Picked hours before!
These tomatoes were also picked that morning (by the grandchildren of the owners).  There weren't many they said, but the summer crops are juuuust starting to be ready for harvest, so they got all the basil and tomatoes they could collect to top the home-made pasta with.  HOMEMADE PASTA!! Ok, full disclosure I was going to pass on this meal because it had both cheese and wheat, but then my GF option arrived and it was beans with cheese, which are basically no different in terms of their fodmaps.  Sooooo…
I tried both.
I didn't have a ton of either, but enough to enjoy it and delight in the insanely amazing quality that is home-made pasta.  Like, mega wow.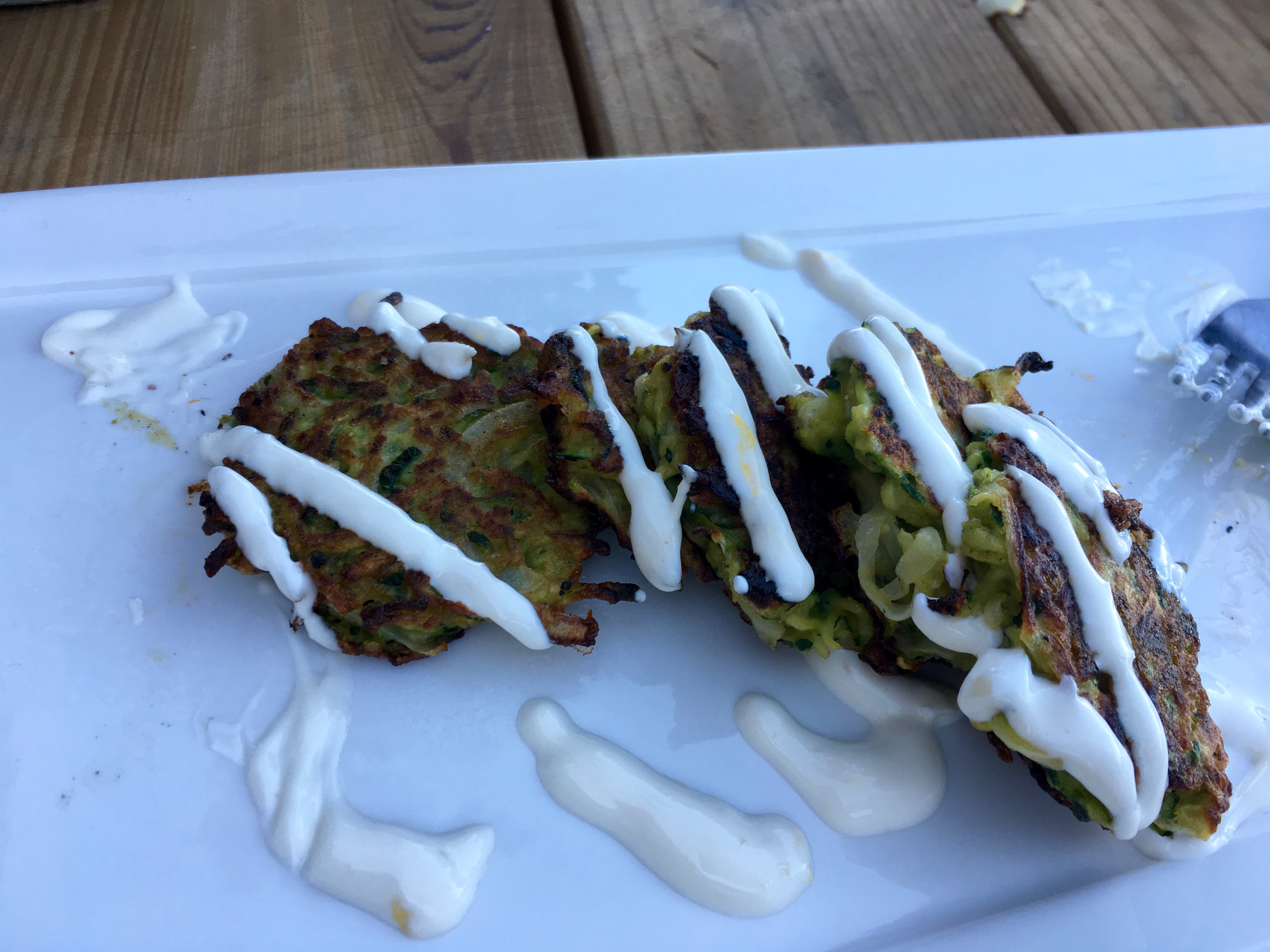 These zucchini fritters were eaten before I got a good picture, which is representative of how stellar they were.  I heard the GF option was sautéed zucchini so I opted to try the fritters.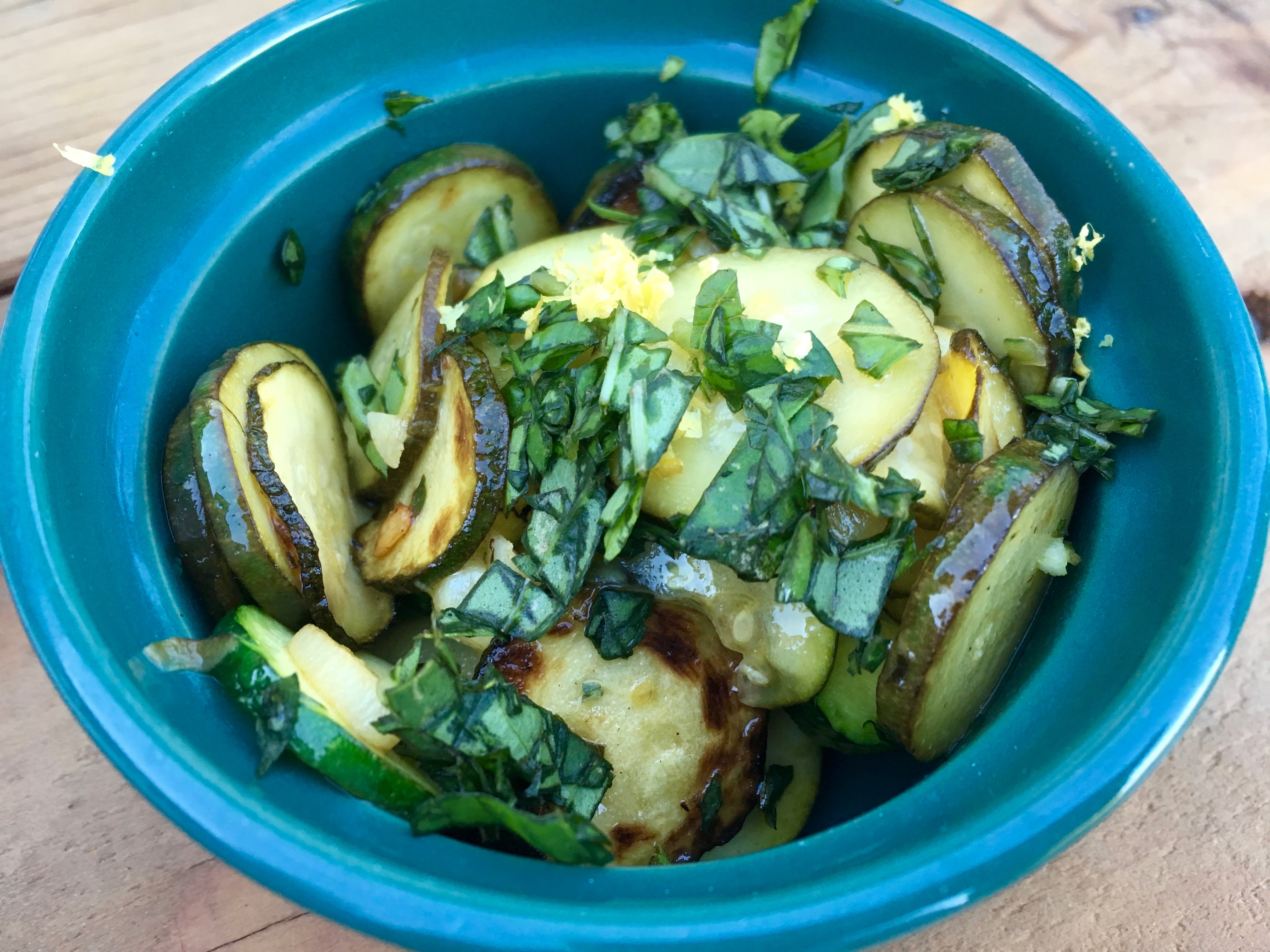 They were good, but then the sautéed zucchini blew me away too!!  Something about the basil and lemon zest was incredible.  I couldn't stop eating them.
And then the chicken!  Oh my word this chicken was the most moist, flavorful, salty, juicy meat I've ever tasted.  No exaggeration.  If I hadn't been so stuffed from the million courses beforehand I would have eaten 4 pieces.
Our end of the table cleaned up!  Ha. We all put our bones back in for a before and after shot because why not?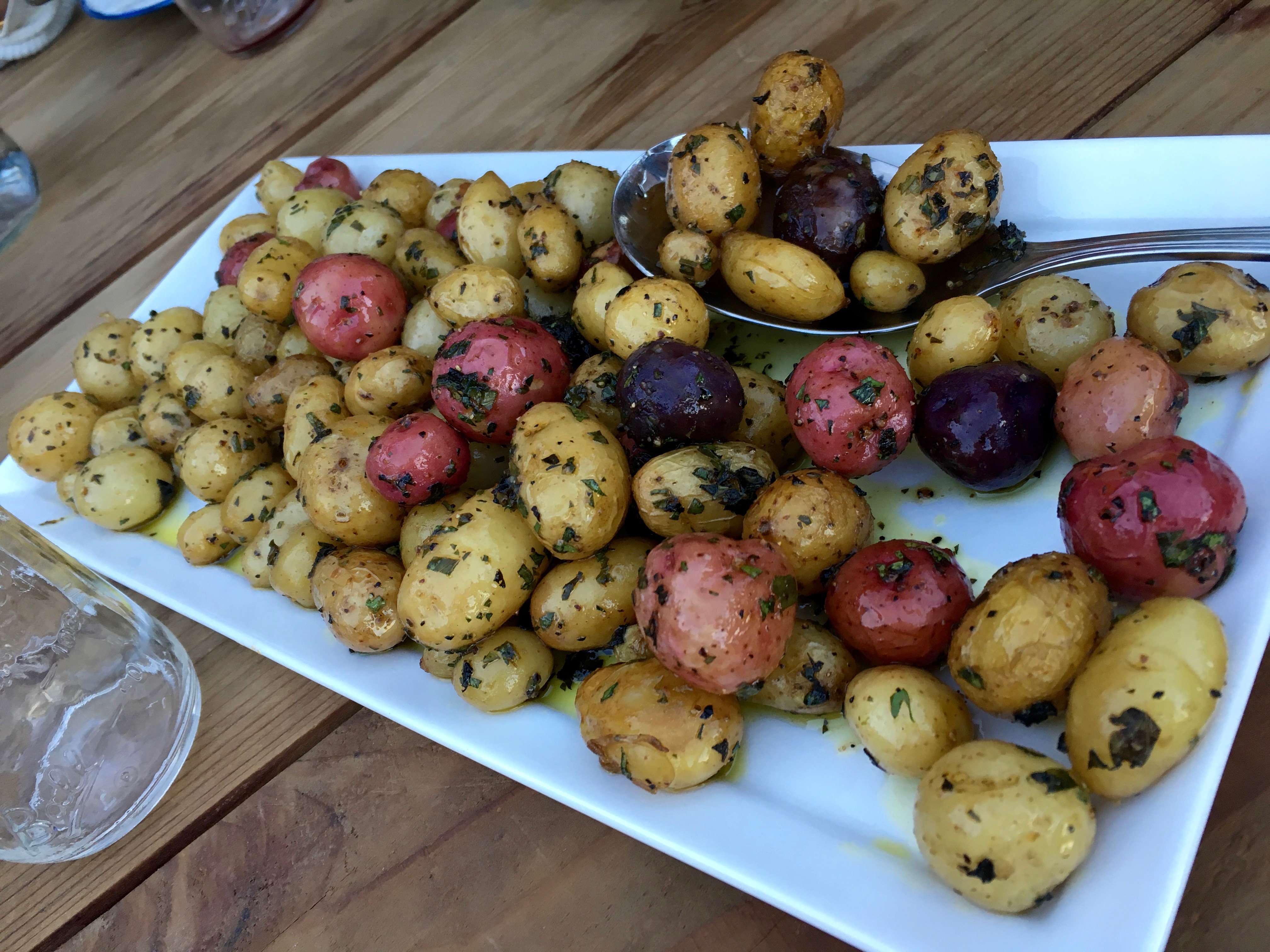 This was the only meh part of the meal and that's because they were slightly hard (apparently they were having issues with the oven for these).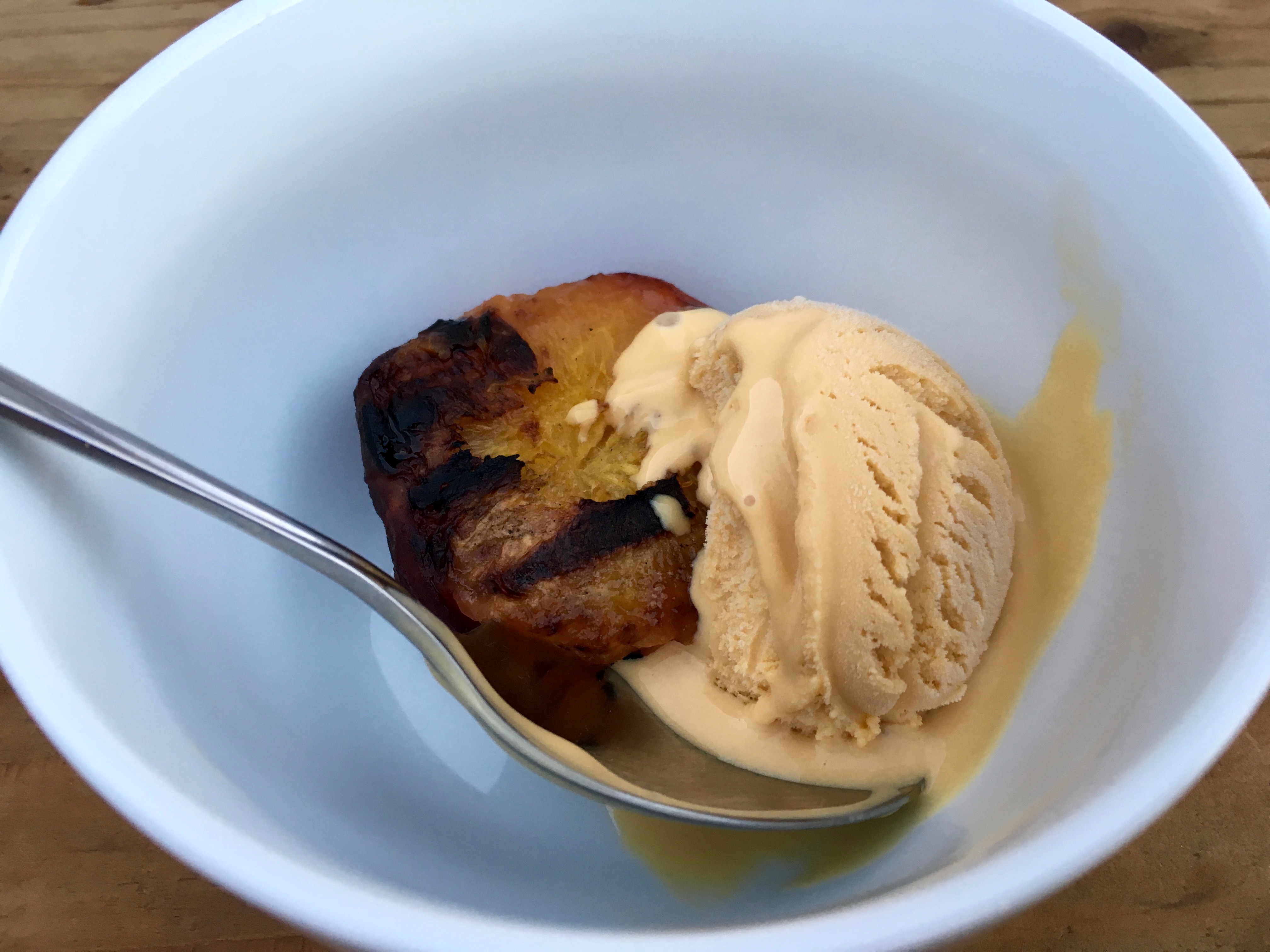 And then this beauty!  My GF portion didn't have the cookie biscuit thing, but the salted caramel ice cream was already so decadent I couldn't have handled anything else.  DANG!!!!!  This meal!
It was a dining experience I will never forget.