Guess what's for dinner?  Chicken vegan pot pies!
My mom2 made this and I'm pretty jealous I wasn't in town to sample it.  I noted her changes below (including the different recipes she used for pie dough and gravy) and rewrote the instructions for the filling process to streamline the steps.  It is definitely not a quick recipe, but dang if it doesn't look awesome…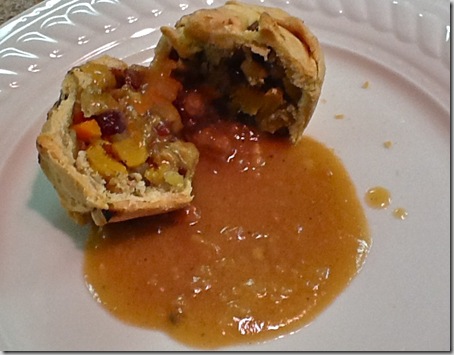 Vegan Harvest Pies (recipe inspired by VeganDad)
Pie Filling Ingredients:
4 cups diced butternut squash
1 cup dried cranberries
1/4 cup minced shallot
1 tsp olive oil
salt & pepper
4 cups diced veggies (carrots, onion, celery, yams)
2 cups cooked cannellini beans
2 cloves minced garlic
2 tbsp olive oil
1 tbsp vegan margarine (Earth Balance)
1 tsp sage
1/4 cup white wine
2 tsp poultry spice (or a mix of thyme, sage, marjoram, and savoury)
salt and pepper
Directions:
Preheat oven to 375 degrees.
Combine first group of ingredients except cranberries (butternut squash, shallots, & olive oil) until coated.  Season with salt and pepper and roast in the oven for 30-40 mins (or until golden brown).  Add dried cranberries for the last 5 minutes.
While squash is roasting, heat olive oil and margarine in a large saucepan over medium-hi heat.  Add veggies, beans, garlic and sage tossing so everything is coated with oil.  Season with salt and pepper and cook on low for 15-20 mins, stirring regularly, until veggies are cooked and golden.  Add wine at the end and cook until reduced.
Combine sautéed veggies with roasted squash, add sprinkle poultry spice, and toss together.  Adjust seasonings to taste.  Set aside to cool.
Reduce oven to 375 degrees.
Remove pie crust dough (recipe to follow) from fridge and divide into 1/3 and 2/3 portions.  Leave the 1/3 amount in the fridge and roll the rest of the dough out on a well-floured surface to 1/8 – 1/4 inch thickness.  Cut the dough into circles, big enough to fit your muffin tin with some hang over (leave a little lip of dough to attach the top crust on).
Press dough into muffin tins, keeping them an equal thickness.
Fill with (cooled) veggie filling and pile it high.
Roll out the rest of the pie dough and cut to the right size to make a top crust for each pie.  Form the top crust over the lip of the bottom crust.
Cut slits to let steam vent in the top.
Bake for 35-40 mins (or until golden).
Wait for them to cool prior to removing them from the muffin tins.
Serve with gravy (recipe to follow).
Simple Vegan Pie Crust
Ingredients:
2 cups flour
10 tbsp Earth Balance
1 tsp salt
6 – 10 tbsp cold water
Vegan Gravy (makes 2 1/2 cups)
Ingredients:
1/2 cup vegetable oil
1/3 cup chopped onion
5 cloves garlic, minced
1/2 cup all-purpose flour
4 teaspoons nutritional yeast
4 tablespoons light soy sauce
2 cups vegetable broth
1/2 teaspoon dried sage
1/2 teaspoon salt
1/4 teaspoon ground black pepper
Directions:
Heat oil in a medium saucepan over medium heat.
Sauté onion and garlic until soft and translucent, about 5 minutes.
Stir in flour, nutritional yeast, and soy sauce to form a smooth paste. Gradually whisk in the broth.
Season with sage, salt, and pepper.  Bring to a boil.  Reduce heat, and simmer, stirring constantly, for 8 to 10 minutes (or until thickened).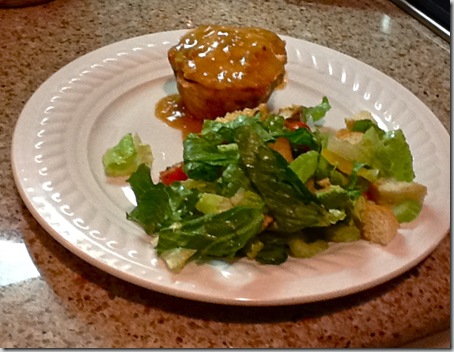 Is this fall or what?  Hello Thanksgiving here I come!!