I was always vaguely interested in doing a triathlon.  It was one of those things in the back of my mind that I thought sounded fun and intrigued me.  But, to be perfectly honest, I didn't really envision it as a solo mission.  I clearly needed a push from an outside source. 
A few months ago my dad forwarded me an email for a discount on a sprint triathlon.  I think the only thing he wrote in the body of the email was "are you joining me?"
A few things went through my mind as I entertained the idea…
It was in Nor Cal, so I'd get to make a trip home out of it. 
It was the weekend of my dad and sister's birthdays, so I'd get to celebrate with them.
It was a sprint distance, so the commitment wouldn't be insane for my triathlon initiation.
It was in late July, so the weather would be nice.
It was a flat course, so I could do reasonably well.
It was a few months away, so I would have enough time to do a bit of "training" before the event.
It was something my dad was willing to do with me, so I'd get to bond with him and he would be able to show me the ropes since he'd done one before.
It was something different, so I'd be inspired to change up my current fitness regime.
And with that, I agreed to do it.
I never thought I'd grow to love cycling more than any other exercise.  I never thought running would be the part of the training that I'd enjoy the least.  And I never thought the swimming leg of the tri would be my strong suit.  But this was the case on all accounts. 
Leading up to the triathlon, I had no training plan.  I don't recommend this. 
If I'm being honest, what started as excitement (for the unknown) turned into anxiety.  It was the swimming leg of the tri that really caused my stomach to turn.  I mean, I did swim team growing up, but I quit back in high school and I hadn't done laps in well over a decade.  I didn't even own the proper gear!  The event soon became a mental burden and I was constantly making excuses to avoid getting in the pool.  Eventually I bought a suit, cap and goggles, but they sat in the bag with the tags and wrappers still in tact for nearly two months after I purchased them.  I'm not sure what my problem was, but it was like I had a road block preventing me from simply taking the first step and getting in the pool. 
My bicycle accident was actually the straw that broke the camel's my back (literally) and thus forced me to put a pause on the running and biking for a while…leaving only swimming as a form of exercise.  With only 2.5 weeks until the triathlon, I finally went for my first swim.  I was surprised at how it came back to me.  I wasn't racing against anyone, so I had no basis for comparison, but I felt good in the water.  On my first swim practice I swam 1/2 a mile and on my second I made it a full mile.  And that's all the swim "training" I did.  
Cycling was far more fun for me.  I wanted to be on my bike more than I wanted to run, which was weird since I mainly consider myself a runner.  No big deal though, I'm sure it's just a phase.  The only real issue I had was after my crash.  Getting back on the bike post-injury was more of a mental exercise than anything else, but I did it.
Anyway.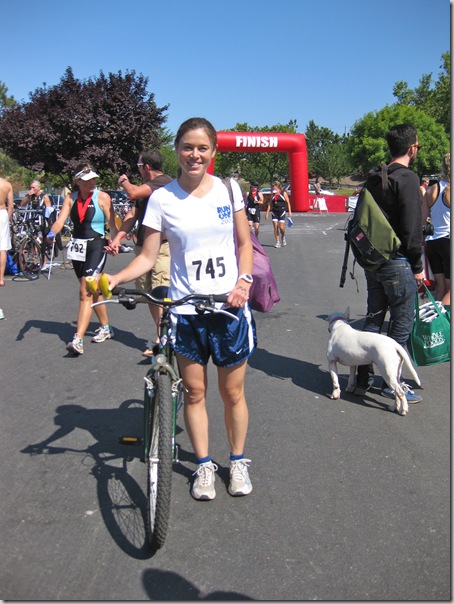 Eventually the big day arrived.  My dad and I went to pick up our packets the day before, which is when I learned that almost everyone else would be wearing a wetsuit.  Up to this point I hadn't taken the temperature of the lake water into consideration.  Hell, I was just trying to get my mind wrapped around the distance, I really didn't need any extra psychological factors to mess with my head.  My dad didn't have a wetsuit either though, so we decided to simply tough it out.  It's not like I had much of a choice, I definitely wasn't going to buy a wetsuit the day before the swim!  The water temp was on my mind the rest of the day though.
The unknown is what makes me nervous (this is the case for all aspects of my life).  I like to be prepared, I like having plans, and I always turn to organization to calm myself.  So the night before my dad and I packed our gear up, pinned our numbers on our shirts, pumped up our bike tires, prepped the things we would need for the morning, and laid everything out to streamline the morning.  This helped me a little bit, but as I went to bed, I was pretty anxious.  I tried to clear my mind and not think about the race at all, but it was hard. 
When my alarm went off in the AM I was immediately in game day mode.  The routine was familiar.  In fact, it was almost like old times with me and my dad up before dawn getting ready to drive hours and hours for a soccer tournament.  This time we didn't have to drive as far and I wasn't the only one about to exercise. 
I had green tea with a splash of soymilk in a canteen, but my stomach was in knots so I only had a few sips.  My mom and sister accompanied us to Pleasanton but the entire car ride was a blur because I was just trying to not think about what I was getting ready to do.  It was a chilly morning and getting in a lake was starting to sound insane.  Who am I kidding, it IS insane.  Who in their right mind finds sport in such crazy behavior??  Fortunately I was able to deflect a bit of my nerves by making fun of my very hung-over sister.  😉
My dad and I had ignored the recommended arrival time (1.5 hours of pre-race prep seems excessive) so almost all of the transition stations were occupied by the time we got there.  We picked out a spot by a tree, set out our things and waited.  The international distance had started already so we began to see them emerge from the water and seamlessly strip to nothing and hop on their bikes.  They had crazy aerodynamic helmets and bicycles that weighed less than my breakfast.  I, on the other hand, had no wetsuit, a mountain bike, baggy shorts and a t-shirt.  Lemme tell you, nothing says amateur like a helmet with a visor on it.  Ha!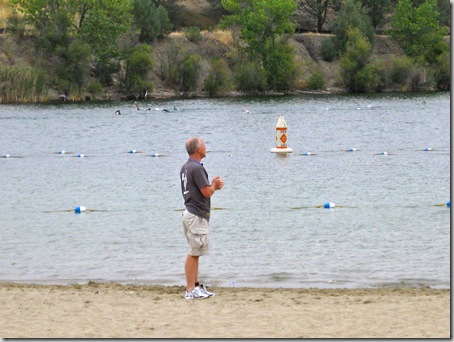 With only a few minutes until go time, my dad went off to pee and on his way back decided to feel the temp of the water.  When he said it wasn't too bad, it was like a huge weight had been lifted off my shoulders.  Maybe people would think I was a badass without a wetsuit?  Or maybe they would continue to think I was an idiot.  Either way, I didn't care since I now knew I wouldn't die of frostbite.  Joy!
We stripped down to our suits, made our way to the water, and said goodbye to my mom and sister.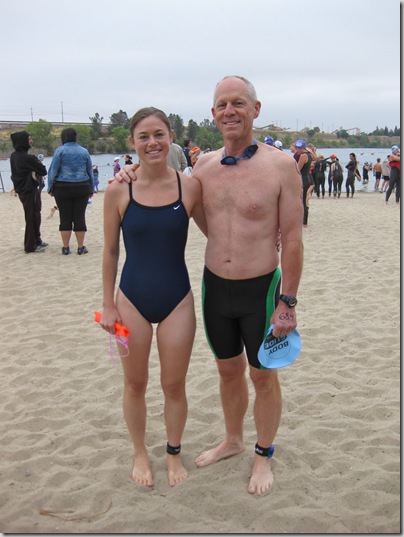 But not before they could take a thousand photos of us looking ridiculous.  For the record, the age they wrote on my leg is wrong and I'm not 29 years old.  I'm not sure why they felt the need to round up, but I didn't enjoy it in the least.  Yeah, yeah, age is just a number whatever.  I'm still not looking to race to 30 any faster than the next 20-something female.
I put my cap on and went down to the lake and was thrilled to discover the water wasn't too cold (it was actually colder outside than in the water).  We both got in and waded our way to the starting buoys.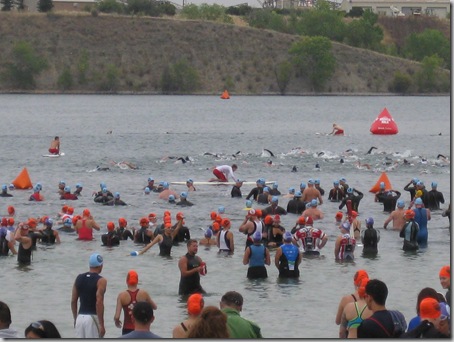 My dad's heat (the old geezer group) left before mine by 5-7 minutes.  They are the ones in the baby blue caps.  And then it was time for my group (orange caps).  At this point I had zero nerves.  I was pretty happy in the water.  I had no expectations for my performance, so it's not like I had any pressure to go fast.  I just had to swim the course and come out the other side (breathing preferably).  Not exactly Olympic goal setting, huh. 
My dad and I had already agreed to do the entire triathlon together, so I knew whoever finished first would be waiting for the next person.  We decided to meet at our transition spot and then start our biking together. 
When the announcer said "go" I put my head down and started freestyle.  I was way on the outside because I figured that was the least likely location to get kicked in the face.  Well, it was still pretty crowded.  In fact, I couldn't do much actual swimming until half way to the first buoy.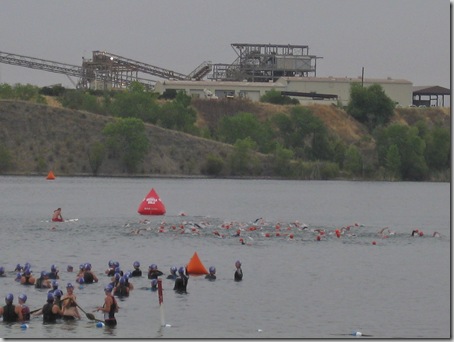 Once the swimmers thinned out, I realized starting on the outside was a stupid plan because it made my distance even longer.  Oh well.  You live swim and learn.  I also realized that swimming freestyle in a lake meant constantly looking up to see if I was staying on course.  It was very different from doing laps in a pool with lanes.  I felt like I was really inefficient because my strokes were continuously interrupted as I picked up my head to see where I was relative to the course.  And I kept getting off track too!  I know I wasn't the only one though.  Everyone seemed all over the place.  It was pretty amusing. 
The course was 3 sides of a big square.  We headed out on one end of the lake's bank, turned right, turned right, and then swam into the bank again at a different point.  I swam freestyle for the entire first and second lengths…but by the third I was annoyed with my zig-zagging so I did some breaststroke which was slower, but at least allowed me to see where I was going.  It only lasted a brief amount of time though, because freestyle is far more efficient (read: faster). 
When I was able to stand, I looked into the crowd standing at the edge of the water and saw my mom.  Yeah!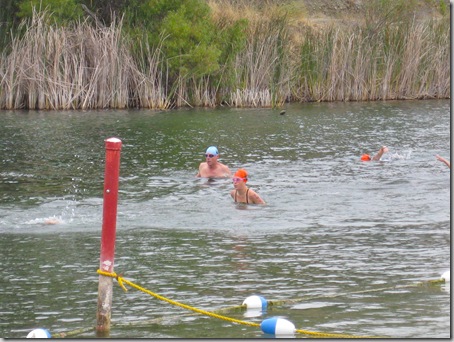 Then she pointed to my right and told me that my dad was right next to me…oh hey dad!  Didn't see you there!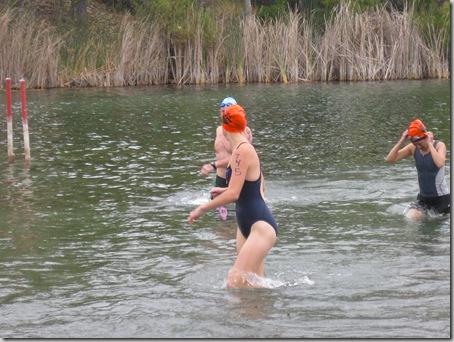 How perfect that we finished at the exact same time.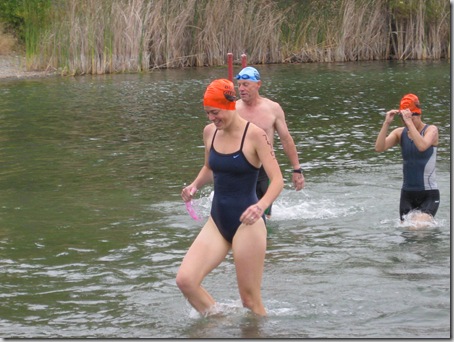 I learned later that I was actually one of the first girls out of the water.  Cool!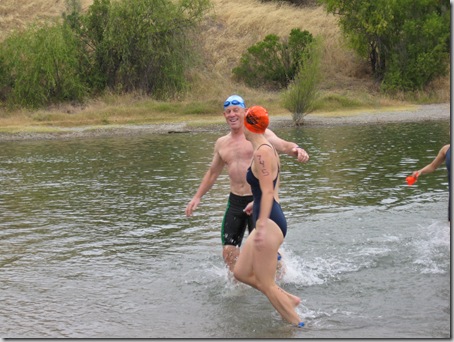 We hugged, then got in trouble for loitering at the water's edge (silly race officials), and jogged to our bikes.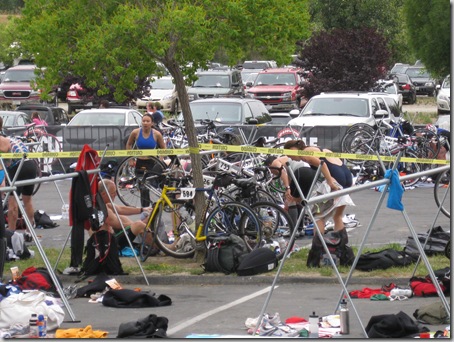 We weren't the fastest in changing, but we also weren't in it to win it. 
My sister was yelling things making fun of me (like I don't know my bike has a kickstand…thanks Marie).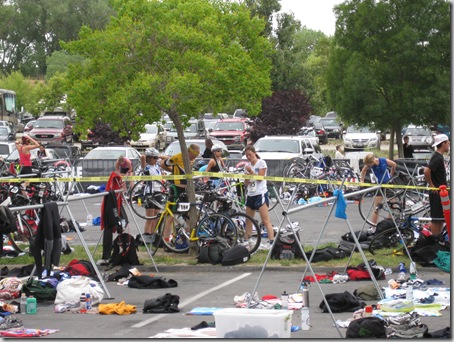 Slowly…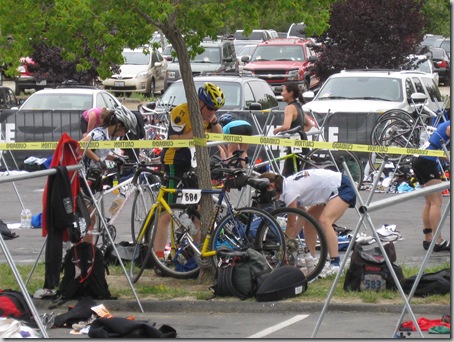 But surely…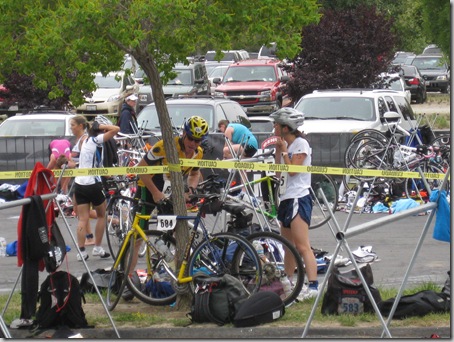 We transitioned from wet to semi-dry and bike ready.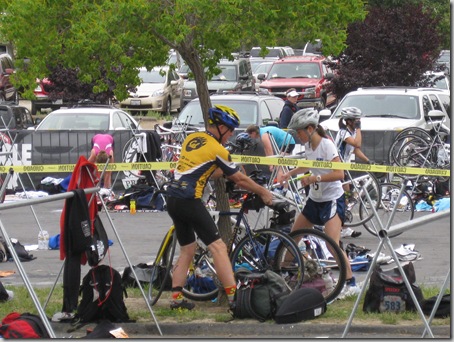 And off we went.
I learned two things on this leg of the event, (1) mountain bikes are SO MUCH more work than road bikes and (2) my dad is a badass on his bike.  Going into the tri, I knew he would be far better than I on the bike, but I never thought I would be as hindered as I was simply because I was riding a clunker from the 90s (which I was).  Everyone else had their slick wind-resistant gear and there I was in my baggy clothes acting like sails in the wind.  My dad was patient though and we chatted a bit while we rode along.  He taught me tips and the rules of the road.  He also taught me what drafting was, which I had never considered until some woman accused me of doing so 3 minutes into the bike ride.  Ummm…are you serious lady?  What about me screams professional to you?  Is it my helmet with a visor?  Or maybe my bike that weighs 10 times yours?  Or how about the running shoes I'm wearing that don't clip into the pedals?  I'm sure all of these factors are what lead to her thinking I posed a real threat to her.  In reality, my "drafting" was simply me sticking close enough behind my dad so we could talk while still letting the faster riders pass us.  I hope she felt like a moron later. 
The ride was nice, despite the fact that I was working hard to pedal while my dad was coasting along.  Clearly investing in a road bike is in my future.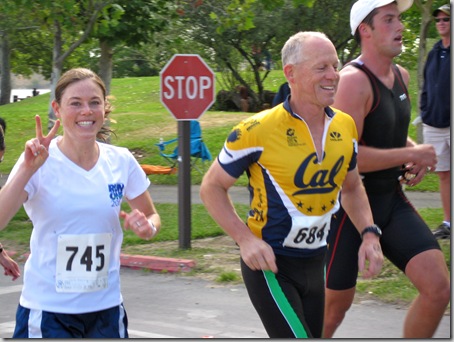 Since the course was mostly flat with only a few small hills, I was still pumped for the running portion when we finished cycling.  My dad was not quite as stoked.  His knees aren't what they used to be, so he tries to stick to low-impact forms of exercise.  Too bad running is unavoidable in triathlons.  At least that leg wasn't too long.  It was still hard on his knees, so we went really slow.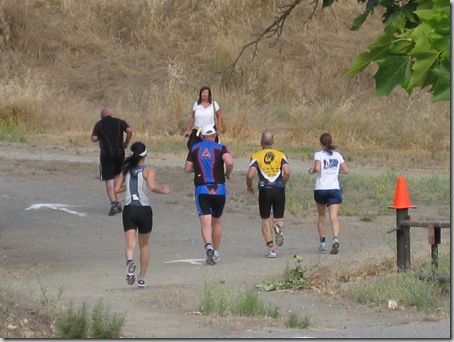 We passed the 1 mile mark and kept going and going and going…and no other mile markers were anywhere to be found.  We were both a bit confused.  Had we gotten off course?  Were we accidentally running the full triathlon distance?  I was fine to keep going but my dad was already asking the water stations for Sierra Nevada, so I knew he didn't have much left in him.  We finally saw the end before us though.  And the last few yards felt oh-so-sweet.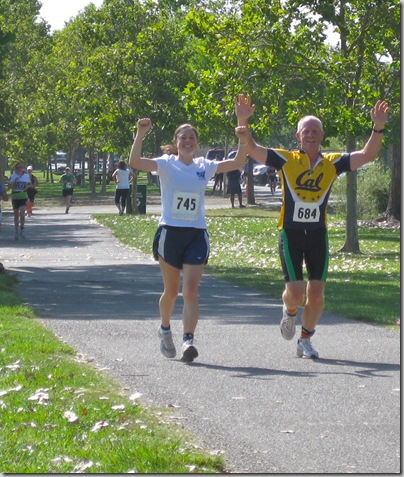 Crossing the finish line with my dad was so special.  I'm really glad we committed to doing this together.  Beyond the sense of accomplishment that goes with completing any race, what made this one especially awesome was sharing the experience with my dad.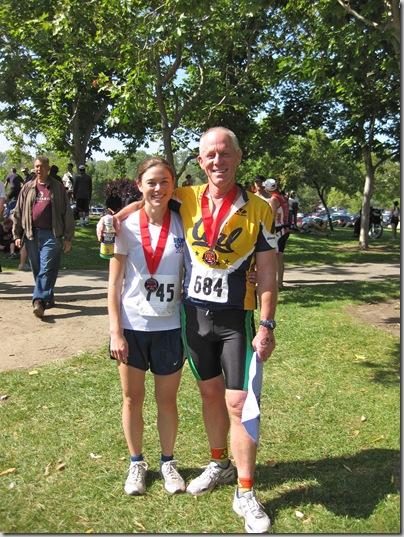 It was also so FUN.  I attribute this to the fact that I went into it with a whole different mind set as compared to previous running races I've done.  I had no expectations, no goals, nada.  I just wanted to have a heart beat at the end.  And since there was no pressure, I was able to enjoy myself in the moment.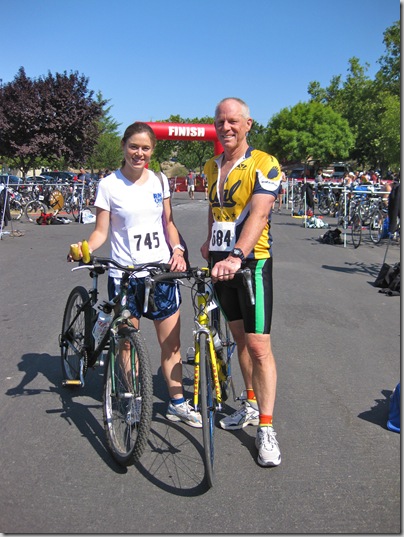 After we took some photos, we collected our things and loaded up the van.  Just like old times, in the family van, hot and sweaty and exhausted from a busy morning of exercising.