I've been on a Mexican kick.  Namely a nachos kick.
I know I said I was going to show all my eats, day by day, but the highlight of this day was this guy, so why bother with the other stuff.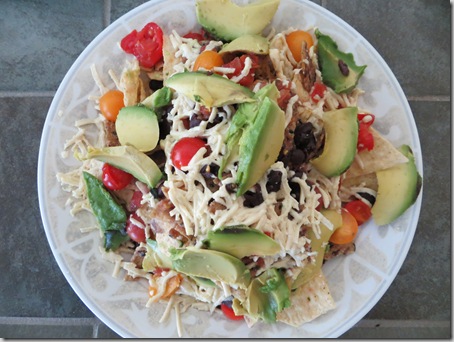 It's nacho time!!!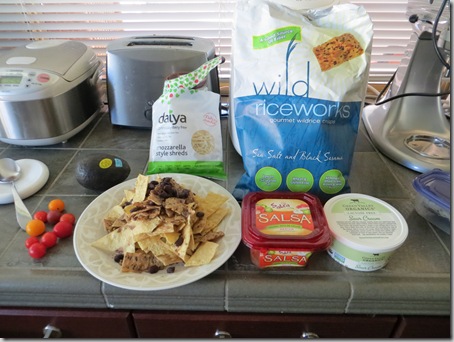 What makes up the nachos?
tortilla chips (plus the remainder of the riceworks chips)
black beans
daiya shredded mozzarella
tomatoes
Sabra pico de gallo
avocado
Green Valley organic lactose free sour cream
There's really no rules on the process, just pile things on more things and keep piling things on and on and on.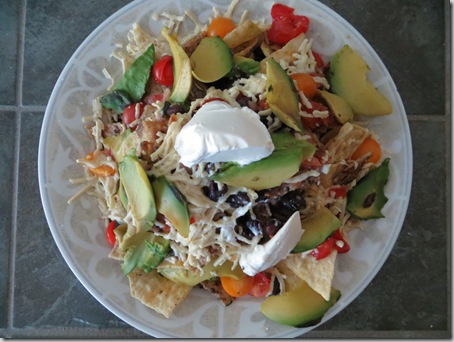 Kyle made the beans in the rice cooker and there was some extra liquid leftover, so I used that more than the actual beans so as to limit the fodmaps.  I also used more of the salsa juice than the actual salsa and tried to pick out the tomatoes (leaving out the onions).
I may be in the minority but I like my nachos to be a little soggy.  Bean and salsa juices help that.  I added extra cherry tomatoes since we had some.  Then you add the cheese and microwave away.  If you want to ensure that everything gets cheesy you layer – chips, cheese, chips, cheese. 
Avocado and sour cream go on last after the cheese has already been melted into oblivion. 
You may need a fork, but unless you're on a first date or something, you should be good to just get your hands a little messy.  Go on, do it.