I associate rice crispy treats with swim meets.  I remember the desserts at the snack bar were mostly home-made and the rice crispy squares were always the most appealing to me.  They were gigantic (as compared to the cookies or brownies) and still only cost 50 cents.  Such a deal!
After we were done with all our events we were allowed a treat and (provided there wasn't a snow cone machine at the meet), I usually chose a rice krispy bar.  Donuts made me feel like crap (ah, the early signs of IBS), but rice crispy treats were easy on my tum and they were special since I didn't get them often.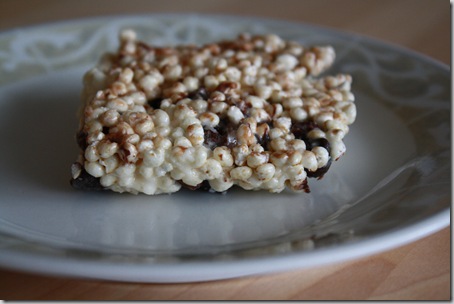 To be honest, I don't think I've had a rice crispy treat since my swimming days.  I had completely forgotten about them until Ashley made some recently.
I didn't have the Kellogg's cereal on hand, but I did have Arrowhead Mills' puffed millet.  And Suzanne's ricemellow creme.  Both vegan and gluten free.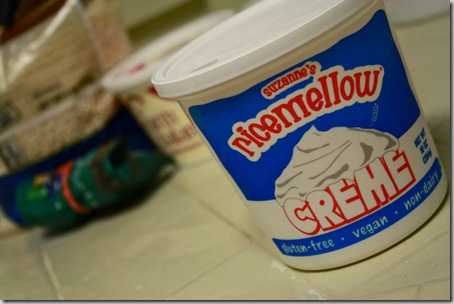 So I decided to let nostalgia run it's course.
Chocolate puffed millet crispies
Ingredients:
1 1/2 cup vegan marshmallows (ie ricemellow creme)
1 tbsp vegan butter (ie Earth Balance)
2 1/2 cups puffed millet (divided in half)
1/4 cup vegan chocolate chips
1/4 cup raisins
1/4 shredded coconut
Directions:
Add melted Earth Balance to glass pan followed by ricemellow creme, coconut and half of the cereal.  Mix everything together.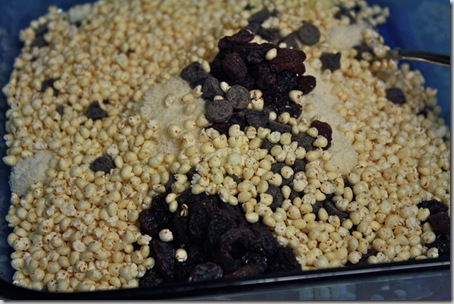 Heat in the microwave for 30 seconds, then add the rest of the cereal and the raisins & chocolate chips.  Mix again and press down into glassware.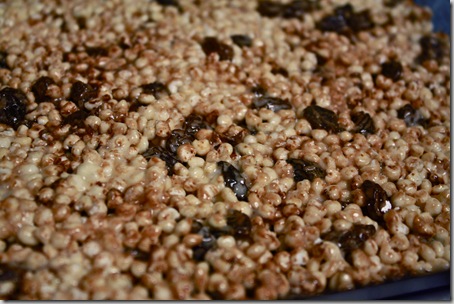 Store in fridge to let them cool and set.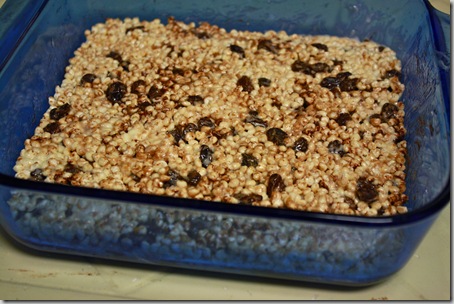 Cut into whatever sized squares you want.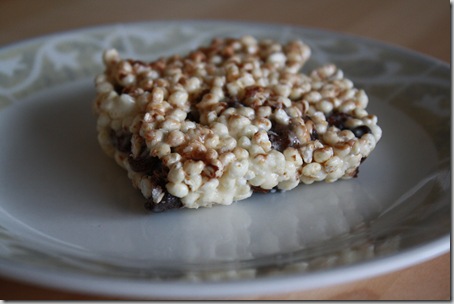 The combination of chocolate and coconut makes them a bit more sophisticated…plus the presence of millet means I can call them a whole grain dessert.  😉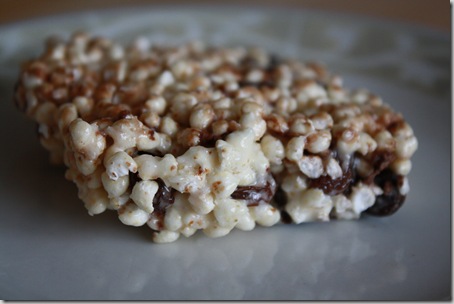 But let's be honest, they are really just fancy rice crispy treats…and my inner ten year old approves.