In my last post I showed you the prep portion leading up to the start of my work week. 
I'm glad you all found it informative and inspiring.  I promise it's not as hard as it seems; and once you start doing it week in and week out, it becomes second nature.  Yes, I do have some OCD tendencies, and it's hard for me to imagine a world without checklists, but it's also what allows me to eat the way I want to (healthy and quick) when things get crazy.  While my Type-A personality can be semi-obnoxious in my personal life, being organized is definitely a blessing when it comes to packing lunches for several consecutive 12 hour shifts.
So now, as promised, I'm going to share with you how I put it all together.  This is when the time saving really becomes apparent.  The key is separately tupperwaring up foods that all work well together (you should see our fridge – it's like an advertisement for Rubbermaid).  That way I can mix and match liberally without getting bored.  Flexibility, ya dig? 
For instance, I can toss roasted butternut squash in a salad…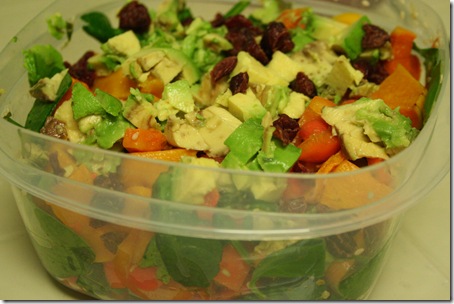 Or with quinoa and nutbutter…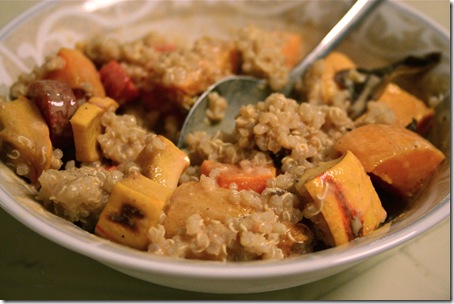 Or eat them solo as a side dish.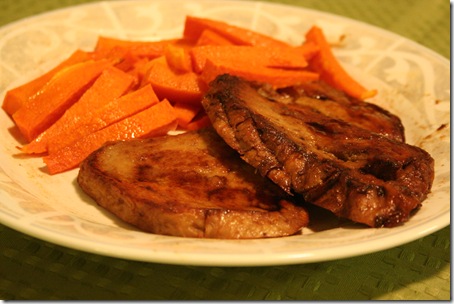 Really the possibilities are endless.
Here are a few sample lunches and dinners, all using the same ingredients: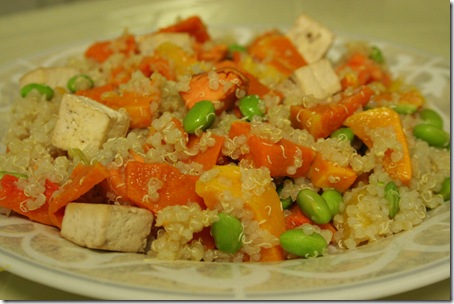 Dinner with quinoa, butternut squash, sweet potato, mango, edamame, and tofu (made in under 5 minutes).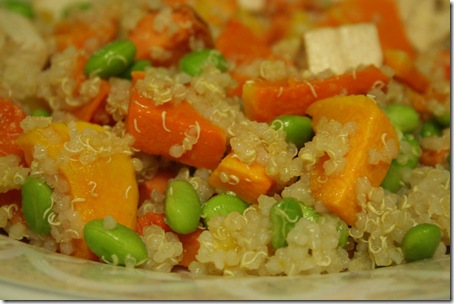 The quinoa, tofu, squash and sweet potato were all pre-cooked and individually tupperwared.  The mango and edamame were frozen and took 45 seconds to thaw.  Chop chop wham bam thank you ma'am.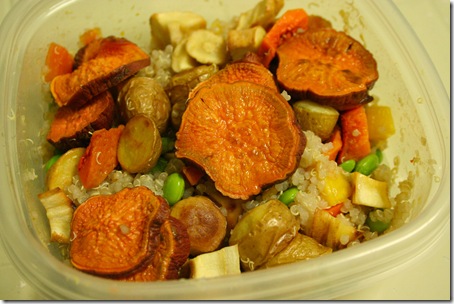 Lunch of quinoa, parsnips, fingerling and sweet potatoes, squash, and edamame.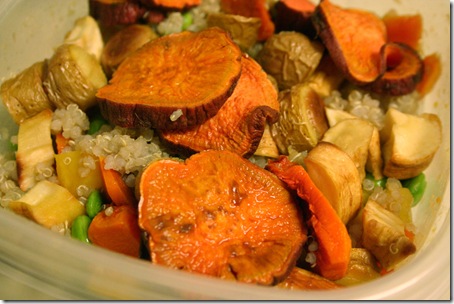 The dressing on this was a brilliant combo of lime juice, Bragg's aminos, and agave nectar.  To be honest, the agave wasn't even necessary because the lime juice and Bragg's combo was delicious all by itself.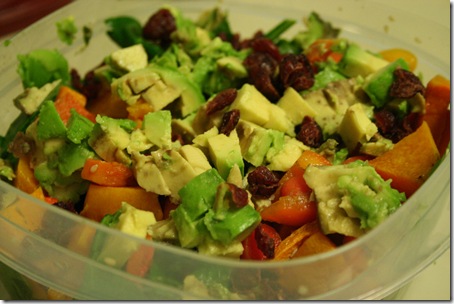 Lunch salad with spinach, bell peppers, carrots, roasted veggies, avocado, dried cranberries, tofu and more avocado.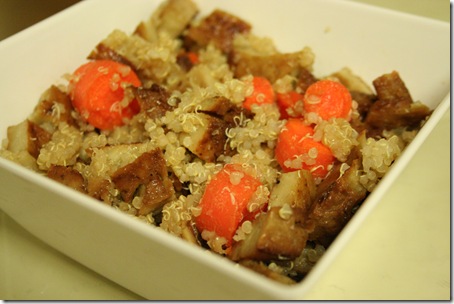 Dinner of quinoa, seitan, and roasted veggies with Bragg's liquid aminos.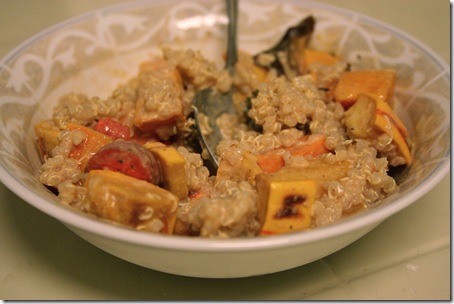 Another quinoa dinner, this time with roasted carrots, squash, and parnsips and Artisana cashini butter.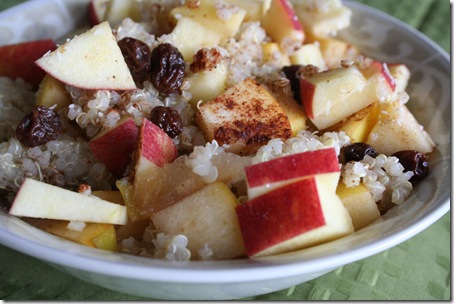 And yet more quinoa!  This time as a breakfast dish before work with apples, cinnamon, NuNatural's liquid vanilla stevia and raisins.
I feel like a mix master with all these combos.  Remember factorials in math?  It's kinda like that (I'm such a nerd). 
A few people have asked me if I ever get bored with using the same ingredients.  Usually, no. 
However, every once in a while (maybe on the last day of a long stretch of shifts), I don't feel overly excited about anything I have on hand.  But rather than force myself to eat something just because it's already made, I'll figure out what I'm really craving and make that instead.  I'm not a machine!  I want what I want, and I'm not going to shove food down my throat simply because it's there!  I know myself though, and I can pretty accurately predict what I'll be craving and when.  So as long as I have backup options (frozen veggie burgers, soy nuggets, whatever) on hand, I don't ever have too hard a time finding something I'm in the mood for.  And if hell freezes over, there's always Whole Foods 🙂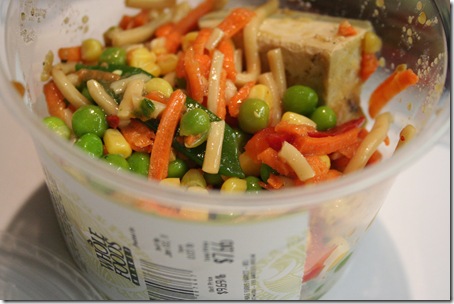 Next up, the actual art of packing it all up.
The trick is to account for all kinds of cravings (salty, sweet, savory) as well as a variety of textures and temperatures (crunchy, homey, warm, cold).  I bring bigger, heartier options along with smaller, lighter ones.  I make sure I have snacks that I can grab on the go.  And I always bring more than I think I will need. 
Variety is the spice of life, and so when I pack my food for the entire day, I try to imagine every single scenario that could arise. 
Will I want a sweet ending after lunch?
Dark chocolate and/or sweet cocoa almond trail mix
Will I want a simple or complex carbohydrate breakfast?
Fruit and/or grains
Will I be in the mood for a salad at lunch?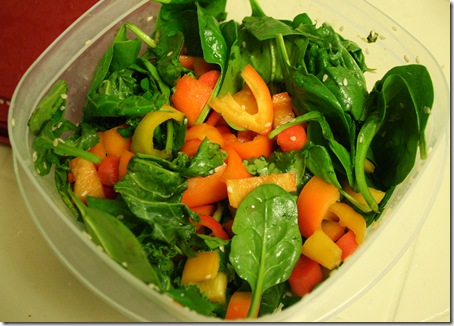 (I almost always am)
Or will I be rushing around all morning and need small nutrient dense snacks to tide me over until I get a chance to eat a full meal in the late afternoon?
These are the things I try to accommodate with my pre-packed eats.  You see, because my job doesn't have a reliable schedule, I have to be able to adapt my meal plan as I go. 
And for the record, I have 3-5 bars (Lara, Clif, Prana, to name a few) in my locker at any given time.  Just in cases.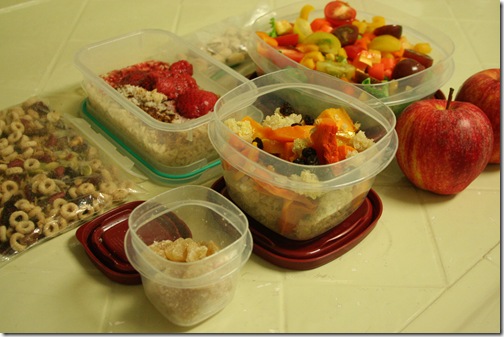 Here's yesterday's lunch as an example.
When I make trail mix it's never the same thing twice because I make it with whatever random ingredients I am in the mood for in the moment (dried fruit, carob chips, cereal, granola, nuts, seeds, etc.).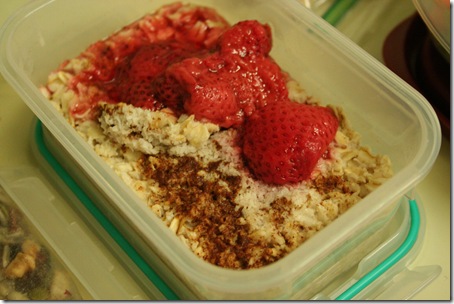 My oatmeal breakfast brought some warmth to my belly, therefore satisfying my craving for a complex carb to keep my sated until lunch.  I pimped it out with different ingredients to keep my taste buds on their toes…nothing like a strawberry compote, cinnamon, shredded coconut, and stevia to bring a new twist to a classic bowl of oats.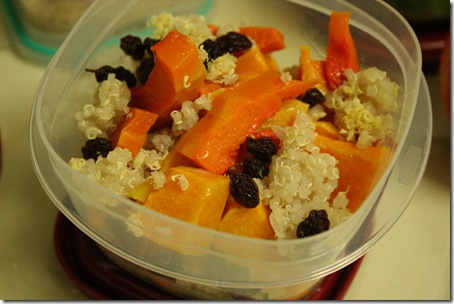 This quinoa, butternut, raisin dish satisfied my homey, comfort food craving.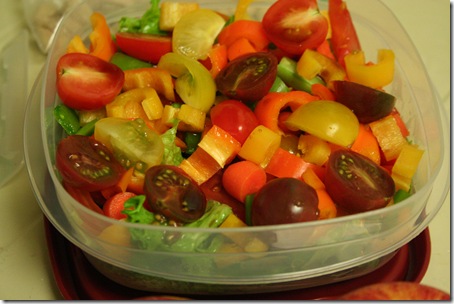 While this colorful salad satisfied my craving for something with a big crunch factor.  Full of raw veggies, including carrots, bell peppers, cherry tomatoes, atop a bed of romaine lettuce.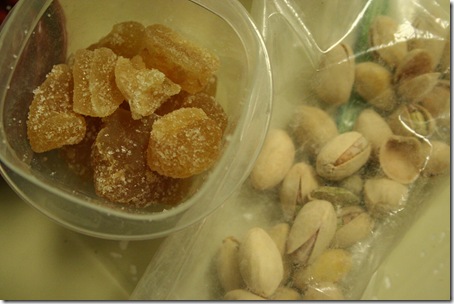 Let's not forget about the random side snacks of pistachios, candied ginger, and apples.
Done and done.
Isn't it crazy how the same ingredients can turn into such a range of dishes?  From savory to sweet, the possibilities are endless!
I suppose at some point everyone's professional life spills into their personal life just a bit, and for me it's the check-it-off-the-to-do-list nature of nursing that has seeped it's way into my non-hospital time.  Who knows, maybe I was born to be a task master food prepping nerd all along.  Nobody ever died from being too organized though, right?