After such a positive response from my dad's guest post on wine pairings, it was easy to convince him to do a follow up.  Here is hippie-pops again with more details on the family vineyard (plus a Healdsburg restaurant review).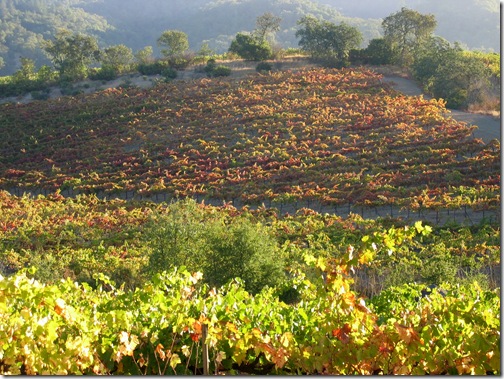 Elise's grandfather Walt Dieden, 82, is the owner and resident of
Dieden Vineyard in Dry Creek Valley (Sonoma County, CA).  He and my
mother purchased the property in 1976 when they lived in Saratoga, CA,
replaced all the vines and began farming Zinfandel grapes.  For years
my dad commuted up on weekends to manage the property and invested
lots of sweat equity.  He eventually moved to Dry Creek after retiring
from his job as manager of Carlson Instruments (Roy Carlson was his
father-in-law and inventor of instruments used in concrete dams).  He
still grows Zinfandel grapes on his 20 acres and sells them to
(currently and for many years) Murphy-Goode Winery.  Dieden Vineyard
is now a thriving small enterprise whose grapes have been the
substrate of award-winning wines.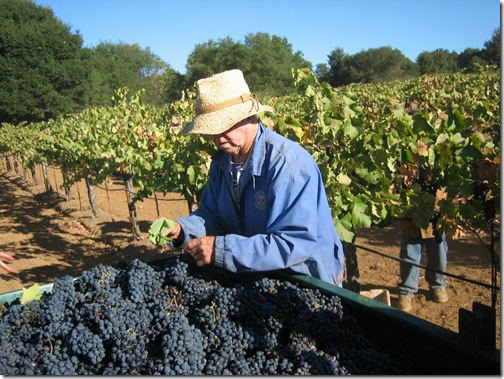 The vineyard is 5 miles outside of downtown Healdsburg, a very
interesting mixture of old farming businesses and the gentrified
central Plaza where hordes of wine tasters and tourists descend on
weekends.  I visit my dad about once a month and we usually share
dinner at one of the many fine restaurants in Healdsburg (his treat,
no less!).  He typically chooses the place, sometimes on a repeat basis
if the food and service remain solid.  For the first time, he recently
took me to Ravenous, though this is not a new restaurant.

What a treat the experience was!  I enjoyed it so much I kiddingly
chastised my father for never going there before.  Stimulated by a
conversation with our waitress (who said she is 95% vegetarian and I
think is one of the husband & wife owners), I thought of Elise and how
she would like the restaurant.  Ravenous is located two blocks off the
Healdsburg Plaza at 420 Center Street.  Not only is the menu eclectic
and interesting, there are several vegetarian options and they will
happily convert some of the meals (meat and vegetarian) to vegan
versions.  They met my prime requirements preferences in a restaurant:
tasty flavors, creative combinations of ingredients and flavors,
locally purchased and organically grown ingredients, friendly and
efficient service and comfortable environment.  I ordered Roasted
Poblano stuffed with hominy, potatoes, queso fresca, and accompanied by
black beans, red rice, avocado, salsa fresca and corn tortillas.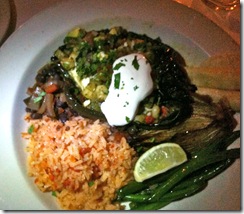 It was SO tasty and enjoyable.  The varying textures and flavors
played on my palate in such a unique ensemble (while I love comfort
food, I also like to be surprised sometimes).  And, unlike many
vegetarian meals, it was filling.  My father broke out of his usual
chicken mode and ordered (all you vegans close your eyes and skip this
line) Grilled Flat Iron Steak with red wine marrow, roasted tomato jus,
shallot braised in red wine garnish with roasted red potatoes.
Another vegetarian option included grilled Portobello, grilled ½
artichoke with roasted garlic, aioli, red cabbage braised with apples
with vegetable gratin and vegetable jus.  The rest of the menu would
most aptly be envied by omnivores, but even the meat dishes had lots
of vegetables in interesting combinations.  All in all, Ravenous is a
winner in my book.  By my insistence, Walt and I will be making a
return visit soon.
Thanks again dad – it seems like Healdsburg is really turning into a foodie hot-spot.  Just today I was watching an old episode of Chelsea Lately and she gave a shout out to Barndiva, another Healdsburg restaurant.  Clearly I need to visit my Grandpa more often.