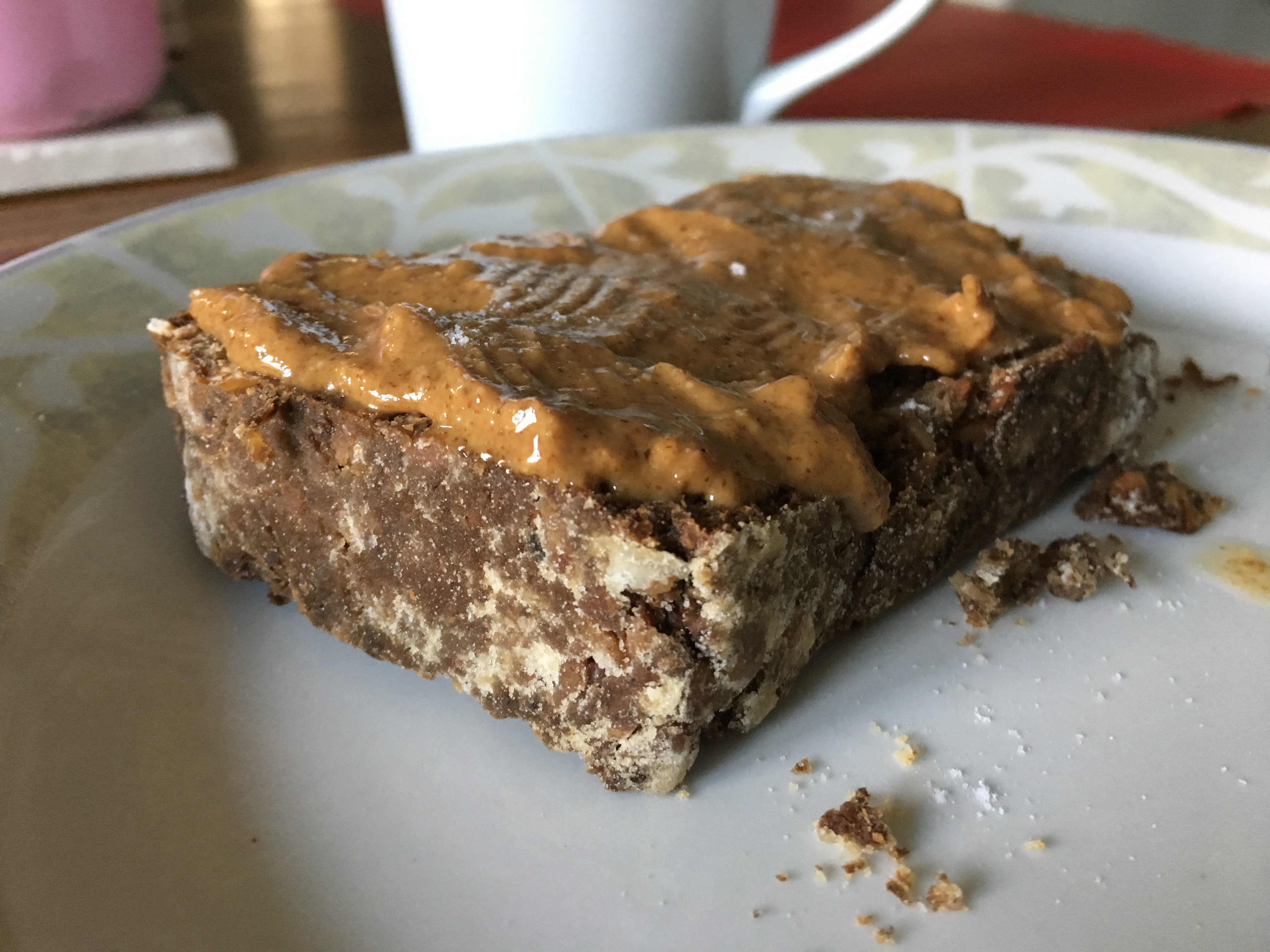 I was so excited for our Saturday morning of nothingness.  Kyle took the kids to farmer's market and I had a slow morning to myself before doing a bunch of housework and cooking prep.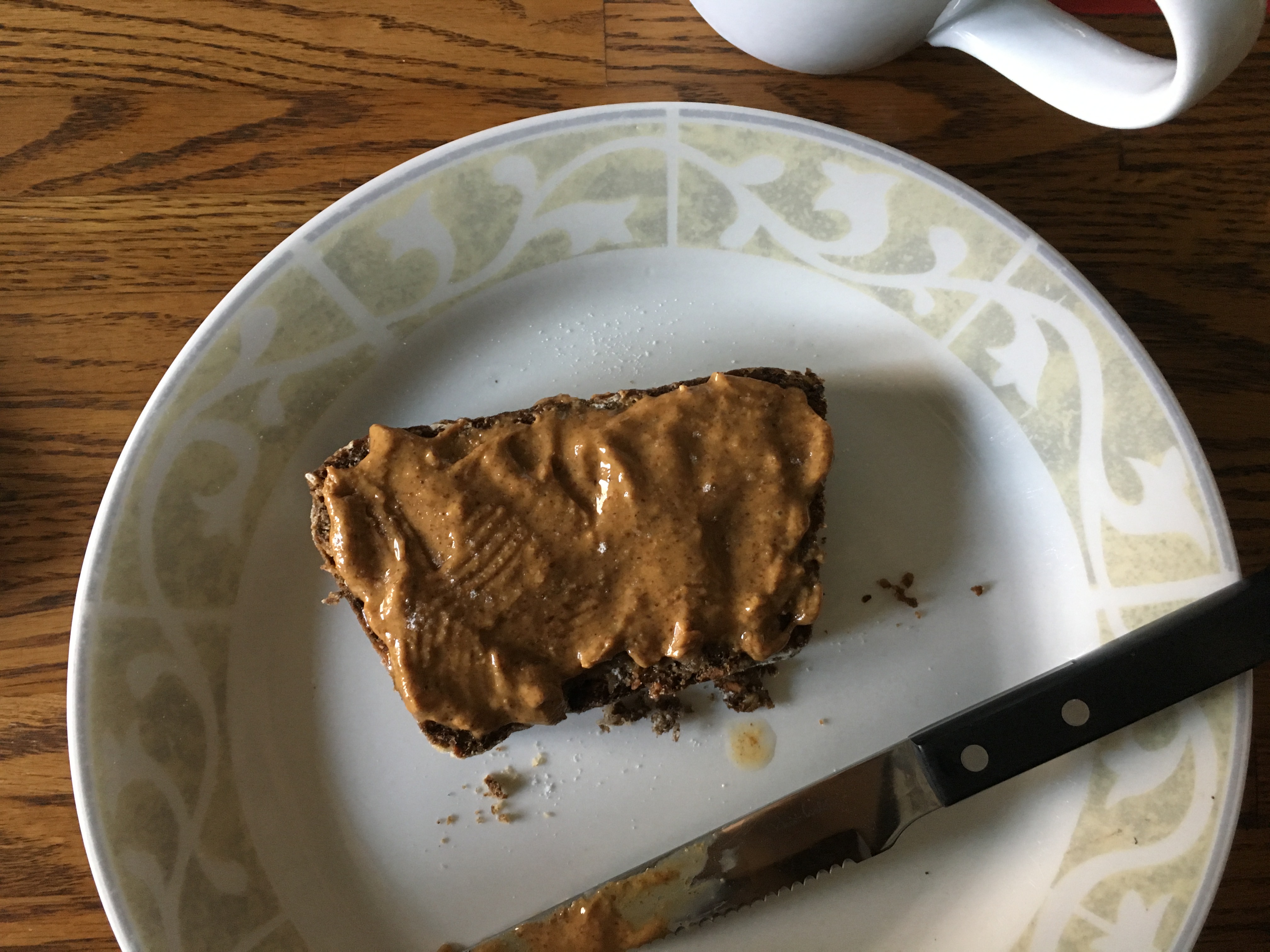 After the kids were down I made lunch.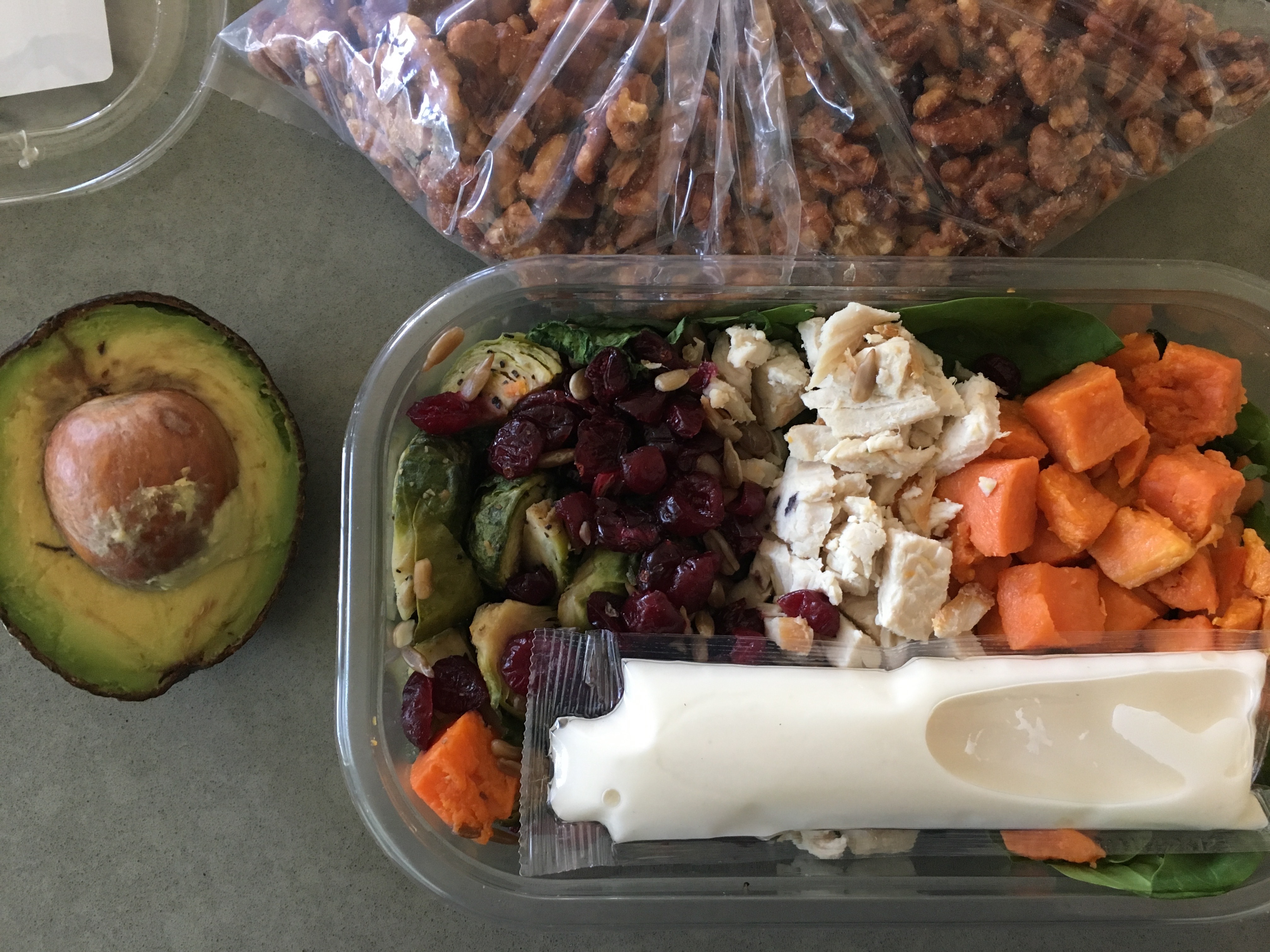 But I accidentally made it way too huge.
This is a theme lately.  I don't know what's up with my appetite but I am finding I keep stuffing myself at lunch time, and yet, I'm having the same amount of food (more or less) that I usually do.  Why is it all of a sudden too much for me?  Is my metabolism slowing?  Is this just a random physiological / hormonal phase?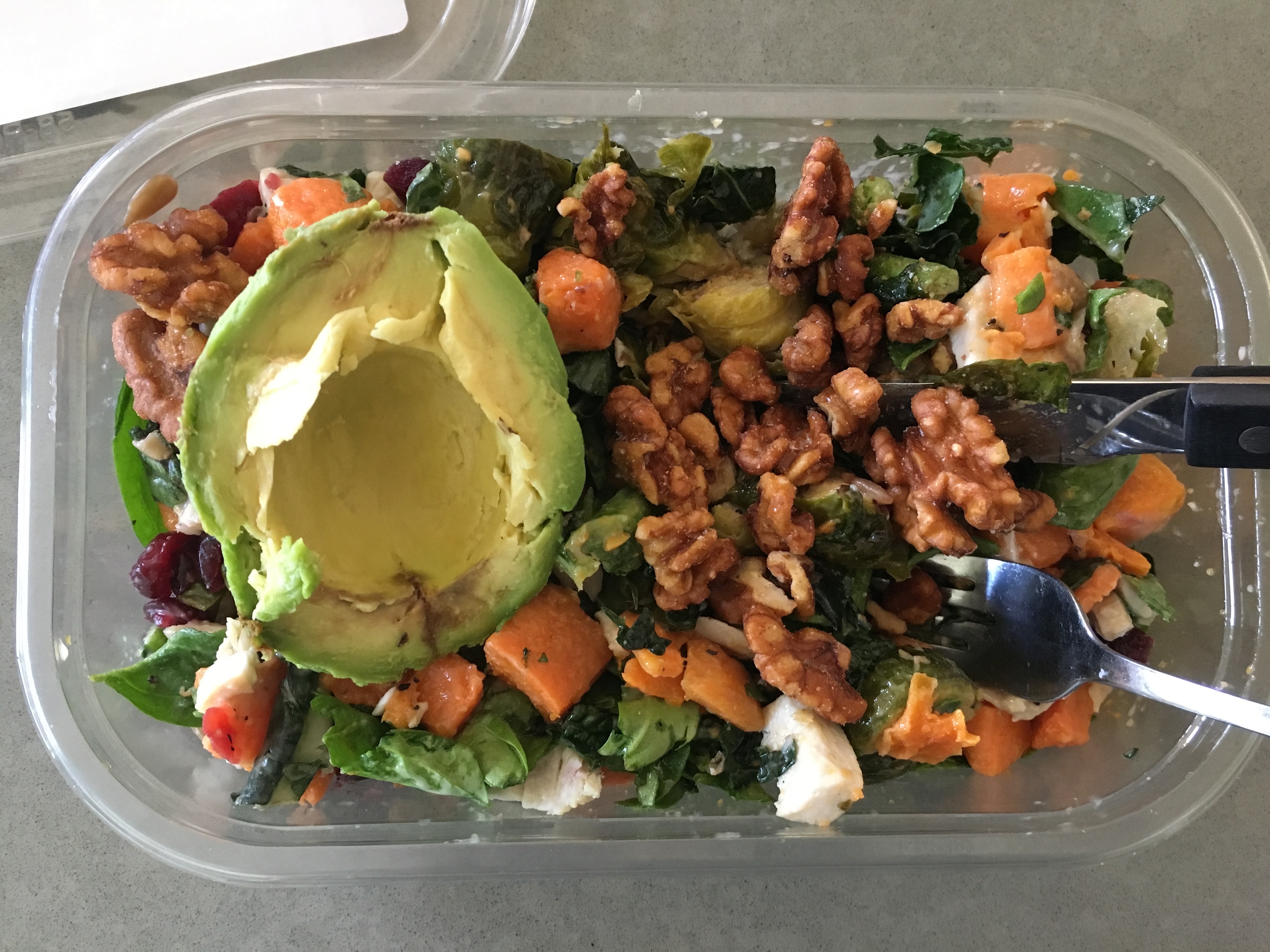 Whatever the cause, I made this salad into a huge beastly thing by adding candied walnuts and half an avocado and then finished it all, despite feeling full at the half way point.  Oops!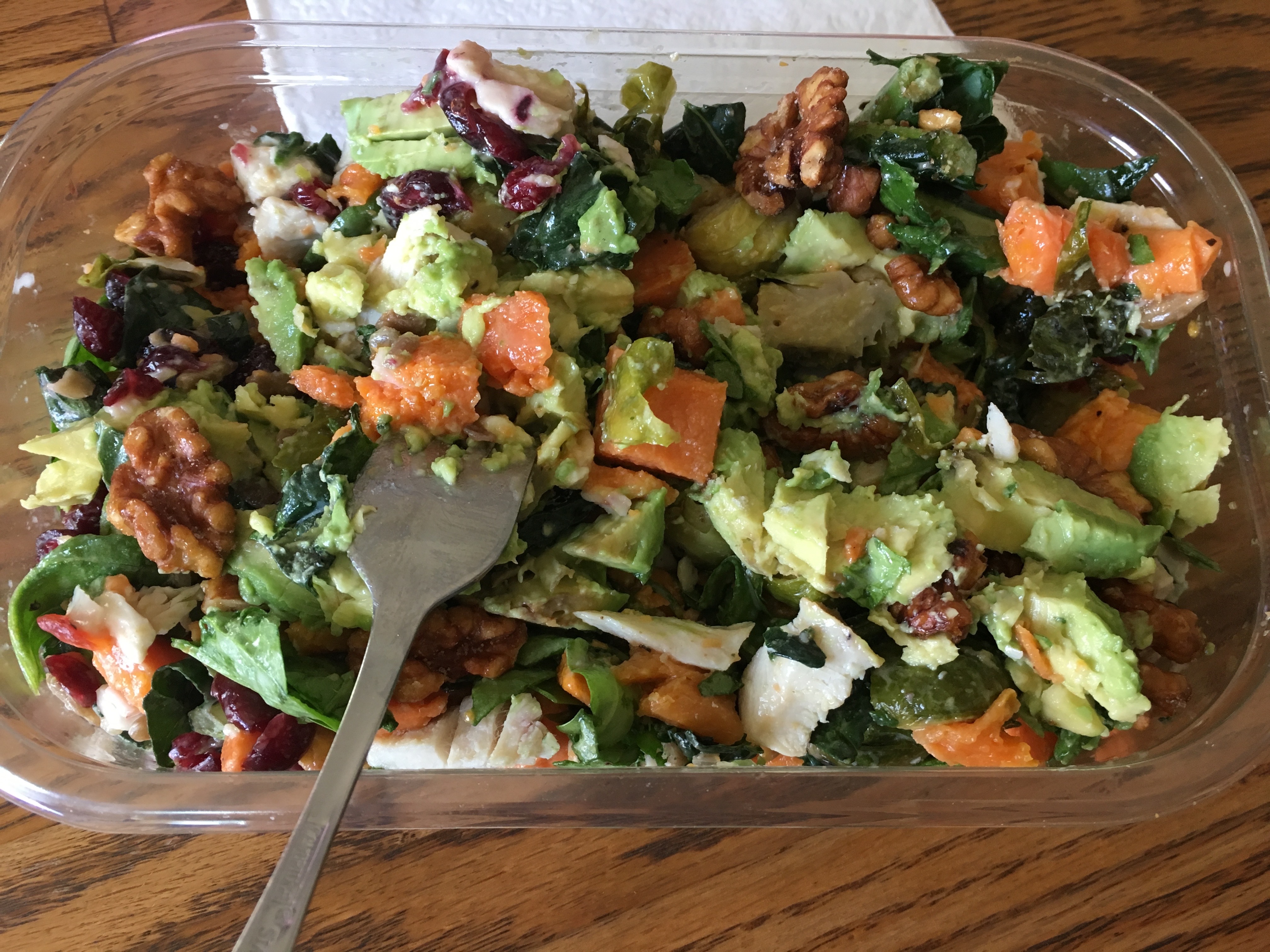 I'm going to focus really hard on listening to my body over the next few days to see if I can give it what it wants and no more, no less.
That whole intuitive eating thing…
P and I went to his friend's birthday party after lunch, so at least one of us got to burn off some calories.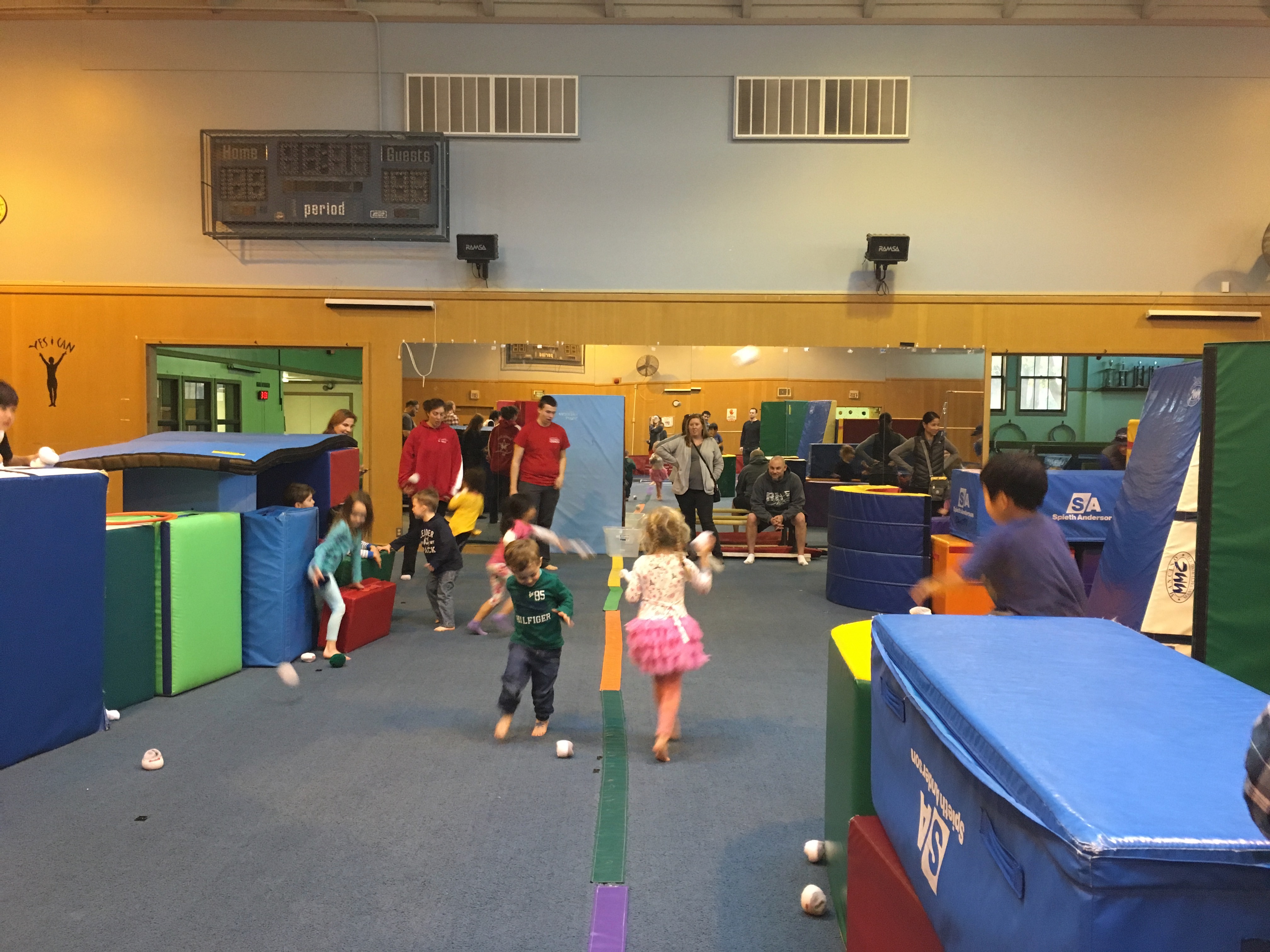 This was complete madness in the cutest way…building forts and then having "snowball fights" with rolled up socks.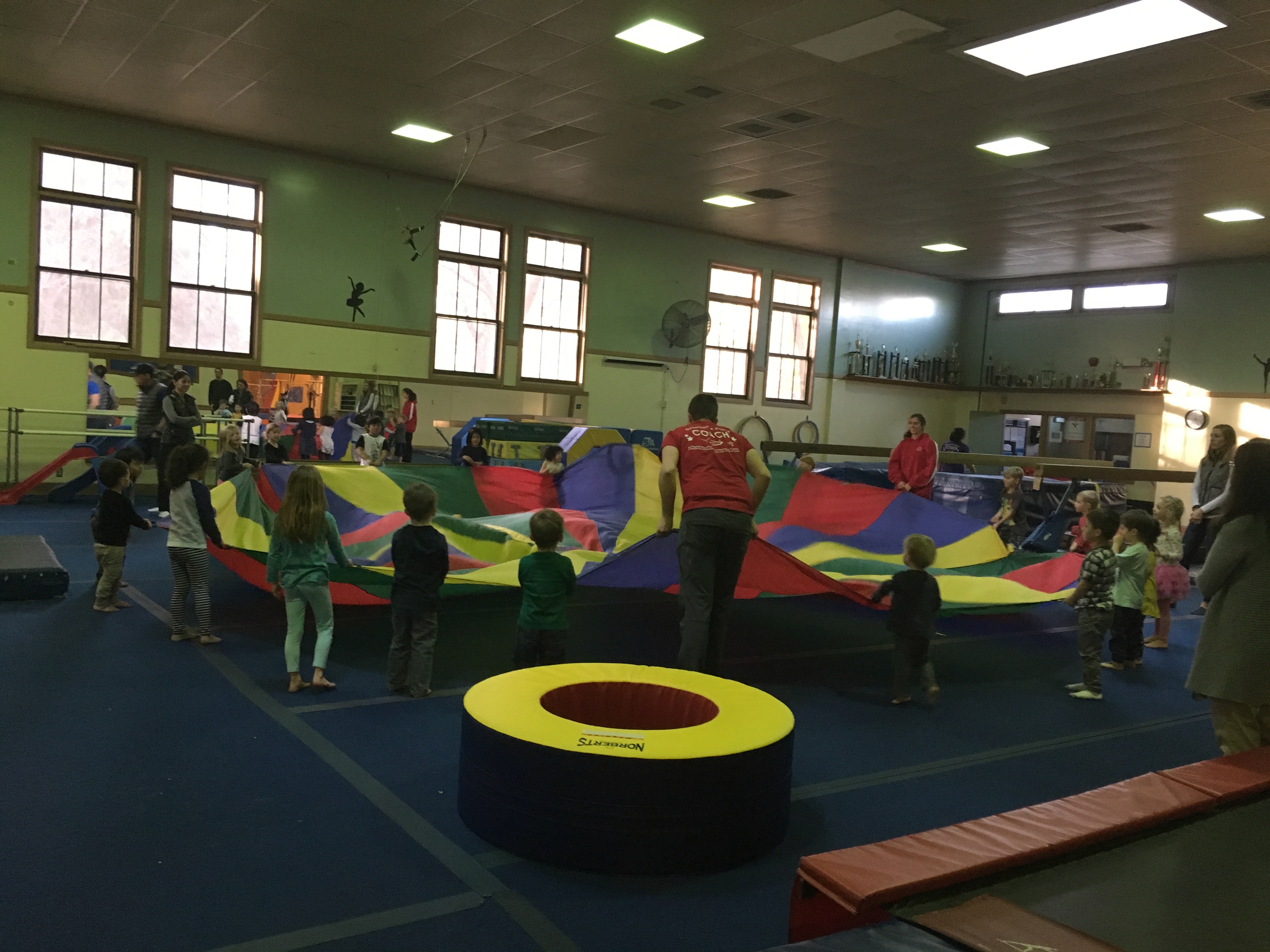 They did all the other usual birthday stuff, too.  P got to eat cake, which he feigned excitement about, but only ate a bite or so before saying he was all done.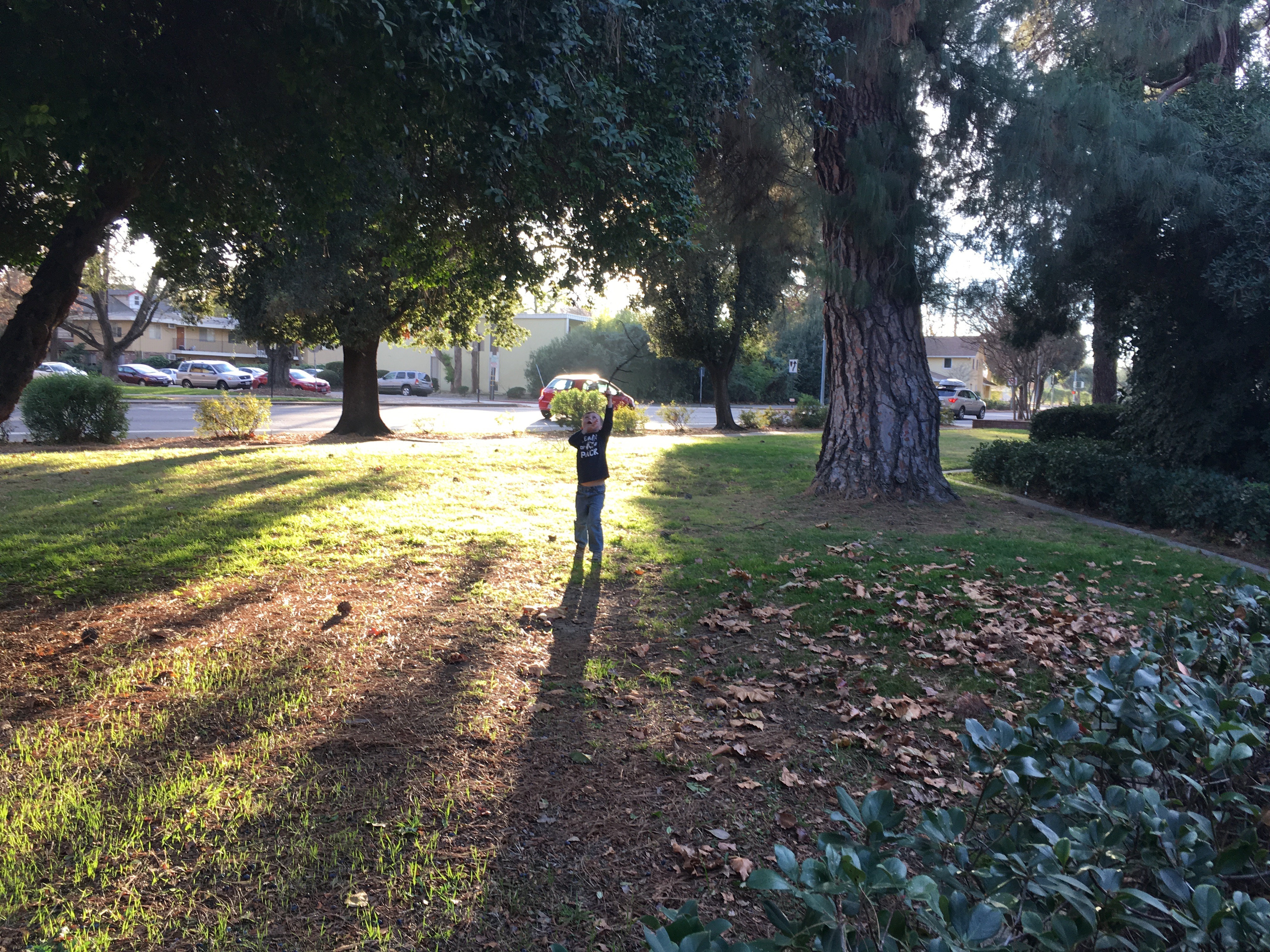 And V slept through the entire thing (at home with Kyle).
While Kyle went on a run with V, my big boy and I cooked dinner.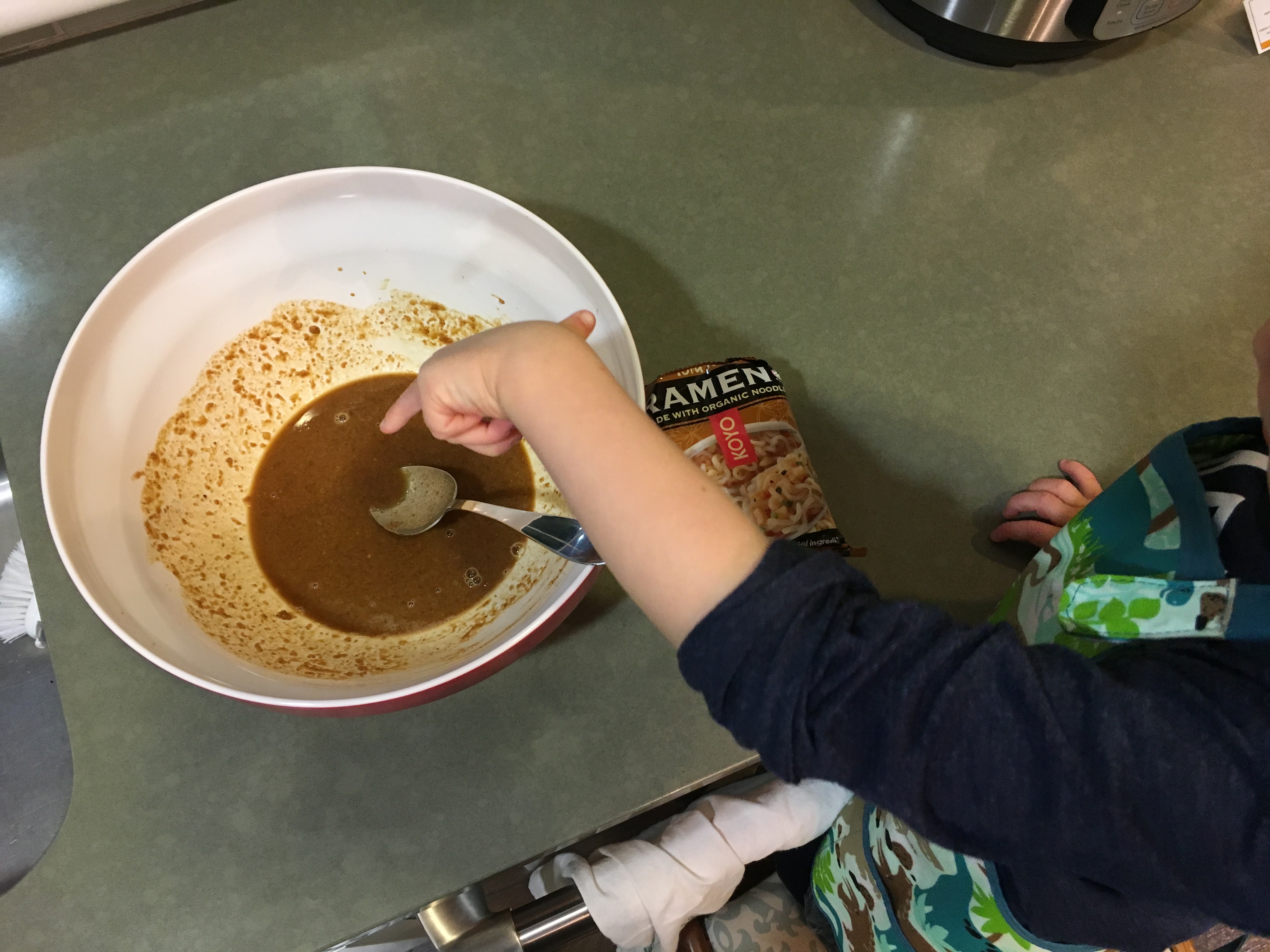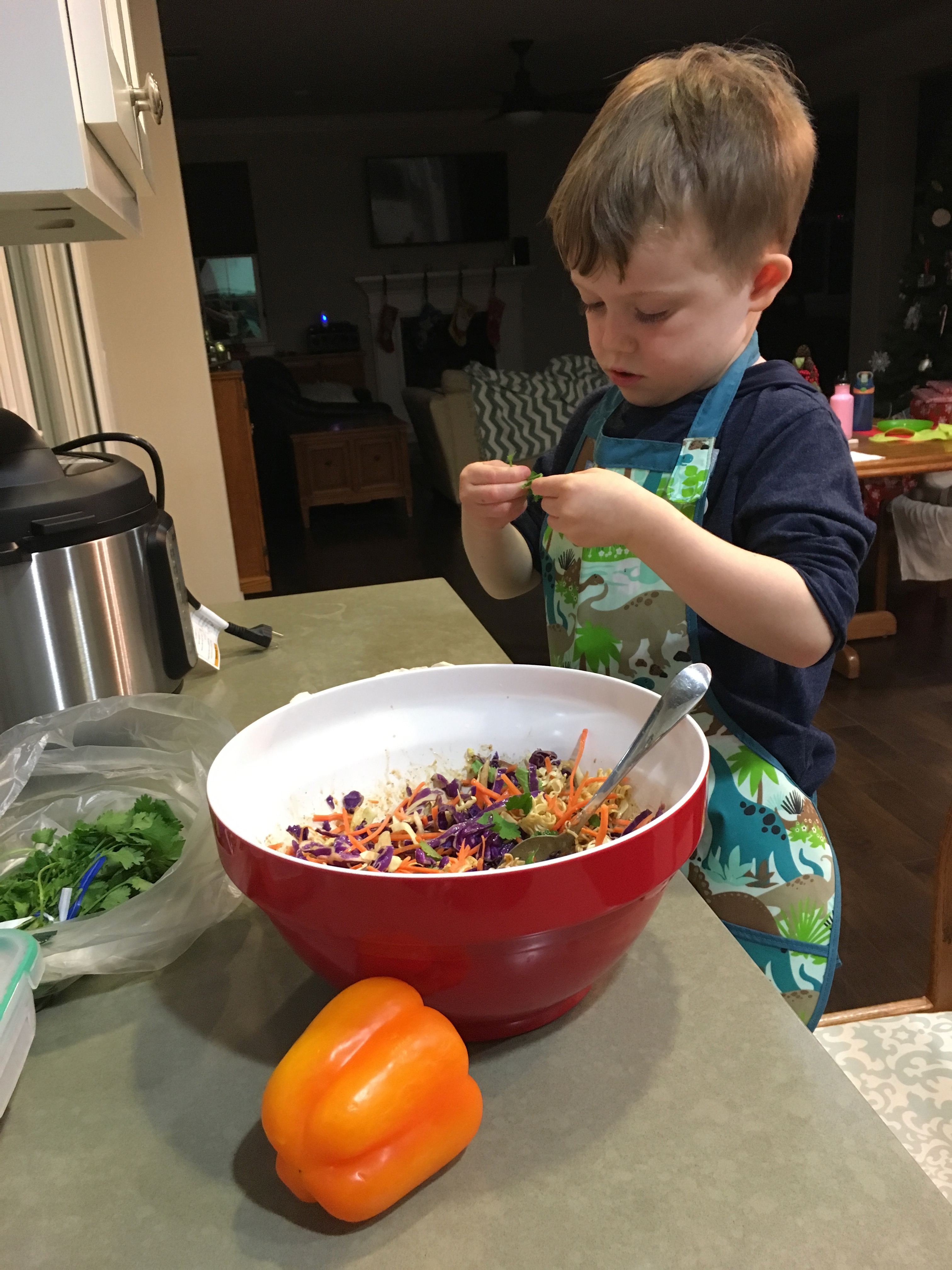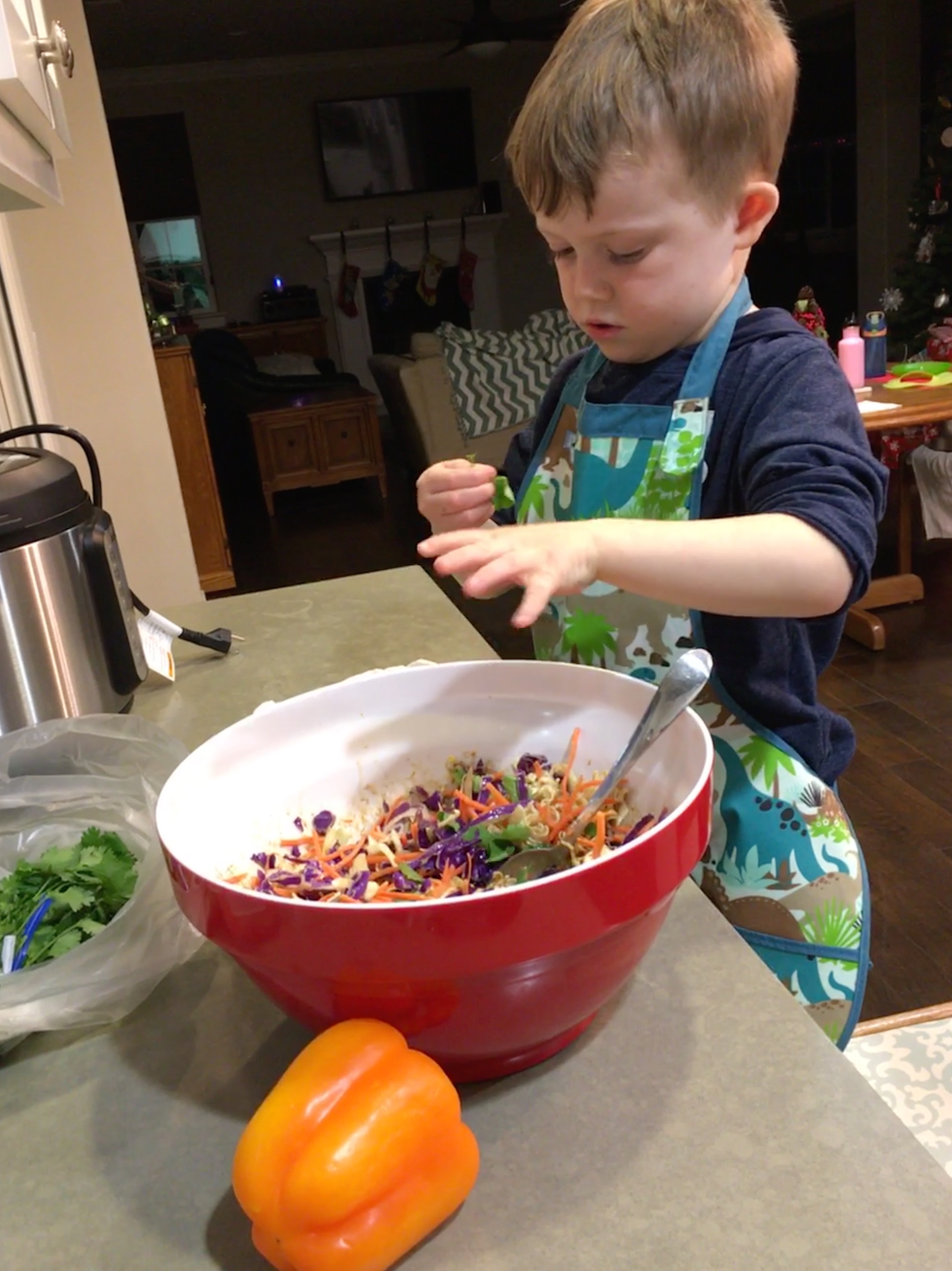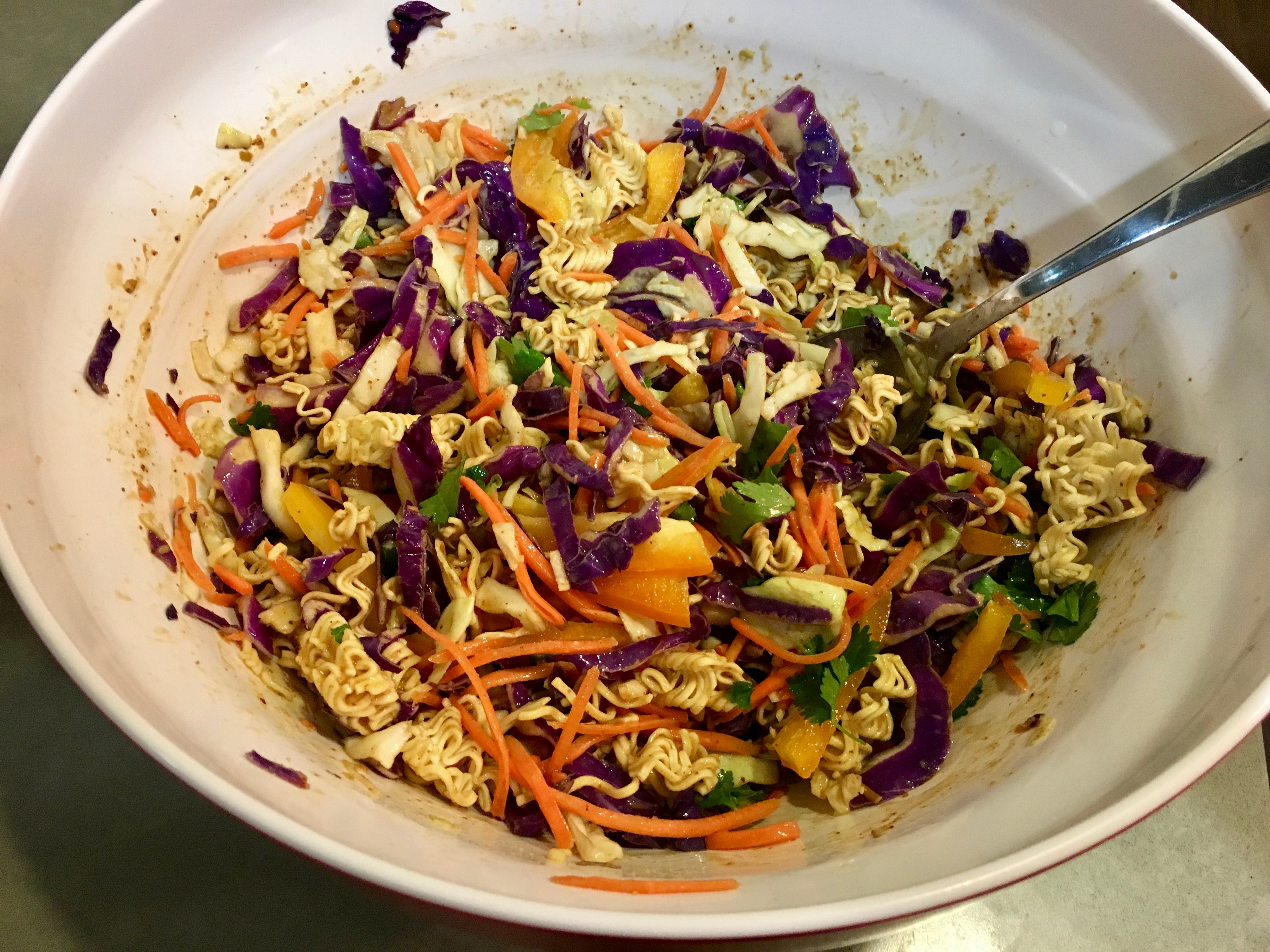 Cilantro plucker.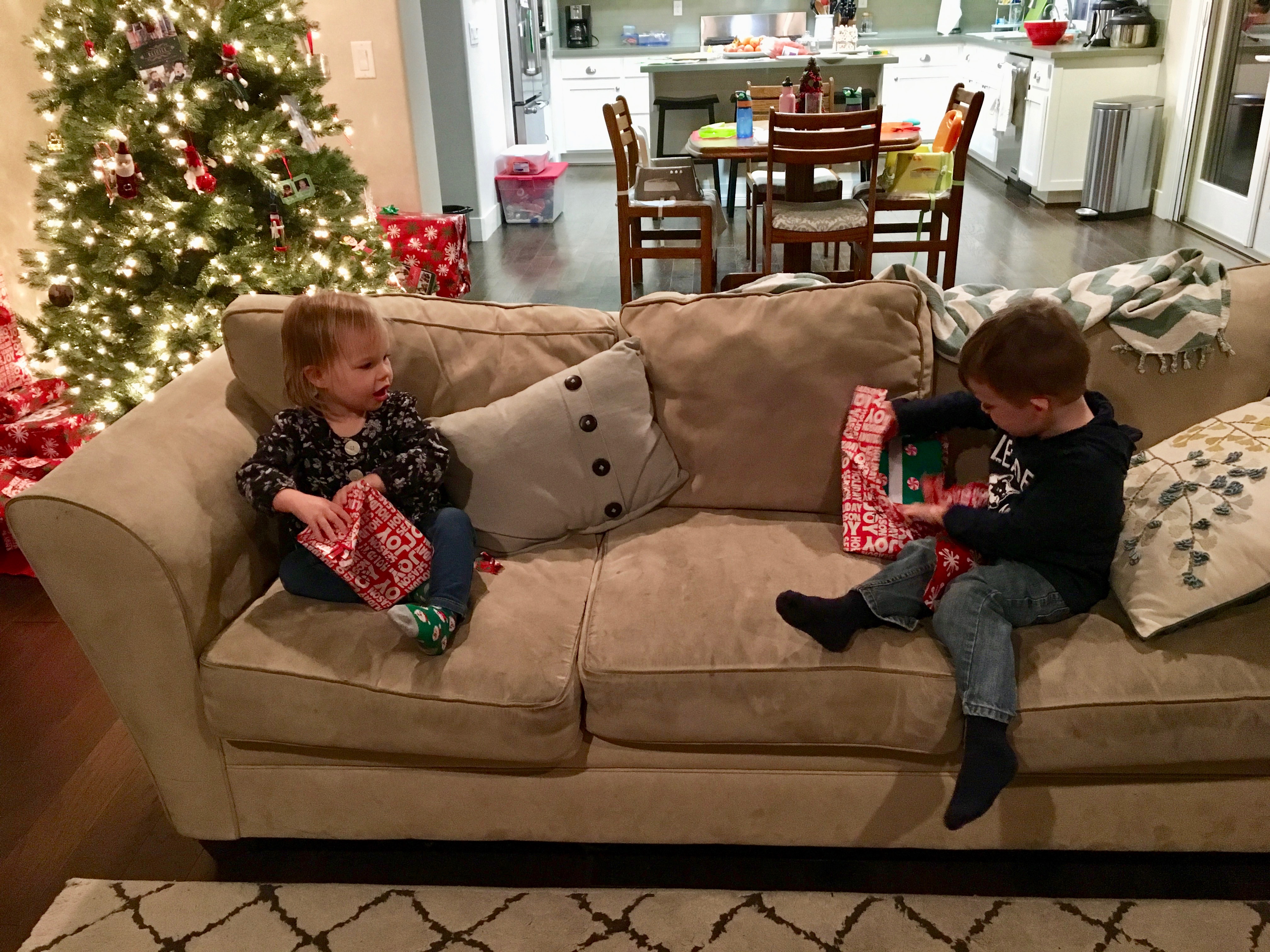 Right before we sat down they opened a present from us.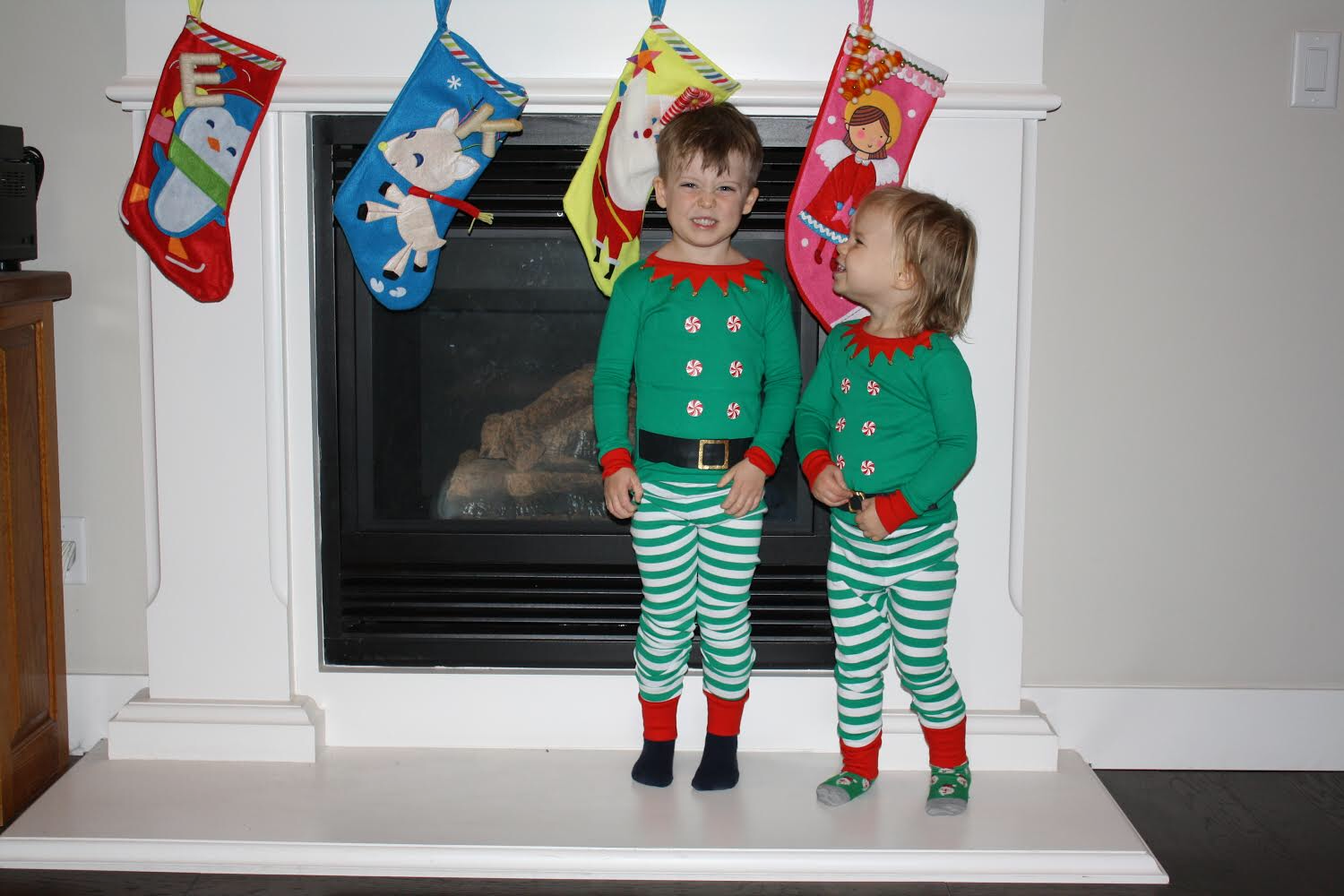 I couldn't help myself when I saw these PJs.  😉  Such cute little elves.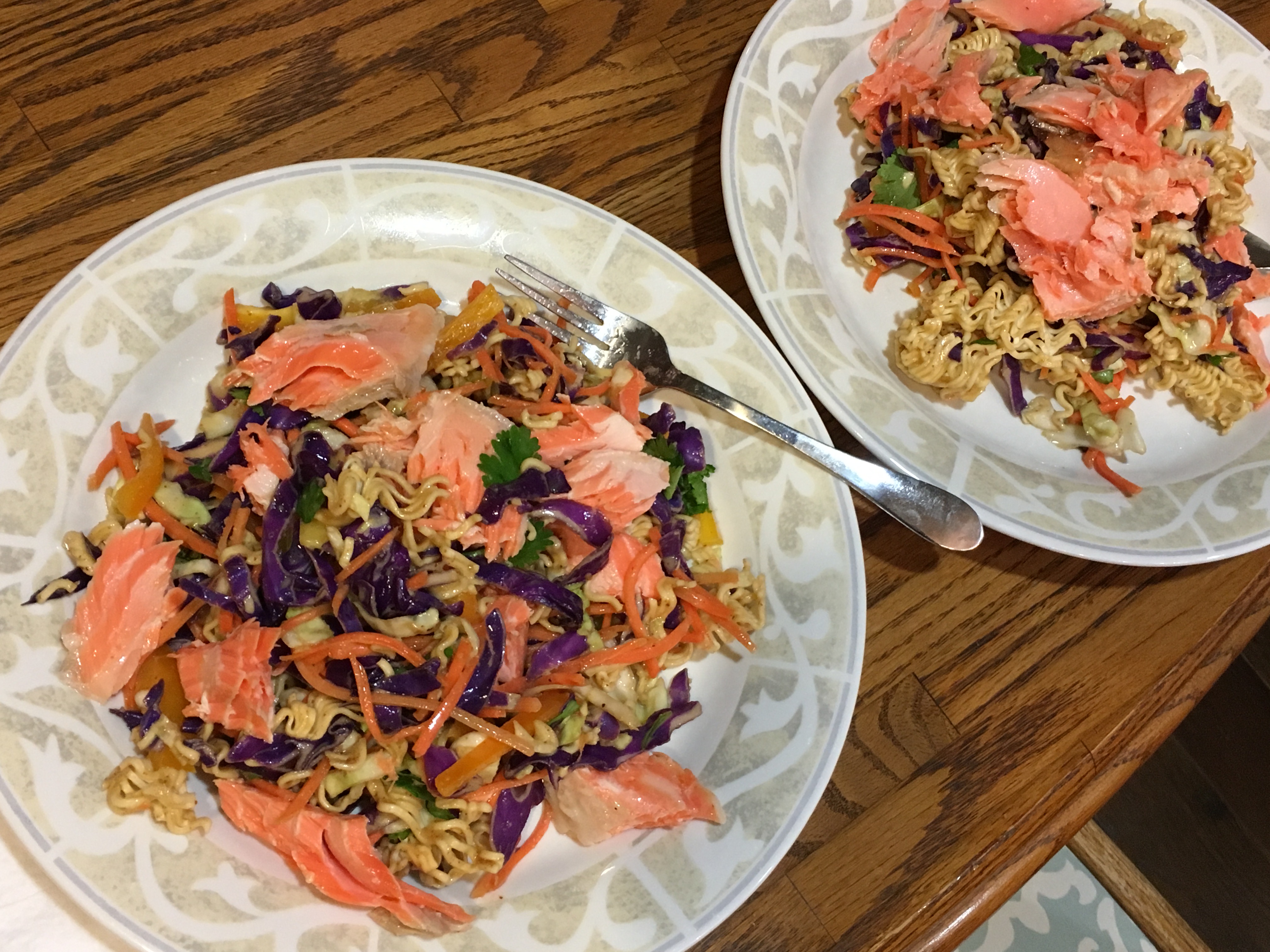 Dinner was excellent if I do say so myself (although I don't have to – Kyle said so too).
I used the leftover salmon from Thursday night (but not even all of it!) in an Asian slaw noodle salad thing.
The dressing was almond butter, tamari, rice vinegar, ginger, fish sauce, warm water and sugar.
Then I added two packets of Koyo ramen noodles (not GF but at least it was organic heirloom wheat) minus the seasoning packs, as well as a cabbage/slaw mix, sliced bell peppers, shredded carrots, cilantro and cashews.  Pattycakes was in charge of breaking up the noodles and ripping the leaves off the cilantro.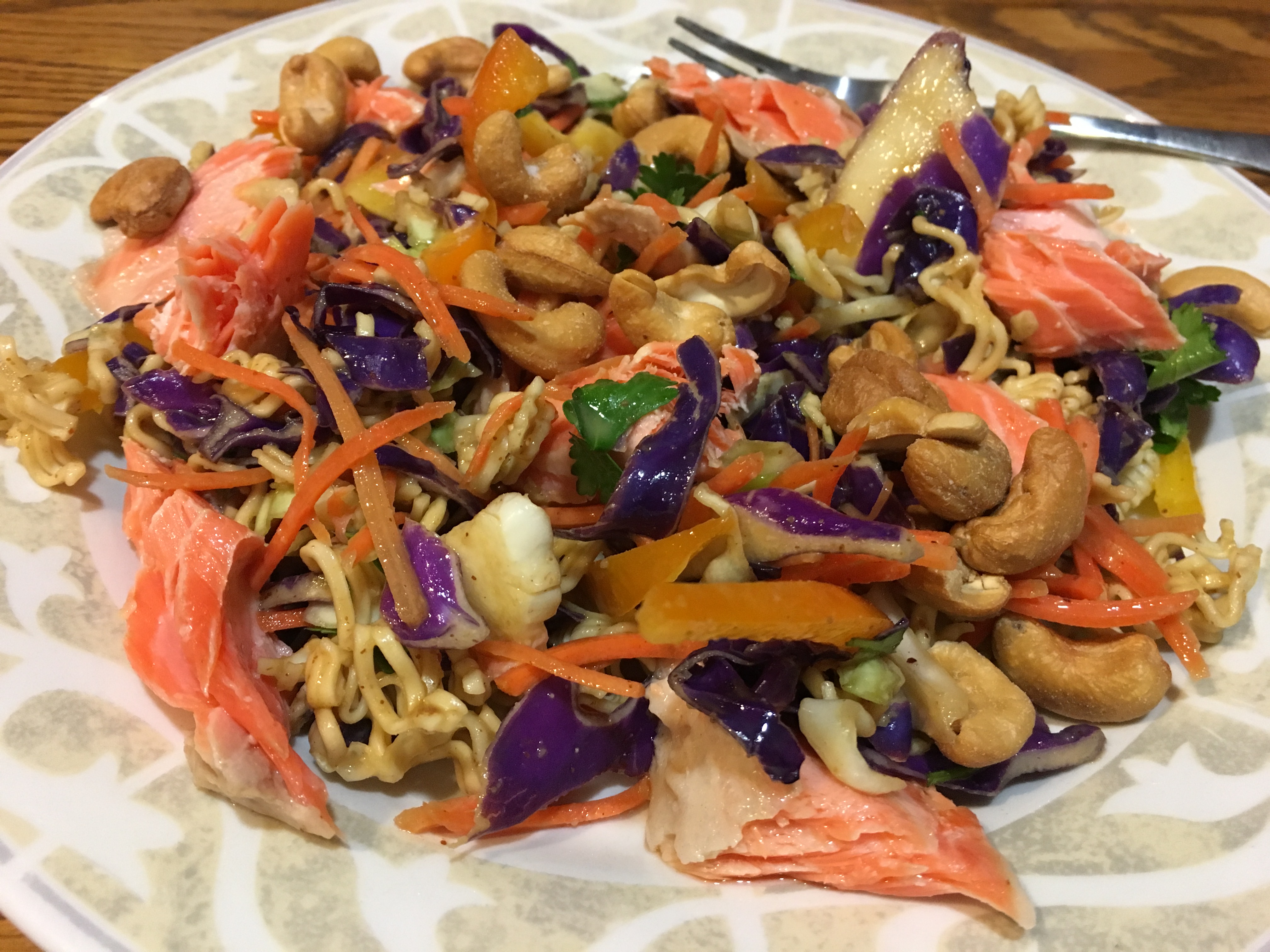 Yum!
The next morning was the most anticipated day of the Christmas season because of the preschool performance at church.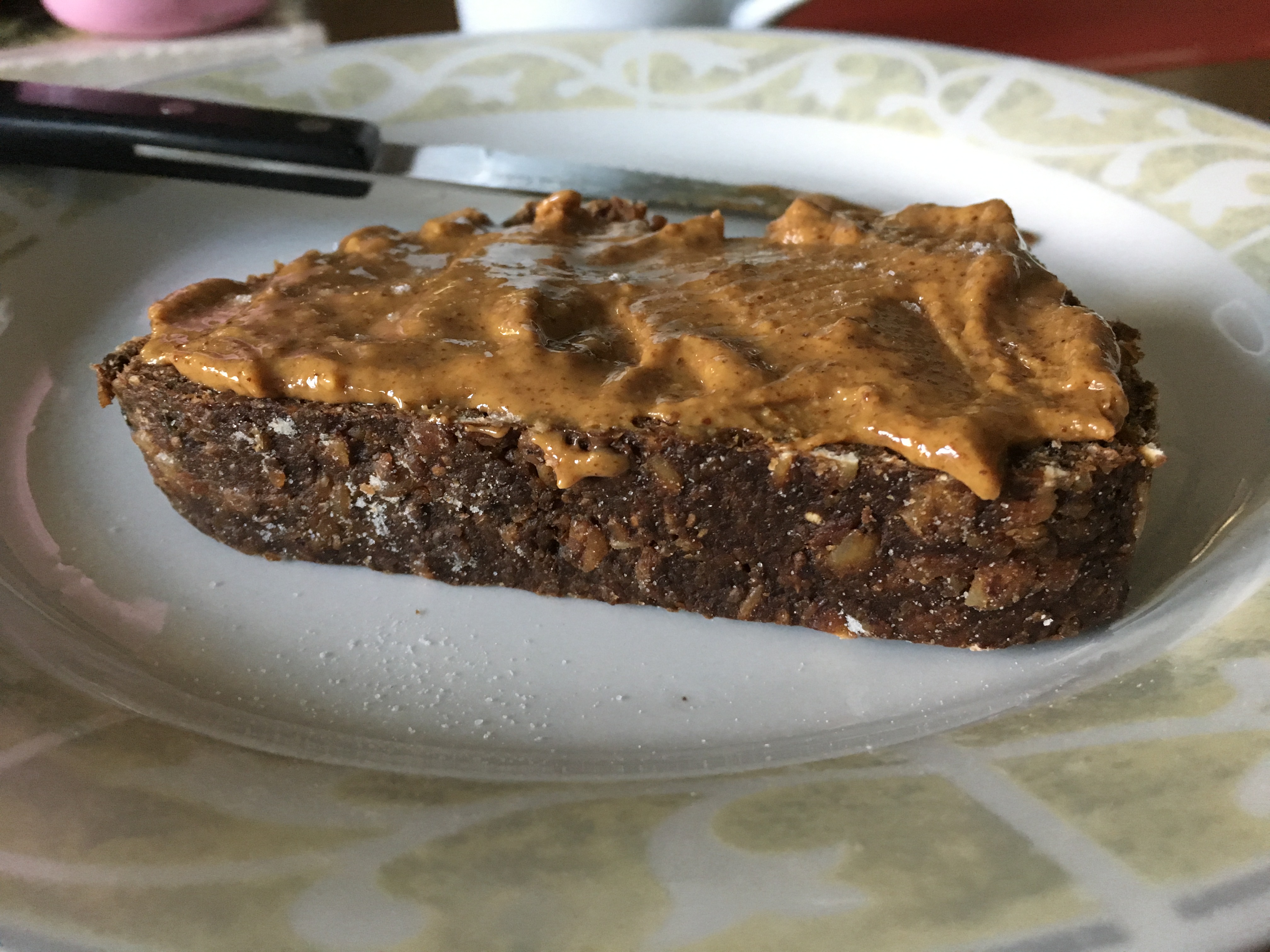 My parents came early and we all went over to church together.  It was so fun having all the classes and teachers and siblings there…and when they filed in to sing I teared up almost instantly.  Gah!  Too much cuteness.
They sang for both morning services so we got home just in time for lunches and meltdowns. They were both so exhausted.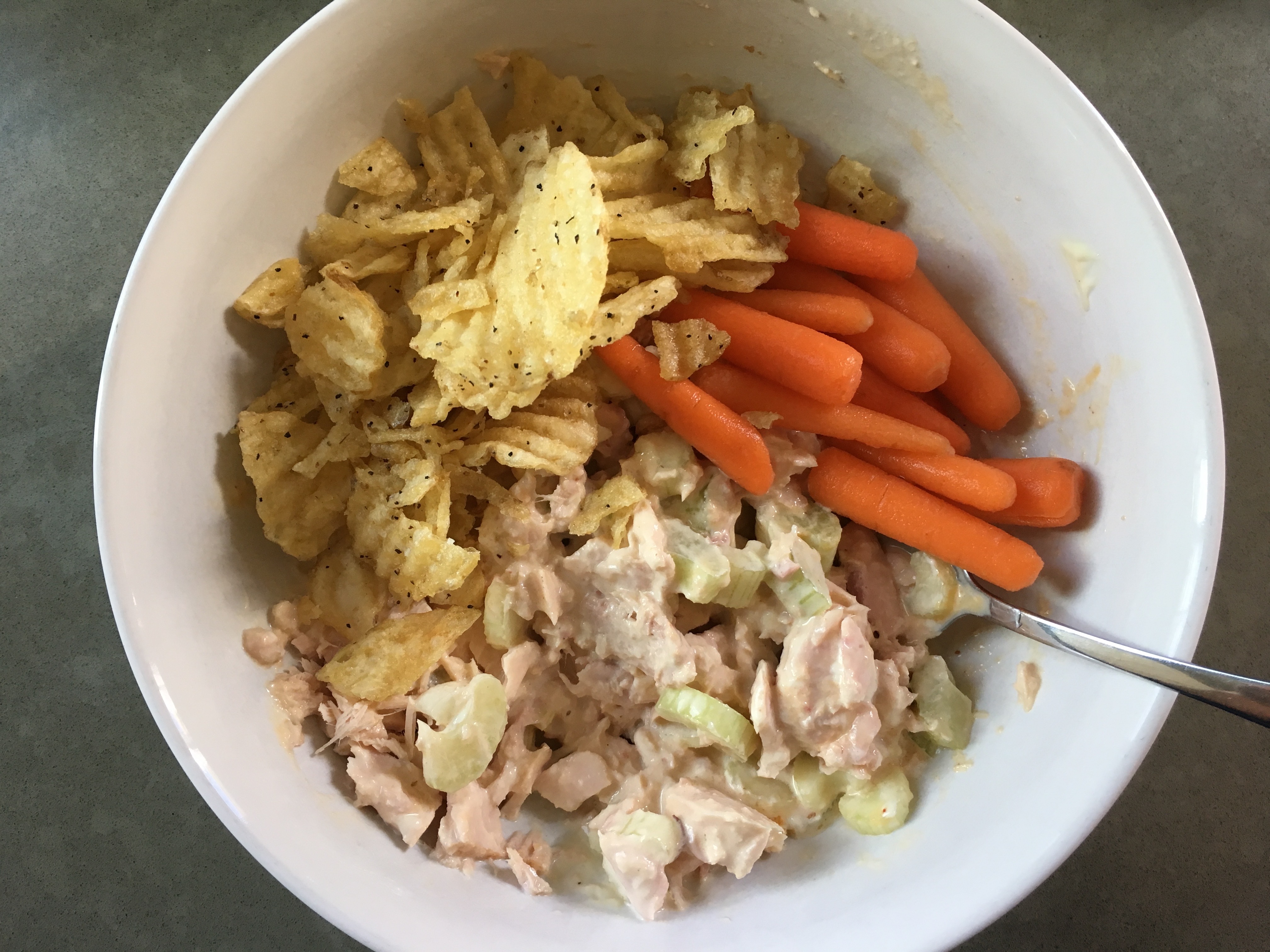 A different lunch for me!  I felt like chips and then kinda just went with what I thought would pari well with chips. I decided on tuna salad with celery and Sir Kensington mayo.  I ended up finishing off the bag of chips after this was gone…while watching football with Kyle.  Winning.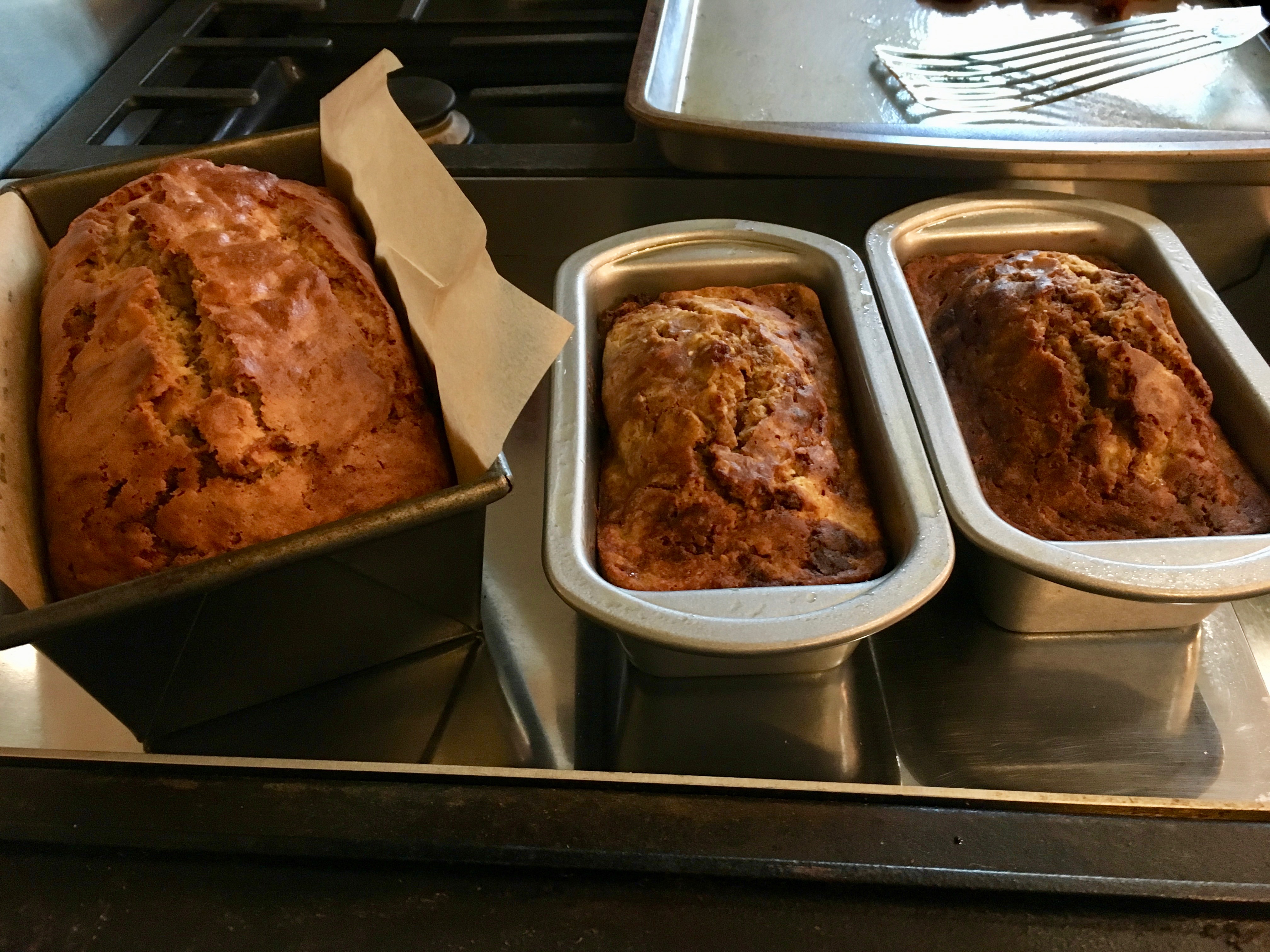 Then I got my Sunday prep on.
I had to bake for MOPS the next day (it was our turn to bring food for the group) so I made a bunch of banana bread loaves of various allergy specifications.  DF, GF, etc.
Then I got to work on dinner.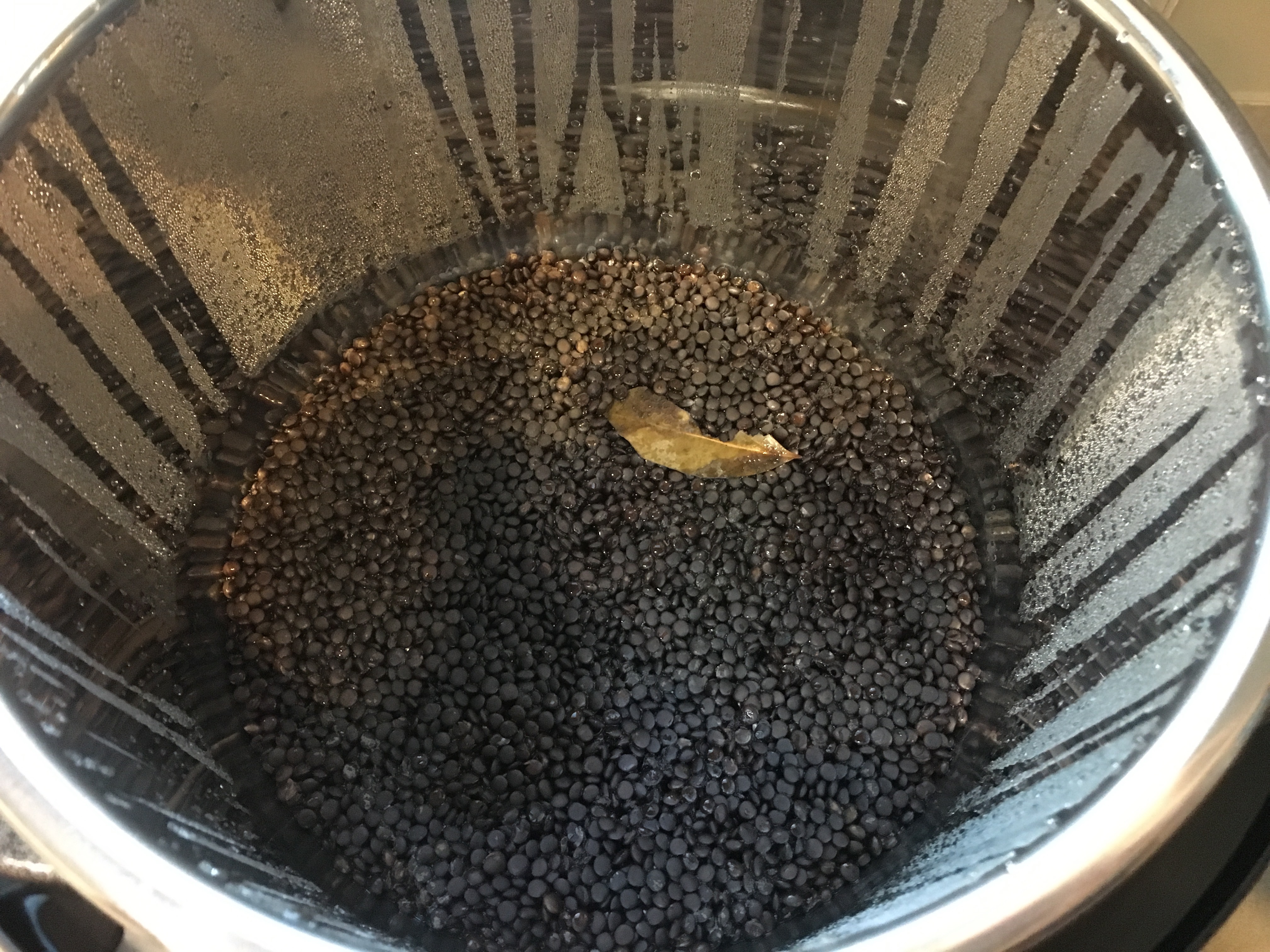 My Instant Pot-ing is back in action!!!  I got my replacement the day before and could hardly wait to use it again.  I don't know how I survived so long without it because just those 2 weeks were tough.  😉
I made these gorgeous puy lentils in 15 minutes – with veg broth and a bay leaf.
And while those pressure cooked, I roasted some Brussels sprouts and sweet potatoes and made the dressing for the lentil salad.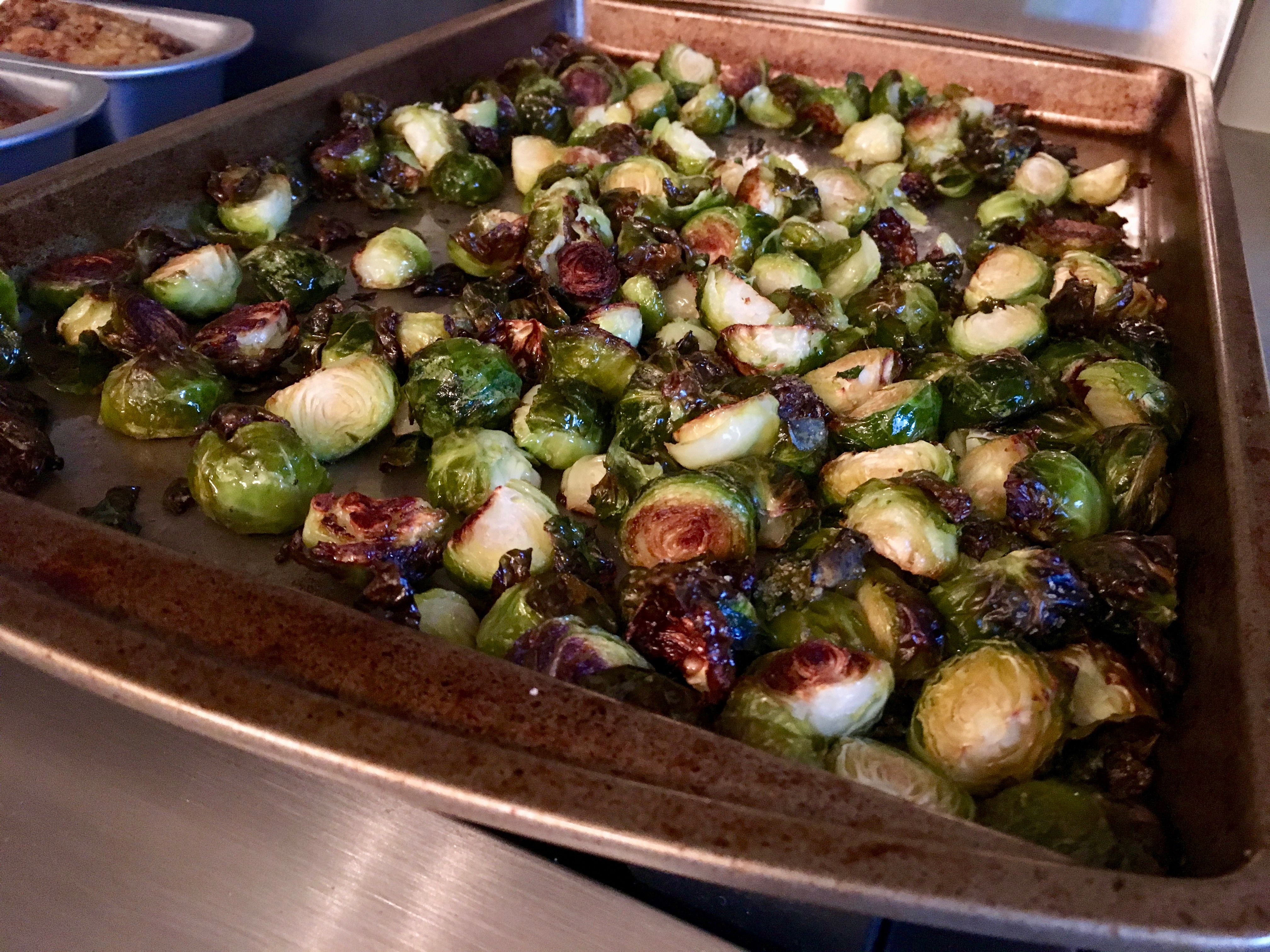 No such thing as too many Brussels!
After the kids woke up from naps we snuck in a trip to TJs so I could get ingredients for the rest of the week, including parsley for the lentil salad that night.  The rest of the stuff for dinner i already had on hand, minus the parsley, which is why I chose the meal in the first place.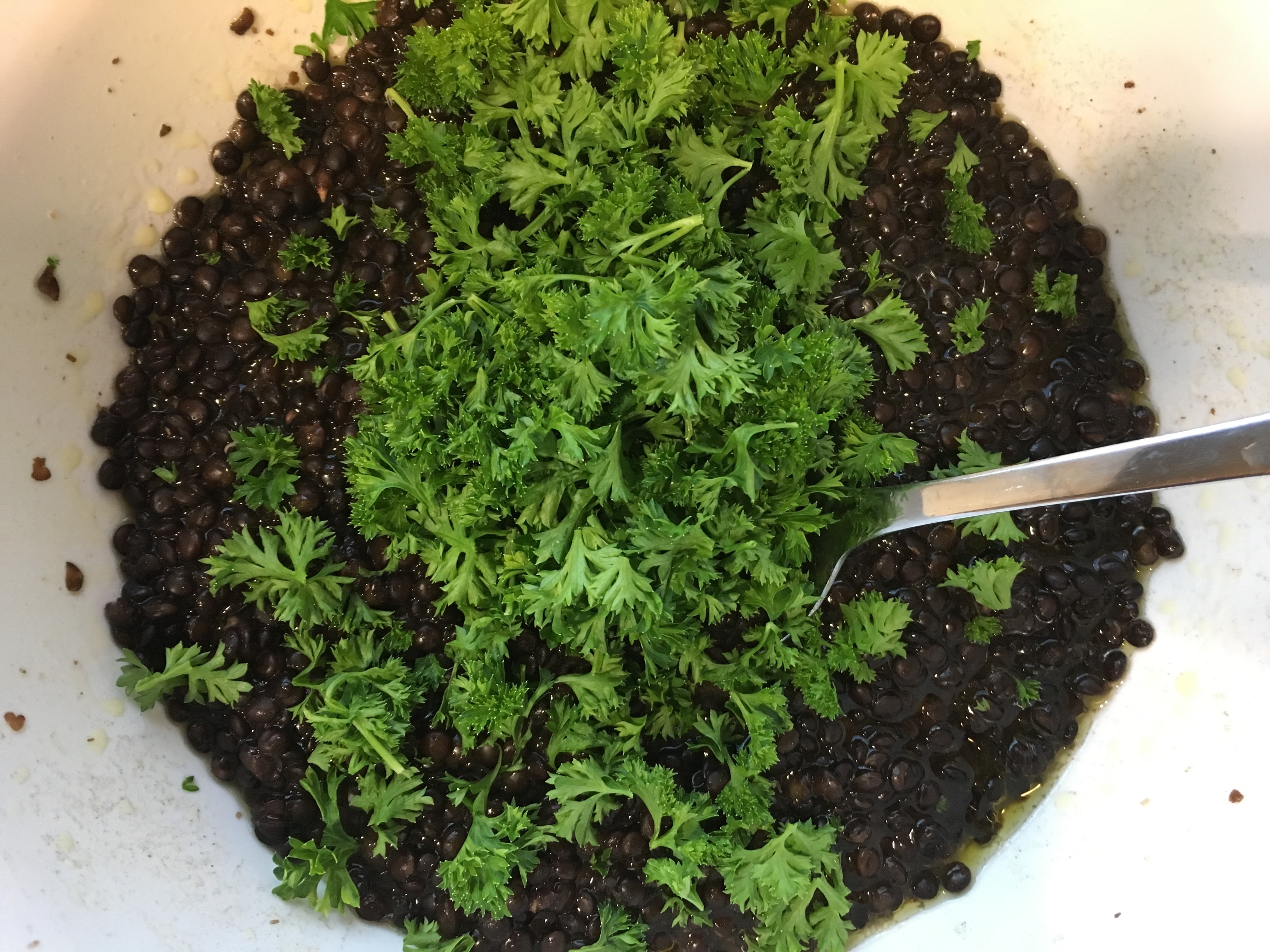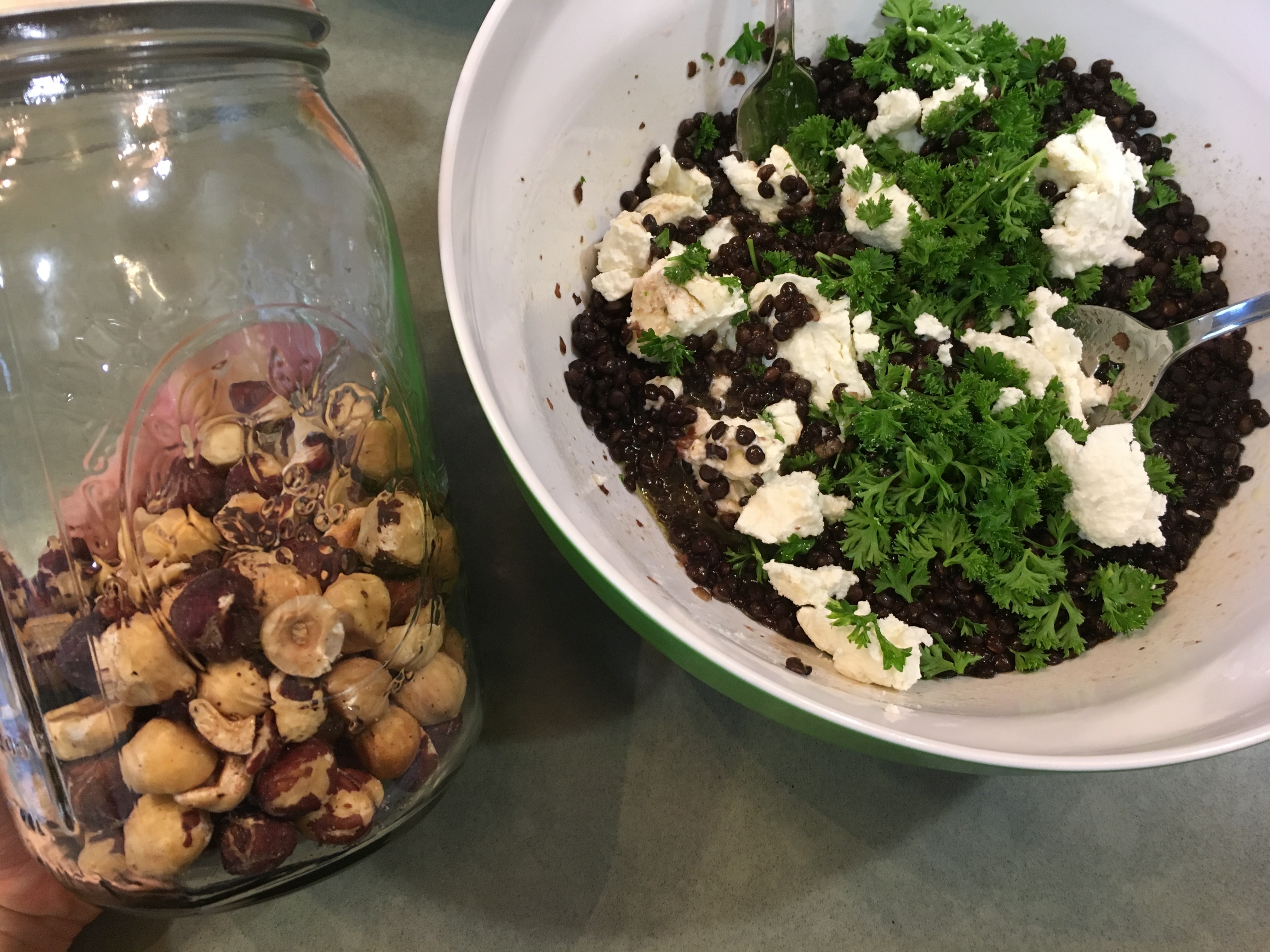 It's a recipe from America's Test Kitchen vegetarian cookbook, which I think might be the best veg cookbook ever.  I know that's a controversial statement, but I have a TON of cookbooks, and 75% of them are vegan, and so I don't say it lightly.  Anyway, this lentil salad had a few different twists, and I chose the one with hazelnuts and goat chevre.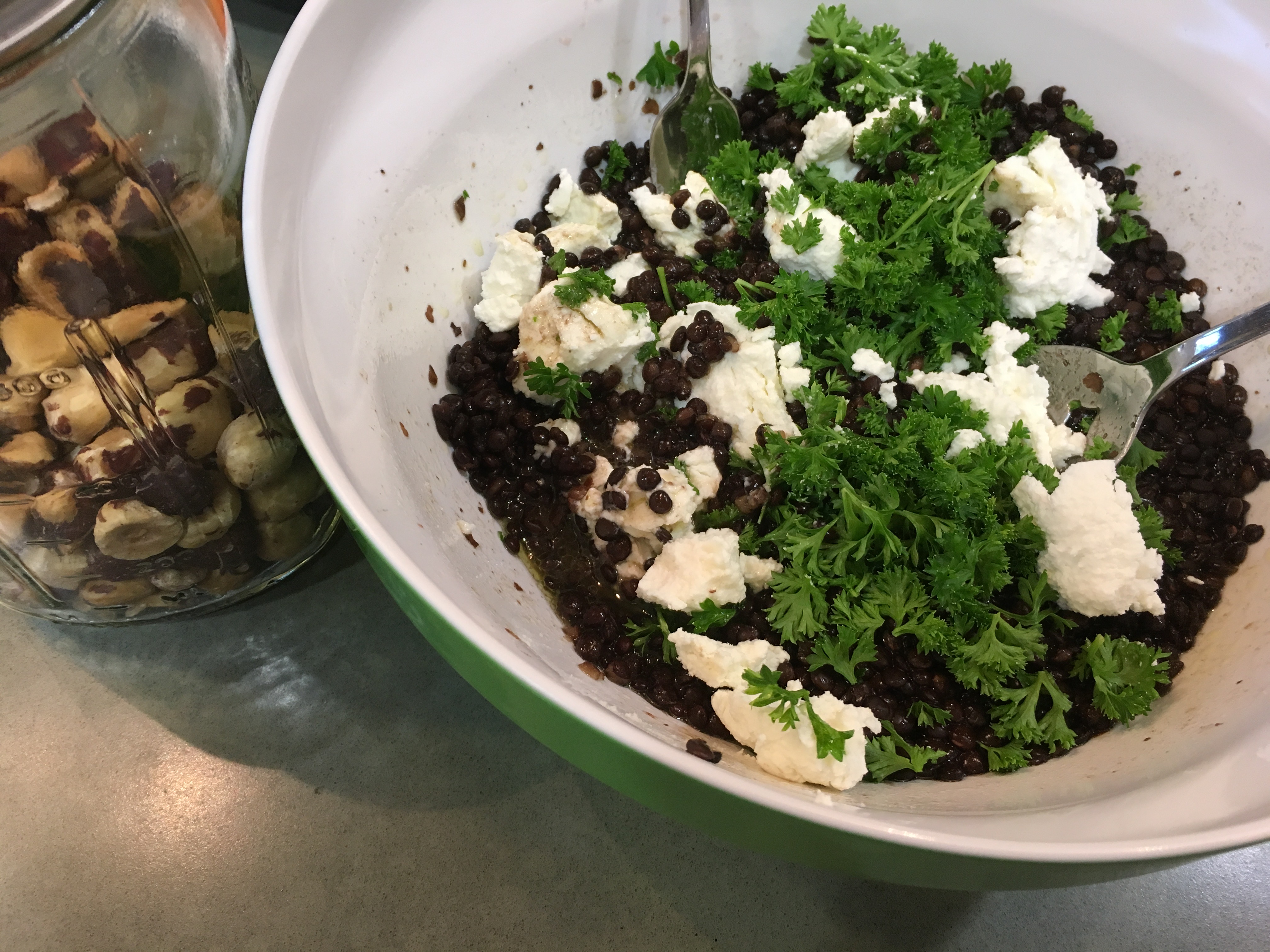 The dressing is outstanding too.
It's all around goodness.
But first!  We went to a friend's house for a PERSONAL visit with Santa!!!  Can you even believe this is a thing?!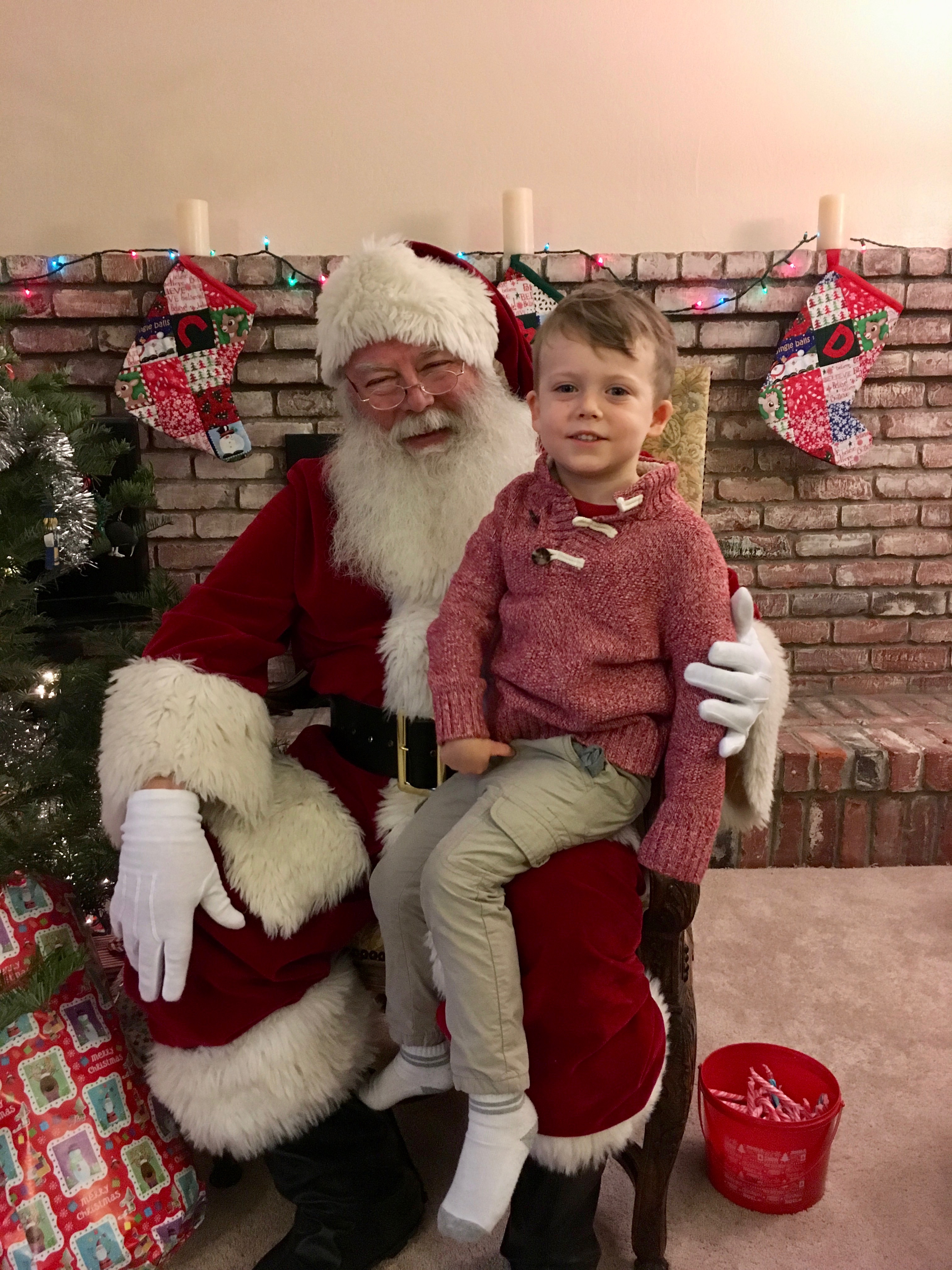 They won it in a fundraiser auction and invited us over to join them and it was truly magical.
V wanted NOTHING to do with him, but P was really into it.  After that we came home for dinner.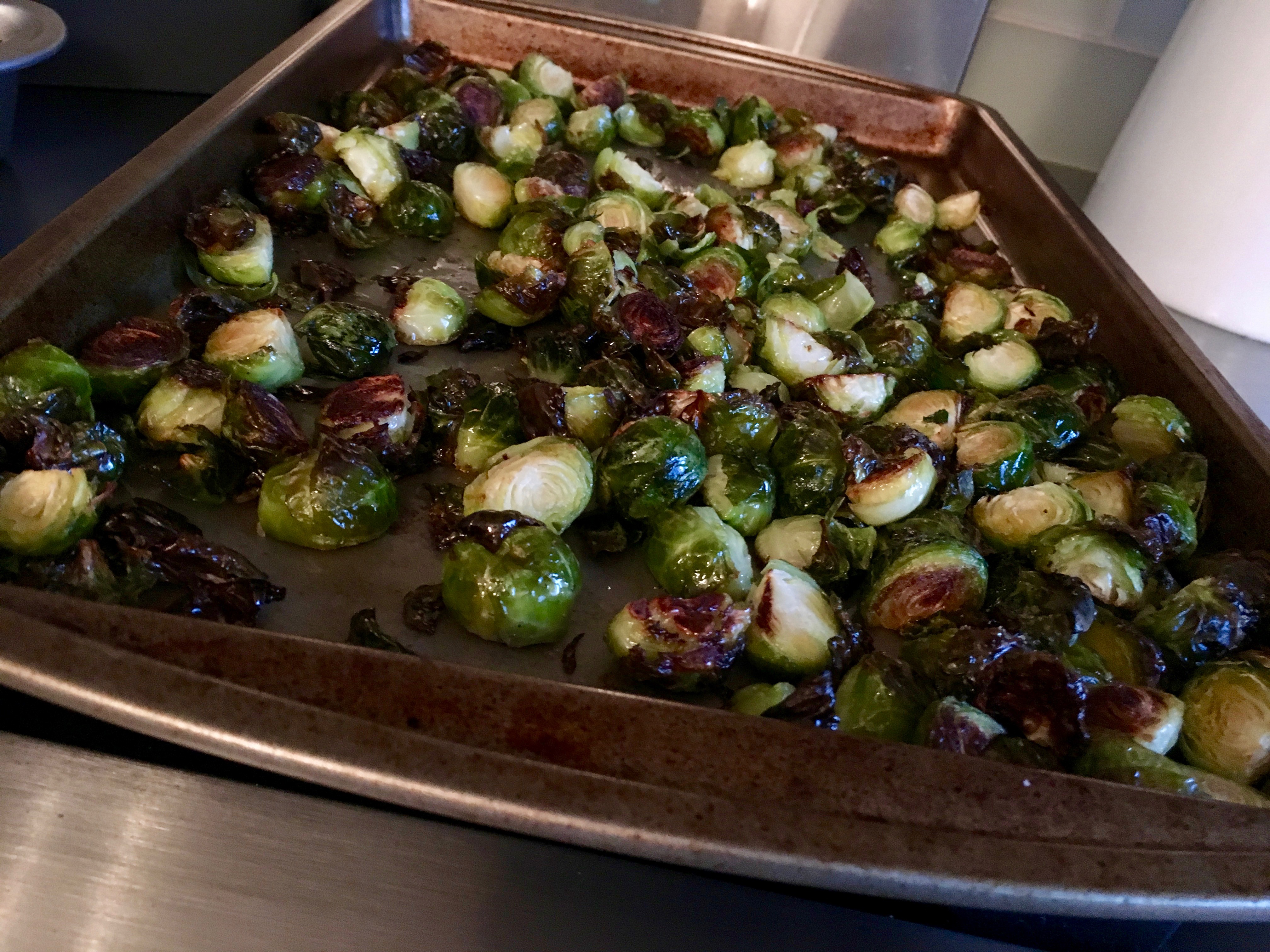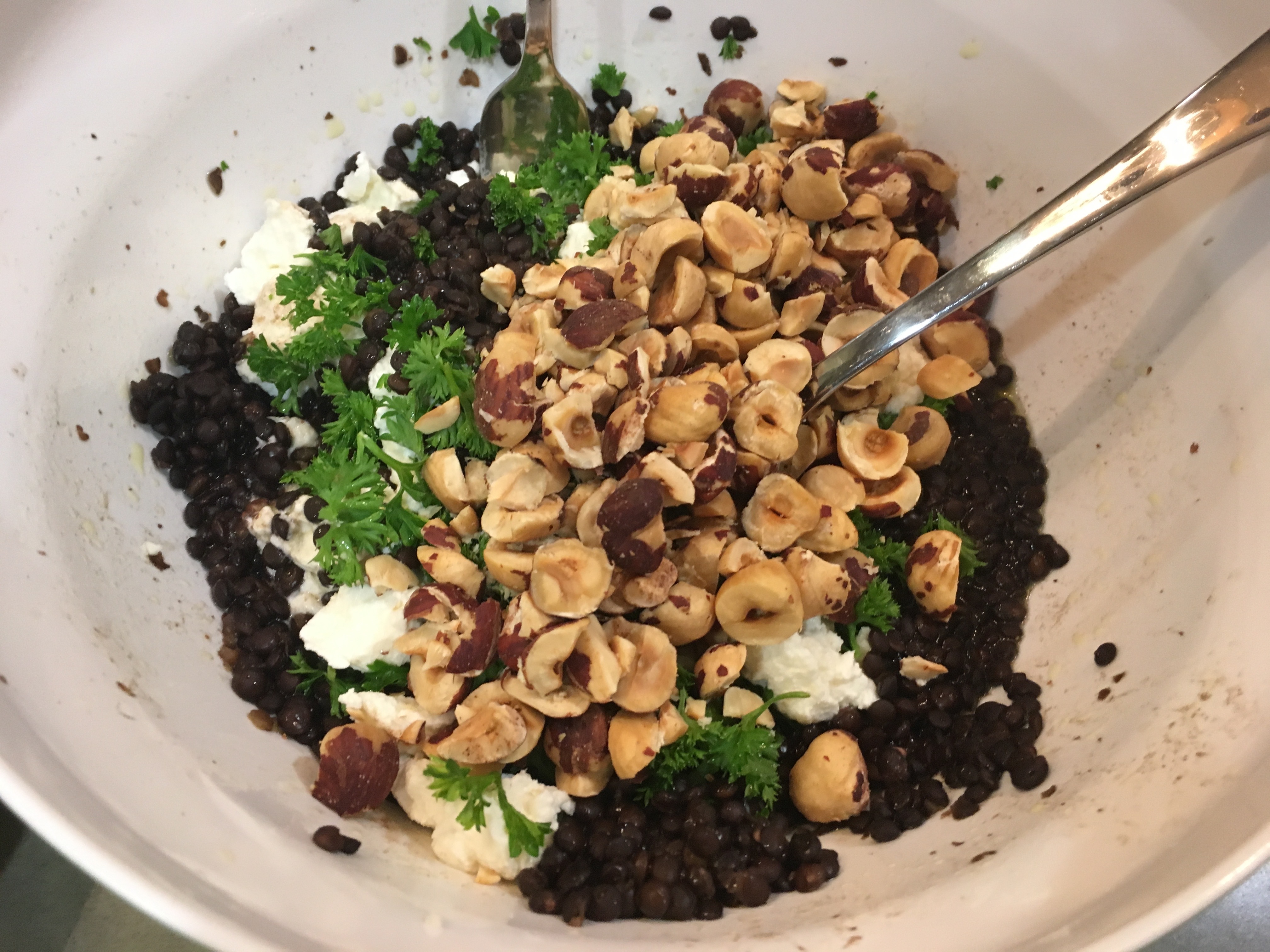 Oh my gosh where to start!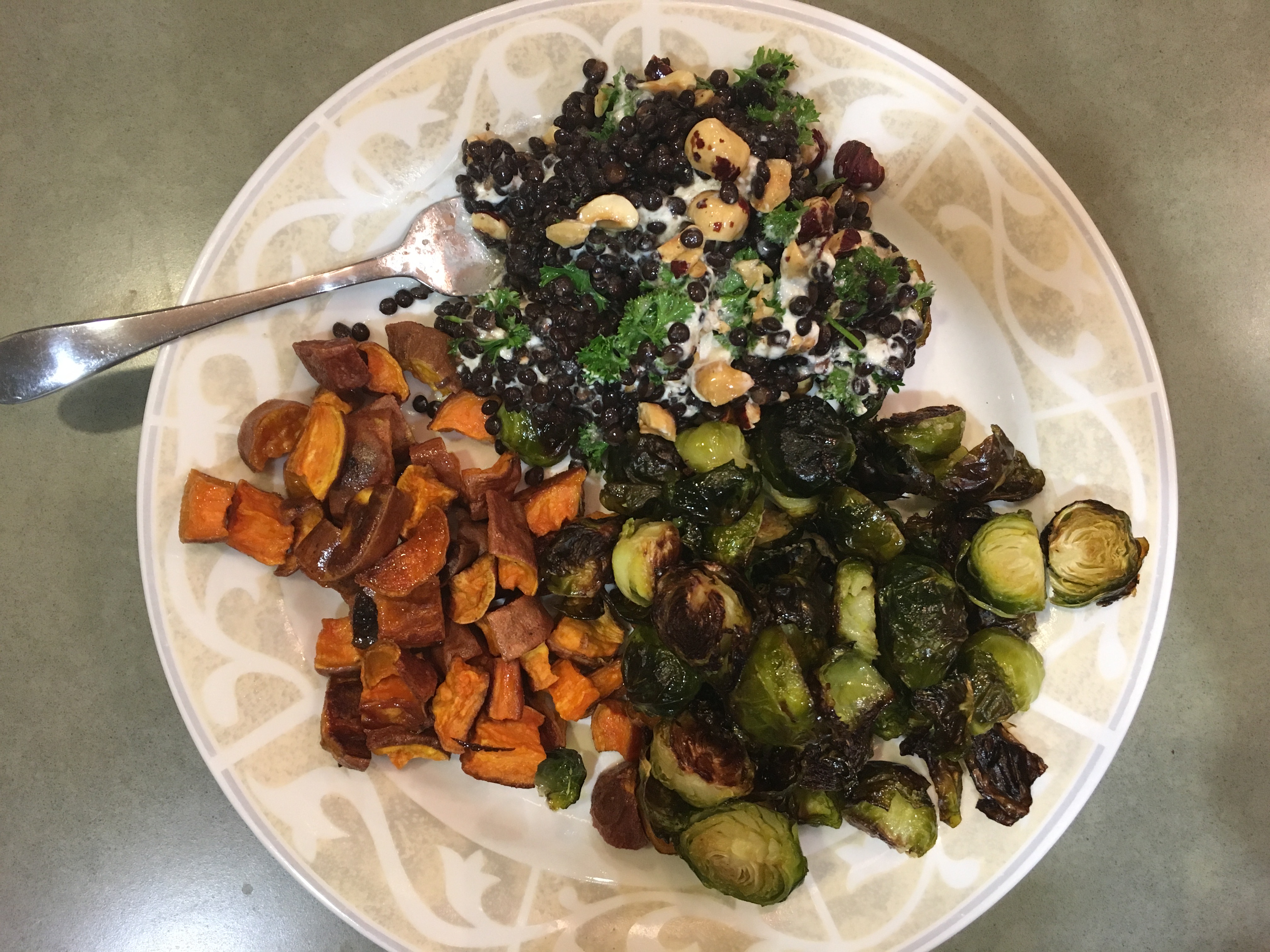 I really wasn't sure how the kids would take to this meal, but I served them everything and they totally surprised me with how much they liked it.  P got the lentils without goat cheese (because I know he doesn't like goat cheese) but they both asked for more of everything.  We had ZERO leftovers at the end and they each ate at least 3 servings of brussels (and wanted even more after they were gone).  I think my work as a parent is done now.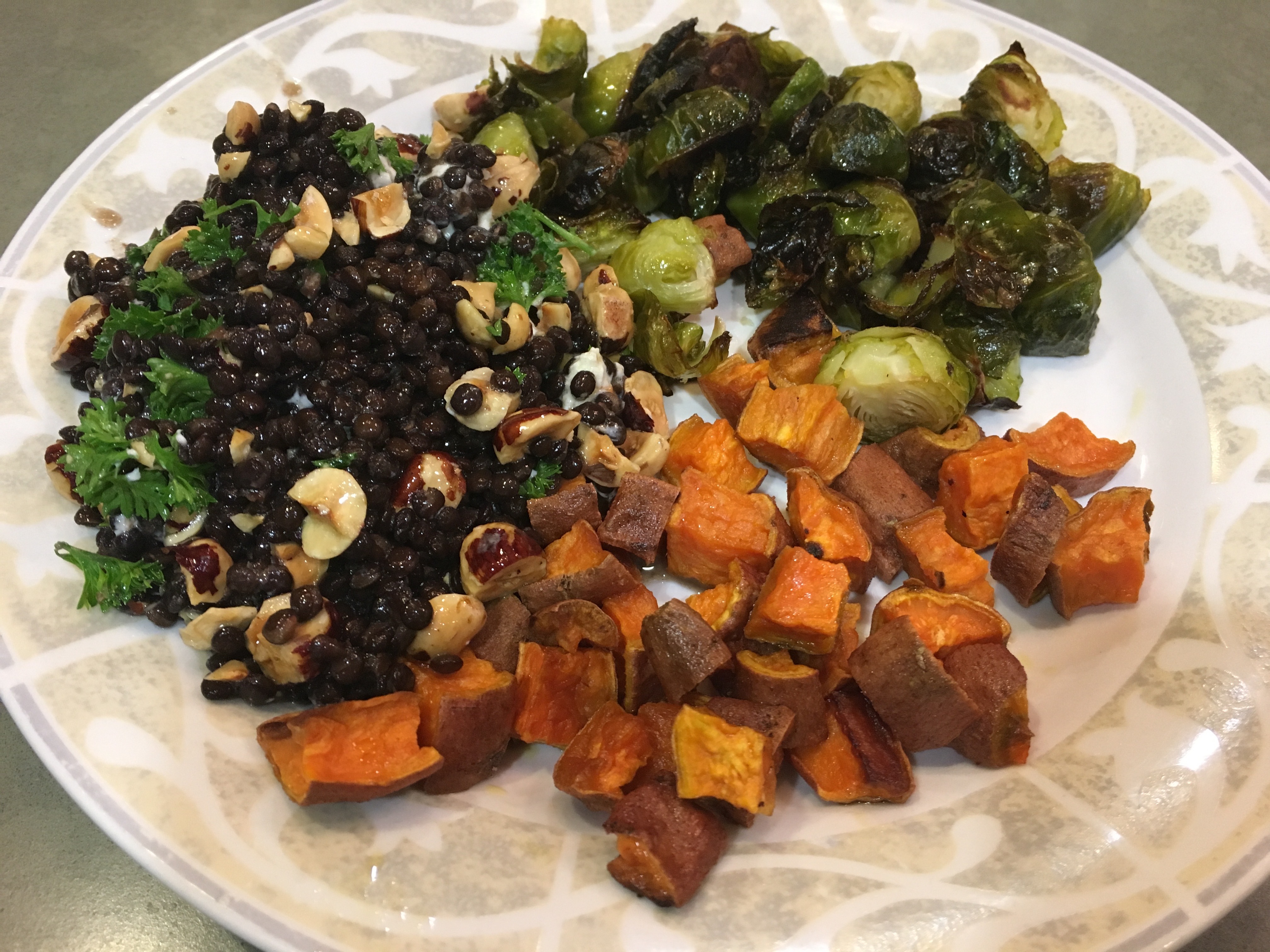 Could. not. be. more. proud. of my little veg loving babies.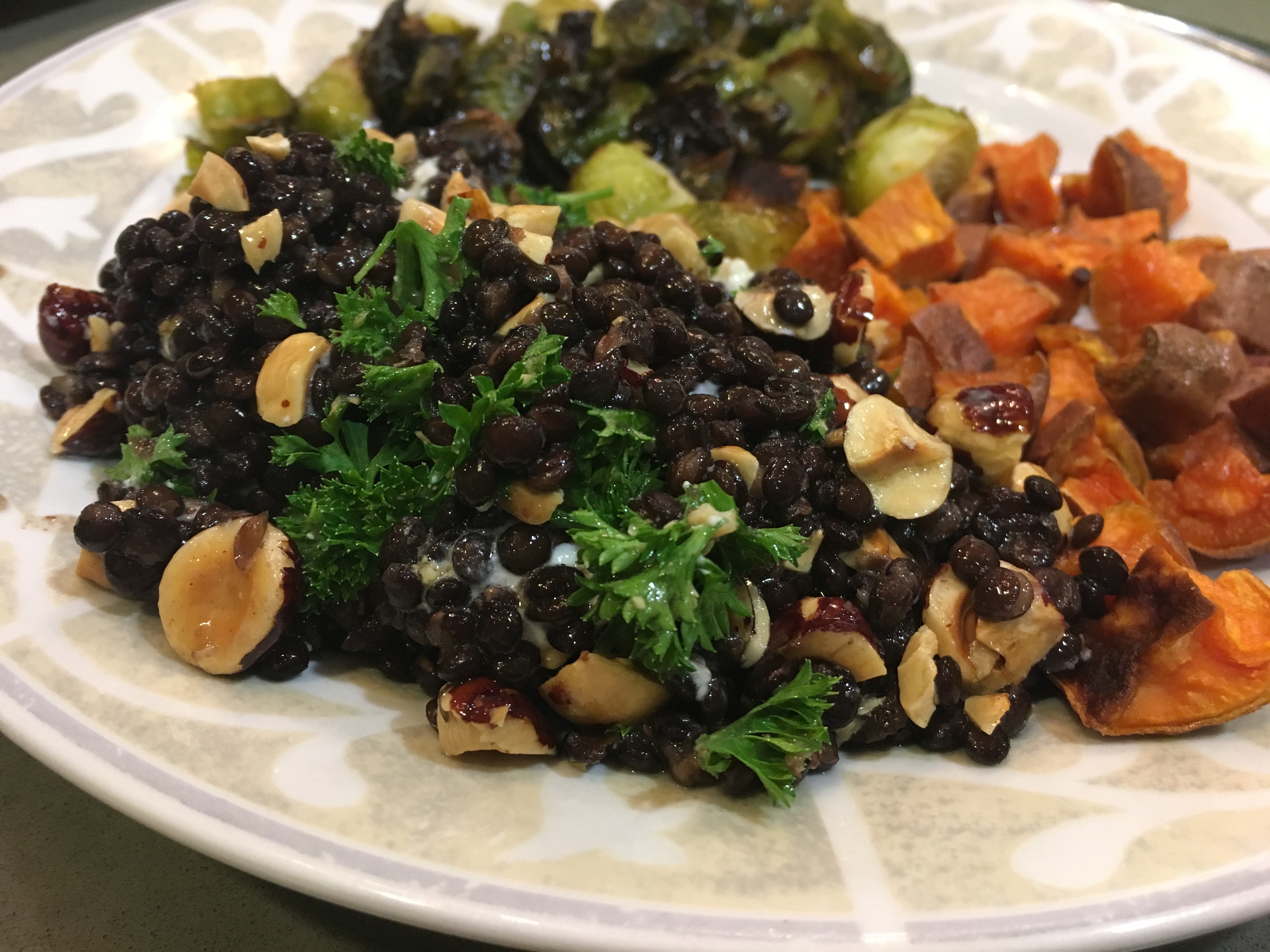 I couldn't pick out a favorite of these, but the lentil dish may edge out on top.  It was just phenomenal.  And so easy!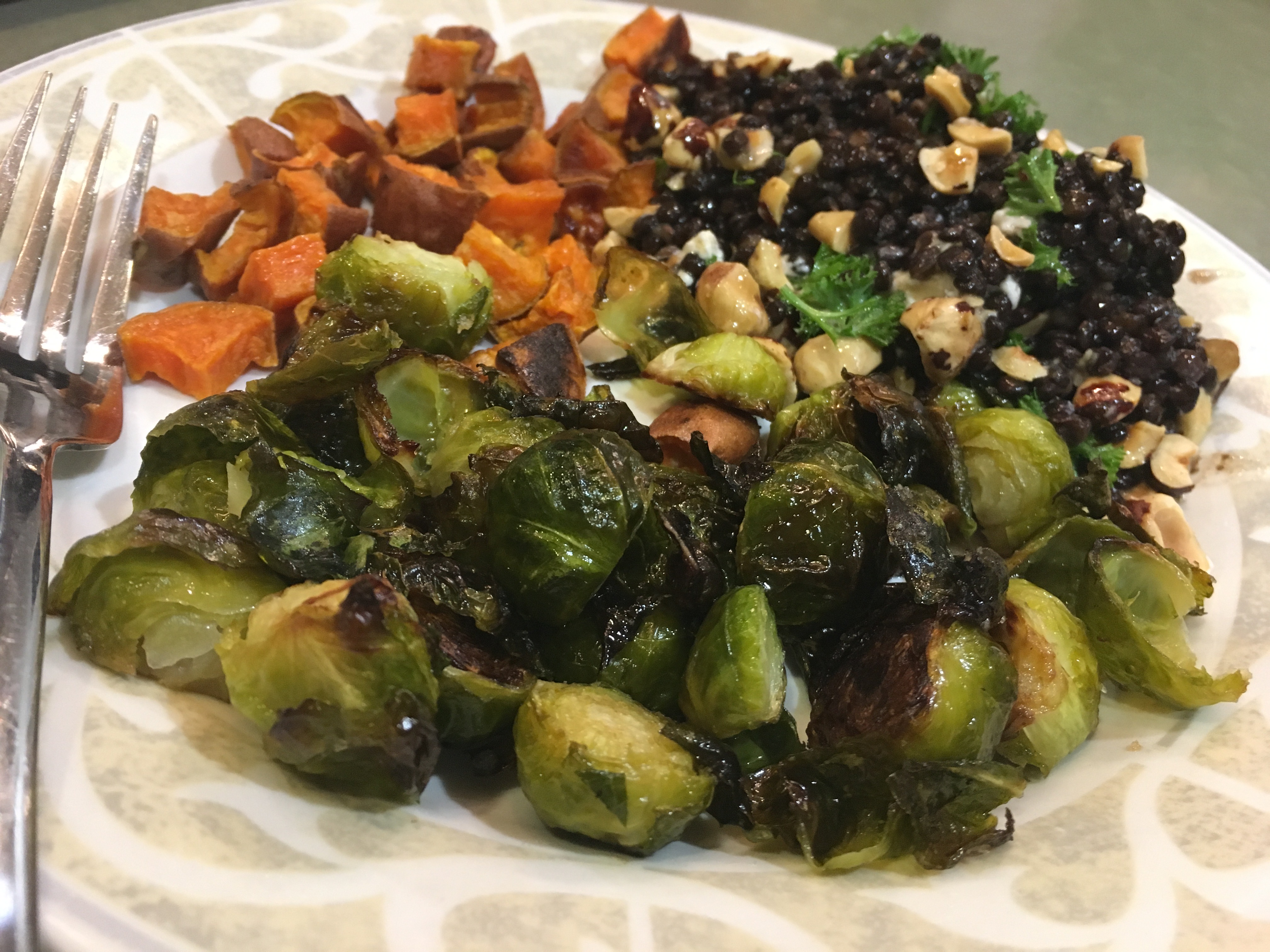 We will be eating this for another few months now okay?
And that brings us to Monday….