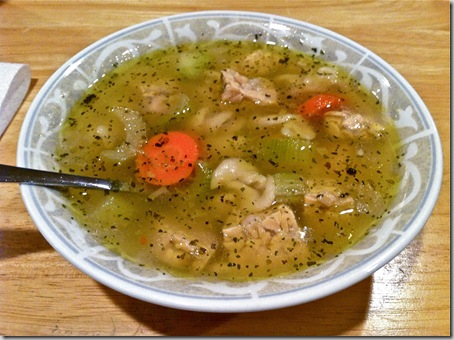 It rained here in Los Angeles last week (and effed up my tomato plant, but I don't want to talk about that right now – so mad!!), so I do have an excuse to make stew in July. 
I know I said last week's meals were all planned out, but this stew was actually an unplanned meal.  I was going to make chili in the crock pot, but after making the other meals (breakfast quiches, Caprese Caesar pasta salad, etc.) I noticed I had leftover veggies and stuff that I could easily make a full meal out of.  Cheap girl that I am, I decided to repurpose the scraps, and voila!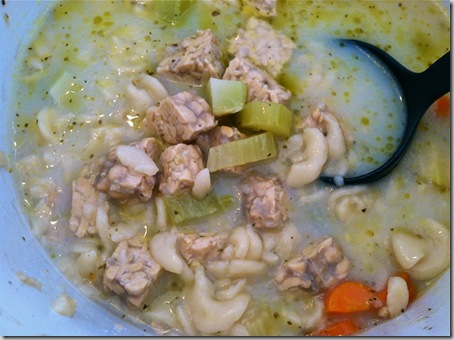 A big 'ol pot of stew!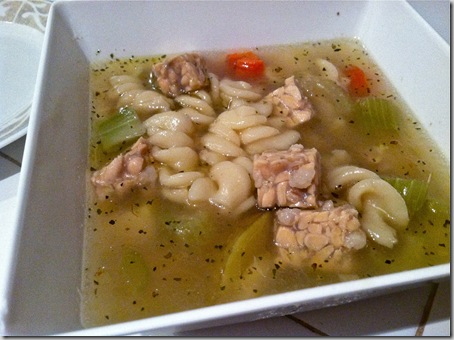 Some of the photos are dark, because I was in a hurry when I got home from work to just stuff my face.  Fortunately (for the purposes of having photos that look half way decent for the blog), there were tons of leftovers that I've been enjoying in following days weeks.
Ok, so ready for the recipe?  Good.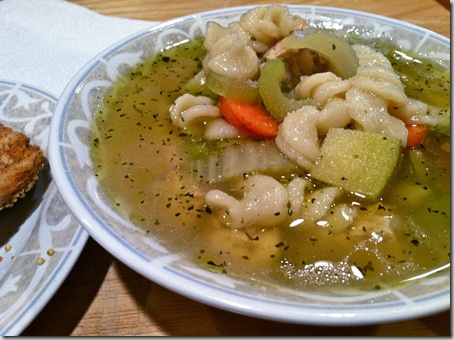 Tempeh & Veggie Noodle Stew
Ingredients:
1 broccoli stalk, chopped
4-5 celery stalks, sliced
2-3 large carrots, sliced
1 small potato, chopped
8 oz. block tempeh, chopped
8 oz. pasta
1/4 cup olive oil
1 tbsp Trader Joe's 21 seasoning salute
3+ cups vegetable broth (+water as needed)
salt (to taste)
Directions:
Chop veggies.  Add to crock-pot with olive oil, TJ spices, and a splash of vegetable broth and cook on low for 4 hours.  I made sure the liquid was just enough to cover the veggies. 
After 4 hours, add uncooked pasta and chopped tempeh with more broth/water and cook for 4 hours.  Again, make sure the broth covers the stew's ingredients. 
That's it!  Slow cookers are so easy.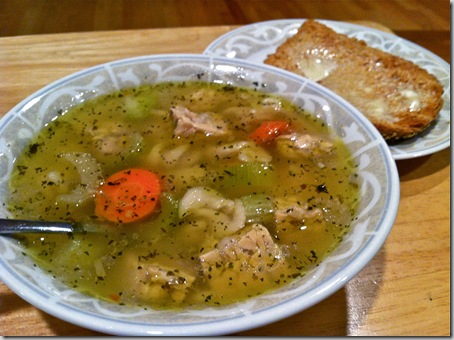 In terms of salt, the amount you add depends on the kind of veg broth you use.  Low sodium broth vs. regular broth vs. bouillon cubes vs, water.  These all mean different amounts of salt (that and your preferences).  I used more water and less broth, so I ended up adding about a tsp of salt. 
This stew can also be prepped ahead of time.  You still cook the veggies, but after those 4 hours of cooking, you add the additional broth, pasta and tempeh, and place it in the fridge.  The next day (or whenever you plan on eating it) you'll need to cook it 6 hours instead of 4.  You also may need more liquid because the pasta may absorb more while stored in the fridge. 
Serve with toasted and Earth Balance.  :)  And slurp away.
I had three full bowls and sloshed my way to bed. 
The next day I was so excited to have more for lunch.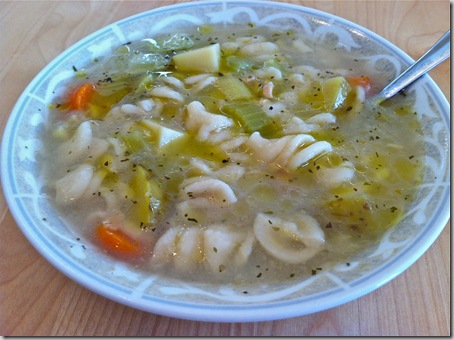 This dish is like the vegan version of Thanksgiving leftover stew.  It almost makes me forget it's July.  Enjoy!