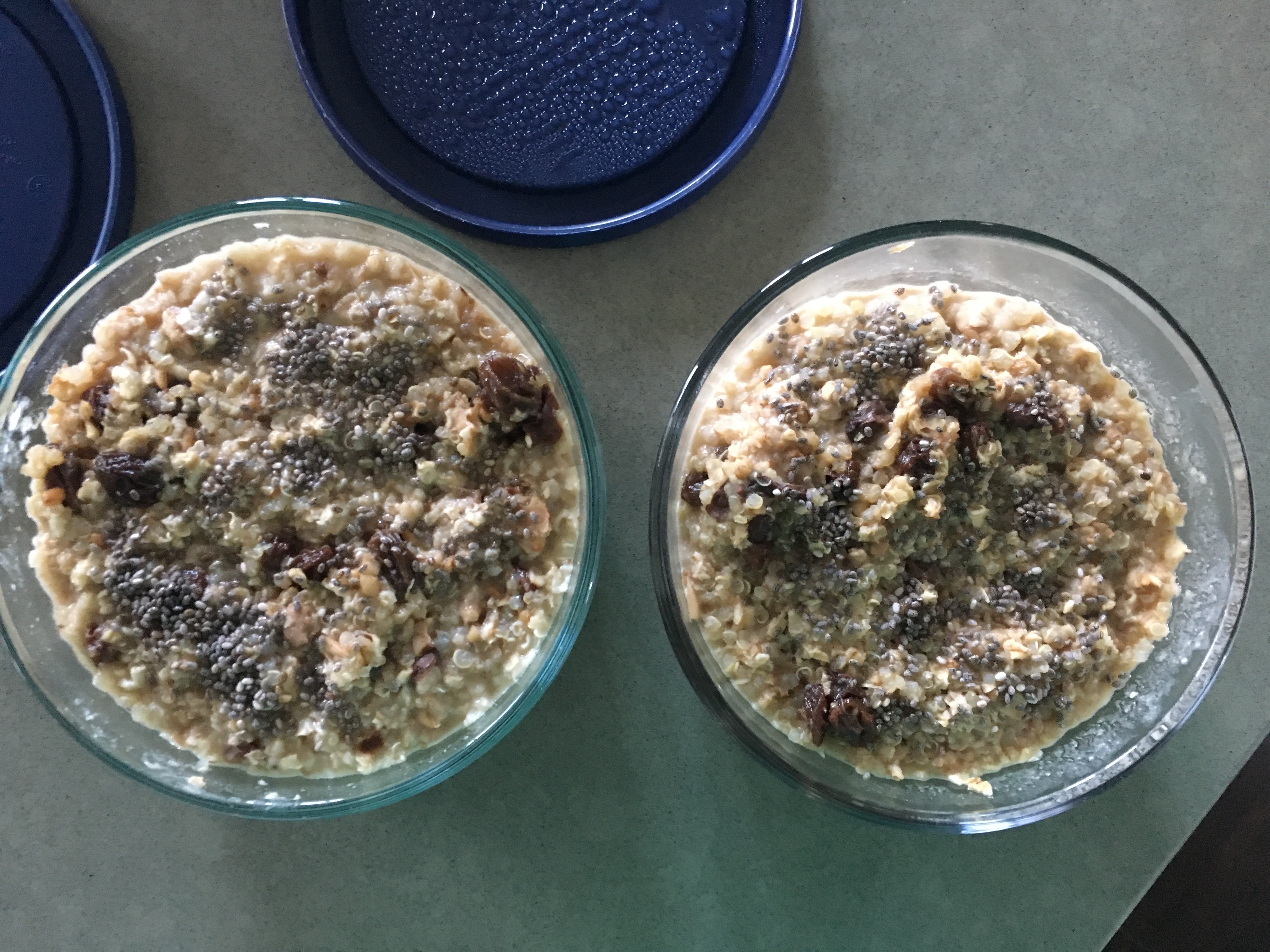 Oats for the wee ones, but nada for me until after I took P to school.
It was sunny and warm (!!!!) so I biked there.  Usually I have school with V on Thursdays, but the teacher was sick so it was cancelled. To be honest, I was a little relieved because our day was so packed with activities. Having one fewer thing on the docket was helpful in this case.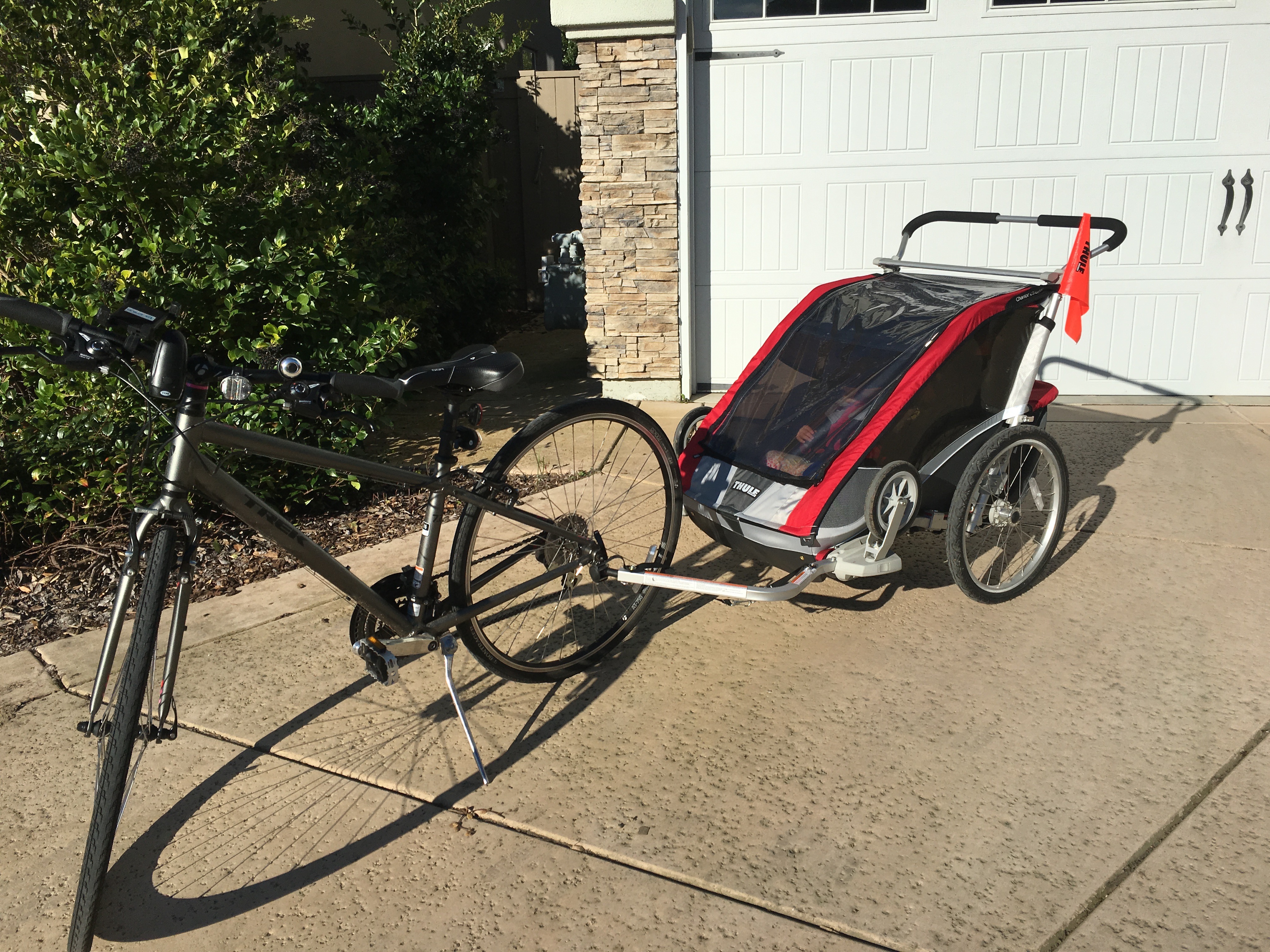 I had to pull over once to break up some random argument about who knows what, but I made it in record time (same amount of time it takes to drive thanks to the greenbelt shortcuts).
Then V and I biked home together, stopping at a park on the way.  It was still wet though so I promised her we'd come back after I showered and ate breakfast.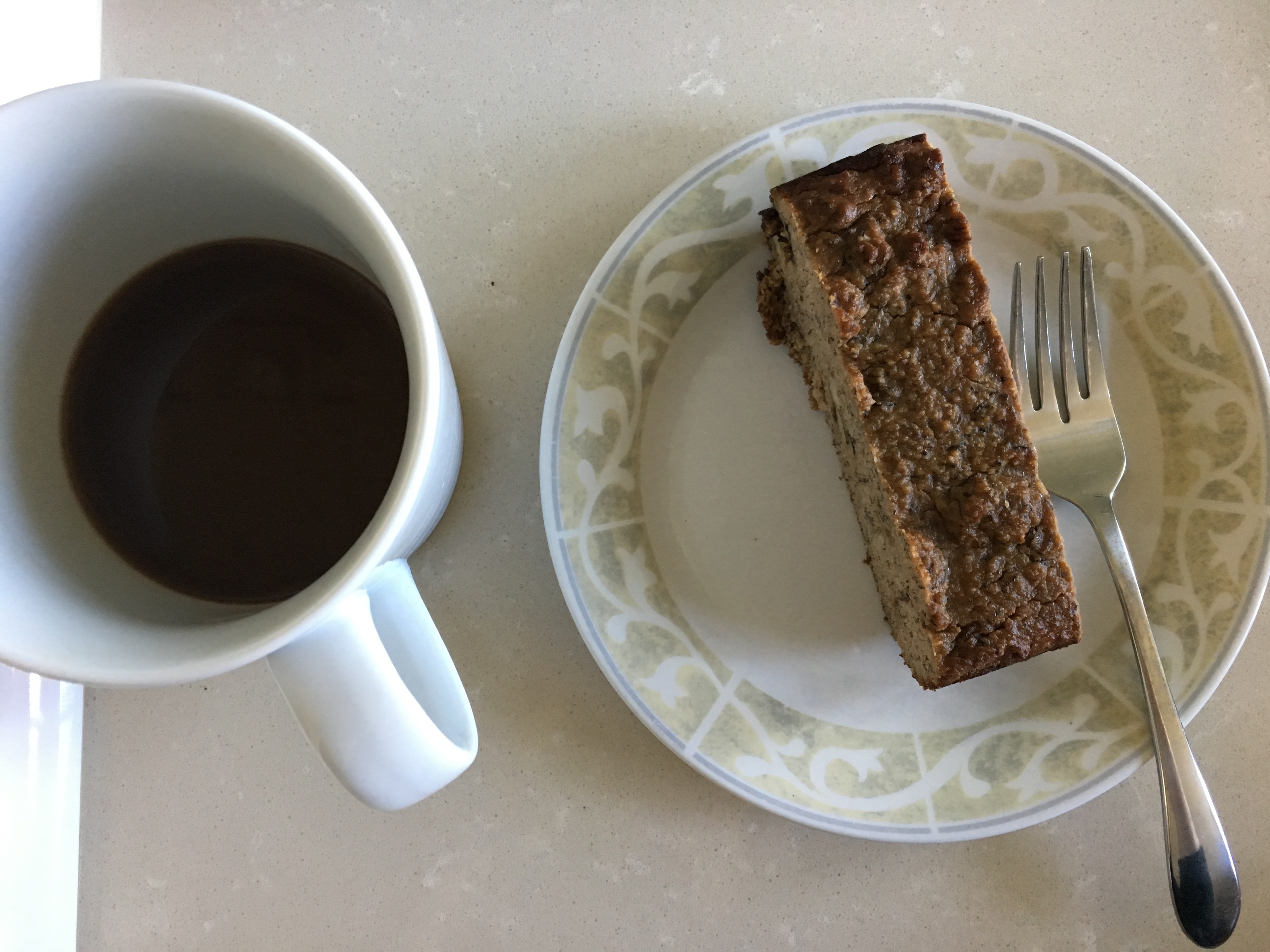 I did both at the same time while she got into too much mischief upstairs.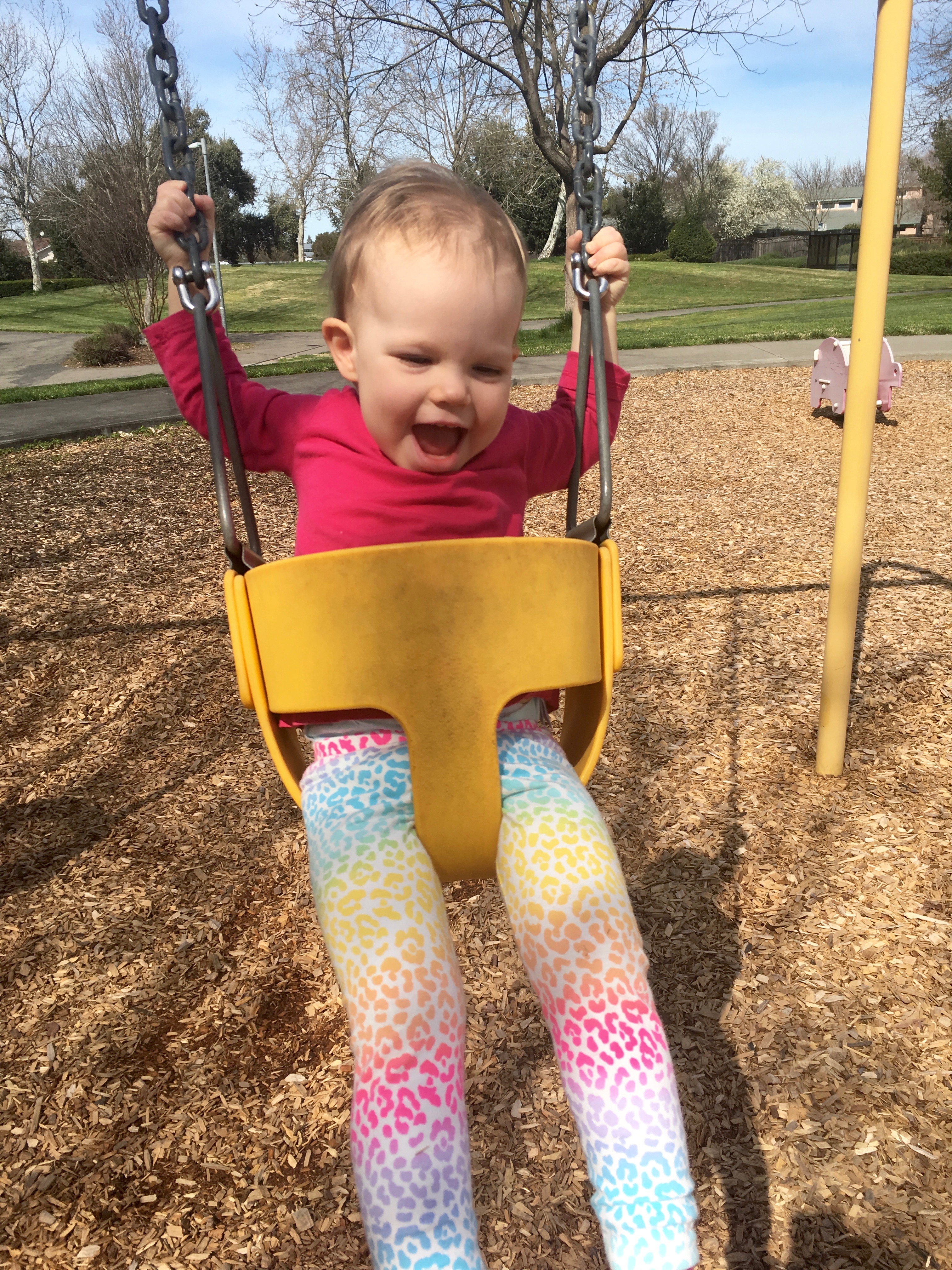 And then we went to the park.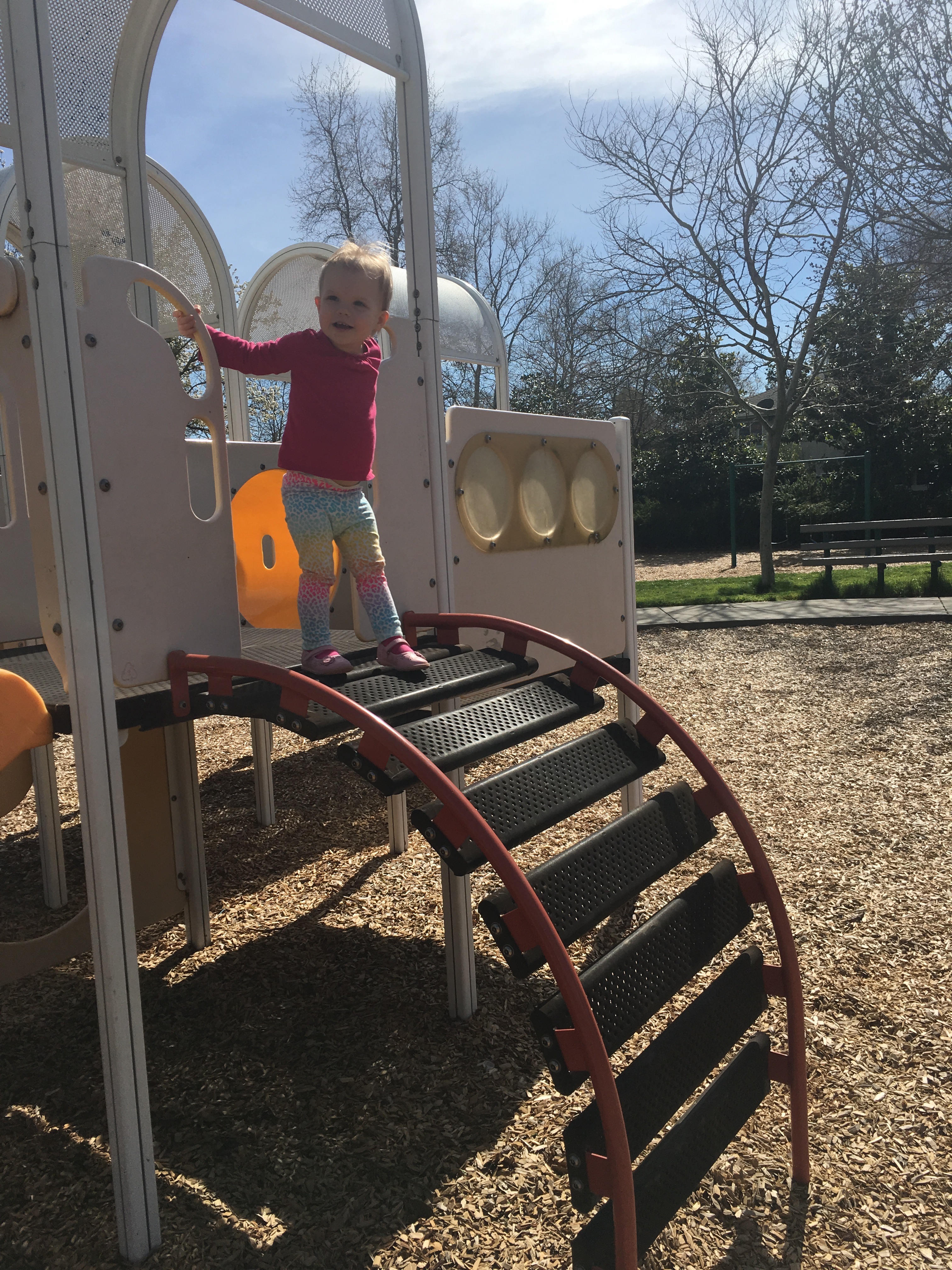 She is such a dare devil.  I'm not used to a kid throwing caution to the wind and leaping before looking.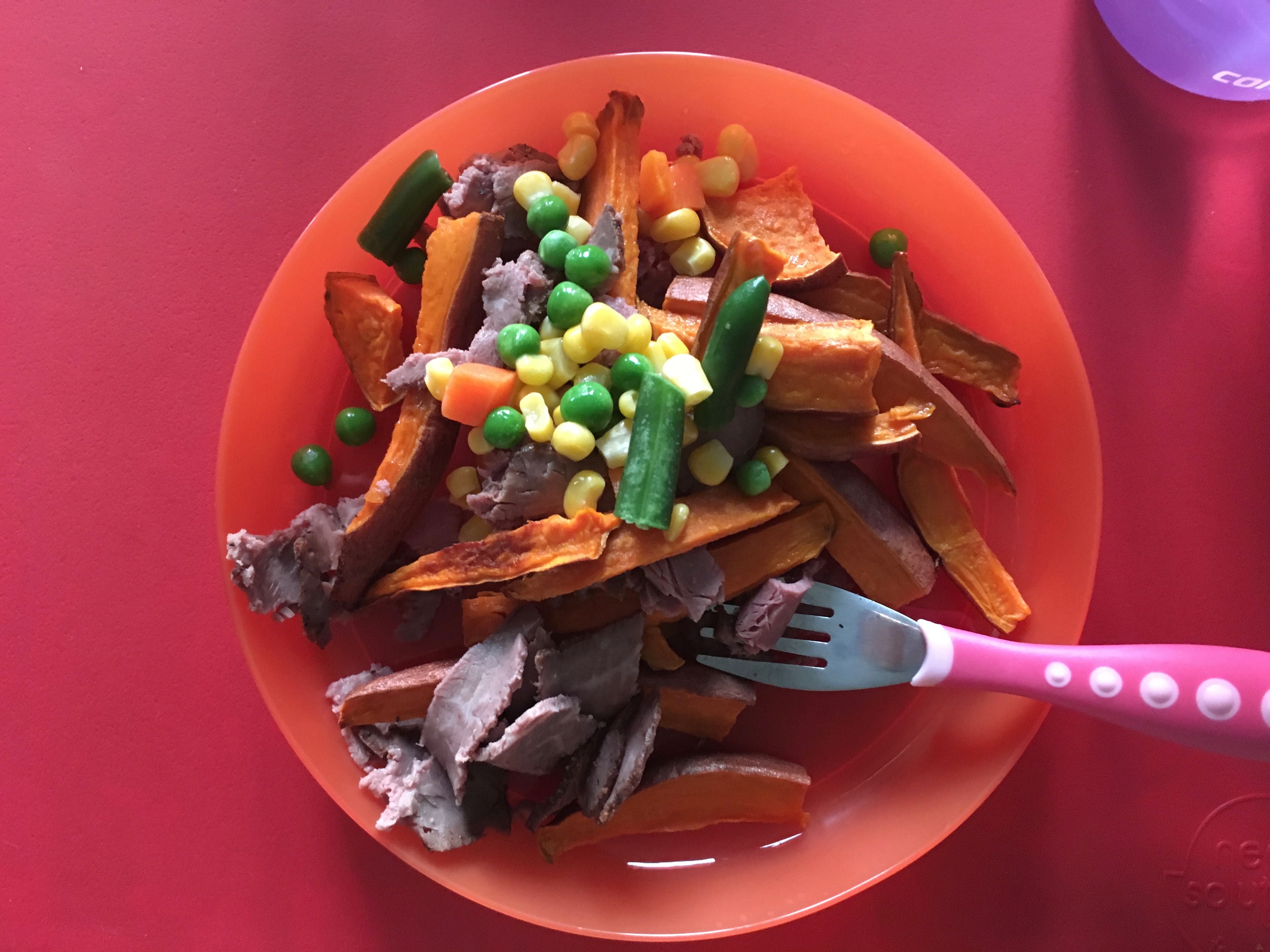 For lunch I gave them all the leftovers in the fridge – odds and ends including pulled pork from my Guadalajara dinner the weekend before, as well as smoked salmon, sweet potato fries and the rest of the oranges from my parents' house, and all the other tiny bites that wouldn't make a whole meal unless combined with all the rest.  V had 4 oranges before noon.  She's a fruitaholic.
After nap, things got crazy.
First, soccer.  Second, t-ball.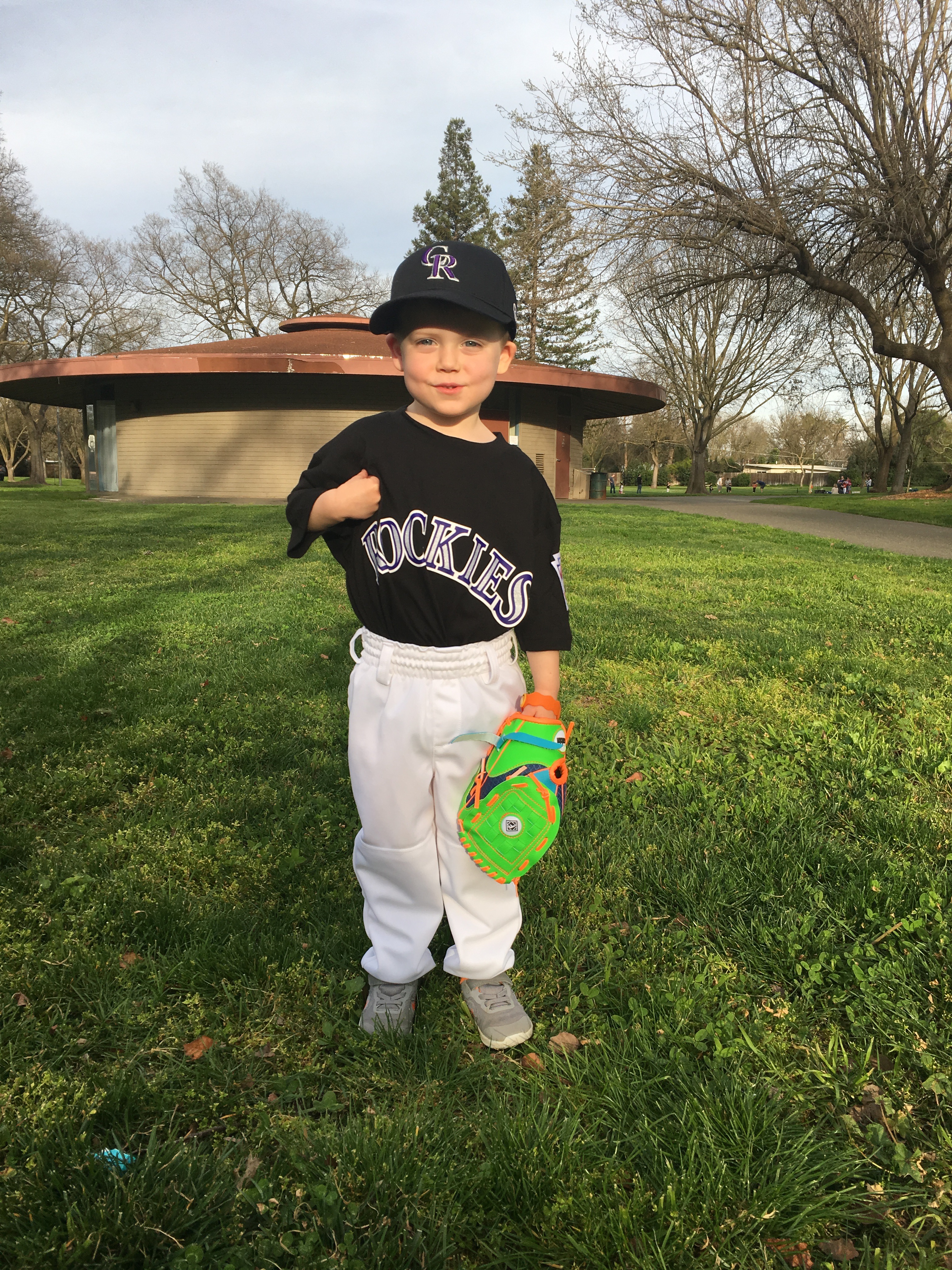 The first game of the season! How cute is his little uniform?!?  It says his name on the back too because I couldn't help myself.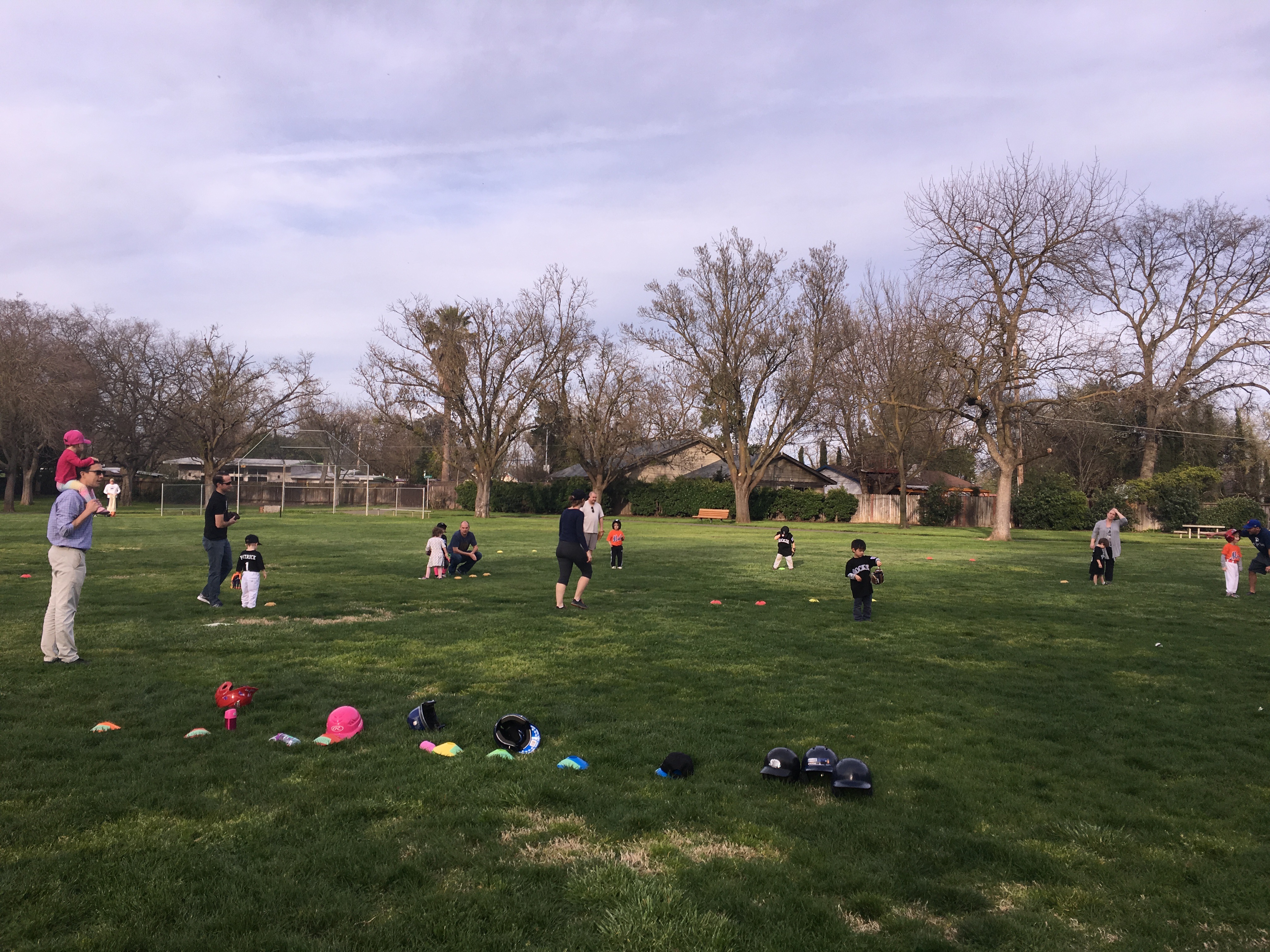 They only got through two innings in an hour, but oh my goodness was it hilarious.  The kids are still trying to figure out the game, and 80% of them aren't paying any attention at all, which makes for one very funny evening.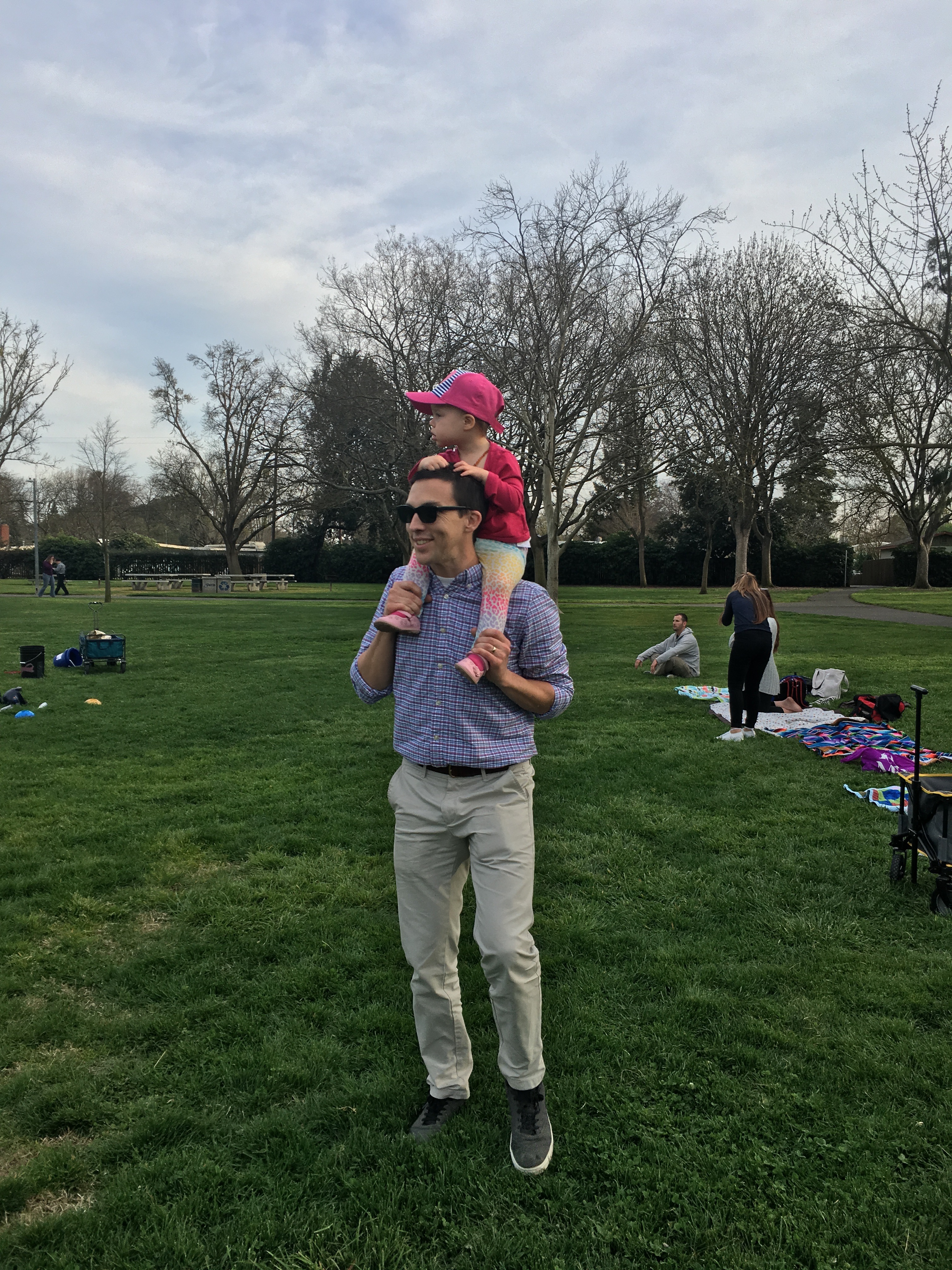 After that, we hit the road to the East Bay to spend the night at my parents' house.  They made us dinner!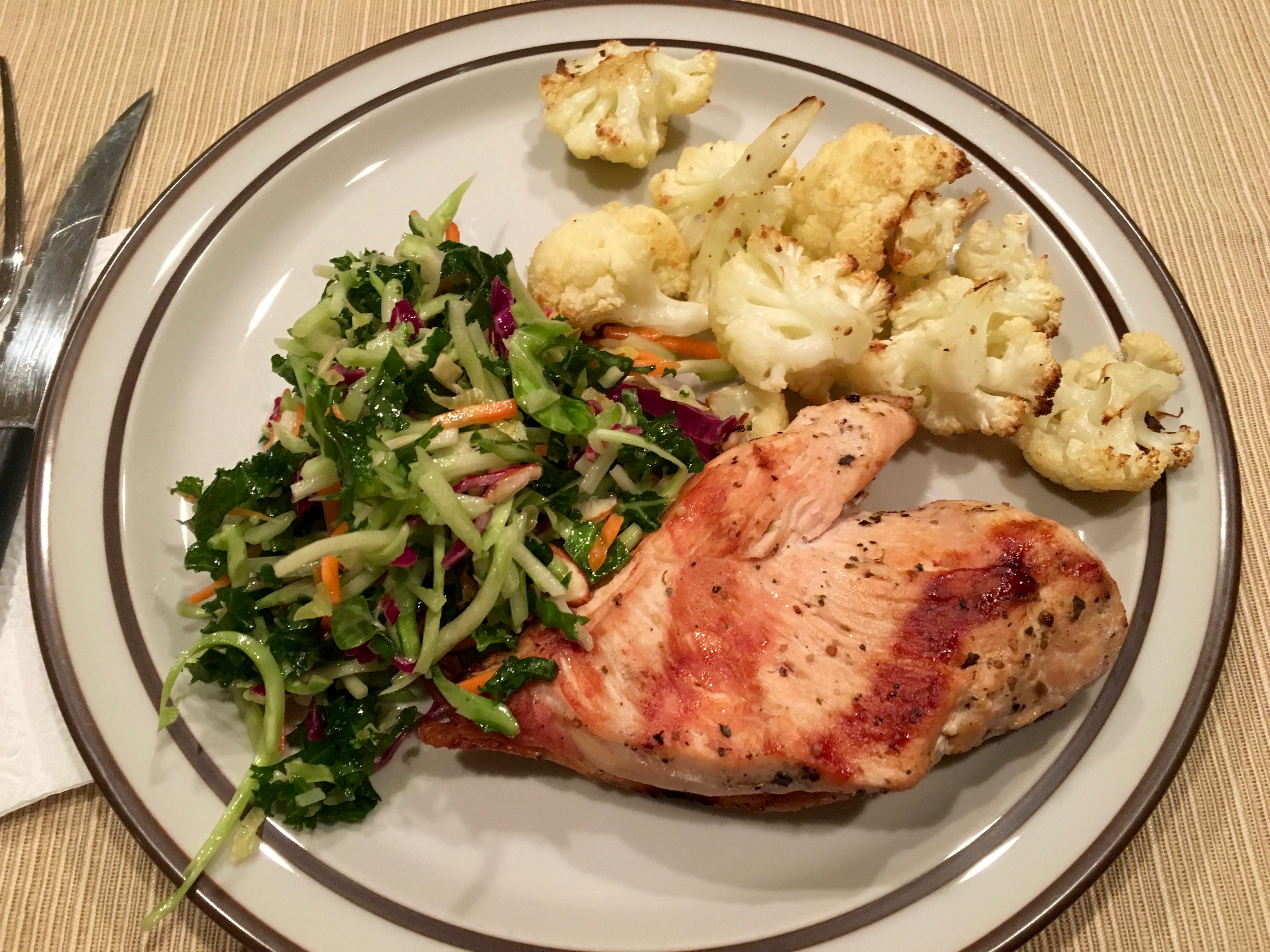 It is finally BBQ weather!!!  Woo-hoo!
It was literally ready the second we walked in the door, which means my parents win the award for best parents ever because V was losing it.  She cried for basically the second half of the drive, which is not fun to listen to, but I knew it was because she was hungry and tired and we were really pushing our limit with all the post-nap activities.
In the end, she perked right up once she saw my parents and ate a good dinner (albeit sitting on my lap) and then they took baths and got to bed.
We hung out with my parents drinking wine until Kyle couldn't hold his eyes open.  I had most everything packed for the next day, so there really wasn't much to do in terms of prep that night. I was slightly nervous, but more excited than anything else.  The next morning, we got up before our alarm went off (thanks kids), said goodbye to V, and drove to Fremont with our brave little dude, ready to take on his allergies, one treatment at a time!
I joined an OIT facebook page which has been THE BEST thing ever because it's given me insight into what to expect (both the good and the bad), and ways to cope, and so much more. Being the parent of a child with life threatening allergies is a stressful role that nobody could understand unless you are living it, so to have the supportive network of all those other moms who are in the same boat (and doing desensitization treatment) is everything I could want.
Per the advice of other OIT parents, I knew I had to keep his stomach full (of carbs mostly) to cushion the blow of the allergen.  I fed him a slice of bread with Earth Balance and blueberries before we left my parents' house.  And then a muffin once we arrived at the clinic.  We were way too early (didn't know how long the drive would take with am rush hour traffic) so he danced around outside while eating his pumpkin muffin.  Kyle and I watched him in awe, while sipping our coffees.
I'm happy to report the new location of his OIT clinic is within a stone's throw of both a Starbucks and a Whole Foods.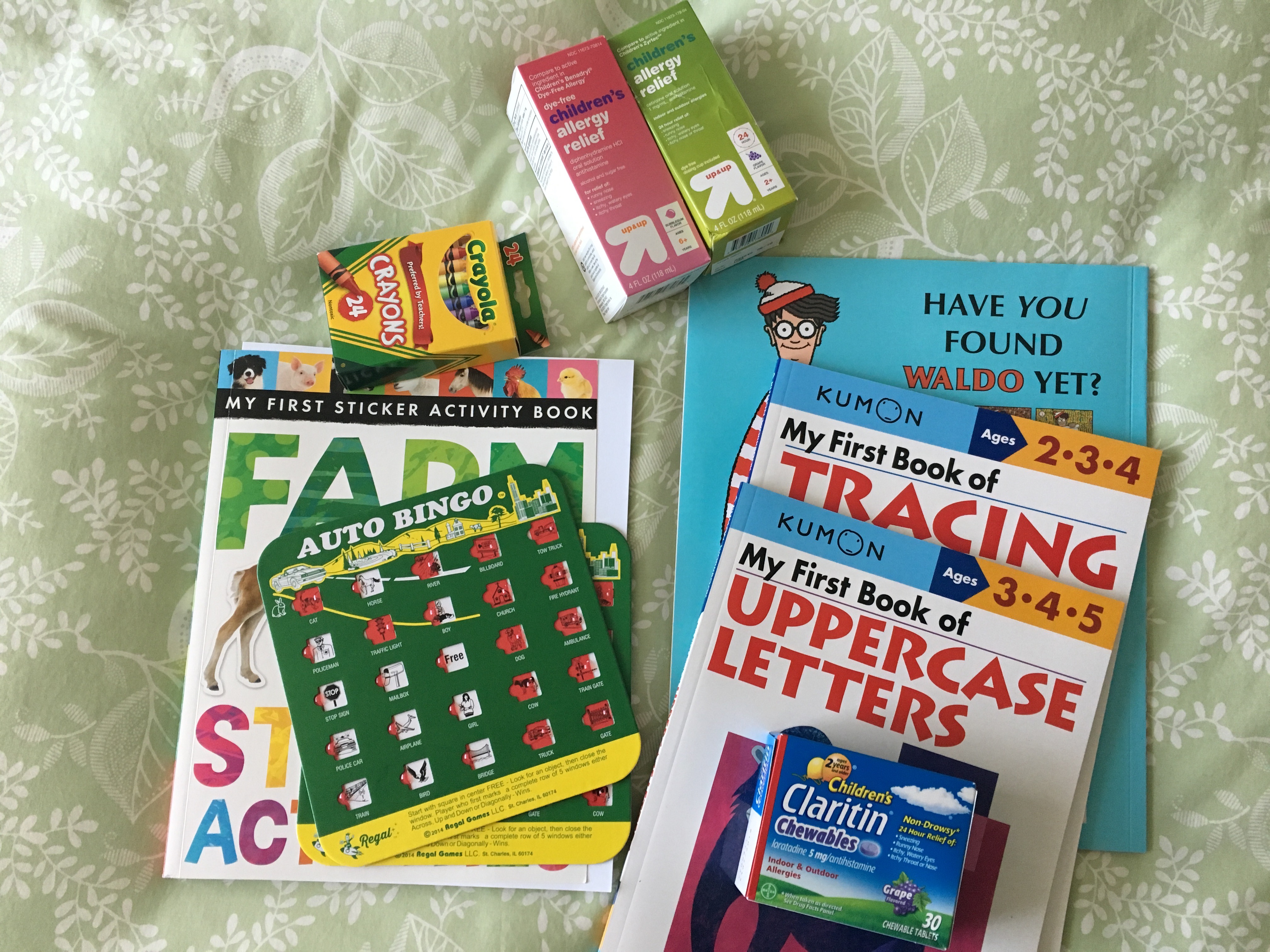 In addition to snacks, I packed a ton of things to do…because the appointments are 4-5 hours long.  It starts at 9, and he gets updosed every 30 minutes, and after the last one they monitor him for an hour before we can go.  We were there until 1 pm, but thanks to the food and fun I packed, he really didn't seem to mind.  Sure, he got a little stir crazy towards the end, but they have a toy section in the back that he was able to go to, and they let us take a walk outside for the last 30 minutes while they got his home doses ready.
I'm trying to make it as fun as possible since we will be doing it weekly, but within reason. I got him a new book (Where's Waldo) and some Kumon tracing and letter books.  I also printed out worksheets from the measured mom, and had a Mickey Mouse matching game.  I also brought a hand-me-down "computer" which has letter and alphabet learning games on it.  Basically, it's a day of home-schooling with his tiger mom, ha!  He will be reading and writing in no time 😉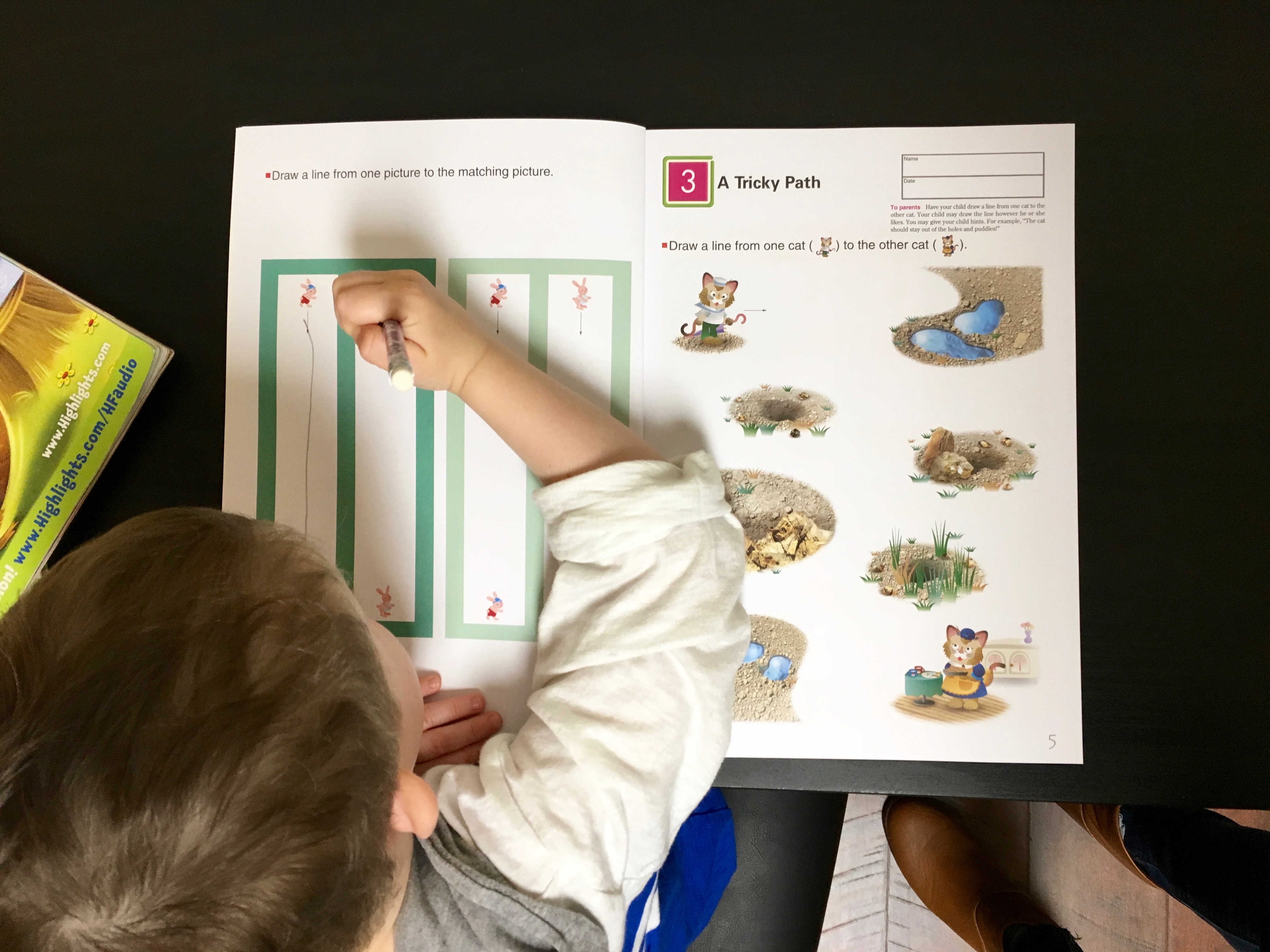 He ended up using every single thing I brought.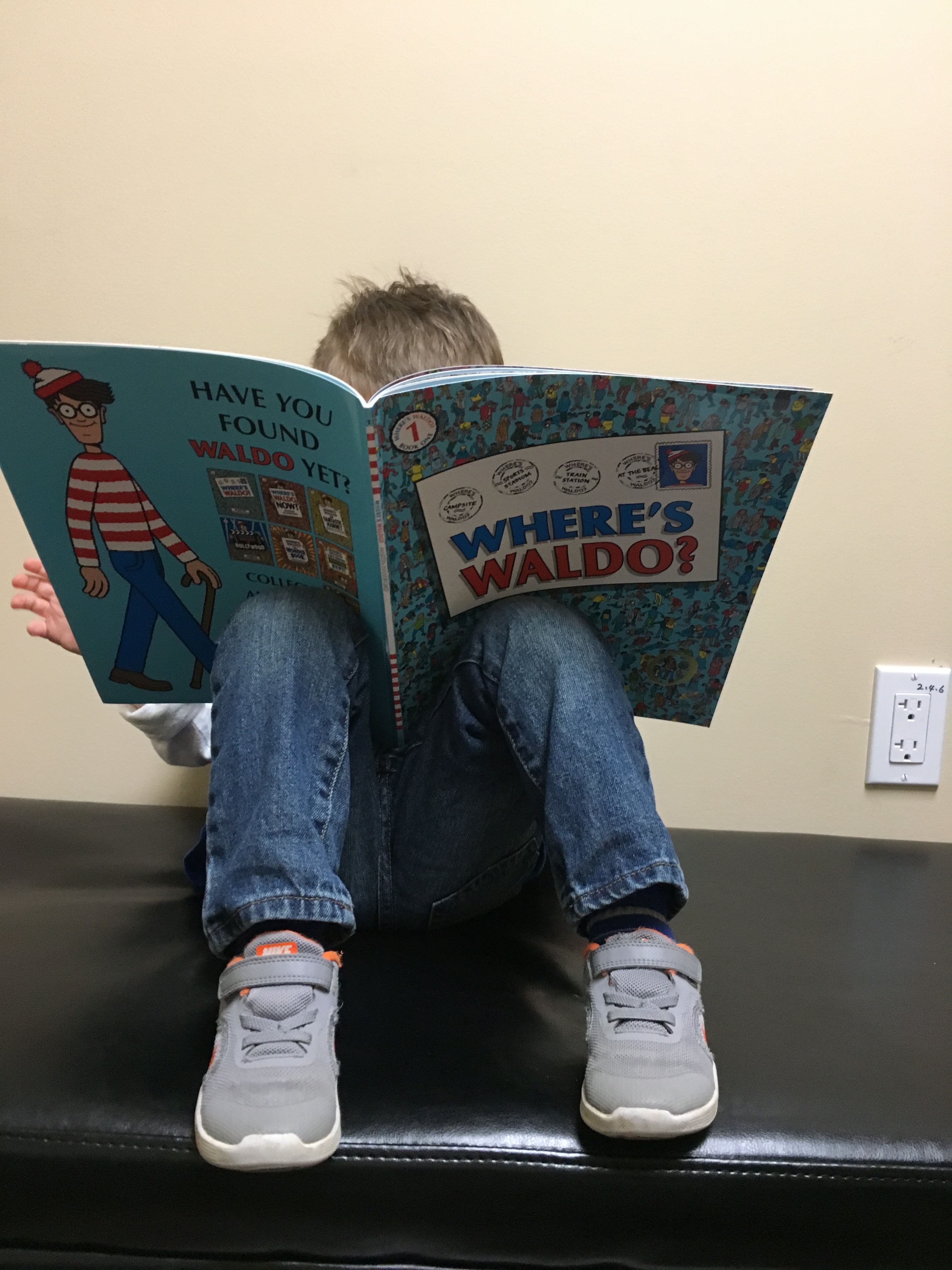 Where's Waldo was the biggest hit, of course.  And it occupied him for hours.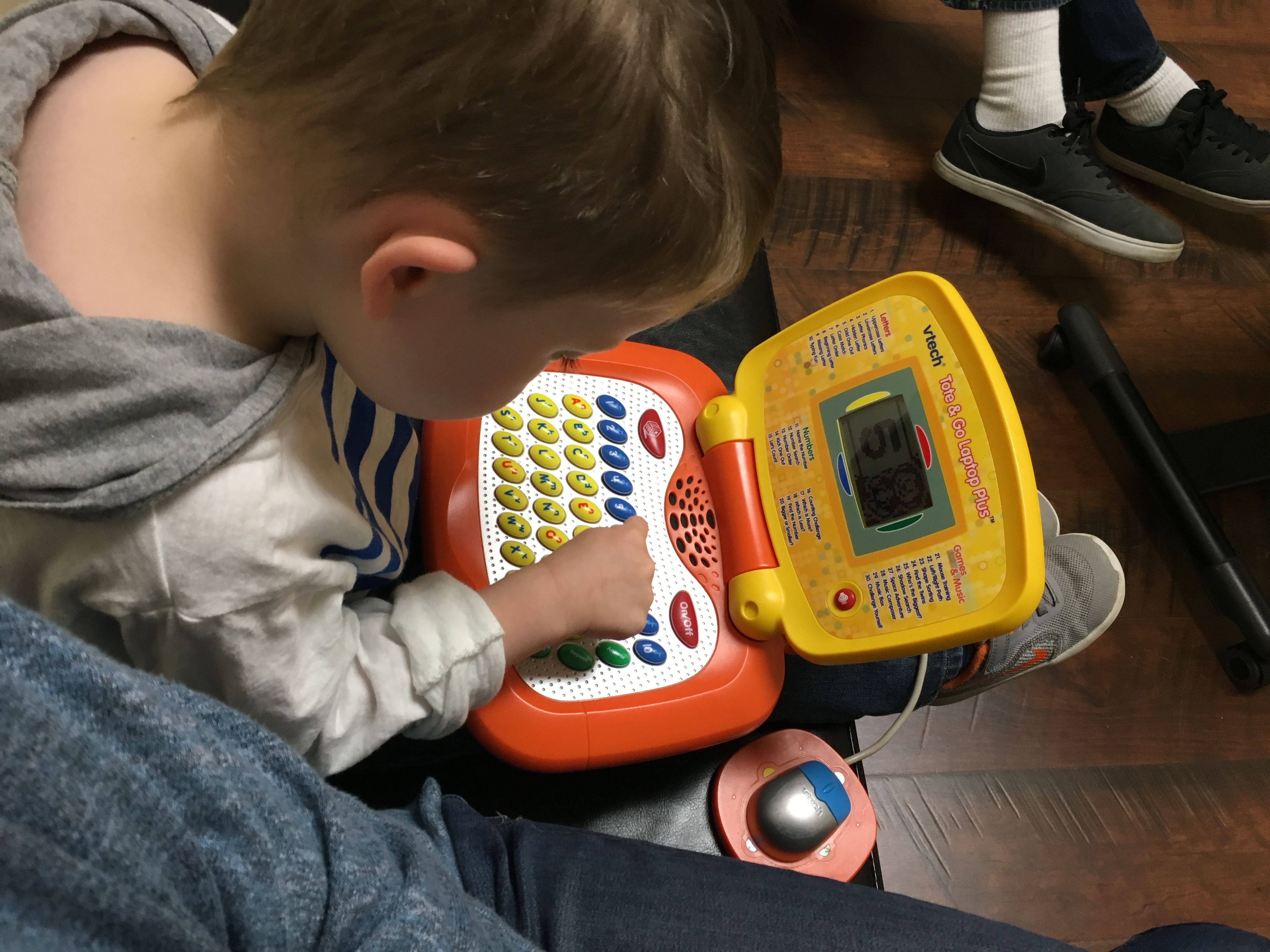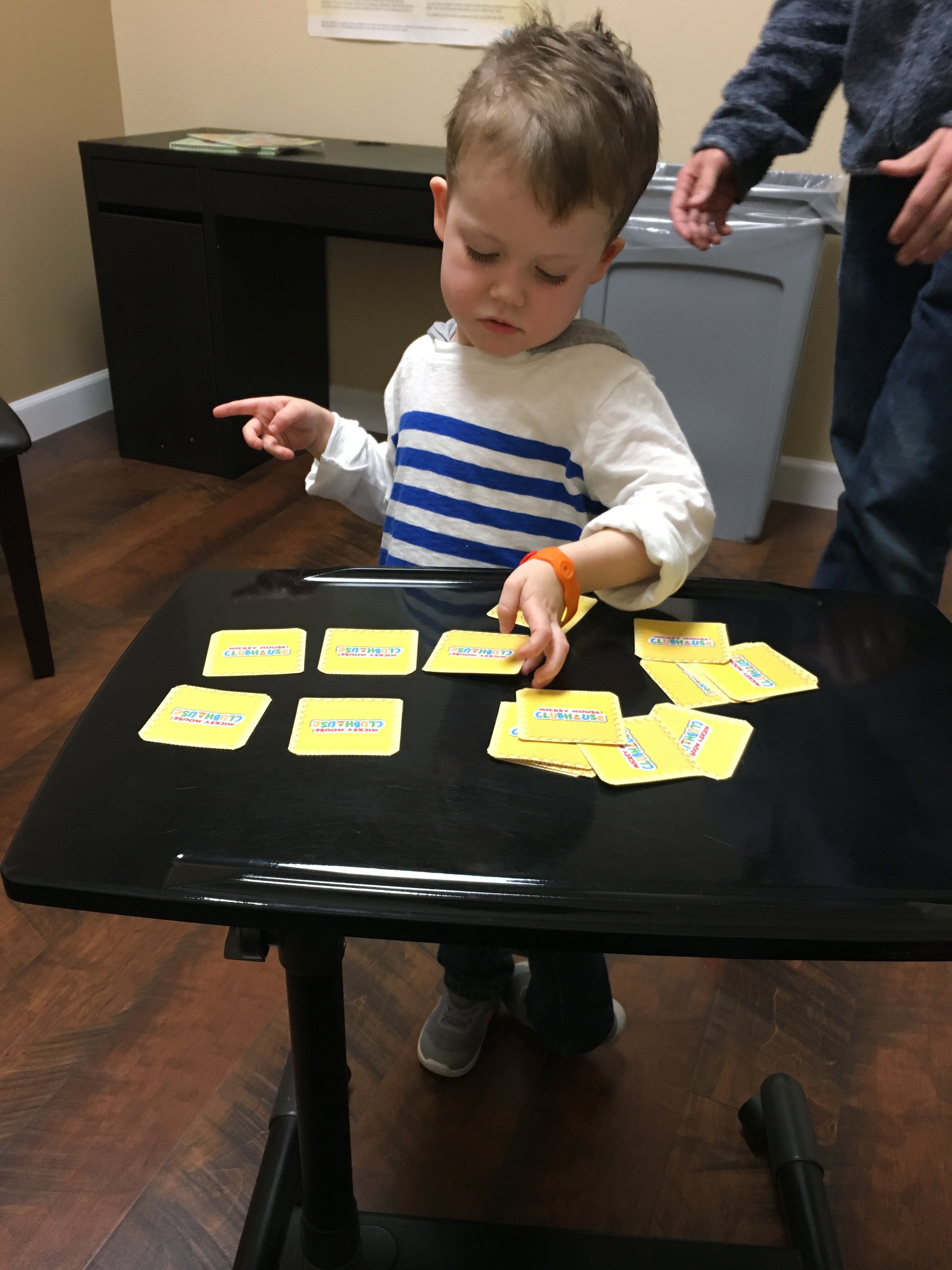 He didn't eat everything I brought, but he did have a banana, applesauce, home-made trail mix (cheerios, raisins, almonds), a bar, and green bean "crunchy snacks".  Enough to keep his little belly full.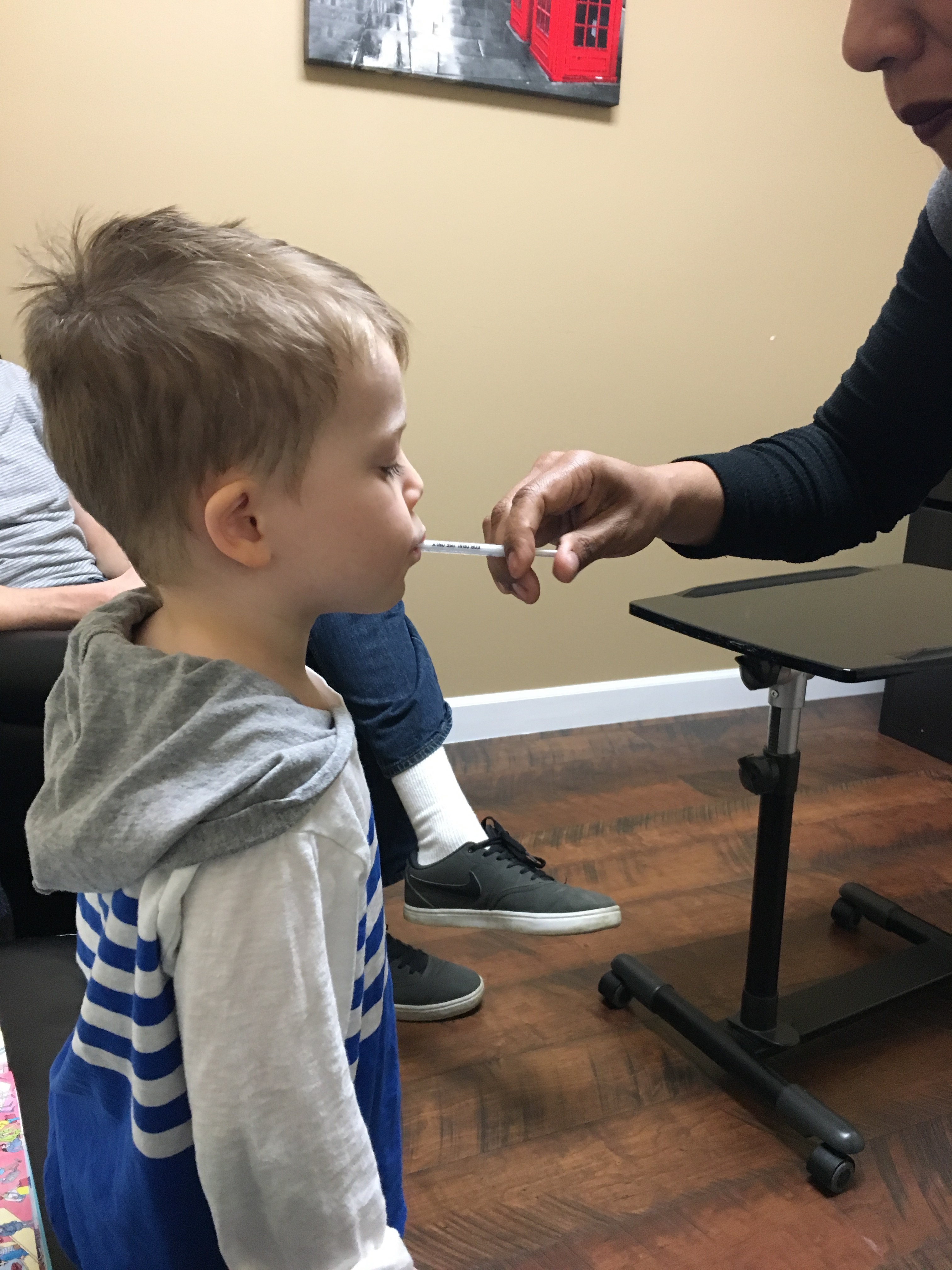 He got through four (very diluted) doses, without a reaction, which means he goes home on the one he ended on.  And we continue to dose him twice daily at home at the amount we left off at, until we go back next Friday for another session of updosing. I have to carry meds (Zyrtec, Pepcid, Benadryl, Claritin) with me at all times, as well as two epi pens, just in case.

I'm so glad he didn't need anything at the first appointment because I really wanted him to have a positive first association with it.  I know there will be ups and downs and we are sure to hit roadblocks, but for now, this seemingly small victory (his final dose was a dilution of 1 parts milk to 100 parts water) is actually a big victory.
Next week I am going without Kyle (he wanted to be there for the first one), so it will be just me and my little man.  Thanks fully, my parents are able to watch V for Friday mornings, because, while the room we are in is big for normal medical office standards, the idea of two toddlers trapped in there for 5 hours is not my idea of a fun Friday.
Other random notes: the clinic is new (they just moved offices) and you can tell they knew what they wanted in this upgraded version of their old place. The waiting room is huge.  There are a ton of patient rooms that are both private and yet don't feel too isolated.  There is a communal area with kids' toys.  The staff is so friendly and makes you feel safe and cared for and their number one priority.  They all treated P with such respect and warmth.  They made me feel very happy to be a part of their OIT family.  I am super optimistic about the future for my boy. Next door to the clinic is an bazaar full of specialty Indian grocery items, so I'm going to be trying and buying some new stuff.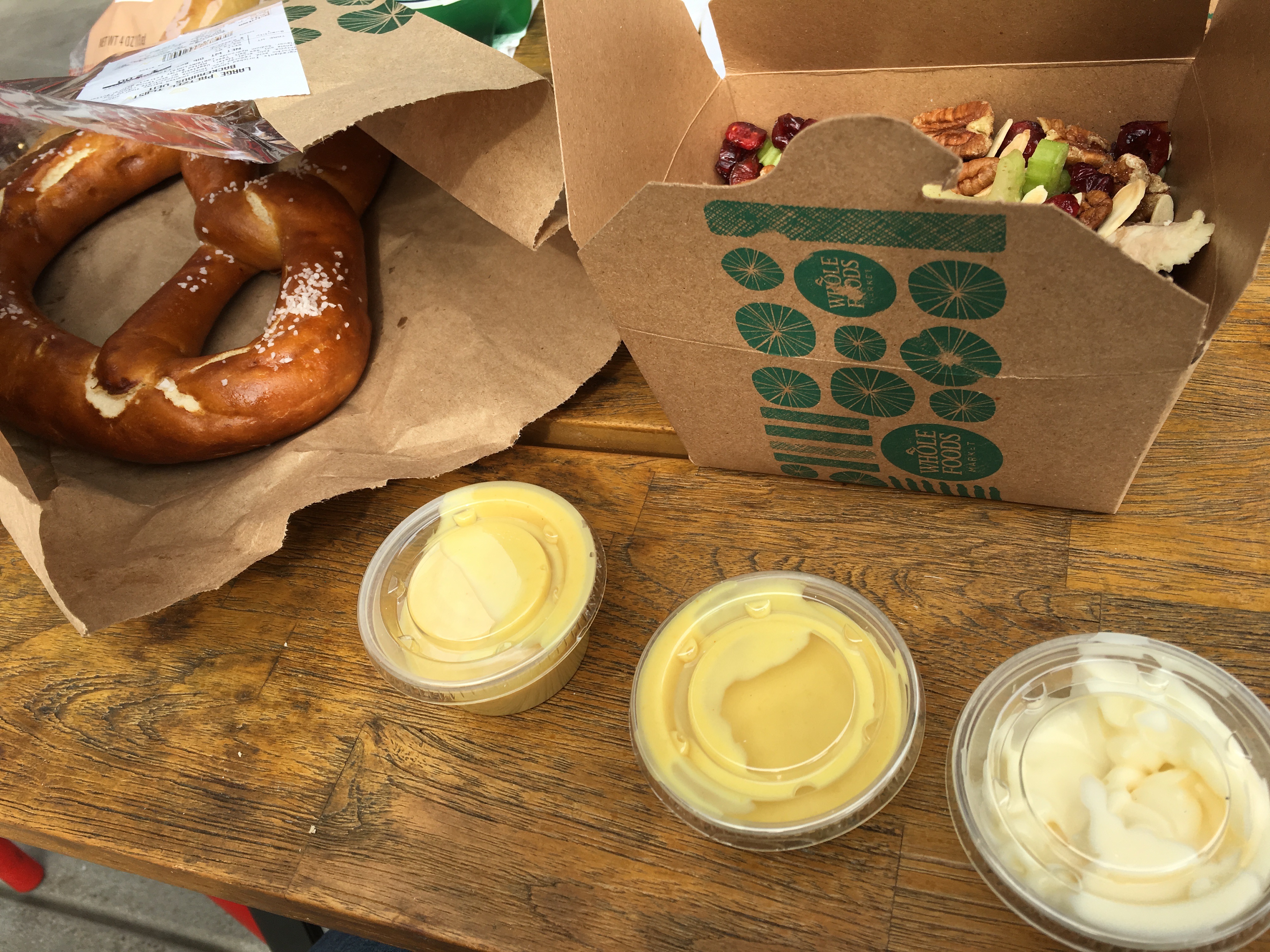 We went to WF for lunch after.  P didn't want anything (probably because he had been snacking all morning) but he was happy as could be hanging out with us while we ate.  I got a soft pretzel and stuff from the hot bar.  Happy mama!
After that we drove back to my parents' house (car bingo and Fancy Nancy on cd! hooray!) and picked up baby girl.  Neither kids had napped, so we tried to hit the road asap in order to avoid weekend traffic and let the kids pass out.  Fortunately, they both fell asleep pretty quickly after we left.  Unfortunately, we hit some pretty gnarly traffic and our commute ended up being 1:40 to get home.  Blahhhh.  Gotta get used to it because it's my new life!  I have a feeling it will be so worth it.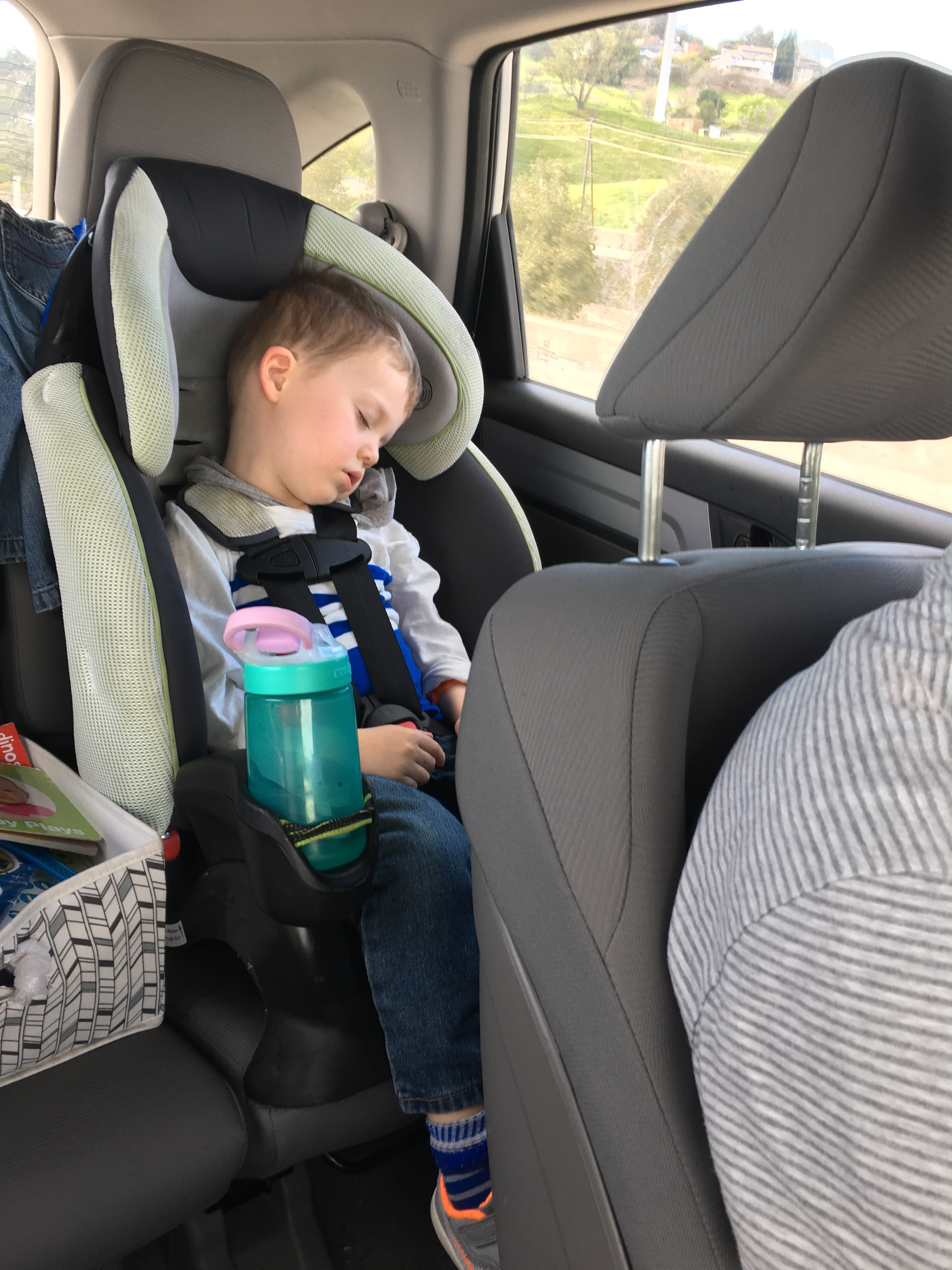 ZZZZ.
Kyle and I were both feeling a bit bananas after being in the car all day so as soon as we got home we immediately changed and rode our bikes down to the tennis courts to play.  It was just what we needed.  Fresh air, sunshine, and then some park time for the kids before riding back home and eating dinner.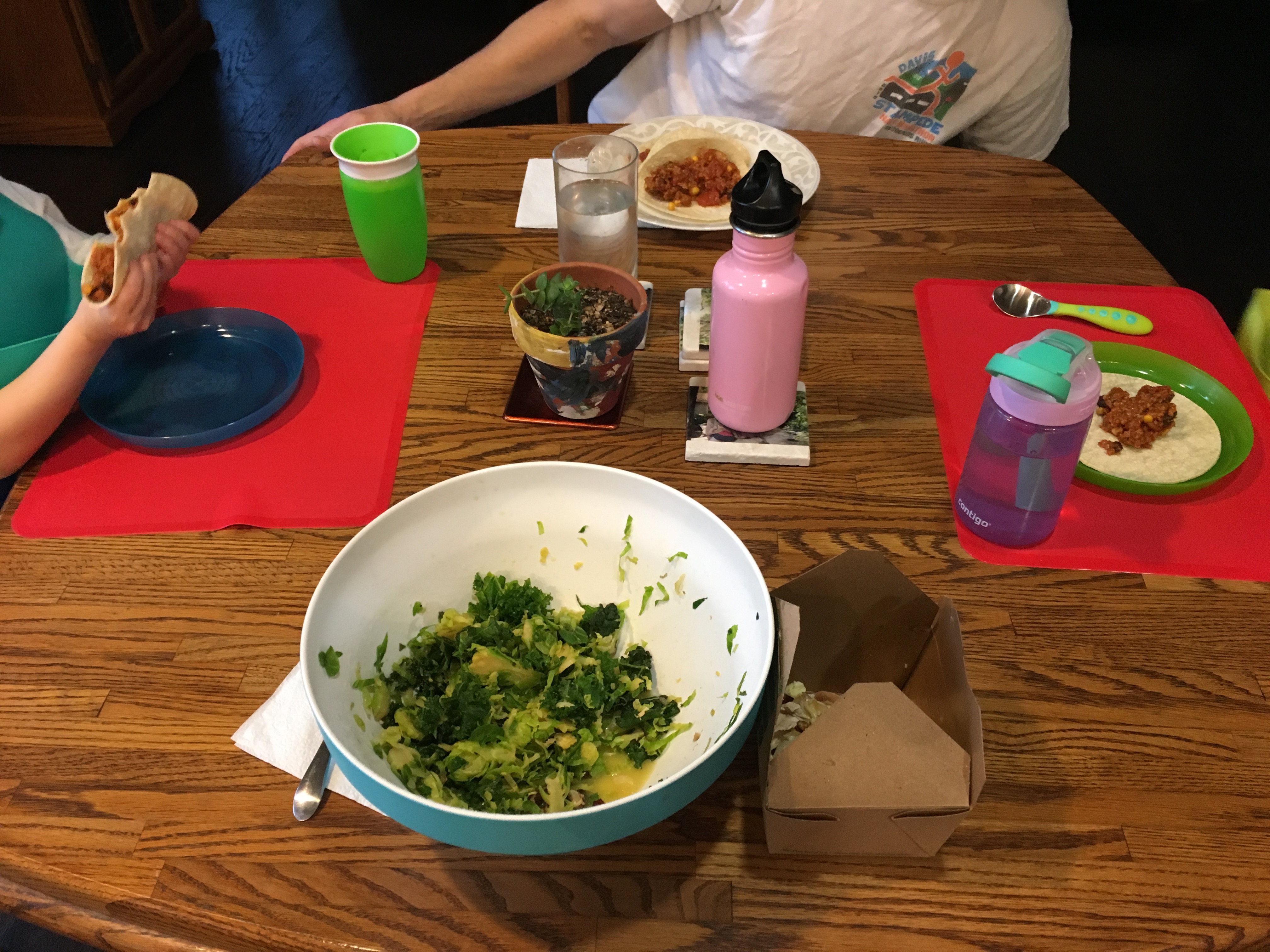 I had leftovers ready to go.
Enchilada quinoa from a few days before for them, and leftover brussels slaw salad with the rest of my hot bar food for me. Fridge cleaned!!  Ready for the weekend!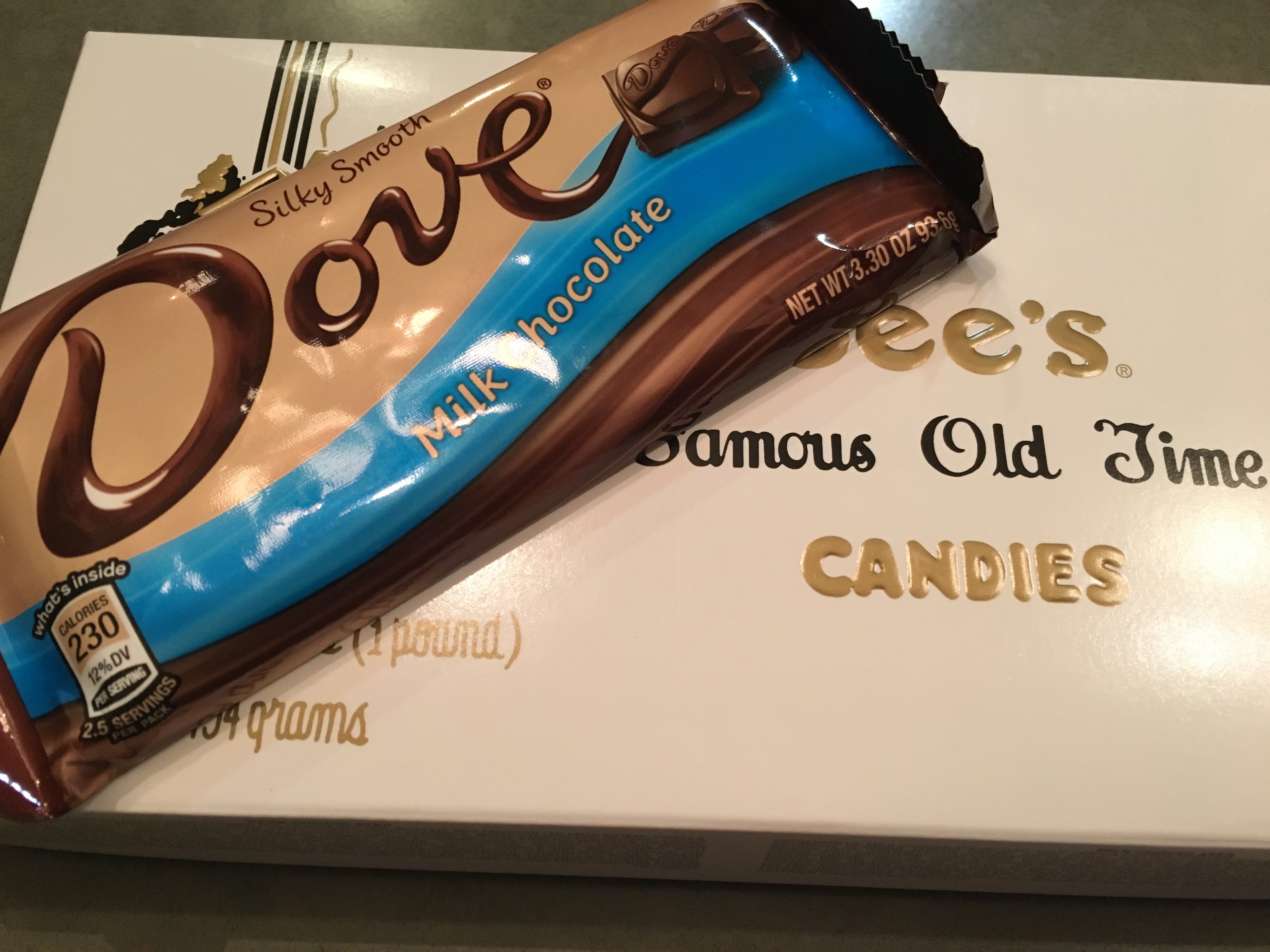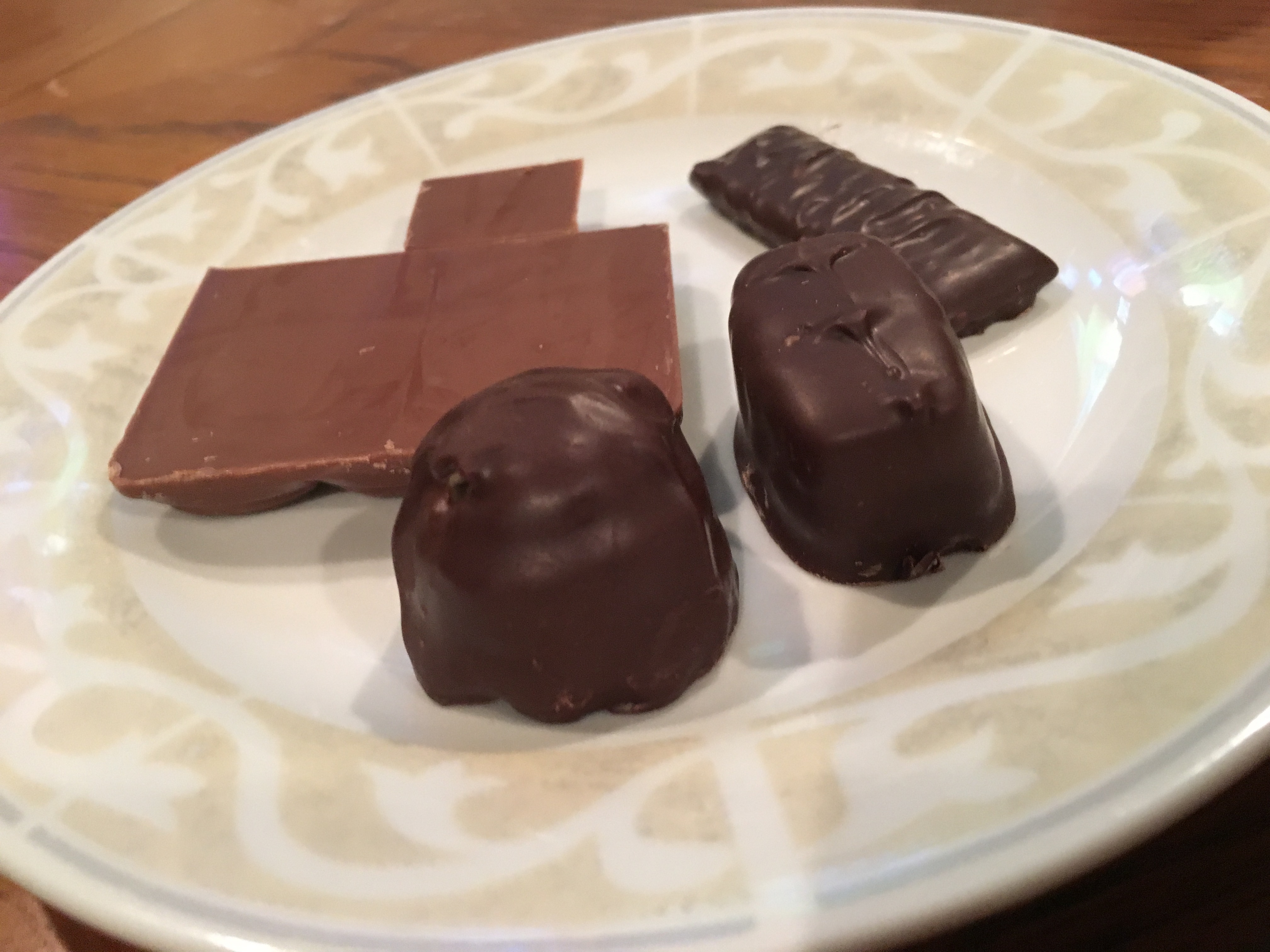 And chocolate. 🙂