I got a few questions about the two ingredient pancakes I showed last week, so I thought I'd just answer them in one place.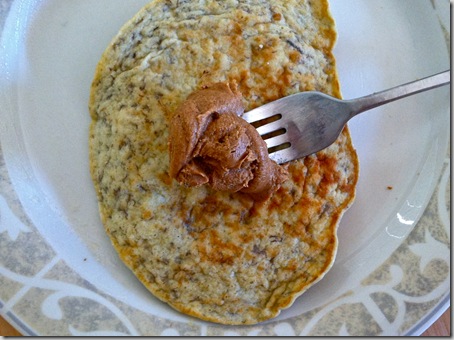 I'm definitely not the creator of this "recipe" (if you can call it that?).  I don't know where it originated exactly.  To be honest, knowing it was made of just bananas and eggs, I was skeptical that it would (a) turn out & (b) taste good.
For the record, it definitely isn't as good as a normal pancake, but the fact that it's faster and easier to make than most other hot breakfasts counts for something.  Toppings are a must. 
Here's what you need.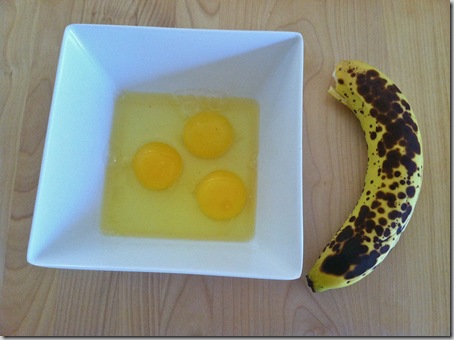 1 medium/large (ripe) banana
3 (organic) eggs
That's it!
Whip the eggs so they are mixed, then add the banana.  Mash the banana as best you can (I use a fork, but there were still chunks, so don't drive yourself crazy over getting it completely pureed).
Pour onto a pan sprayed with non-stick.  I let it get hot first, then spray with grapeseed oil, then turn down the heat to low, then pour in a 3rd (or so) of the "pancake" batter.  Cover with a lid and let it cook slowly until the sides have started to set and you can see bubbles in the center.
Be patient.  Don't flip it until the center has bubbles.  Once you do flip it, the other side will only need 30 seconds or so to cook.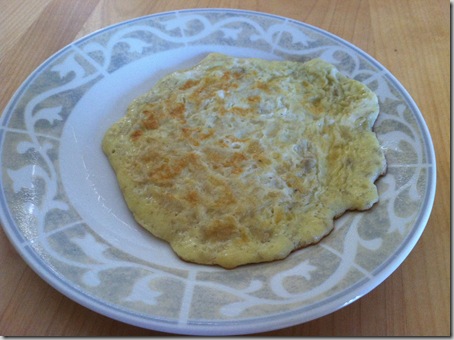 Voila!  This recipe will make 3 large pancakes or 4 medium ones.  They aren't bread-y (like pancakes), but rather floppy and jiggly (like eggs).  But they taste mostly like banana. 
I also tried a version with almond flour (bumping the recipe up to a whole three ingredients!) because I wanted to see how some flour would change the texture of the pancake.  This time I used:
1 medium/large (ripe) banana
3 (organic) eggs
3 tbsp almond flour
I was surprised to find there was no notable change in the cooking process.  it took the same time and the batter was barely different in consistency.  The real change was in the thickness and texture of the cooked "pancake".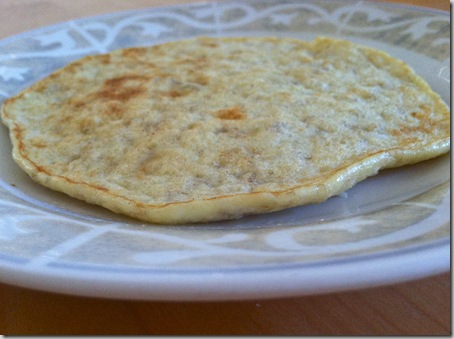 Can you see it?  It's slightly thicker.  And it tasted slightly less eggy, and a bit more pancake-y.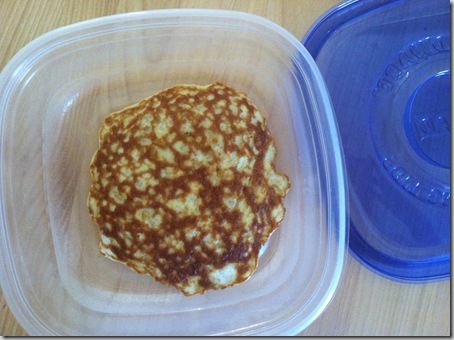 Both versions are portable and stay good for make-ahead-of-time work breakfasts.  I've eaten them warm and cold, and both work in my book.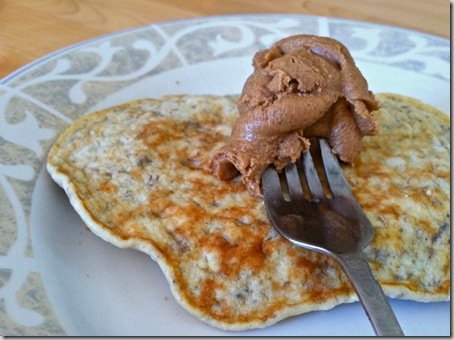 But their staying power is not great and I always top them with a large portion of nut butter.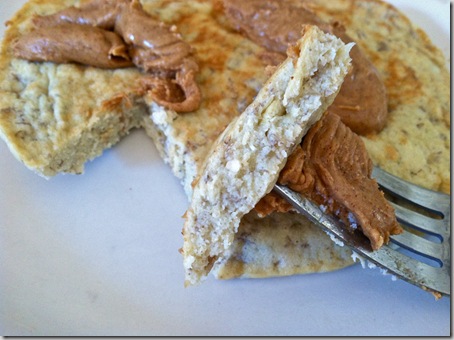 I can imagine several variations working well with this two ingredient pancake.  It's kinda a blank canvas.  In the future I may try adding peanut flour into the batter, flax or chia seeds, carob chips, etc. 
In any event, it's FODMAPs friendly and I recommend giving it a shot as a way of adding some diversity to your morning routine.  If you have made it with any other tweaks (and they worked out well), let me know so I can try it too!