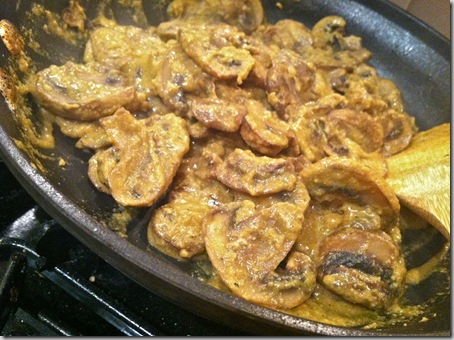 I thought this dish was FAN-FREAKIN-TASTIC.  I wanted to hoard it all and not share even a bite with Kyle.  But of course I didn't do that. 
Disclaimer: I have no idea what stroganoff is, so there's a chance I altered the recipe so much that it's unrecognizable as a stroganoff.  The addition of the mustard and nooch makes it taste very similar to a creamy dijon chicken recipe my mom used to make, though.  Which I'd forgotten about until I made this.  Mmmm…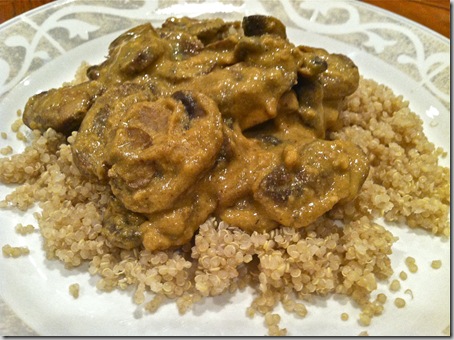 Mushroom Stroganoff [vegan, gluten free]
Ingredients:
2 tbsp earth balance (or olive oil)
2 8 oz. containers of sliced organic mushrooms
3/4 cup low sodium organic vegetable broth
3 tbsp brown rice vinegar
3 tbsp oat flour
3 tbsp nutritional yeast
3 tbsp plain almond milk
1 tbsp stone ground dijon mustard
1/2 tbsp onion powder
salt & pepper (to taste)
Directions:
Add Earth Balance (or olive oil) to pan, heat until it's melted, and add mushrooms. 
Place lid on pan and let mushrooms saute (on medium high heat) tossing occasionally until they start to get uniformly soft.
Once they're bronzed and tender, add vegetable broth and vinegar and cook without lid until liquid is bubbling.
Add the rest of the ingredients (oat flour through onion powder) and cook for another few minutes.  Season with salt & pepper as you want.
Serve over a bed of quinoa or brown rice.  Enjoy!
Clockwise: Stroganoff ingredients, raw mushrooms, cooked mushrooms, with liquid added.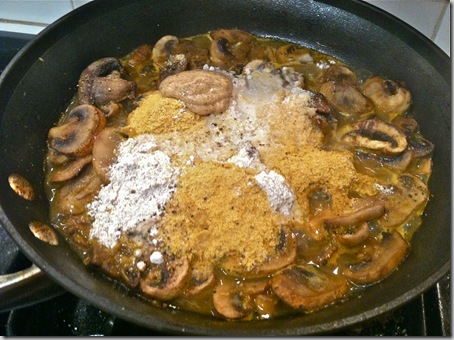 With the rest of the ingredients added.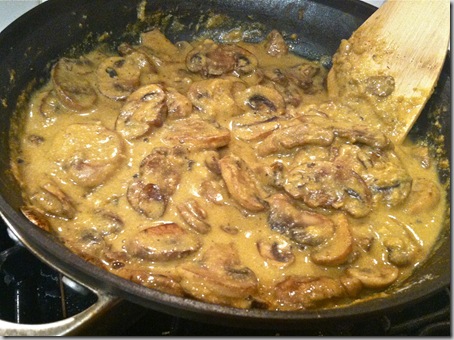 On it's way to thickening.
Ready to serve.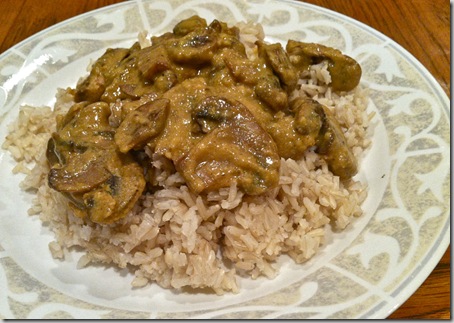 Kyle had his over brown rice, while I opted for the last bit of quinoa we had on hand.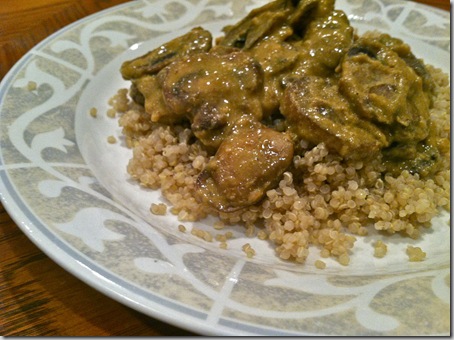 After dinner we headed off to see a pre-screening of the new Bond movie, Skyfall.  It was SO good.  Even though it took us an hour to drive the 3 miles to the theatre (grrr…rush hour LA traffic!!!). 
I've never had such a good movie streak – Taken 2, Argo, & Skyfall all winners.  We're due for a dud soon I think.