I dragged my feet out of bed Friday morning to squeeze in a workout (I wanted to start off our gluttonous weekend with one last healthy hurrah).  It wasn't one of my best, but it was better than nothing.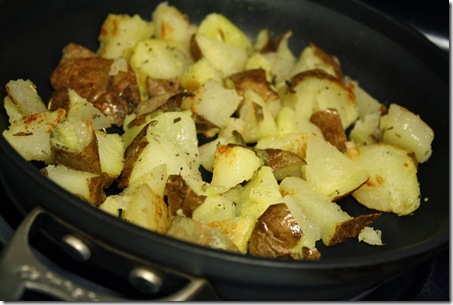 While Kyle showered I made him a birthday breakfast of rosemary hash browns.  I baked the potato first in the microwave for 4ish minutes so it would sauté quicker.  Then I gave it a rough chop (hot potato!) and threw it in the pan with cooking spray, salt, pepper, and rosemary.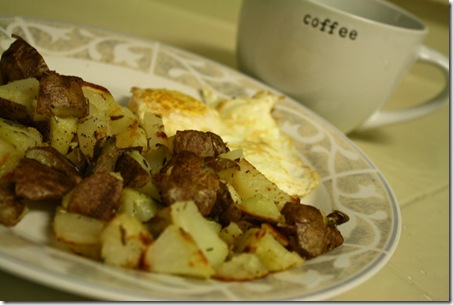 After the hash was done, I tossed in an egg, poured him some coffee, and set his place for a lovely birthday meal. 
After some present opening and last minute packing, we hit the road.  I had apples, bananas, and bars aplenty…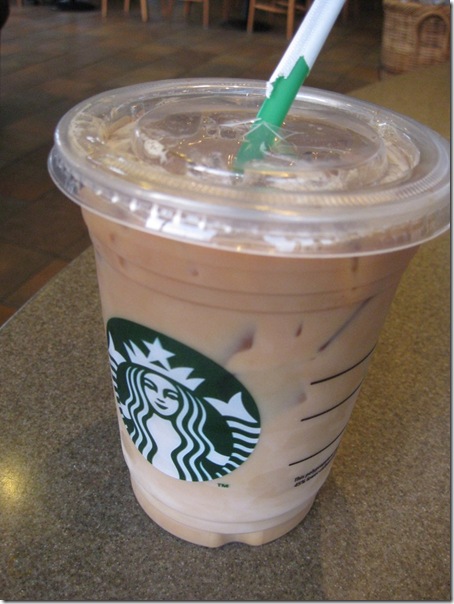 Plus my lifeblood.  Who's loving the new Starbucks logo?  I think the siren calls to me even stronger now without the words above her head (but then I'm a sucker for fan of anything The 'Bucks does).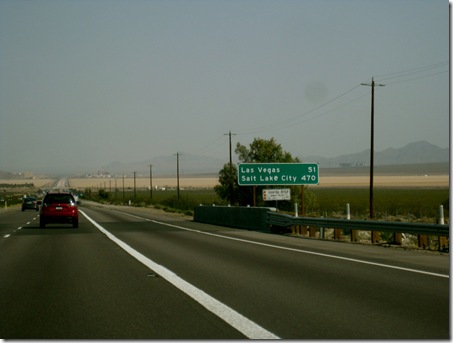 And the wolf pack was on it's way…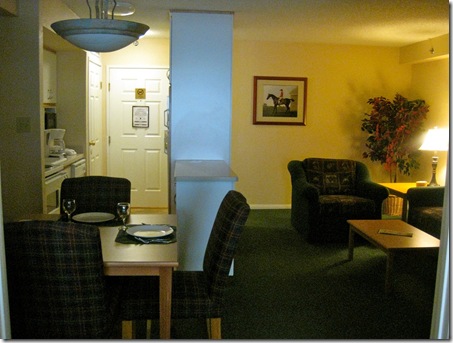 We spent most of our time in the new(ish) Cosmopolitan hotel.  It's home to several of the best restaurants, the new "it" club (Marquee), and a 3 story Chandelier bar that epitomizes everything Vegas represents (glitz and glamour on the verge of gaudy).
It was noon when we arrived, so we dropped off our bags at the hotel (The Jockey Club is connected to the Cosmopolitan/Convention Center and is the best kept secret in Vegas, so let's keep this between us, ok?) and headed to lunch.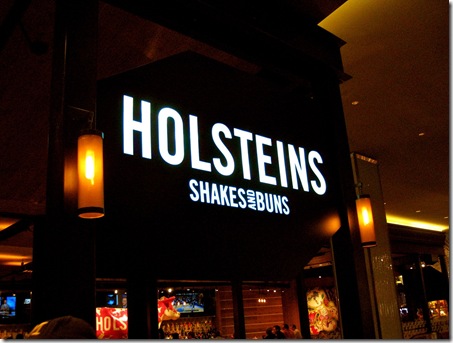 Our friends met up with us and we settled into a booth at Holsteins Shakes and Buns. 
Their food emphasizes fresh, natural and organic ingredients with a funky, homegrown attitude.  The menu features specialty burgers and house-made sausages as well as a wide variety of shakes and sides.  All items – including toppings, buns and condiments – are custom crafted in-house.
The decor had me concerned (there's nothing like a poster with the cuts of a pig to entice a vegan…) but a quick glance at the menu reassured me that I'd be happy with my meal. 
I chose the Urth Burger sliders (there was a full burger option too) with a house-made vegan patty with cucumber, avocado, and sprouts.  I was excited that the restaurant was not only able to accommodate a vegan, but actually had an item (in a burger joint no less) designated for the non-carnivorous crowd.  I mean really!  Considering we were in Vegas (not exactly the health food capital of the world) I really feel like times are a changing.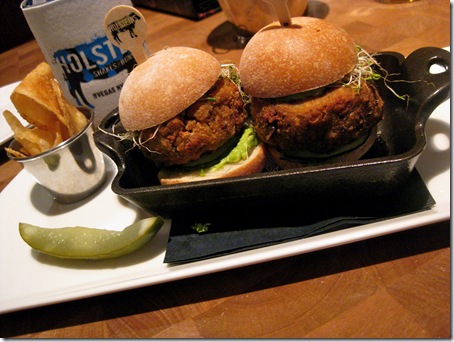 Looks pretty stellar huh?  Please note the background drank choice (they brought my Bud Light in the cozy).  [Depending on where you live, this drink sleeve may be known to you as a koozie]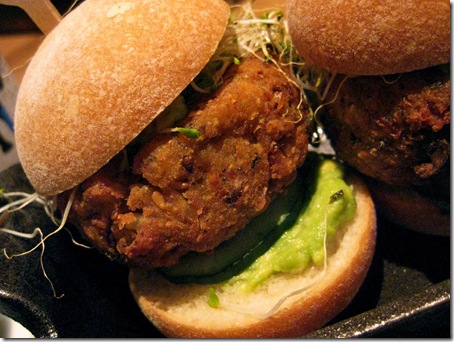 They were awesome.  The perfect portion and 100% delish.  They were soft and you could see chunks of veggies and seeds in the patty.  The avocado on the other hand wasn't so great.  I think it was made from a fake guac mix.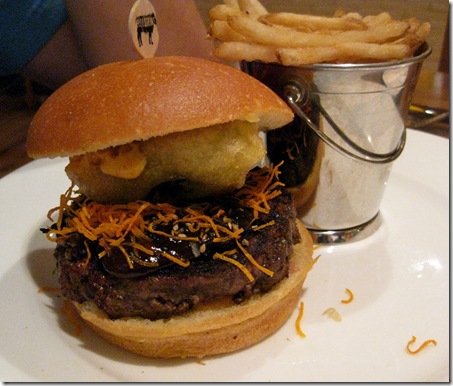 Kyle ordered the The Rising Sun with Kobe beef, teriyaki glaze, nori furikake, crispy yam, spicy mayo, and tempura avocado.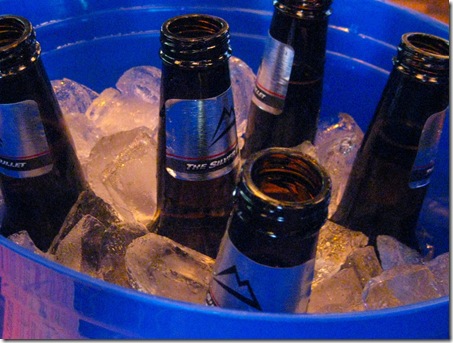 After lunch we wandered across the street to Planet Hollywood for some March Madness fun.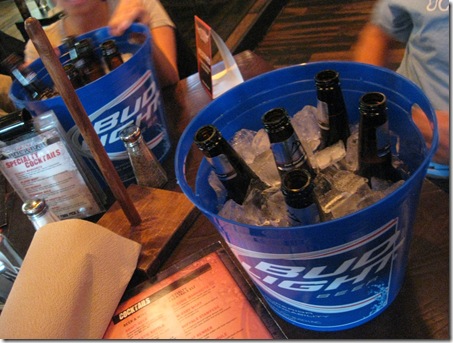 In order to get a table, we had to meet a $20 per person per hour minimum.  This translated to a bucket of beers each every hour.  The good news?  We got our money's worth.  The bad news?  We got our money's worth.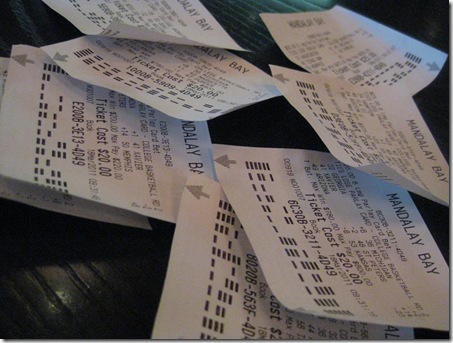 Sadly, our parlays all struck out.
For dinner, we all went to Mandalay Bay for a restaurant.com deal (we had pre-purchased a $100 coupon for only $8).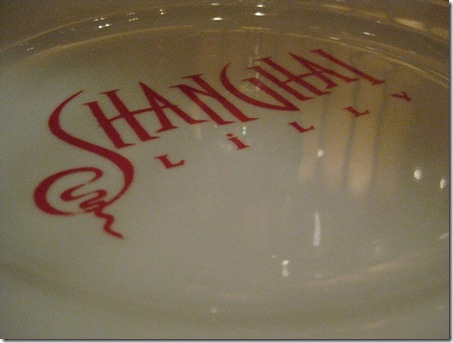 Mandalay Bay is home to several well known dining spots (Fleur by Hubert Keller, Lupo by Wolfgang Puck, Rick Moonen's RM Seafood, Stripsteak, Border Grill, etc.).  We made our way to Shanghai Lilly, which featured classical Cantonese cuisine with Szechwan specialties.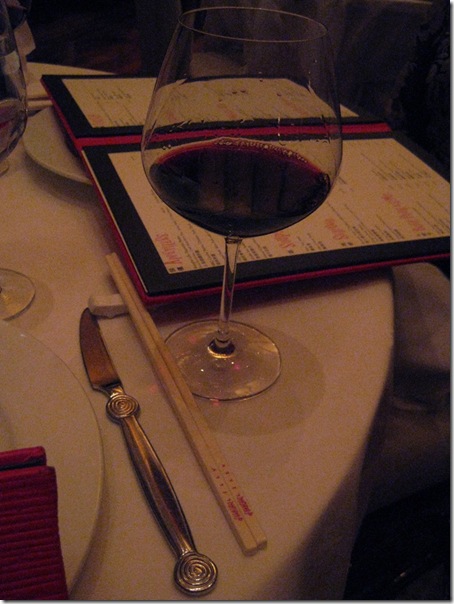 We started with cabernet sauvignon and appetizers.
On the left, mixed apps for the table.  On the right, potstickers just for Seamus.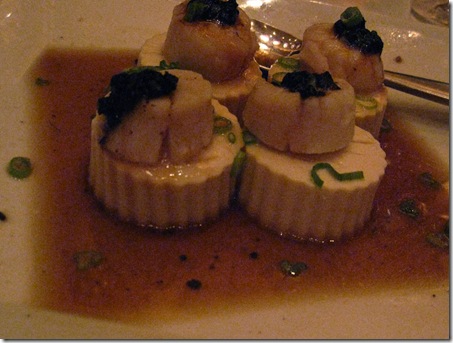 Even though we ordered family style, the tofu and scallops with black bean sauce were pretty much just for me (I gave the scallops to Kyle). 
The difference between the General Tso Chicken and the Sweet and Sour pork was minimal.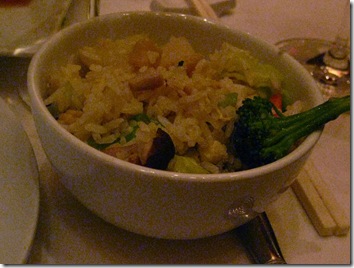 I also had a side of vegetable fried rice, which was not really fried at all.  I didn't mind the lack of grease, but for others who may be looking for the traditional fried rice flavors, it was definitely not that.  It was a little on the bland side, but once I poured the extra black bean sauce on it, it was great. 
Another bottle of wine later…followed by a round of ports for dessert…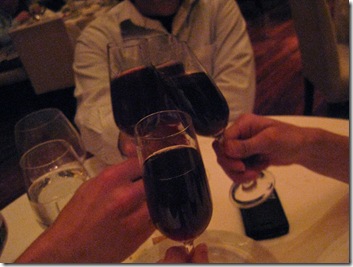 I can't even tell you how fun this dinner was.  I couldn't stop laughing the entire time, and that may or may not be because we were Seamus was absolutely trashed.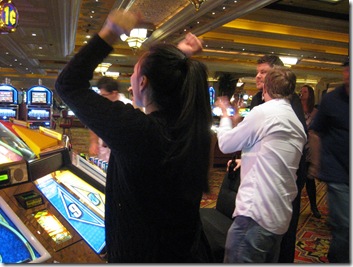 We won quite a bit at Wheel of Fortune…but then lost it all at the Craps table.  Despite multiple lessons, I'm still trying to learn how that game works…
I don't know what happened after one am, but I know I did NOT want to be dragged out of bed as early as I was the next morning.
Thank goodness Planet Hollywood has Starbucks.  I took two trips to this location over the course of Saturday.
At this point I should mention two other friends joined us in Vegas on Saturday.  I have no idea how, but in our drunken stupor the day before, we managed to convince our friends to fly out the following dawn (at 5 am to be exact).  We bribed them with free flights and a couch to pass out on and they actually came through!  It was hilarious. 
We all met up for brunch to cheer on the Bruins (sad loss).  Eager for a repeat afternoon of fun, we went back to the same bar in Planet Hollywood that we were in the previous day. 
You KNOW it's bad news bears when the staff remembers you (I mean, seriously how many people do they see every day in Vegas?).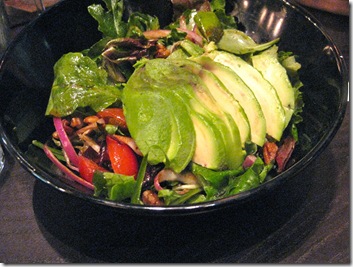 Salad for breakfast?  Sure why not.  I subbed the feta cheese out for avocado instead.  Avocado makes everything better, even a hangover.
The boys went a different route…with a bucket of fried chicken and Dorito crusted mac 'n cheese.  Truth be told, nobody liked the mac 'n cheese.  It was too greasy to even meet hangover food requirements.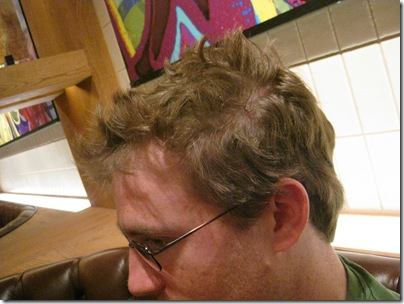 Dear Seamus,
You may not remember this, but you did indeed beg for a feature role in this recap.
I always make good on my promises.  🙂
[Apparently his role in this post wasn't enough of a feature] 
The Bruins lost, lunch time rolled around, and we all split up for naps and whatnot.  I was hungry again and made my way to the Aria for a SkyBox takeaway order.  The menu was again limited in the vegan friendly realm, so I went with a salad nearly identical to my breakfast one. 
Mixed greens, candied pecans, etc. with artisan bread toasted and spread with cranberry jelly.  I also added an entire avocado on in place of the cheese.  I was charged extra but it was worth it. 
The toast with jelly tasted like an english muffin with jam.  It hit the spot.  The salad was actually kinda a beast too, which made me VERY happy.  I felt like there were more toppings (especially pecans) than greens, too (something that I feel is pretty atypical in a to-go salad).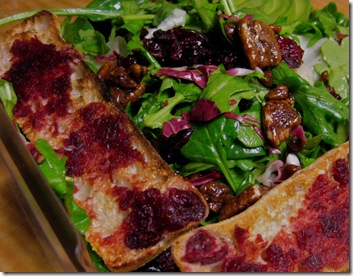 Kyle decided to get some greens as well, ordering the Cobb salad.  Sadly, he wasn't a fan of the ranch dressing they gave him (seriously, Ranch dressing on a Cobb salad?).  He ended up eating it plain, but still enjoyed it.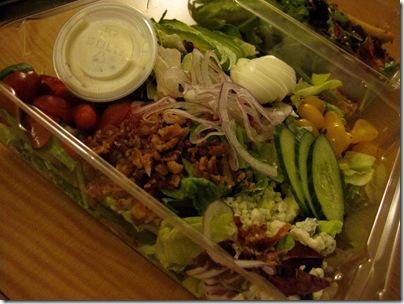 After a shower and nap, we set off for the opposite end of the strip…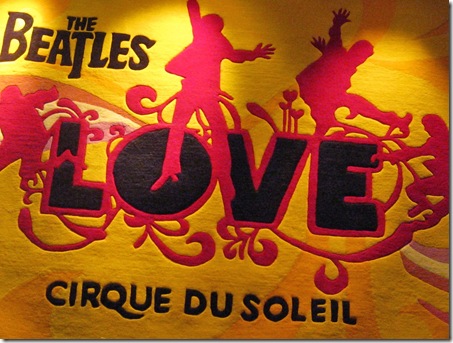 LOVE!!!!!!!!
As a huge Beatles fan, I've been wanting to go to this show forever.  Kyle got to go a few years ago for a work function and I was filled with jealousy.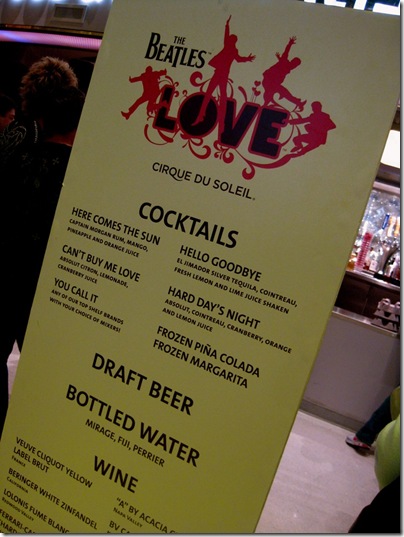 It was every bit as fantastic as I had hoped.  My inner hippie left with thoughts of peace and love. 
I found a candy shop on the way through the Mirage so I had lots (LOTS) of dark chocolate covered pretzels, almonds, and raisins to get me through the show.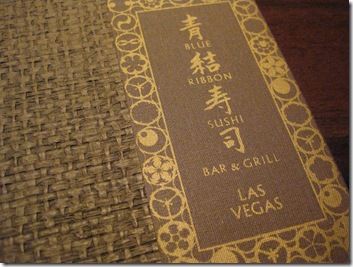 After the show we high tailed it back to The Cosmopolitan for a nice dinner at Blue Ribbon sushi.  Kyle and I are big fans of the Blue Ribbon restaurants (there are a few in NYC) so we knew this would be a great choice.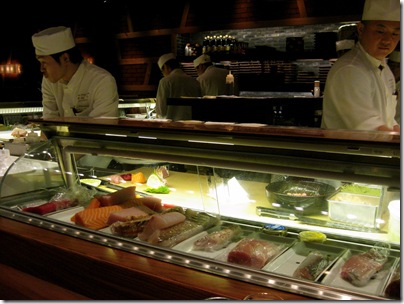 Even though it was nine o'clock, the place was still packed (I think time doesn't exist in Vegas).  We ended up getting a seat at the sushi bar.  Oddly enough (given my adoration for sushi) I've never eaten at the bar part of a restaurant.  Weird. 
I spotted a ginger drink on the menu and my mind was made up.  It was SO good.  I wish I could figure out remember what Asian liquor was in it. 
I ordered a seaweed and tofu salad, but also stole a few bites of Kyle's various maki rolls.  And naturally, I ate all the pickled ginger garnish.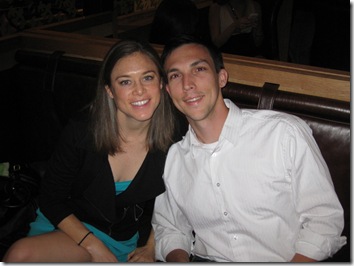 After dinner we met up with the rest of the group again for drinks. 
Holstein's is located across from Marquee and I was truly baffled by the ridiculous outfits (or lack thereof) that some of these girls were rocking.  I felt like a grandma.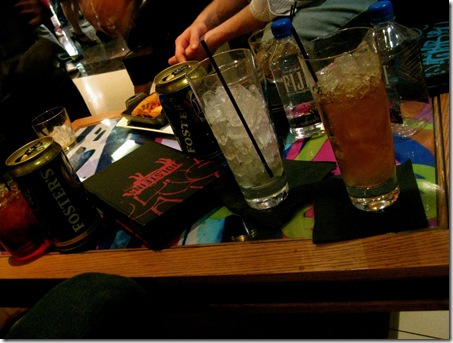 I discovered a new favorite drink.  A dark 'n stormy has dark rum, ginger beer, lime juice, and ice.  And it's delicious.  Round one is (was) the tall boy that's empty on the left.  Round two is next to it.  🙂
Fortunately, my photos from the weekend end there.  The ride home was actually not too bad, aside from the LA marathon traffic and torrential downpour. 
Have you been to Vegas?  What's your favorite place to eat, drink, and/or be merry?