I was supposed to work this Saturday, but I lucked out big time and got the 4:30 am call.  I love seeing my work number on my phone before my alarm goes off.  It's always good news.  In this case, they were overstaffed so I got a holiday.  And with that, my weekend turned into all kinds of awesome.  🙂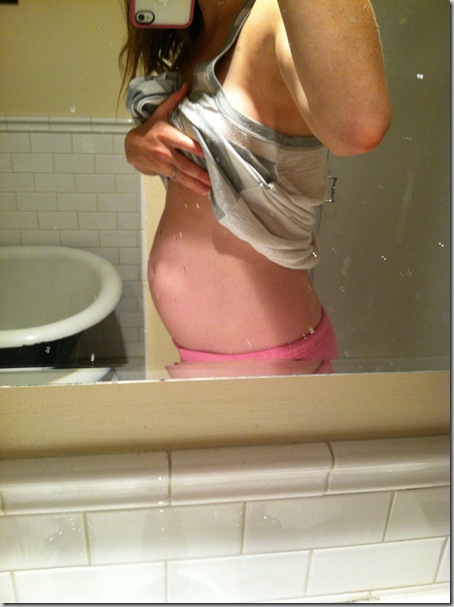 Unable to get back to sleep, I just decided to get up.  I took a photo of my bump in the (dirty) bathroom mirror since you guys all gave me crap for not showing a photo last week.  My eyes stung and my body ached since I had been up tossing and turning all night long, either to pee or shift my belly.  Not a great night's sleep.  [Side note: seeing how gross the bathroom mirror looked in that photo led to a major spring fall cleaning this weekend so things look much better now]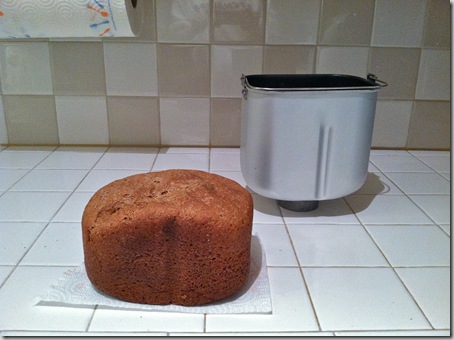 The good news was that I had started making a loaf of bread the night before as I went to sleep, so I woke up to fresh bread.  The aroma alone made breakfast necessary at 5 am.
I cut off the heel piece (the best piece) and toasted it until it had blackish edges.  I had to be sure it was warmed all the way through since it was a massively thick slice.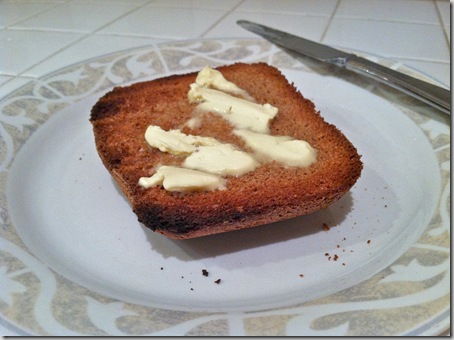 I usually toast things at level 4, but this needed level 6.  I don't mind black crispy crunch, I prefer it actually.  Kyle's a level 2 person.  Lame.
Anyway, I made sure to get lots of Earth Balance piled on board.  I am utterly obsessed with the stuff.  I think I've tripled my pre-pregnancy dosage of vegan butter.  Perhaps my cravings extend beyond tomatoes and eggs after all!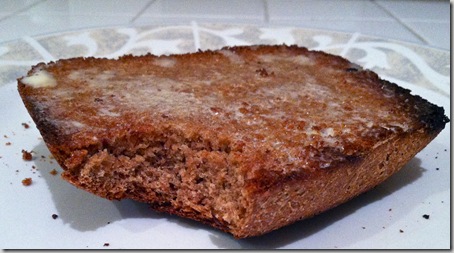 I'll be straight with you.  I totally added EB to the edges in between bites.
I also had a warm mug of coffee flavored almond milk on the side.  This transition to fall has made me miss coffee.  Decaf isn't the same.  And iced tea is now too cold.  What's a preggo gal to do?  Add a tiny amount to some warm almond milk and pretend it's a latte I guess.  My body is fooled well enough.  So yeah, that's the latest with that.
I crashed on the couch after I was done eating.  It was still dark outside and Kyle was fast asleep, so I didn't know what to do with myself.  Let me tell you something about 5:30 am weekend programming…it's not great.  Especially when your antenna only gets 2 channels.
Around 7 am I heard some movement upstairs and decided that was reason enough to get Kyle's day started for him.  He was thrilled.  I offered to make him breakfast to make up for badgering the sh!t out of him before his eyes were all the way open.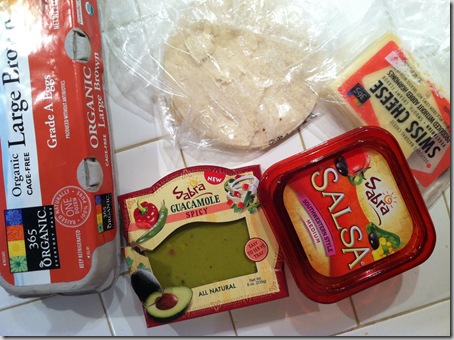 I fried a pair of corn tortillas in canola oil, topped them in swiss cheese, and set them aside.  Then I fried two eggs and placed them over the cheese.  And then I topped the whole production off with some salsa and guacamole.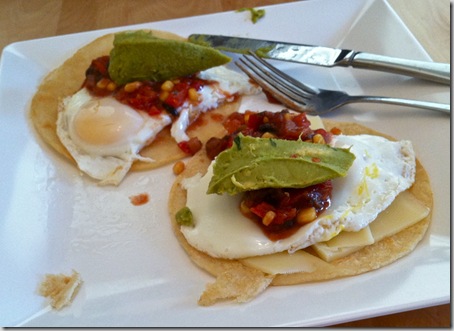 He was very happy.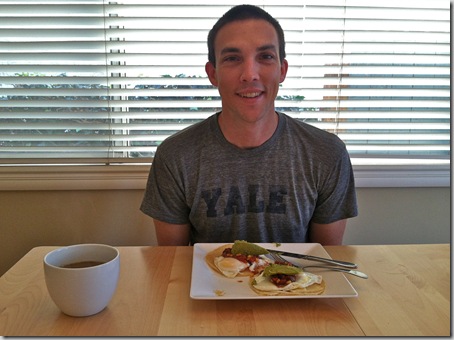 How much do you want to rupture that yolk?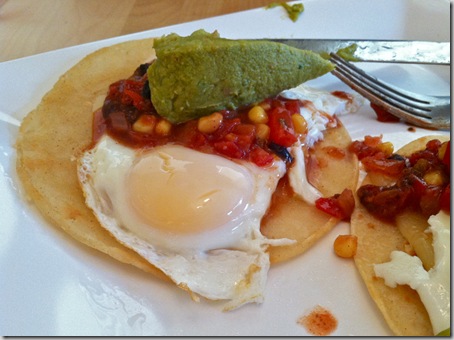 A while later I got hungry for another breakfast, so I made myself another fat melty slice of toast.
The rest of the day went like this:
10:30 am – I went for a solid 30 minute run (I only walked a few minutes of it, so I came home feeling like a stud even though I was going at a snails pace)
11:00 am – showered while Kyle drove to a family member's garage sale to pick up a file cabinet for us
12:00 – tried on 500 different outfits (and since I only have 3 pregnancy outfits, imagine the lengths I went to!!) trying to find something that made me feel like a normalish person (aka mission impossible)
12:30 – Kyle got home and we headed to WF for lunch on the way to a friend's house (massive salad bar creation for the win)
1 pm – got very jealous of all the beer drinking happening around me
1:15 pm – 6:15 pm – watched Notre Dame & UCLA win surrounded by a bunch of friends (I love weekends!!!)
7:00 pm – our friend BBQ-ed for dinner (veggie burger with hummus for me)
9:15 pm – time to walk home and pass out (so tired!)
10:30 pm – remembered I still had to choke down my prenatals (boo)
Aaaaand, that's how my Saturday rocked.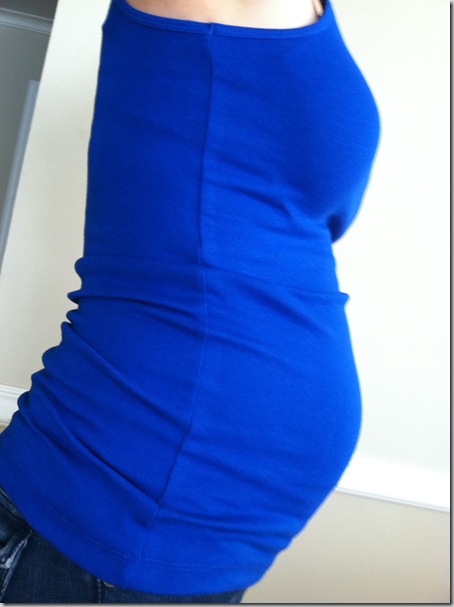 Sunday was just as good as Saturday.  But better.  I know that doesn't make sense, but I'm cool with it.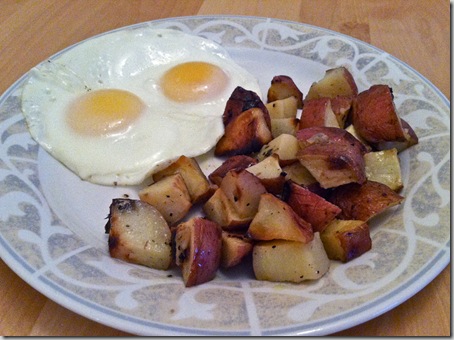 I slept in until 8 am and when I got downstairs I was ready for food.  And since I'm a planner-ahead-er I knew exactly what I wanted.
Roasted potatoes!!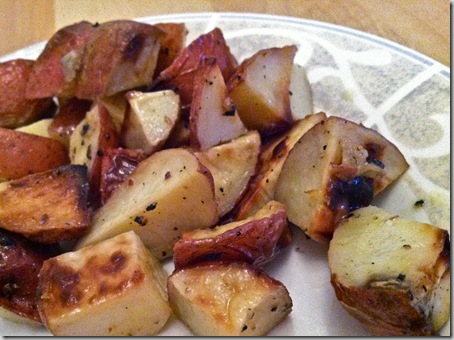 I think I made these Friday night?  Maybe it was Thursday, I don't know.  Either way, they were red potatoes tossed in extra virgin olive oil and black truffle & fresh thyme herbed sea salt.  Fancy stuff, I tell ya.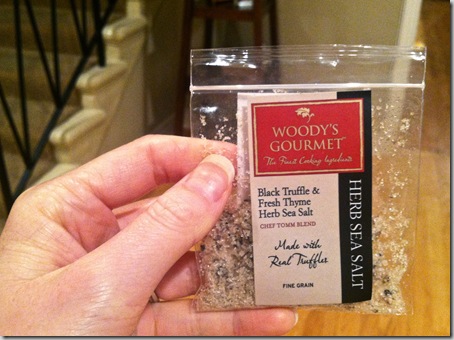 No clue where I got this stuff by Woody's Gourmet – probably some swag bag from some foodie event.  I figured it was an easy way to jazz up potatoes and as it turns out, it was totally stellar.
After breakfast Kyle and I went to watch football at a friend's house.  He has NFL Sunday ticket, which definitely beats our 2 station shindig.  CBS is golf or nothingness so we only get NBC (or sometimes Fox if we stretch the antenna all the way across the room).  Football season is the only downside to cancelling our cable, otherwise I swear we can find anything on the iPad or Netflix.
We took advantage of being in Westwood and hit up Target & Trader Joe's before heading home.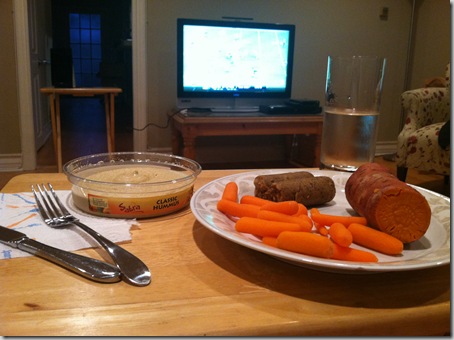 And this is how I did dinner.  Packers win with a side of food.
Random side note: earlier this year (maybe in June or July?) we thought we had some random squash growing on the side of our patio against the fence.  Ordinarily I would have plucked the weeds, but the leaves looked just like squash leaves, so I let it grow, just in case it turned into something.  For months it grew…taking over the entire fence.  But there was nothing more than leaves and vines.  I meant to chop it up and trash it, but it got so big that I kept putting it off.  And then last week when I was cutting Kyle's hair (we do it in the backyard) and lo and behold there was real produce on the thing!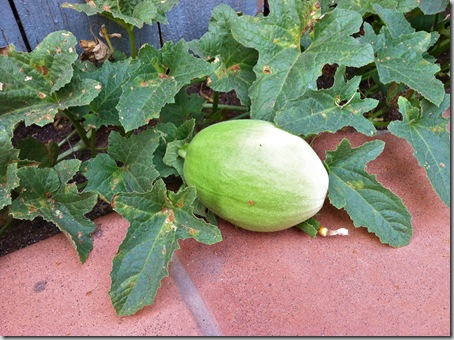 So cool!
I have no idea where this random vegetable came from or what it is (I certainly didn't plant it), but it's really exciting.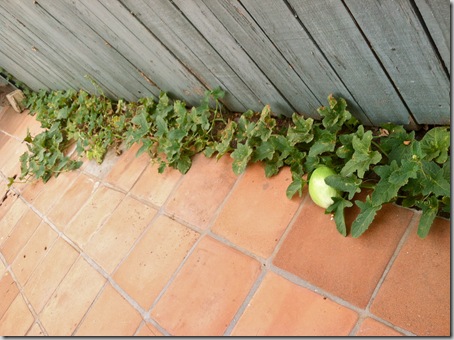 If you can't tell from the photo above, they're pale greenish with white ends and faint zucchini-like stripes.  They're big though, between the size of a mango and a spaghetti squash.  Anyone know what the heck I've got growing?  There are four squashes (so far).  As you can see, the thing has made itself quite comfortable in our yard.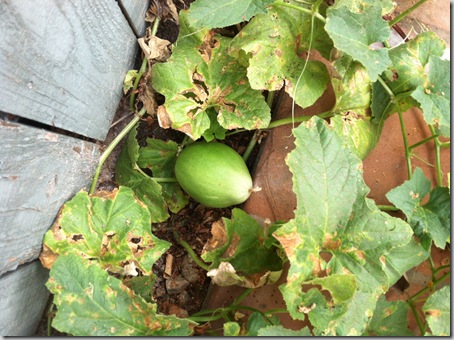 I can't wait to make something with it!  I just have to figure out when it's ripe since I don't know what it actually is.  Help!