A little background for this photo…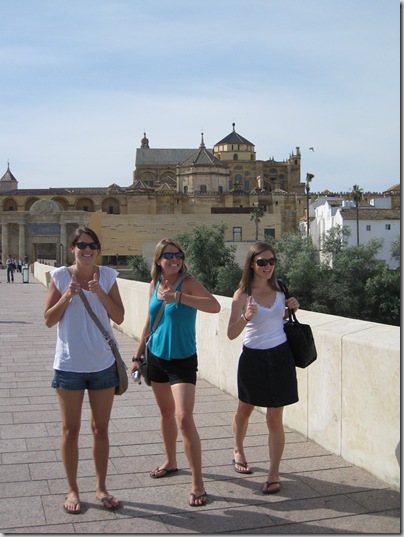 Mom: Stop walking and look like you're having fun.
Having less than 24 hours in Cordoba made for an exhaustingly packed schedule, so that's why our enthusiasm doesn't completely leap off the page.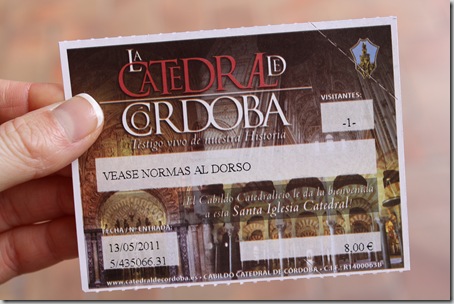 After lunch, we headed to the Cathedral (Great Mosque), which is basically the reason people go to Cordoba.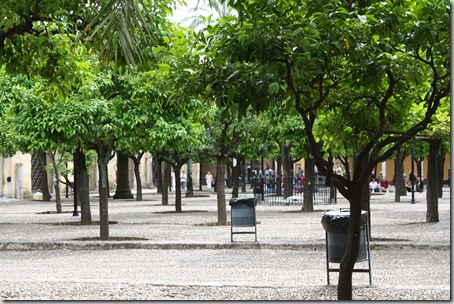 This is the Patio de los Naranjos, a courtyard of orange trees inside the mosque.  [For the rest of this post, I'm going to use the terms Cathedral and Mosque interchangeably because it has been back and forth under Catholic and Islamic control so many times in history I don't really know what to consider it]
It's pretty.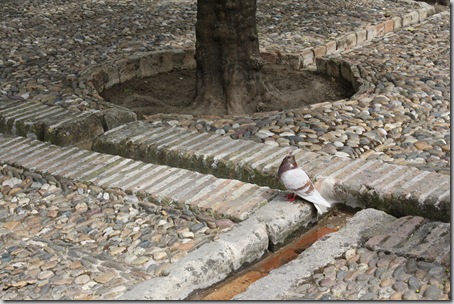 Random tidbit (that you didn't ask for): the grooves in the ground to collect rain water were invented here.  Or so the story goes. 
Can't you see how thrilled we all are with the history lessons?  Never thought buying my mom a kindle would backfire – but apparently Rick Steves makes ebooks.  Lucky us!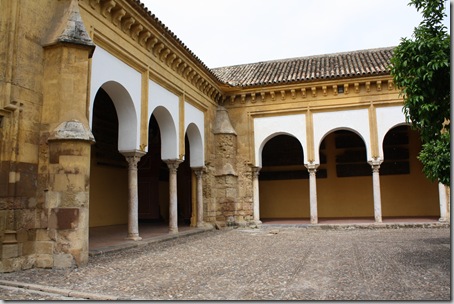 This is the entry.  I got turned away the first time I tried to go in because my shoulders were exposed…but I ran to our hotel (less than a block from the courtyard's entrance) to grab a scarf.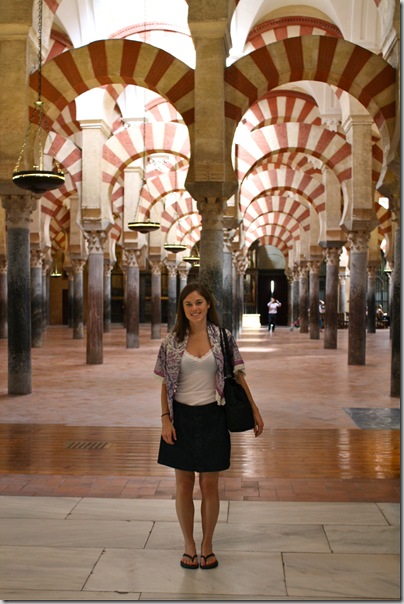 My lack of posing can be blamed on the fact that I stopped watching America's Next Top Model back in cycle 5.  And when I say stopped watching, what I really mean is Kyle has banned Tyra Banks from the apartment.  I don't blame him though, she's pretty annoying.  My statuesque look isn't great either.  I'll work on it.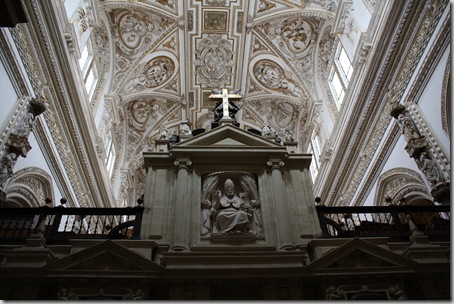 These photos will never capture the impressive grandeur of the cathedral's inside.  It's like seeing art in a book vs. seeing it in real life.  It blows your mind when you realize it does, in fact, exist.  And it's so much cooler live!  And then your jaw completely hits the floor once you realize it has been around for-eh-ver.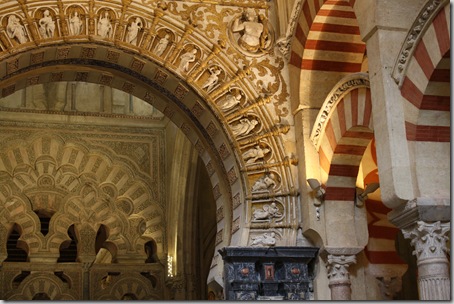 The Muslims had some style.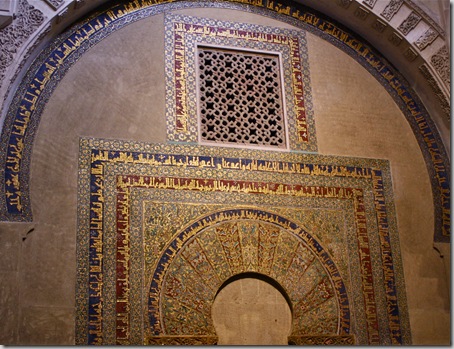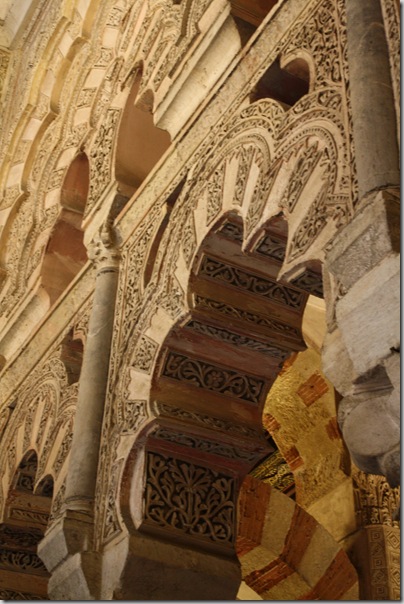 I really loved the arches and stripes…although it was odd to see them with all the crosses.  There were a LOT of crosses.  I felt like the Christians went overboard when they (re)conquered Cordoba and transformed the church into their own place of worship.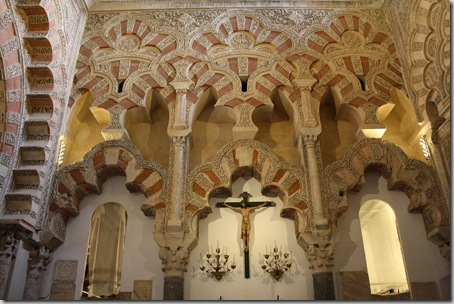 Seems weird (yet surprisingly tolerant) that they left the conflicting symbols and decor of both religions.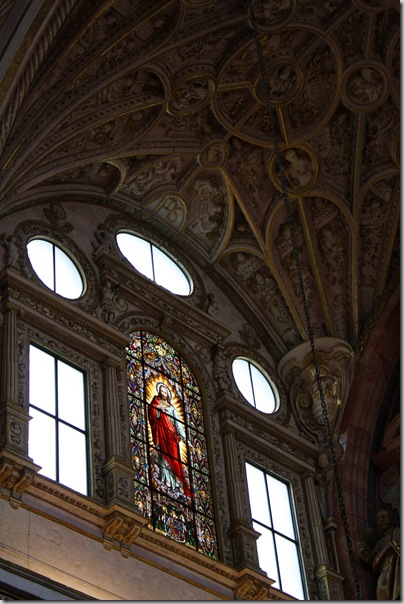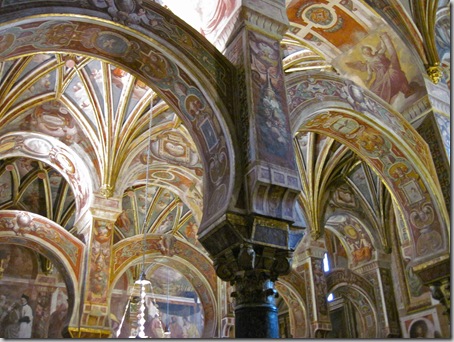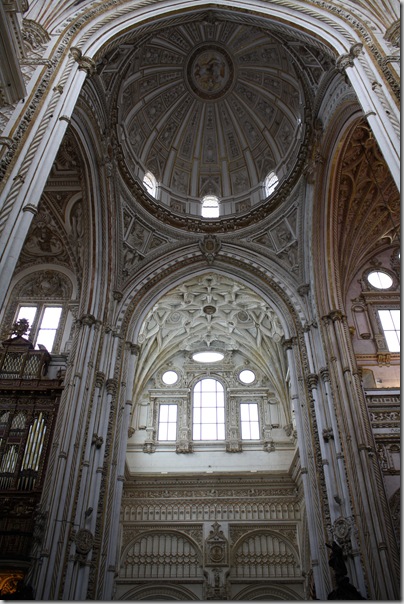 The mosque slash cathedral was definitely worth the day trip.  It's quite the sight and I'd say we spent a good hour+ checking it out.
After we left, we wandered in no direction, taking photos all the way…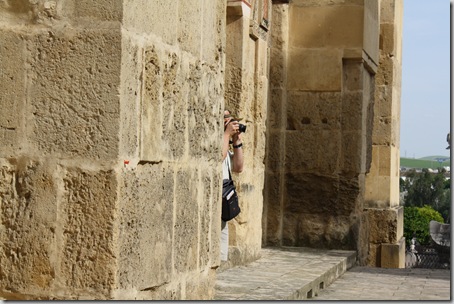 I'm not sure what the deal with my dad's hide and seek photography is all about…he either thought he was hired by National Geographic prior to the trip or that his being in unique positions translated to equally interesting subjects on film.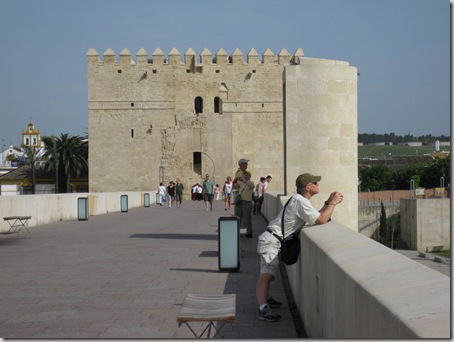 Oddly, I have a lot of pics similar to the above.  But even more similar to the one below.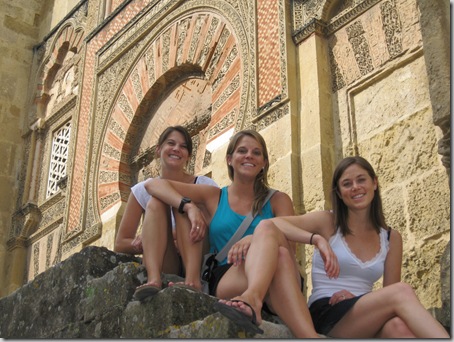 After we walked from one side of the bridge to the other – and back again, we decided sangria was pretty much the best idea ever. 
We went back to the hotel to got a deck of cards first, and then we plopped down at a cute outdoor cafe for happy hour.  After 2 pitchers worth of cards we decided it was high time to mobilize ourselves for dinner.
It just so happened that our time in Cordoba aligned with the weekend of the May Crosses festival. 
"Every spring Cordoba bursts into bloom with special festivities for the month of May.  It starts off with a parade known as the "Battle of the Flowers" and is followed by the Patio Contests." 
I won't go into the history behind the monthly celebration, but it's a big deal.  People travel from all over to see the beautiful display of colorful flowers, stone mosaics and ceramic decorations.  All the courtyards are open to the public, revealing a visual feast of flora and fauna.  We saw so many gorgeous patios!  Given the timely celebration, where else would we go to eat?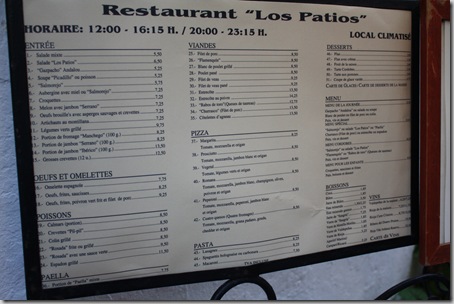 We were uncharacteristically decisive.  By 9:30 pm we had bread, wine, and first courses.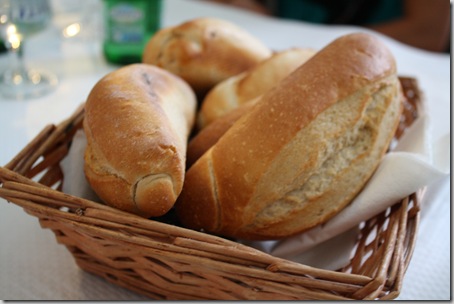 I got my same lunch order, salmorejo and tortilla. as main courses.
The salmorejo was excellent (I gave the egg and ham on top to my dad).  The tortilla looked good, but upon first bite I sensed something was "off".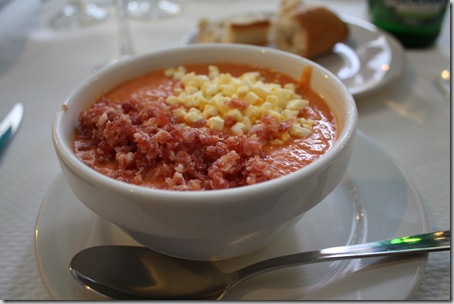 It's atypical for my stomach to be so immediately reactive, but this was definitely not normal. 
I ate half and then cramping took over.  Needless to say, I wound up in the bano later that night.  The rest of the meal was fun though.  We chatted up (all three of us sharing our future hopes/dreams/plans with each other) and the hours passed by.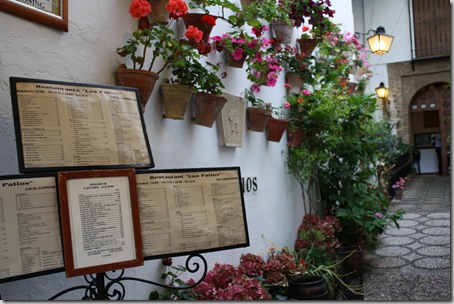 How cute is the restaurant's patio entryway?  I think the pots on the wall look is adorable.  It's definitely a Andalucía thing.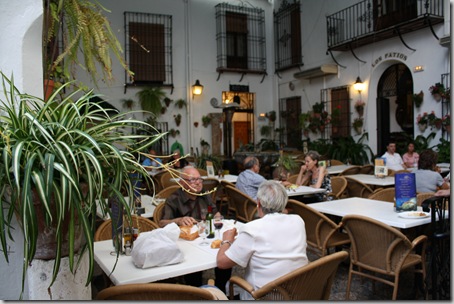 The inside of the restaurant was just one big open courtyard with no roof – just the sky and a loose partial awning.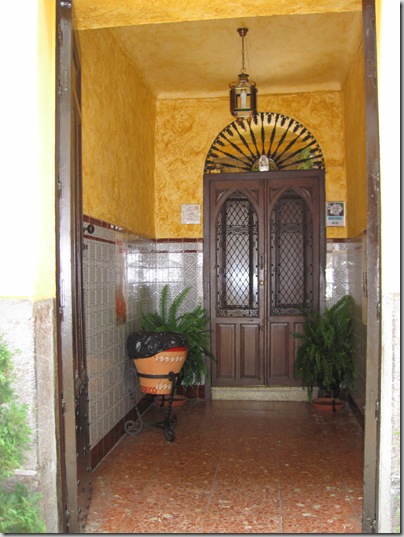 Now.  The real drama occurred when I attempted to shower back at our "quaint" hotel.  Ugh.  This place was 2 stars but even that's a stretch.  The nozzle wiggled out of the holder like a crazy a$$ snake as soon as water pressure started up.  And so I held the thing, alternating hands as I cleaned myself.  On it's own, this isn't so terrible; it's a Euro thing that I've dealt with before.  But.  The door was broken and so only 3 of the 4 sides of the shower were enclosed.  Not ideal to say the least.  Did I mention it was 1 foot by 1 foot in area?  So cramped!  I may have flooded the bathroom.  It's really a good thing we were only spending one night in Cordoba because after that first shower attempt, I may have opted to stay stinky rather than go for a second attempt.  
Addendum: I forgot to mention the texture of the towel.  If sandpaper had a cousin in the linens department, this hotel was their number one customer.  Air drying please!
Euro showers: which do you prefer – a nozzle that detaches or a wall mounted one?  Or maybe you're a bidet person?  Ha!
Elise September 30, 2011 spain, tortilla espanolaspain Read more >