Going into the weekend I had all my meals ready to go.  Starting with Thursday night, I made a typical hippie bowl.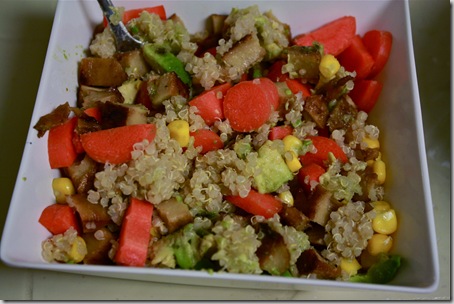 If I had to choose a combination of ingredients to eat forevermore it would probably be these: quinoa, carrots, corn, seitan, avocado
I recently got a question about the ratio of grain to veg to protein in my "hippie bowl" type meals. 
In all honesty, I don't consciously compose them with a specific ratio in mind, but if I had to guess I'd say it is pretty much 1:1:1. 
Sometimes I use less protein, in which case I add more fat (avocado, nuts, etc.) to give the carb-heavy meal some staying power. 
As an aside, I add nutritional yeast and/or Bragg's liquid aminos 99% of the time after taking photos of the dish.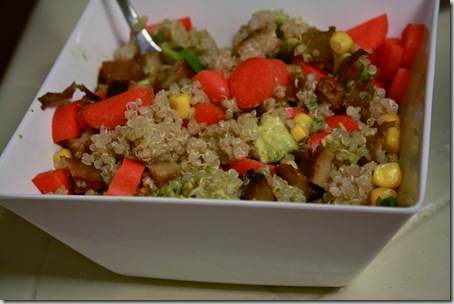 Yeah, this is definitely a meal I could eat seven days a week. 
I made the same thing for lunch the next day. 
The only change was the addition of teriyaki tofu (because I didn't have much seitan left).
I also made another tupperware version of the dish to have on standby for either a post-work dinner or bring-to-work lunch.  See?  Prep queen.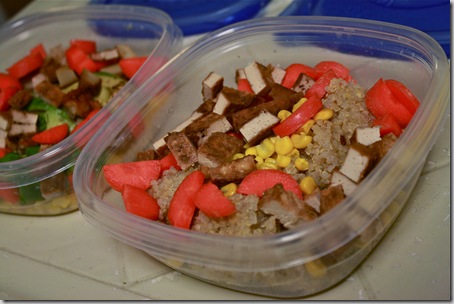 As you can tell from the picture, it didn't have avocado at the time, but I added spinach and avocado to it right before it was consumed (which ended up being the following night).  After a long day at the hospital, there is nothing more satisfying than a fabulous meal all ready to go. 
So, back to work food.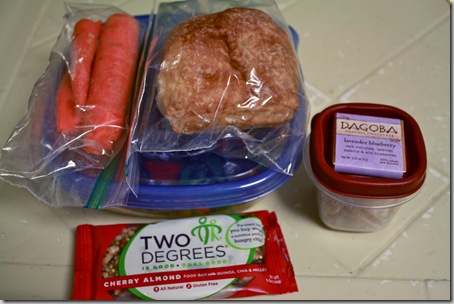 I got this Cherry Almond Two Degrees bar in my latest Lollihop box and as far as I can tell it's ingredients are totally FODMAPs friendly.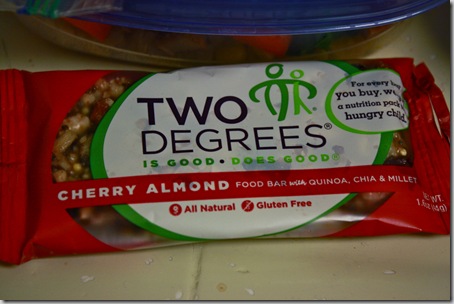 The coolest thing about this company is that they are committed to making an impact on childhood hunger.  For every bar you buy, they provide a meal for a hungry child.  What an honorable mission (you can read more about how they work with non-profits here).  What an easy way to support a great cause.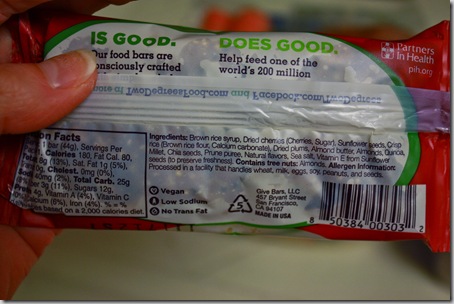 The cherry almond flavor kinda tasted like peanut butter and jelly.  It was good and my GI system was a-okay after eating it.  The only FODMAPs are from the dried fruit, which is in a small enough portion that no symptoms resulted.
I will definitely be buying these again.  Who would have thought a delicious snack could do good.  There's really only 2 degrees of separation between you and a hungry child thanks to this company.
For breakfast, I made quinoa porridge. 
After the previous week's crock-pot steel cut oat success, I decided to try another grain in the slow cooker.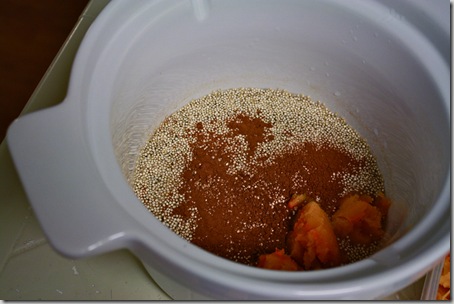 Quinoa Squash Porridge
[vegan, gluten free]
1 cup quinoa
1/2 cup butternut squash puree
1 T cinnamon
1/4 cup raisins
1 cup unsweetened vanilla almond milk
3 cups water
I added everything together, stirred it all up and let it cook 7 hours on low heat overnight. 
Then I woke up to this…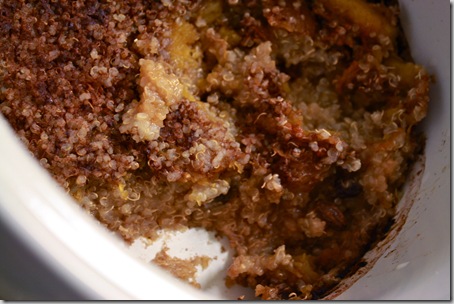 Yum!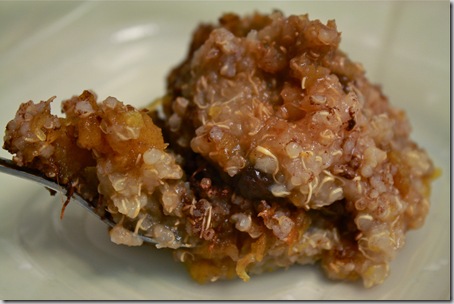 Butternut squash gets so so sweet when it's left to cook slowly over such a long amount of time.  It was already cooked before I added it to the crock-pot, but it was almost caramel-y after slow cooking the night away.  Cinnamon and quinoa and raisins on top?  Yes please.  It was almost like pumpkin pie. 
Needless to say, I got some odd looks when I busted this one out at work.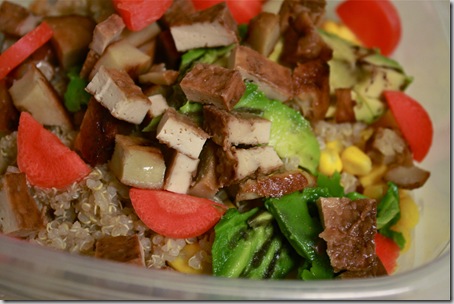 My lunch was much more break room acceptable (not that I eat lunch in the break room).  I soaked up the 80 degree weather outside while digging into my lunch leftovers.  After my shift ended I headed home to my previously tupp-ed up dinner.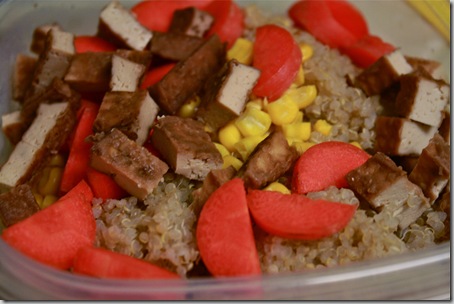 Exhibit A + avocado and spinach.  Dinner.  Done.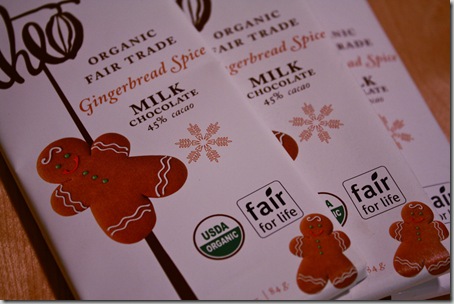 I stocked up on seasonal Theo chocolate bars (Gingerbread Spice and Nutcracker Toffee) and cracked one open for dessert.  A little goes a long way with these bad boys. 
The next morning was especially lovely.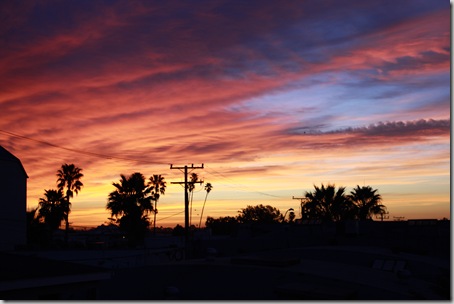 Made even more lovely by the easy peasy breakfast sitch.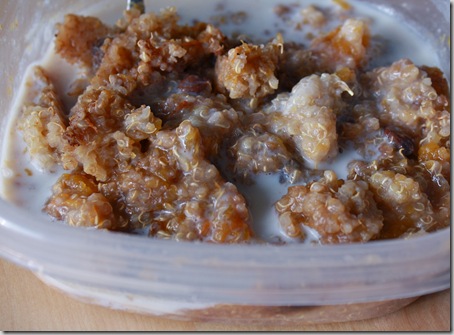 Course deux of quinoa squash porridge with extra almond milk.
I headed off to the hospital, pre-packed eats in tow.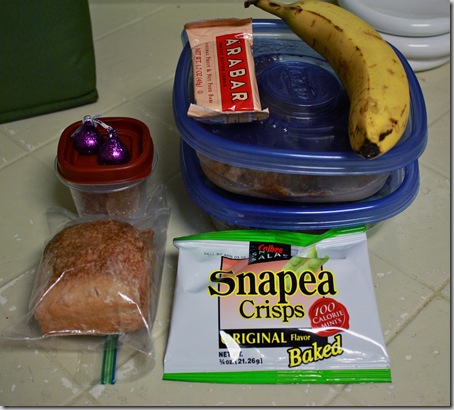 Weekend warrior.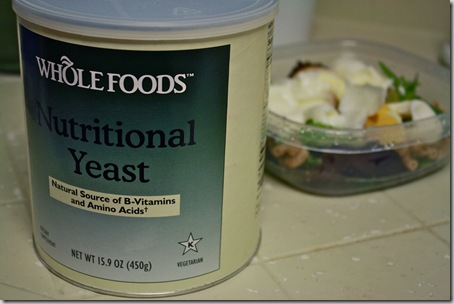 My lunch course had spring greens, macaroni noodles, soft boiled eggs, and nutritional yeast on top.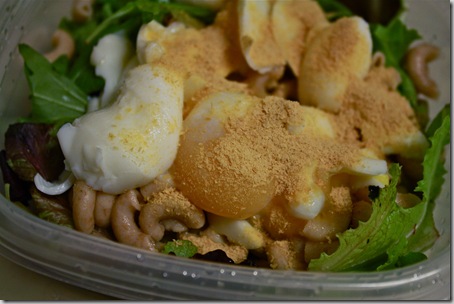 I had to refill my nooch stash after making so many seitan logs and quinoa quiches this past month, hence the massive tub from WF. 
The rest of my food (above) is self explanatory, but I did want to mention the Snapea Crisps.  I've seen these products before, but I can't recall where (Ethel, were they yours?).  In any event, I'd never tried them before but they intrigued me.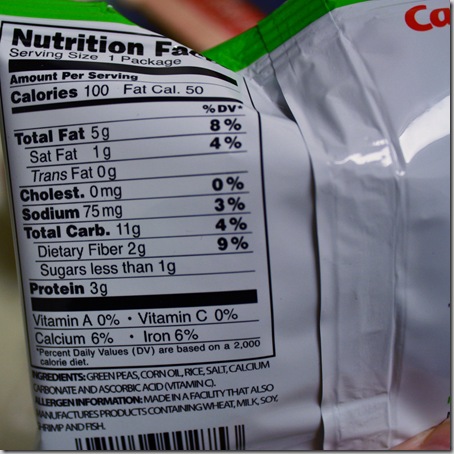 I got the sample size in my Lollihop box and based on the photo, I was expecting some kind of "healthy" soy bean fry thing.  Clearly I'm an idiot, since the product name has "peas" in it.  It also says "baked" on the wrapper.  So far I'm 0 for 2. 
Ingredient check?  Wholesome enough.  FODMAPs friendly and vegan. 
They are basically crispy peas that have been baked in oil and salt.  In a blind taste test, I'd doubt I would have known they were peas at all.  They tasted airy, yet left my fingers greasy.  But they were delicious. 
Now I have to go on a semi-rant about the whole 100 calorie pack thing.  It's so stupid!  First of all, it's the opposite of environmentally friendly.  Secondly, the idea that calorie-controlled snack bags are somehow healthier is such a lie.  Who cares that there are just 100 kcals in a pouch?  If the pouch is filled with 6 mini Oreo cookies, you're still eating Oreo cookies.  Hydrogenated fats and HFCS don't vanish just because you are eating a small amount of them.  I've also read studies that people eat several packs at once because one isn't satisfying enough which results in more calories consumed than if they were eating out of a box and just stopping when they were full.  Rant over.
Snapeas are yummy, but I don't know how healthy or filling they really are.  I think they'd be a good topping to a salad, to give it some texture variety and crunch, but otherwise I'm not sure if I'd buy these again.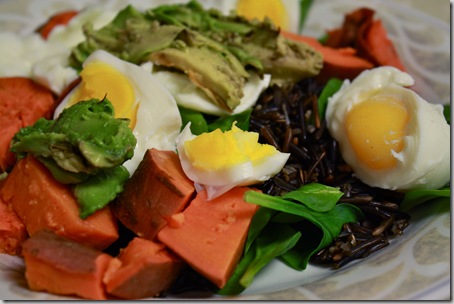 After work I threw together a hippie plate of spinach, wild rice, soft boiled eggs, sweet potatoes, and avocado.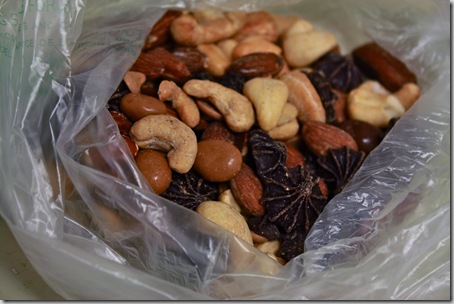 I had nuts and chocolate for dessert, laid out my scrubs, packed my food, and then hit the sack.
Shift three started with a cookie.  A double chocolate chunk cookie to be exact.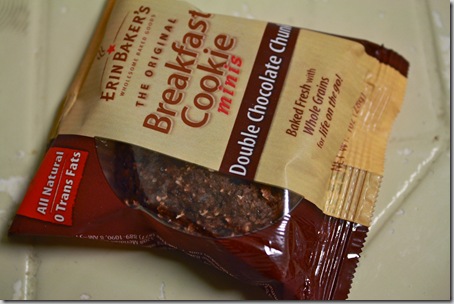 A few days ago I got a package of treats by Erin Baker's wholesome baked goods.  It may seem unconventional to start the day with a cookie, but if you look at the ingredients, they are basically as healthy as a bowl of oats.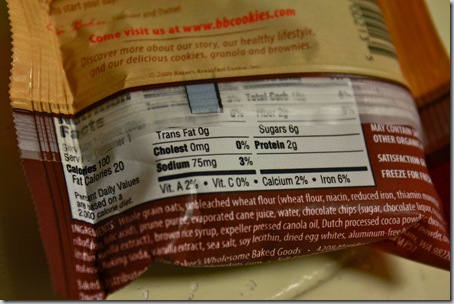 This is the mini breakfast cookie, which has just 100 calories.  I had it on the way to the hospital with my coffee knowing that I'd have another more substantial breakfast in a few hours.  I wasn't really expecting much but it was soft and chewy and chocolate-y and really really good!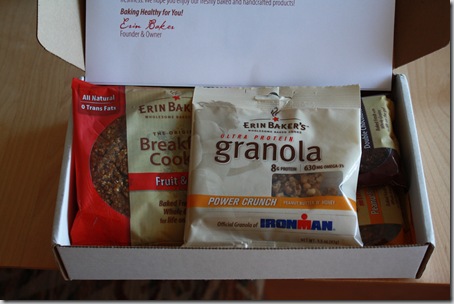 I can't wait to try the granola and other flavors of breakfast cookies next!  Check out the rest of their products…the flavors will have you drooling in no time (gingerbread? yes please!).
Anyway, after I assessed my patients, gave meds, sent labs, hung heparin, yadda yadda…it was time for breakfast number two.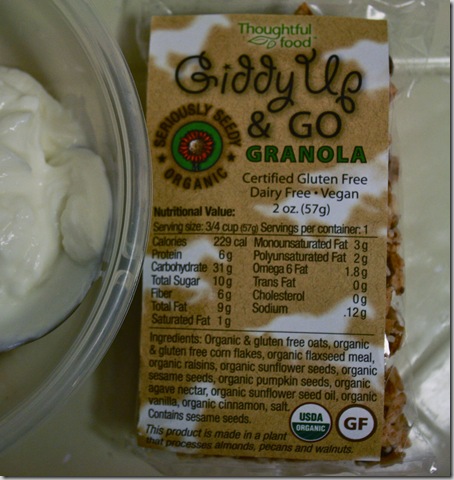 Plain greek yogurt topped in another new (to me) product. 
Giddy Up & Go granola is vegan, nut free & gluten free and packed with all my favorite seeds.  The most interesting thing about it was that it had GF corn flakes in it.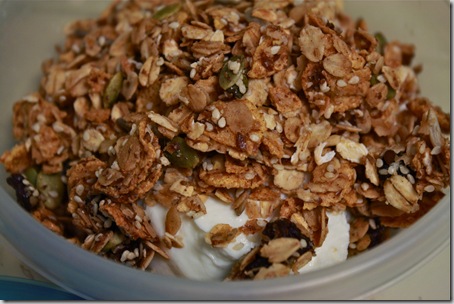 I've never thought of adding cereals to my granola, but this was really delicious and might lead to a new home-made recipe.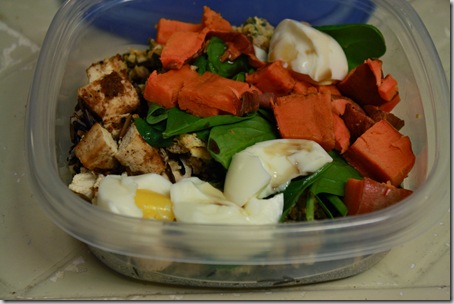 Lunch was essentially the same as the previous night's dinner (spinach, sweet potatoes, eggs, and Bragg's), plus leftover quiche and tofu.
I had a similar dish for dinner with the mac 'n cheese I ordered to-go from The Veggie Grill. 
Time for your input:
What are your thoughts on 100 calorie packs? 
Cookies for breakfast – yeah or nay?
Are you content eating the same thing for multiple meals in a row?
Elise January 31, 2012 avocado, chocolate, eggs, nooch, potatoes, quinoa, seitan, spinach salad, squash, tofurecipe, work meals Read more >