Making breakfast at night for the next day is dangerous.  Because no matter how full you are, the aroma of baked stuff is just too powerful.  This is Kyle's reaction to the strata coming out of the oven.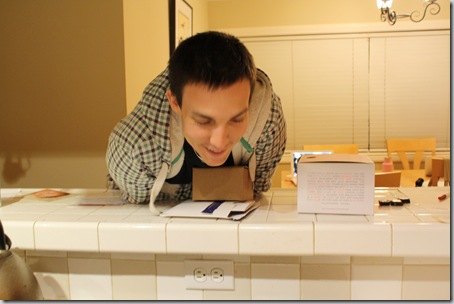 He said (and this is a real quote) "I'm just going to take this upstairs into bed with me now, okay?".  Uh, no.  Not okay.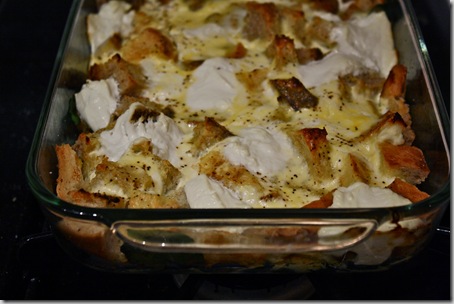 "Pleaseeeee?"
The weird part was how much this smelled like butter.  As it was baking, I checked on it a few times (more times than I normally would have) because it seriously smelled like cookies or something in the pastry realm.  For the record, butter smells really good.  And so does this strata.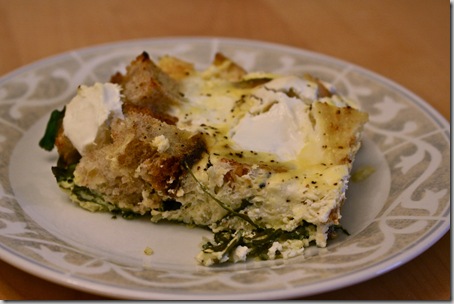 If you're unfamiliar with what a strata is, here's a link.  It's basically a casserole type dish that's primary ingredients are bread, eggs, and cheese.  Like a savory bread pudding.  It's really easy to make.  Perfect brunch option if you're cooking for a crowd.  Or Kyle.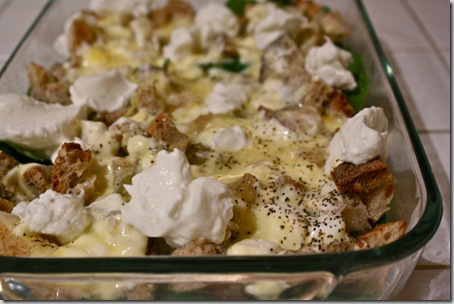 You can assemble it in advance and then bake it right before you want to serve it.  Or you can bake it the night before (like I did) and simply re-warm it in the oven (~150 degrees F for 20 minutes) the next day.  Either way, the kitchen will smell great and everyone's bellies will be happy.
Vegetarian Spinach & Greek Yogurt Strata [for a 7×11 baking pan]
Ingredients:
~4 oz. spinach (enough to cover the bottom of your baking pan)
2 cups plain Greek yogurt (divided into 1 1/2 cups + 1/2 cup)
5 eggs
~5 pieces of (old) bread, cubed
1/4 cup plain almond milk
1 tsp garlic powder
1 tsp onion powder
salt & pepper (to taste)
Directions:
Pre-heat oven to 350 degrees F.
Spray pan with nonstick and then cover with spinach. 
Next layer on cubed bread pieces.  Using fancy breads is always encouraged (some of mine was scallion herbed bread, the rest was a combo of sourdough and wheat).  I bet focaccia would be bomb.
In a separate bowl, combine eggs, 1 1/2 cups greek yogurt, almond milk, garlic & onion powders.  Mixture doesn't have to be totally uniform.  Pour into the pan, trying to distribute it evenly. 
Spoon the remaining 1/2 cup of greek yogurt throughout the pan to fill any gaps.  Then salt and pepper as desired.
Bake for 35-40 minutes (watch top to make sure it's done cooking, but isn't getting too brown).  Broil for the last minute or so if you want to get a nice crispy top.
Here's the play-by-play with photos.
All ready for the oven!
Like I mentioned above.  I made this before we went to bed and just warmed it in the oven the next morning.  I was actually pretty daring and left it in the oven while running to the car dealership to drop off our car for an oil change.  Thrilling life I lead.  Granted the oven was on it's lowest setting (~150 degrees F), but still, it makes me nervous.  Maybe next time I'll try this in a crock-pot over night?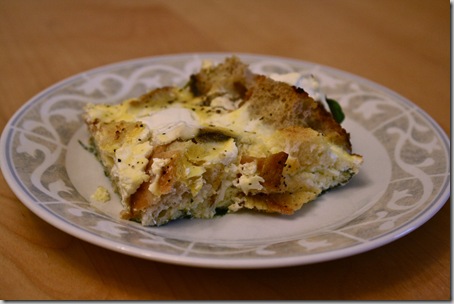 I liked it, but Kyle loved it.  So much so that he had it for both breakfast and lunch.  We both agreed that the greek yogurt somehow tasted like fancy cheese.  I don't really know how to explain it, but it managed to take on a rich flavor that was pretty awesome.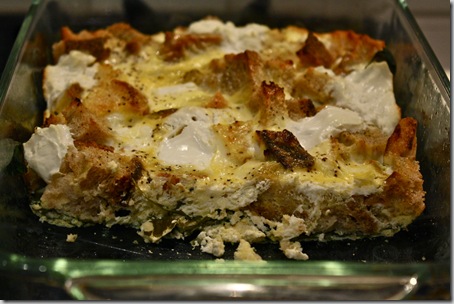 Notes: after Kyle had his way with it, there wasn't much left.  I'd recommend doubling this recipe if you're serving a crowd. 
I also think it would be good with some vegan sausage (tofurky or Field Roast) just to give it something extra.  Although there's definitely nothing wrong with simple.  I mean, this recipe is a winner for sure and it's also a nice perk that you may already have all these things on hand. 
My mom also makes an awesome asparagus and mushroom strata, for which the recipe is posted here. 
Elise January 2, 2013 chobani, eggs, greek yogurtrecipe Read more >