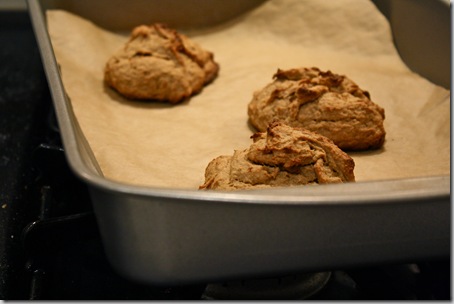 I made these a while ago but I guess I just forgot about them. 
Just like the batch of two scones I made, this recipe had a small yield.  Only three biscuits, actually.
I guess they're biscuits.  They're not as buttery though.  More like baby banana bread rolls.  Who knows. 
I had them for breakfast, sometimes plain, sometimes with nut butter.  But they'd be good with Earth Balance and jam too.  That was my favorite toast topping growing up.  Not butter OR jam, butter AND jam.  Did anyone else do this too?  Is this combo a hippie special or something everyone knows about?  It makes sense.  Sweet and savory are pretty awesome together. 
Ok, the recipe.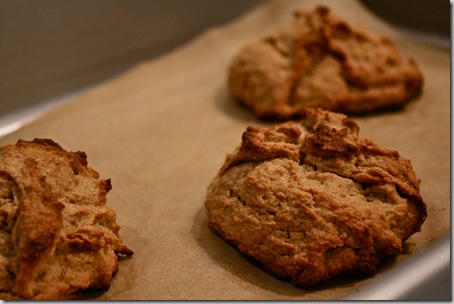 Banana Bread Biscuits [vegan, gluten free, yields 3 rolls]
Ingredients:
1 banana, mashed
2 tbsp vegan butter
1/2 cup + 2 tbsp oat flour
1/2 tsp baking powder
2 tbsp coconut sugar
Directions:
Mix dry ingredients in one bowl (flour, baking powder, sugar) and wet ingredients in another bowl (banana, Earth Balance). 
Combine until just incorporated (don't overwork the dough).
Divide into three portions and drop onto a baking sheet that's either greased or lined with parchment paper.
Bake for 18-20 minutes at 375 degrees F.
Notes: Feel free to use all purpose flour if you don't care about the recipe being gluten or wheat free.  Coconut oil could be used in place of vegan butter, cane sugar could be used in place of coconut sugar.  Cinnamon or raisins might be a nice addition.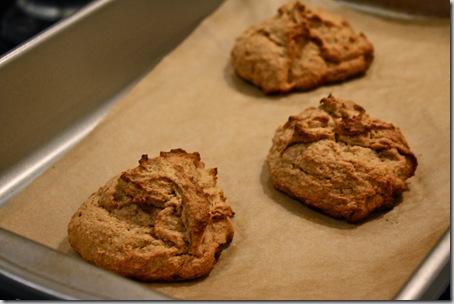 Elise January 6, 2013 banana, earth balancerecipe Read more >