Guess what we had for dinner on Cinco de Mayo?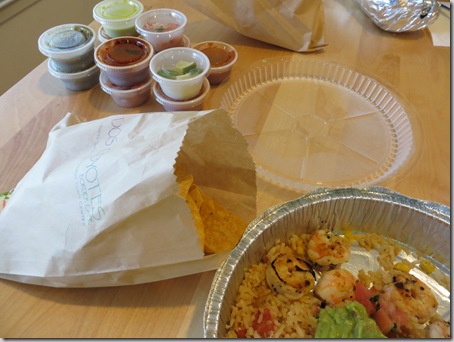 I know it's totally cliché (but I don't really care).  Kyle's been talking Dos Coyotes up since we moved to Davis and I figured the 5th of May was as good a time as any to try it out.  Plus, Kyle had been out of town and was due to arrive home in the early evening that day.  So not only was the fridge close to empty in terms of fresh groceries, but his welcome home was also worth celebrating. 
But really, who needs an excuse to eat Mexican food? 
Kyle picked up the grub after we phoned in our order.  I told him to get lots of yummy salsa…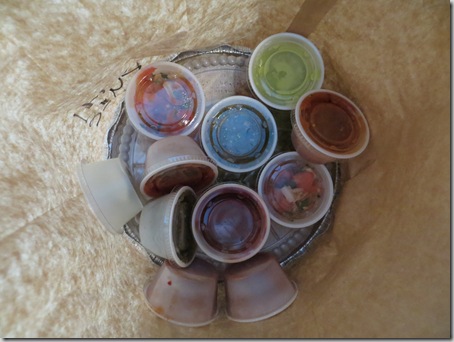 And apparently he took the request very seriously.  My salsa.  🙂
The weird kermit colored green one was bizarre tasting.  I think it was cactus.  No me gusta.  But the other green one was bomb.com delish.  It was kinda sweet which sounds weird but it was definitely my favorite.  I gave Kyle a taste, but dumped the rest of both all over my meal.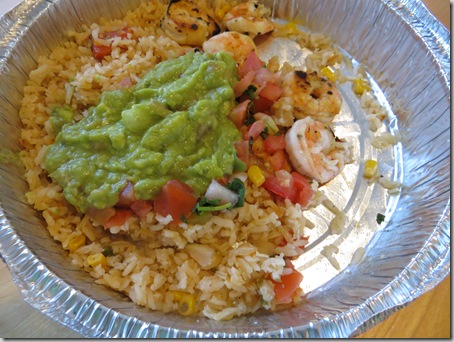 I got the shrimp burrito bowl (minus the cheese and sour cream).  It's designated as a gluten free option (which I'm impressed Dos Coyotes had marked on the menu) and it's basically the shrimp burrito without the flour tortilla.  I asked if I could get more guacamole since I was nixing the dairy, but they said no substitutions.  Lame.  I hate when I pay the same price for a cheese-less version of a dish and can't get anything else swapped in. 
The other issue I had was the size.  Honestly, I was expecting more food.  It was yummy, but not filling enough.  I even added (my own) lettuce, and I still ended up chowing on a pound of tortilla chips afterwards.  Oops.
I'm not talking about the chips from Dos Coyotes either.  Those weren't salty enough and had grease ball written all over them so I stuck to the 365 white corn tortilla chips from our pantry.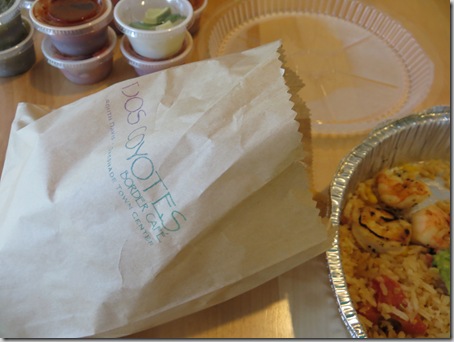 Kyle got the shrimp burrito (as an actual burrito, not a bowl) and I was pretty jealous of both it's size and cheesy beauty.  Next time I know to get more food because the bowl alone doesn't cut it.  They say their salads are big, so maybe one of those.  Or maybe I'll try to see if they can make me something with corn tortillas instead.  I know they do corn tacos, so maybe they can do a corn burrito?  They really do have a surprisingly broad menu – with separate vegetarian, gluten free, and "lite" menus.  Without dairy the veggie options are fairly blah.  But I was impressed that in addition to shrimp, they have mahi mahi and salmon (seasonally).  I will for sure end up trying those. 
Anyway, this was my first restaurant review in Davis!  Can't wait to explore more.  Slowly (like, really slowly) but surely we are getting settled. 
Elise May 10, 2013 dos coyotes, mexican food, shrimprestaurant review Read more >