Is it weird seeing seafood on HHH?  It's weird to me.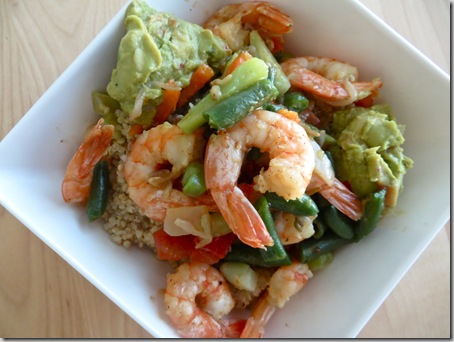 But for some reason it's not weird eating it.  Probably because I've been dipping my toes back into the world of fish for a while now.
This dish was fan-damn-tastic.  I'm tooting my own horn (even if it was Sandra Lee-esque in preparation).  I don't have time.  You don't have time.  None of us have any time.  This is as close to home cooking as it gets when you have a 3 month old.
Let's just jump right into the recipe.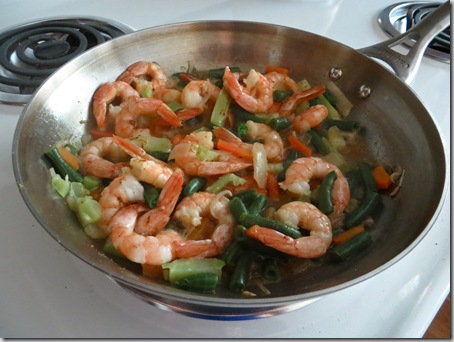 Quinoa Shrimp Fiesta Bowl [gluten free, FODMAPs friendly*]
Ingredients:
8 oz cooked shrimp
10 oz frozen veggies (I used a stir fry mix with green beans, broccoli, carrots, bean sprouts & onions)
2 tbsp olive oil
1 tbsp fajita spice mix (recipe following) + 2 tbsp water
3 cups cooked quinoa
toppings/garnish: pico de gallo, guacamole, lime wedges, cilantro
Directions:
Cook quinoa and set aside.
Heat a large pan with oil and add frozen veggies and shrimp.  [If your shrimp isn't pre-cooked, add that first and don't add the veggies until the shrimp is cooked.]
Cover with a lid so the steam helps cook everything.
Once veggies and shrimp have thawed remove the lid and add the seasonings and water.  I used a fajita mix from my father in law so it was preservative free and delicious.  There are plenty of spice rubs you can purchase from the store, but they're easy to make, too.
Fajita Spice Mix
1 tbsp corn starch
2 tsp chili powder
1 tsp salt
1 tsp paprika
1/2 tsp onion powder*
1/4 tsp garlic powder*
1/4 tsp cumin
1/4 tsp cayenne pepper
*Omit these to make FODMAPs friendly.
Reduce heat, allow seasoning to coat veggies and shrimp, and wait for water to cook off.
And that's it!  You could make your own pico de gallo and guacamole.  Or you can do what I did, and rely on Sabra to help you out.
*FODMAPs people, watch out for onions and garlic in your salsa.  Also pick a veggie blend that doesn't include onions (or just avoid them when serving yourself, like I did).
Assemble bowl: quinoa, shrimp stir fry, salsa/pico de gallo, guacamole, and fresh lime juice.
Now the photos…
Honestly, I think this is the first time I've ever prepared shrimp in my life.  I had no clue what I was doing, which is why I chose pre-cooked frozen shrimp from the co-op.  I'm happy to report it couldn't have been easier.  I didn't even bother taking the tails off.  I just plopped the whole ice block of shrimp in the pan and thankfully the lid helped steam it off and all was good.  Maybe soon I'll get adventurous and try getting fresh shrimp or uncooked shrimp.  Baby steps.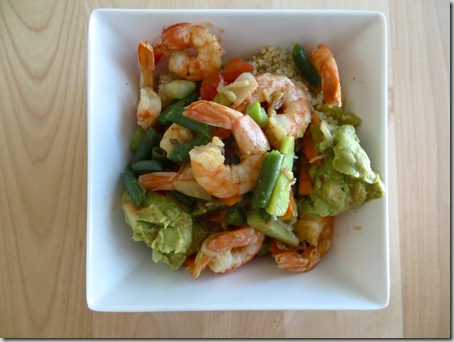 Anyway, how delicious does this look??
Kyle and I both looooved it.  There were zero leftovers and we were both completely full and happy.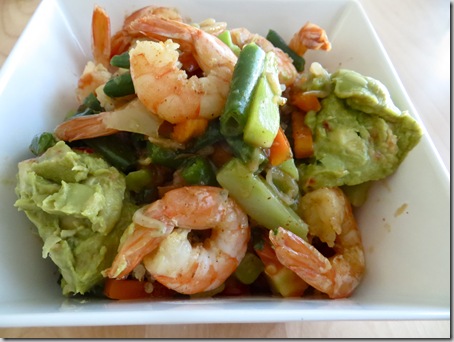 This was the spicy Sabra guacamole by the way and it had a nice kick to it.  Not too much heat, but it still let you know it's there.  Ordinarily I'm a plain avocado kind of girl, but Sabra's guac is my fave because it's got fatty chunks of avo in it.  None of that faux green mash.  I'm a California girl.  That fake stuff is just sacrilege.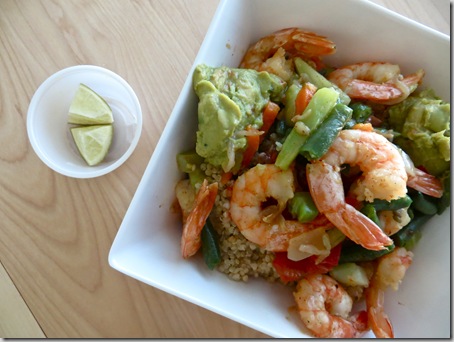 For the win!
Elise May 16, 2013 avocado, mexican food, quinoa, sabra, shrimp, stir fryrecipe Read more >