Whenever I get a recipe out in real time it's because it was so good I can't not share it immediately.  I basically dropped everything (except my son of course) to write this post.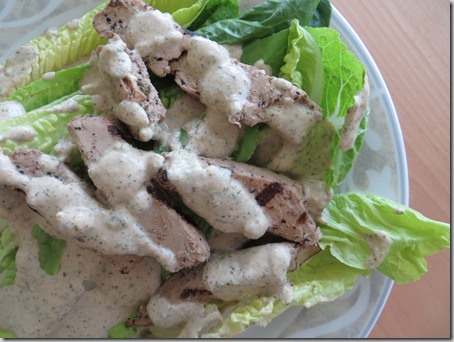 Now THIS is what I'm talking about!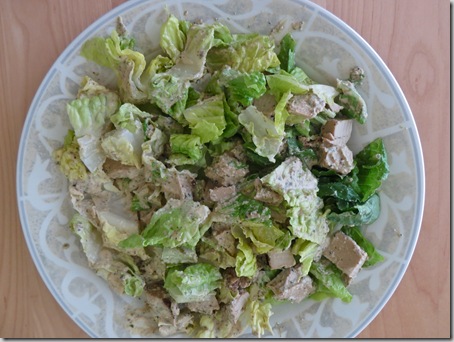 I rarely put much work into lunch.  It's my quickie meal of the day.  I throw together whatever.  Dinner is the meal I spend more time on, prepping and planning.
But this was a very worthwhile exception.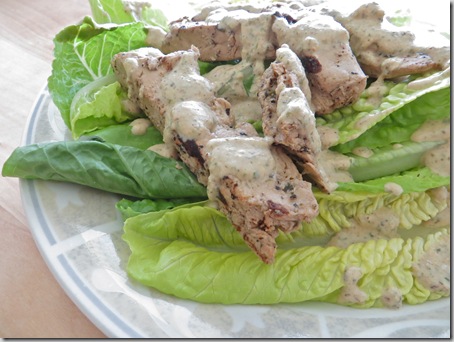 Sure it took a bit more work.  But actually, not really.
To me, the 90s were all about the Chicken Caesar Salad.  Maybe it was just a phase I was going through but I couldn't get enough of it.  I ordered it every single time we went out to eat.  Seriously, look at the menu next time you go out, it's always an option.
Obviously this trend ended once I realized I was intolerant of dairy.  Then I stopped eating meat.  So it's been a while since I've had a real Chicken Caesar Salad.  But the love affair is still burning strong deep inside me.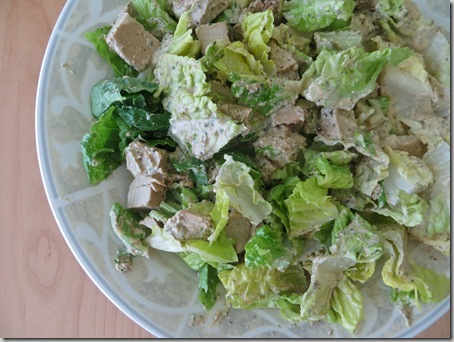 Now I am happy.
Because this is a vegan version that will blow your mind.  It blew mine at least.  I don't usually set out to veganize non-vegan meals because some things aren't able to be adapted.  And up until yesterday, I'd have told you the same thing about Chicken Caesar salads.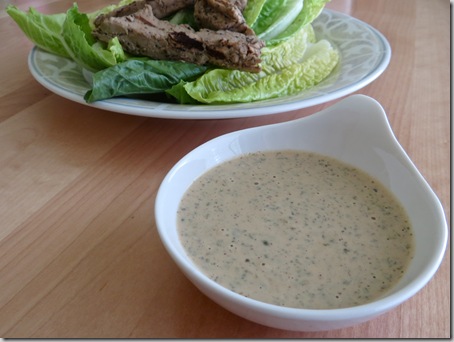 The dressing is FODMAPs friendly, too, by the way.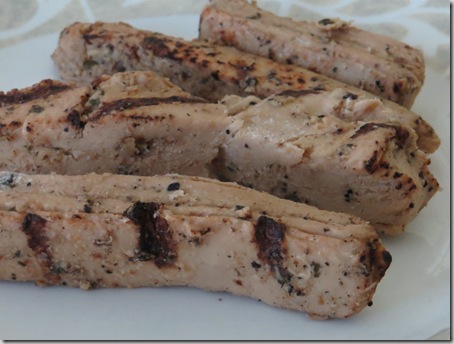 It's a tight battle for who's the star of the show – Beyond Meat's grilled flavor chicken-free strips or my home-made vegan Caesar dressing.  Both are gluten free and vegan.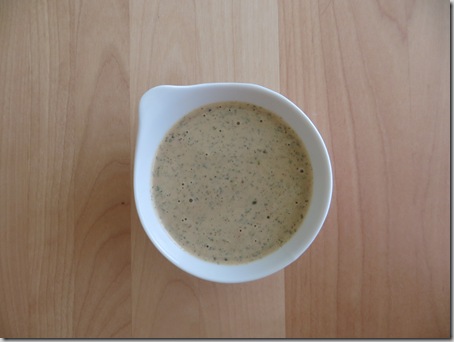 Can you believe this is 100% animal free?  The grill flavor is spot on.  It's so tasty.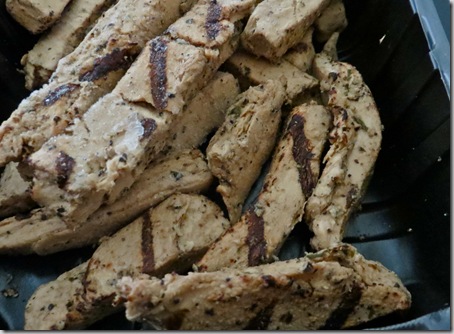 Seriously.  So.  Good.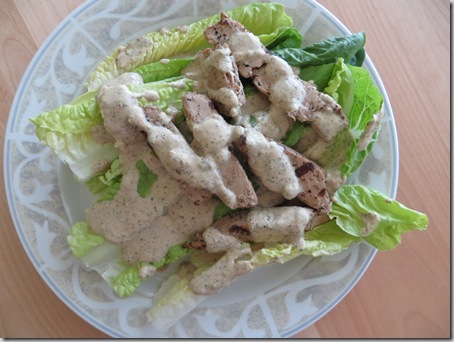 Vegan "chicken" Caesar Salad [vegan, gluten free]
Salad Ingredients:
~4 oz. romaine heart leaves
1/2 serving vegan Caesar dressing (see below)
Dressing Ingredients:
1/2 cup roasted (white) nuts, soaked >2 hours and drained*
1/2 cup water
2 tbsp nutritional yeast
2 tbsp lemon juice
1 tbsp tamari
3 pieces roasted seaweed snacks
salt & pepper (to taste)
Directions:
Make dressing by blending previously soaked (and drained) nuts and water.  Store in fridge to chill and thicken.  Then add the rest of the dressing ingredients and blend until smooth.
Pile lettuce and "chicken" strips onto a plate.  Top with dressing.
*Notes:
The longer you soak the better.  It will be soooo much creamier and smooth.  I soaked my nuts (a combo of brazil nuts, cashews, hazelnuts, and marcona almonds) for 10 hours.  Then I drained them, added the water, blended them, and refrigerated it overnight.  It gets much thicker when chilled so I highly recommend you don't skip the cooling step.  Plan in advance!  Start soaking for tomorrow's lunch now!  You can't over-soak the nuts.
Any combo of nuts will taste great.  I'm partial to a mostly cashew and brazil blend, but macadamias, hazelnuts, and marcona almonds all work.  I'm not racist, but the white smooth nuts are more creamy than the dark weird shaped nuts (ie walnuts, pecans).
If you don't have roasted seaweed snacks, half a sheet of nori seaweed will work, too.  Adjust (increase) the salt accordingly.
Beyond Meat is available at Whole Foods.  It's a fairly new product, but they are slowly getting into all the locations.  I just finally found them at my local Whole Foods.  I don't think they are at other grocery stores, but that may be changing soon since they are already making a huge impression on the vegetarian and non-vegetarian population alike.  They are the best faux-meat product I've ever tasted (I swear I'm not a spokesperson, I'm just obsessed with the company's product).
If you are FODMAPs sensitive and prefer to avoid pea protein then you could swap tempeh.  If you can't tolerate soy, you could bulk the salad up with quinoa.  Both will give you protein, they just won't replicate chicken as perfectly as Beyond Meat does.
Let's see some more photos…
I used these seaweed snacks.  gimMe is a new brand – organic, vegan, gluten free, FODMAPs friendly.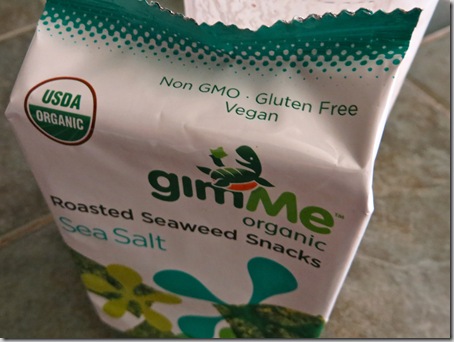 As you can see, the only thing in the sea salt flavor is seaweed, sunflower oil, and salt.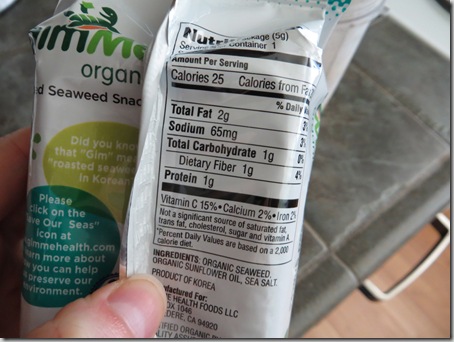 Unfortunately, they always cause me to break out into that Britney Spears song… "gimme, gimme, more, gimme more, gimme, gimme".  Kyle and I have this weird thing we do with that song.  If I sing "gimme gimme" Kyle finishes off the "more" in a weird voice.  You may think we are freaks.  You'd be right.
I used a few of the sheets in the salad dressing, but you can increase or decrease as you want.  I think it gives the Caesar that fishy flavor.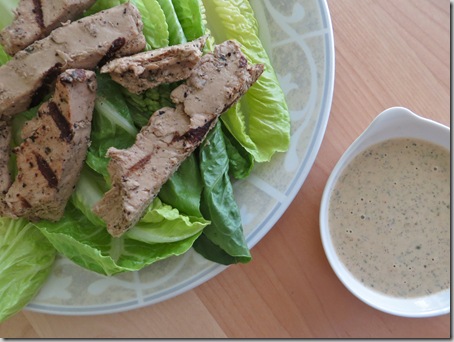 I'm already excited to make this again.  Aren't the 90s making a comeback?
Elise May 17, 2013 beyond meat, big salad, nooch, nuts, seaweedrecipe Read more >