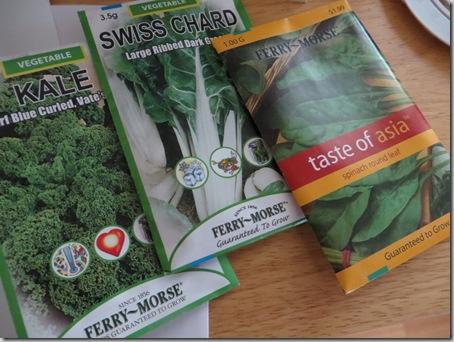 My garden is officially started.  Meaning it's in soil and I'm waiting (notsopatiently) for the yield.
I planted basil and parsley plants.  More basil from seeds.  And (the above) spinach, chard, and kale seeds.  I also have a (sweet 100) tomato plant.  And our lime tree (which made the move from Santa Monica with us).  Yup, I moved with a tree.
I'm so excited to get some free produce this summer!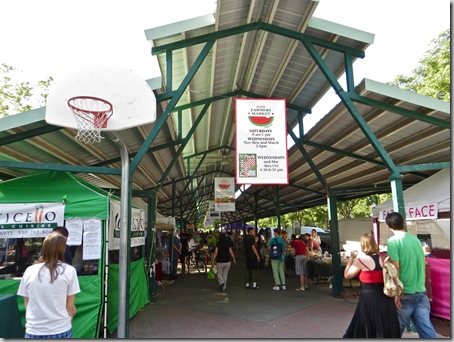 Kyle and I finally made it to the Davis Farmer's Market!  Geez.  Took us long enough! 
There are SO many things I can't wait to try.  Our fridge was already pretty well stocked, so I didn't get anything, but now that I know what they have I'm excited to menu and grocery plan around it.  There are some cool gluten free tortillas (made with chia and quinoa) and East West Gourmet (you know I couldn't resist getting a pumpkin Bolani).
But even more exciting is the vibe around the market.  There are lots of food stands and since it's next to a park, everyone picnics with their eats on the nice days (which is basically every day).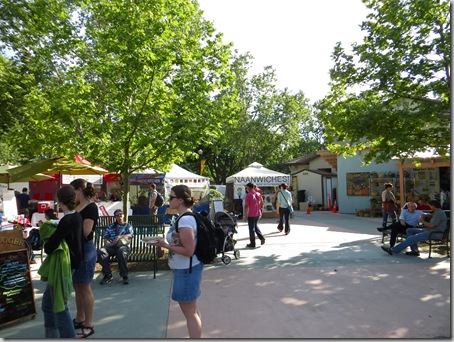 Kyle and I loved it so much we went back when his parents were in town a few days later.
Lots of food vendors I plan on trying: The Hotdogger (has vegetarian dogs and chili), Naanwich (I'm a big fan already), El Mariachi (Mexican food, need I say more), and definitely the ethnic cuisines (Raja's Tandoor, Kathmandu Kitchen, Thai Recipes).
Left: The Hotdogger's vegetarian corndog; right: Face Face's egg and goat cheese sandwich.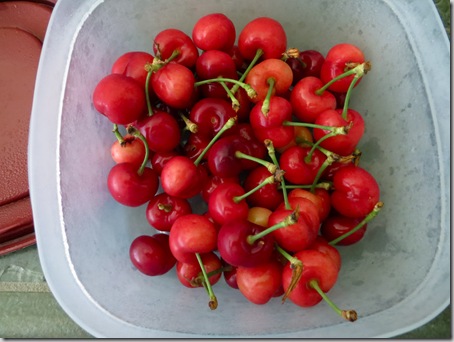 Our cherry tree's yield peaked and has now been completely demolished by the birds.  At least I got a decent stash during the height of production.  Enough to make a couple of crisps and snack on plain.  I still have a tupperware full in the fridge that I'm trying to make last.  They are high in FODMAPs though, so by default I kinda have to I'm savor them slowly.  It seems wrong to use them in a smoothie, but it sounds really good.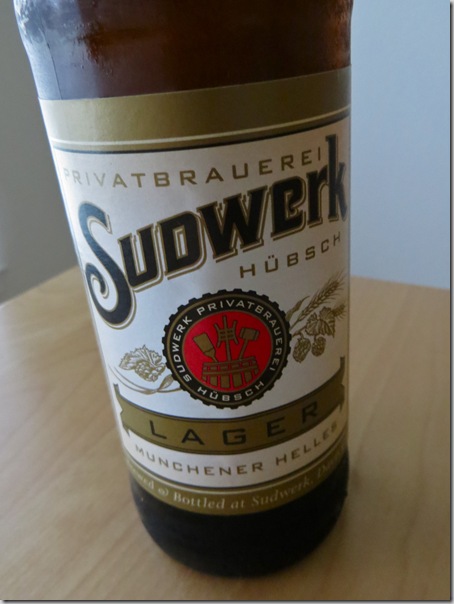 Local brew.  Kyle and I have the restaurant on our short list of places to try.  If anyone has been to Sudwerk and has recs, send em my way.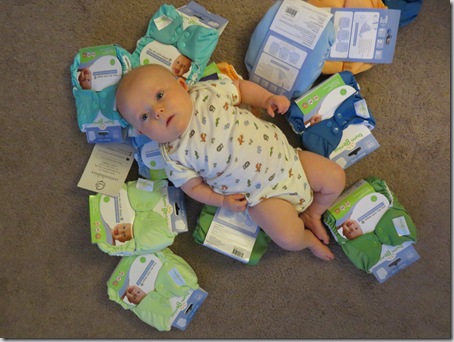 The rest of our cloth diapers finally arrived a few weeks ago so we've been exclusively cloth diapering for a while now and I'm happy to say it's going really well.
We do so much freakin' laundry already it's not an issue, but eventually I'd like to increase our stash even more.  We have 16 bumgenius 4.0 (snap) diapers right now.  I only bought 4 in the beginning just to see how it went and if we liked them (they're pricey so I wanted to make sure they fit and everything too).  They worked out perfectly, so I waited til there was a sale and then got 12 more (buy 5 get 1 free).  I got a super good price for them and so we are pretty much set for now.  I did a ton of research when it came to all-in-one diapers and the love for bumgenius was overwhelming and I have to say I'm a fan too.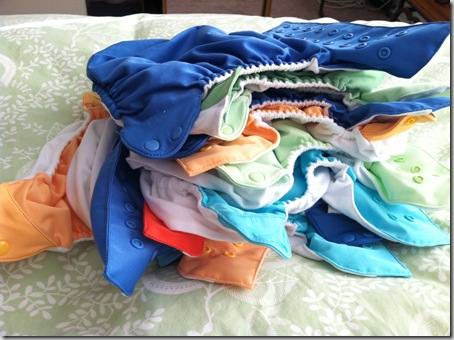 He's on the small end of the snaps so there's lots of room to grow.  The covers dry super fast.  And they're so cute!  Love a big 'ol diaper butt. 
Next up is transitioning to cloth wipes.  We are only waiting because we just bought a case of Costco's wipes, but once those are done it'll be cloth all the way.