The last few posts have had more elaborate (for me) meals, so I figured I'd throw a few of my stand by quickies your way.  I don't usually take photos of the boring repetitive meals because they're not that exciting.  But I don't cook fun things all the time and it's only fair to show my lame side (lest you think I'm super homemaker hippie). 
Eggs.  The cheap protein that can be the star of any meal in a minute.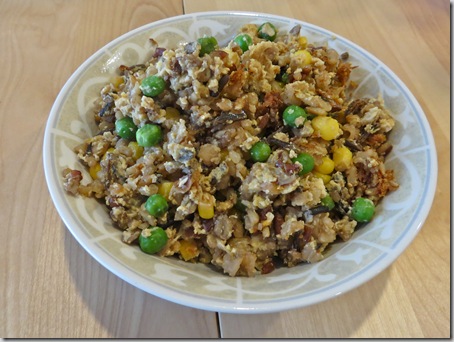 Basic Veggie Egg Fried Rice [vegetarian, gluten free, FODMAPs friendly]
Ingredients:
2 tbsp garlic infused olive oil (or 2 tbsp sesame oil + 1 tsp minced garlic for the non FODMAPs people)
3 cups cooked rice (I used wild rice but any rice will do, the older it is the better)
1/2 cup frozen peas
1/2 cup frozen corn
5 eggs
2-3 tbsp tamari
[optional garnish] 6 green onions/scallions, sliced (green parts only for FODMAPs people)
Directions:
Heat a large pan, add oil, then add rice.  Toss it and let it snap crackle and pop so it really gets crispy.
Turn down heat to medium and add veggies.
Once veggies have mostly thawed, crack in the eggs.
Scramble them into the mix.  Once fully cooked add the tamari and stir throughout.
Finally top with the chopped onions/scallions.
Notes:
Any veggies will work, carrots, broccoli, bell peppers, edamame, etc.  Get creative!  Likewise, any grain can replace rice, like quinoa, farro, couscous, etc.
For a vegan option, try tofu or tempeh instead of eggs.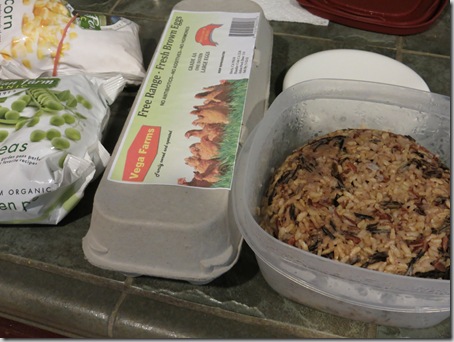 As long as you've made the grain in advance, this meal comes together in minutes.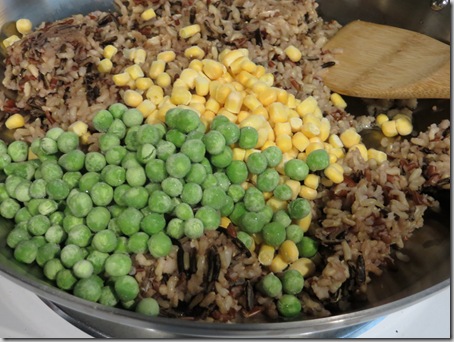 Look how huge Cascadian Farms' frozen peas are!  Normally organic produce isn't so massive.  I like.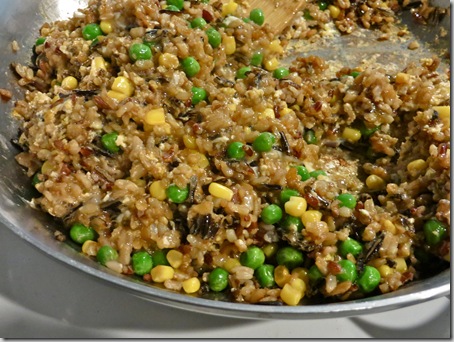 Action shot before the eggs are cooked.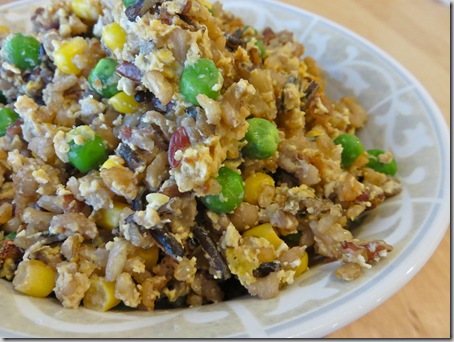 And voila!
The next one is just as simple.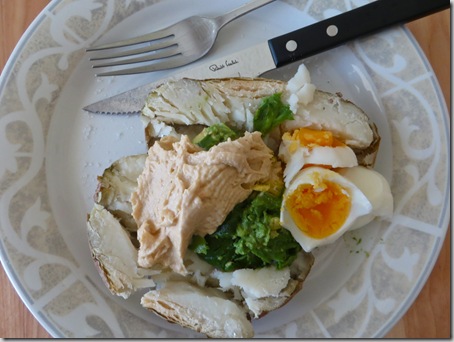 Hummus and Avocado Loaded Baked Potato [vegetarian, gluten free]
Ingredients:
1 baked potato
hummus
avocado
hard or soft boiled egg
Directions:
To bake the potato: scrub and poke with holes, coat in olive oil and salt, bake for 60 minutes at 425 degrees F (or skip the last step and microwave for ~8 minutes, flipping once halfway).
To hard or soft boil the egg: Boil water and then place eggs in the boiling water for 5-8 minutes.  5 minutes will be soft boiled, 8 minutes will be hard boiled.  Afterwards run cold water over them and refrigerate.
To assemble: Cut the potato down the middle and load everything on!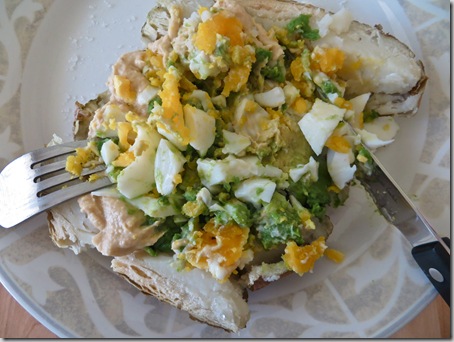 Other delicious topping ideas include salsa, plain greek yogurt, grilled mushrooms and onions, and fresh chives.
But there's nothing wrong with hummus and avo and eggs.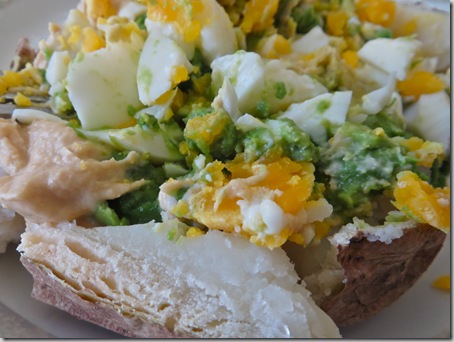 Eggs are amazingly versatile.  If our house were zoned appropriately, I'd get a coop up in the yard right now. 
Elise May 24, 2013 avocado, eggs, hummus, potatoes, sabra, stir fry Read more >