Pregnancy is weird.  I'm definitely changing more and more as the days go by.
I'm 23 weeks today and really starting to look big now.  Super pregnant.  I feel like my bump is a whole other body part.  In the morning, it's manageable, but as soon as I'm upright and gravity allows things to shift, I feel the weight of it.  Big time.  It's very much a foreign feeling.  I'm unable to sit comfortably on the couch anymore.  My bump takes up so much space that the bend of my hips needs to be greater than 90 degrees.  Otherwise I'm way too squished.  Putting on socks and shoes is a difficult affair and I avoid it as much as possible (if only I could wear Toms to work).  I'm sleeping on my side now too.  And running has become pretty awkward.  I'm sure it's doable (I know there are plenty of people who run all the way through the nine months) but I've basically abandoned jogging for walking now.  I tried a mini weight/core routine the other day (a la Jillian Michaels) just to add some diversity.  It felt okay, but wasn't overly strenuous.  We will see where workouts go from here…
As far as food goes, my appetite is relatively normal, but the discomfort of eating typical portions is horrible.  I get full sooo quickly, which is frustrating for a few reasons.  Mostly just because I like food.  But the constipation issue is still a huge obstacle for me.  Anyway, I have an appointment tomorrow, so I'll see if my OB has any pearls of wisdom for managing IBS symptoms throughout pregnancy.  Water and fiber just 'aint cutting it.
I'm still doing pretty well at work, thanks to the amazing staff on my unit.  Oh, and I finally made the switch to maternity scrubs.  They're not that bad I guess.  I love talking about all things pregnancy, and it seems most patients do too, so that's fun also.
And that's about it I suppose.  🙂
Here are some random food favorites (many were eaten in two sittings).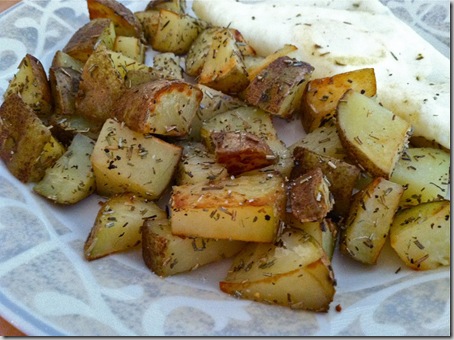 Rosemary fried potatoes with eggs.  For all the people asking about runny eggs, it's a risk unless you're eating pasteurized eggs.  But it's essentially the same risk as when you're not pregnant.  If you can get pasteurized eggs (they're muy $) then you can enjoy then runny without a worry.  Otherwise, eat at your own risk.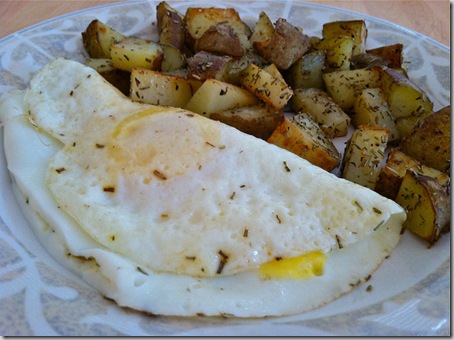 Fall produce…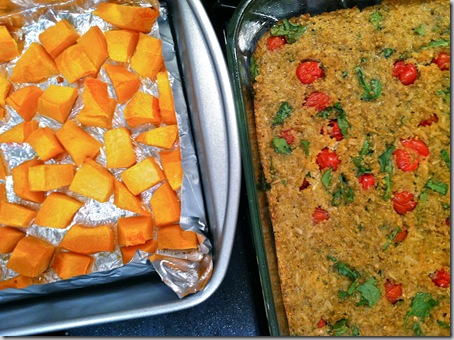 Roasted butternut squash and a quinoa quiche (made in a casserole dish since we go through it so quickly).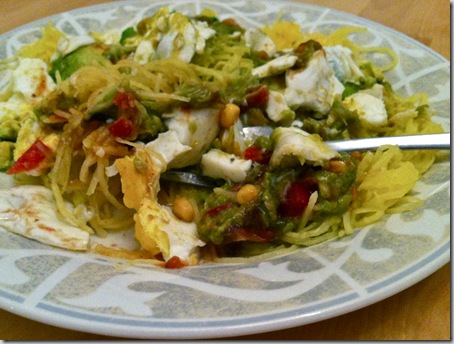 Spaghetti squash huevos rancheros.  Basically spaghetti squash instead of a tortilla with all the Mexican fixins (salsa, guacamole, eggs).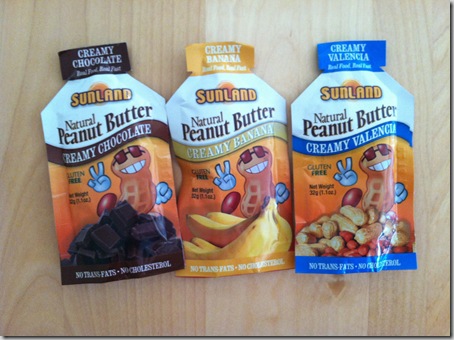 Kidding!  I threw all these guys away.  Sad.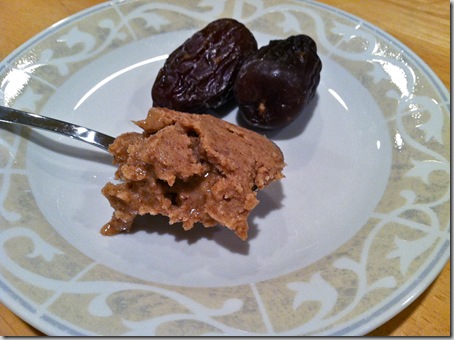 Simple desserts like almond butter and medjool dates.  Doesn't get any sweeter.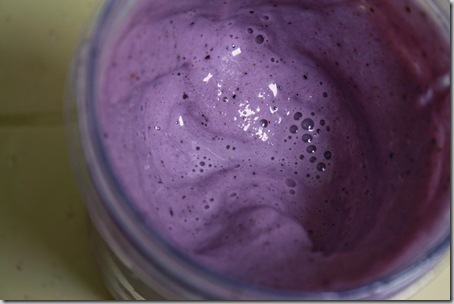 Smoothies.  With as much frozen fruit as I can fit in the blender.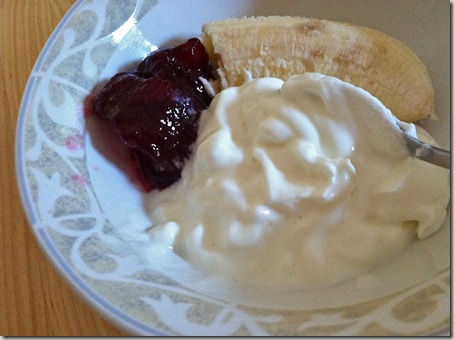 Deconstructed smoothies.  Basically soy yogurt, home-made jam and a banana in a bowl.  It's my afternoon snack of choice at the moment.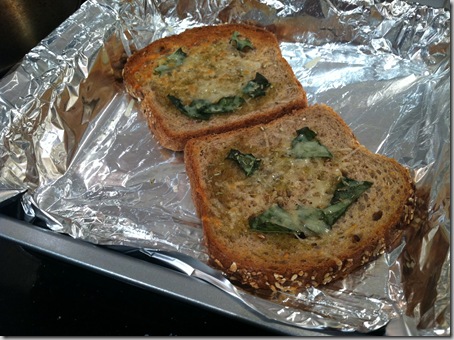 This is actually Kyle's parmesan garlic bread, but it was too cute not to share.
Adios!