Not much to say here people.  I think the photo speaks for itself.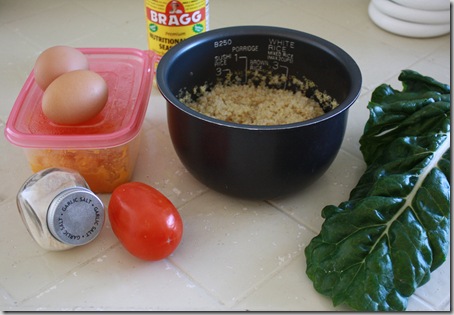 "Cheesy" Veggie Quinoa Quiche
Dairy-free, gluten-free, vegetarian, low FODMAPS
Yield: two 6 inch ramekin quiches
Ingredients:
1 cup (pre) cooked quinoa
1/4 cup butternut squash puree
1 tomato, diced
1 large chard leaf, chiffonaded
2 eggs
2 tbsp nutritional yeast
1/2 tsp garlic salt (more/less to taste)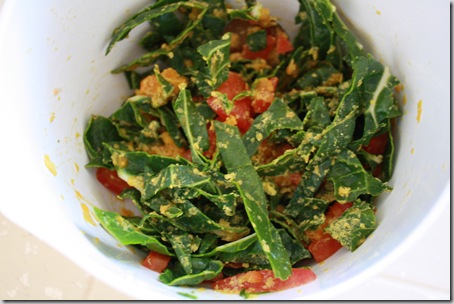 Prep and combine veggies (chard, tomato, squash), then add nooch & garlic salt and mix.
[The garlic powder in garlic salt is usually okay for those on a no/low FODMAPS diet, but if you are on a strict elimination diet you may want to omit the garlic salt and just use plain salt]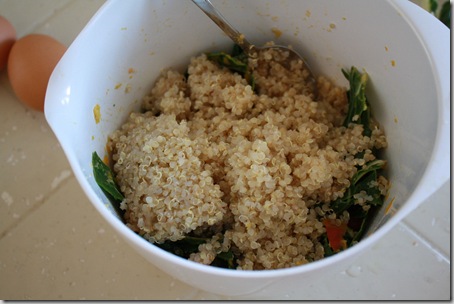 Next stir in quinoa.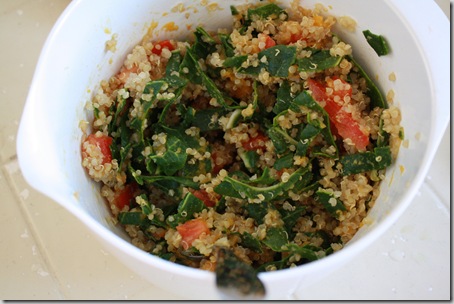 In a separate bowl beat the two eggs, then add them to the quinoa and veggies mix.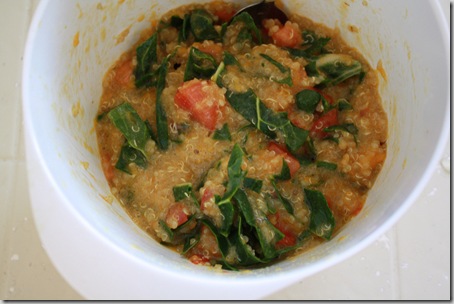 Stir everything up and pour into two ramekins.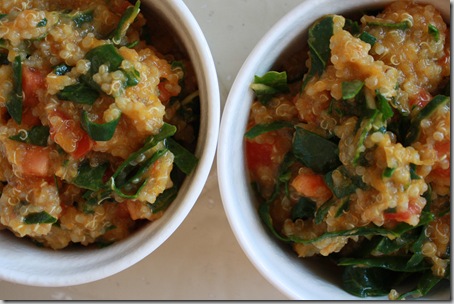 If you double (or triple?) the recipe, you could use a large pie pan to make a big quiche.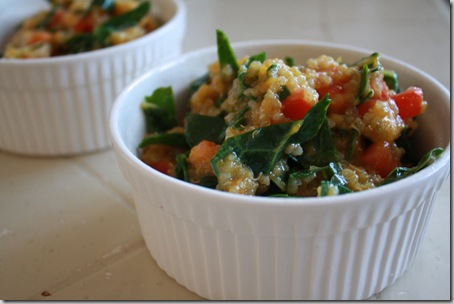 Using a spoon, pack the mix down into the ramekin making the top flat and smooth.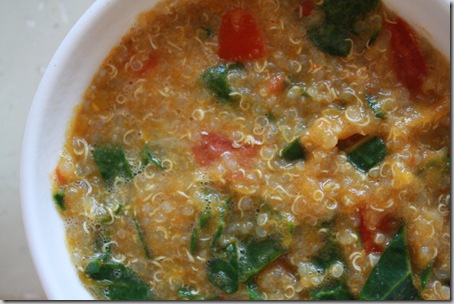 Like so.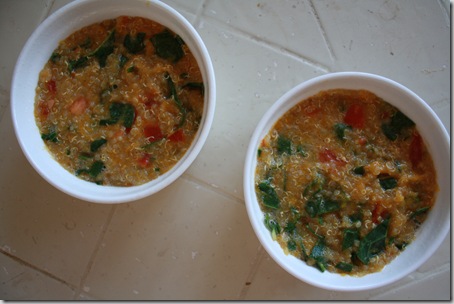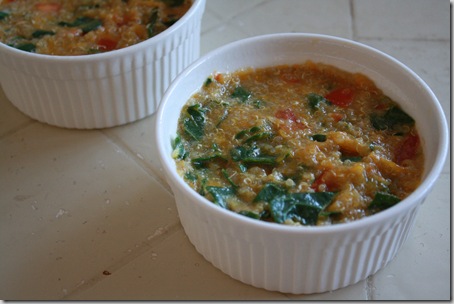 Cook in the oven for 25 minutes at 400 degrees.  If you want to get an especially golden crusty top you can turn the oven up to broil for the last minute.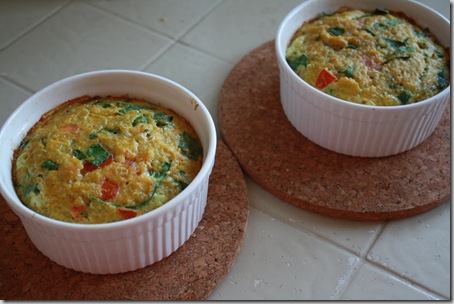 Drool.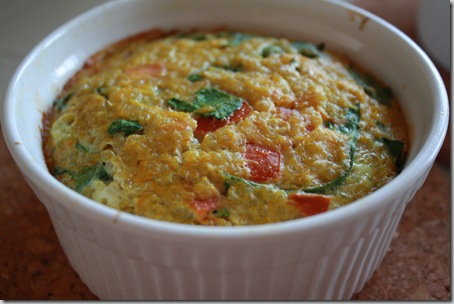 I made these ahead of time for dinner and having them sit on the counter for the entire afternoon was like torture.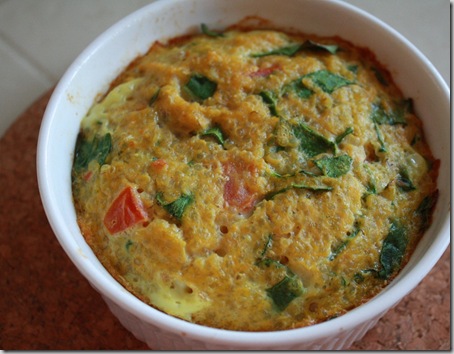 Anything hot out of the oven is hard to stay away from.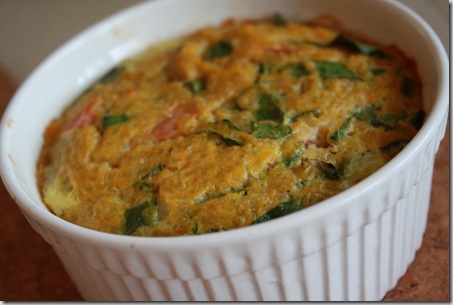 Especially when they are so cute!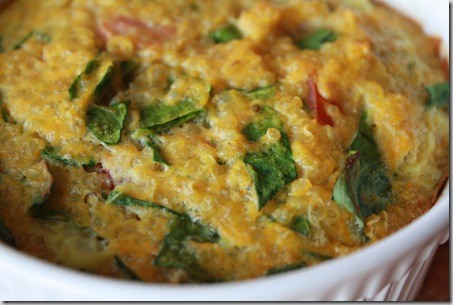 Anyway.  Eventually it was time to dig in, and I couldn't be more pleased with how they turned out.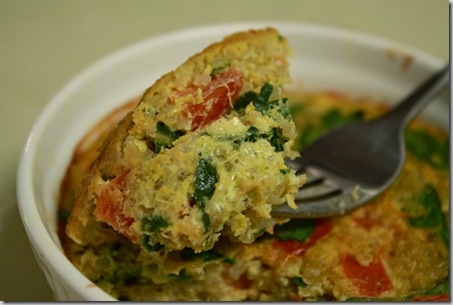 The combo of butternut squash and nutritional yeast somehow perfectly replicated a cheesy flavor, which really took my taste buds on a stroll down memory lane.  Isn't it funny how closely your senses are tied to your memories?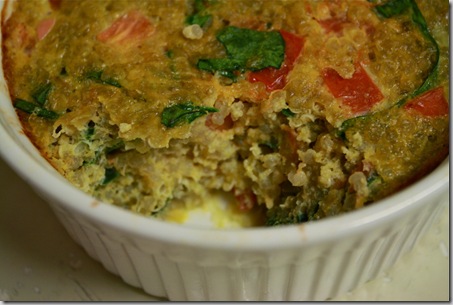 Eating this dish was like a flashback to my mom's quiches.
I know it's been over a decade since I've eaten real cheese, but I still believe there's some sort of magic that happens when cheddar meets up with eggs in a recipe.  So the fact that this cheese-less recipe could mimic a traditional quiche so precisely was mind blowing.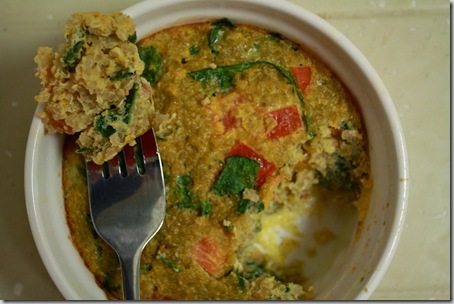 Next time I'm making this in a full pie pan because this dish disappeared fast!