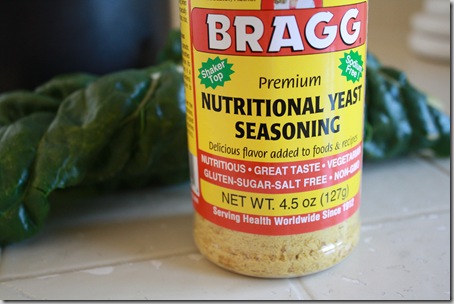 Recently, I've gotten a few questions in the comments section about nutritional yeast.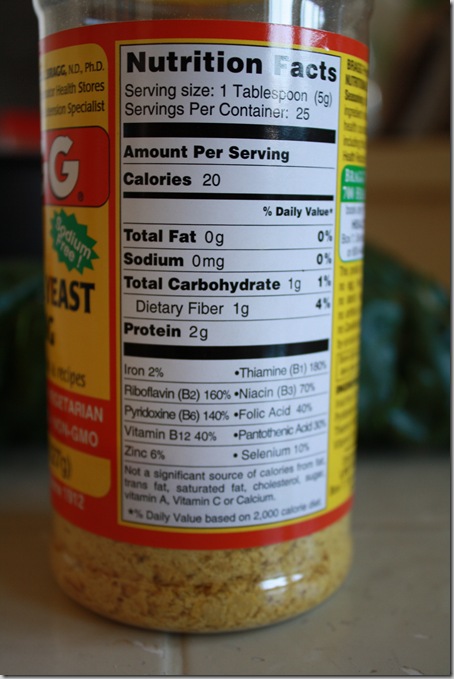 What is it?
Nutritional yeast is a deactivated yeast (meaning it has no fermenting ability) and it is produced by culturing pure strains of yeast (a fungi) with a mixture of sugarcane and beet molasses.  Sounds appetizing, huh?
Why do you like it?
The reason it's so popular with vegans and vegetarians is due to it's "cheesy" flavor and vitamin content.  Since B12 and dairy are ruled out once you commit to an entirely plant-based diet, you can see why something that offers both would be enticing.  And while you don't necessarily need cheese to survive, you do need B12. 
Bragg's makes a nutritional yeast that is:
• Non-GMO
• Vegan
• Vegetarian
• Gluten-Free
• Salt-Free
• Sugar-Free
• Fortified with Vitamin B including natural Vitamin B12
• Kosher Certified
So as you can see, the stats are pretty stellar. 
Note: not all brands are fortified with B12 so read labels!
Now that you're sold on the nutritional info, let me lure you in even further with the flavor. 
What does it taste like?
The first time I tried nooch, I remember thinking it tasted just like the cheese packets you get in mac 'n cheese boxes.  That probably doesn't make it sounds very natural, so just try and remember the above stats (it's healthy, I swear!).  Flavor similarities aside, nutritional yeast is nothing like the chemical and preservative filled faux cheese mixes.  I promise.  It's kinda nutty and kinda cheesy and (when mixed with liquids) makes a wonderful creamy sauce.  It's delicious.
How to use it?
I add it to anything and everything.  Since mine is in a shaker, I literally end up sprinkling it on all my meals.  Soups, veggies, salads, etc. 
The most common use is in place of parmesan cheese, or as a topping for popcorn.
But it can be much more than a condiment. 
You can use it in recipes to create a cheesy flavor without dairy, like in mashed/fried potatoes or a tofu scramble.  I also love adding it into bowls of savory oats or grits.  Basically, if you want to make a healthy vegan cheesy sauce, nooch is definitely your got-to ingredient (I'm still utterly obsessed with this recipe, FYI).
Where to find it?
I buy it at Whole Foods, but most health foods stores will have it.  Some places sell it in the bulk bins section so you can continuously refill the same container like I do (I think that Bragg's shaker is from 2010).  You can also get it online. 
It looks like yellow dried powder (and as gross as it sounds, the flakey texture is similar to fish food). 
Hope that helps!