H is for hemp…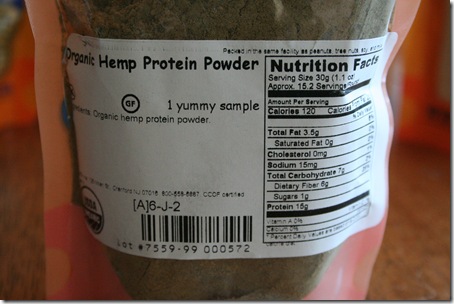 Hemp protein powder, that is.  I got this sample from NutsOnline a month ago but wasn't really sure what to do with it.
Good thing I remembered it when "h" day rolled around for my alphebruary challenge.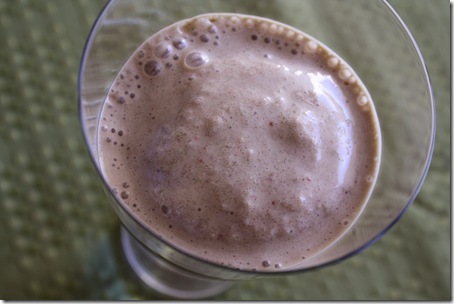 I used 1 tbsp of it in a smoothie because I was nervous about how strong the flavor would be.
I liked it so much I made it again the next day, too.  Yes, it's a little gritty.  But I kinda liked the gritty texture.  I'm not generally a big protein powder gal (if there's one thing I detest about the standard American diet, it's the misconception that massive amounts of protein are essential – not true).  But I won't go into that now…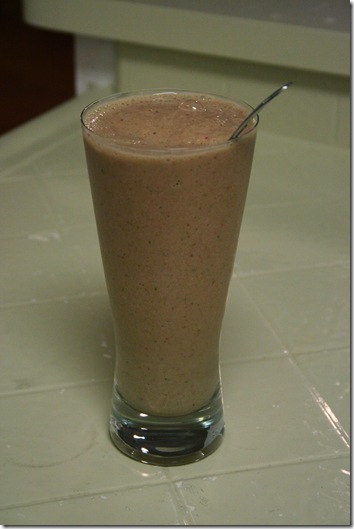 Hemp-y Hippie Smoothie
1/2 cup rice milk (or any other non-dairy mylk)
1 tbsp organic hemp protein powder (more to taste)
3/4 cup frozen strawberries
fist of spinach
1 tbsp peanut butter
stevia (to taste)
3-4 ice cubes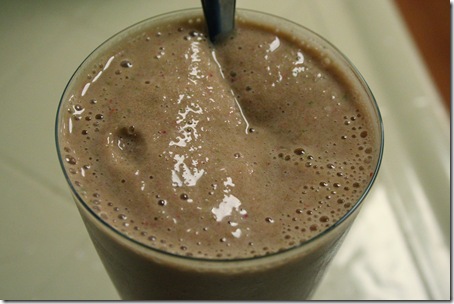 Slurp.
So here's a little randomness.  When I was watching GG the other day I couldn't help but wonder if the dudes were getting a little scrawny.  If you don't watch trashy tv, feel free to skip over this next part.  I, on the other hand, happen to tune into the CW's crap, week after week.  Guilty pleasure!
Is it just me or is Ben from Gossip Girl starting to look a little on the manorexic side?  I know he was in prison for a few years, but now that he's a free man can't he get a decent meal?  Especially with the Upper East Side trust funds kids surrounding him.  His once chiseled cheekbones are starting to look a little gaunt.  Not hot.  Despite what the fashion industry may push, gaunt isn't sexy – male or female.
Maybe he could use a hemp smoothie?  Anyway, back to the lettered eats.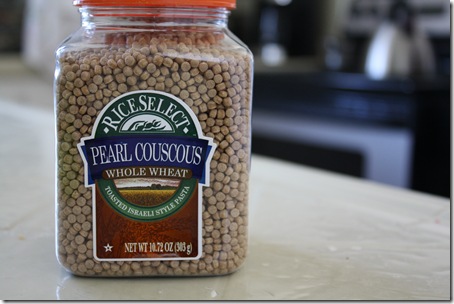 I is for Israeli couscous…
I've only tried the bright yellow version of this couscous in a WF pre-made salad.  When I went on a hunt for it, I discovered there's a whole wheat version of the grain.  Sweet!  I like trying new things (especially in whole wheat form) and big plump Israeli couscous balls are so much fun.  They have a chewy texture very different from regular couscous.  I'm not sure how to describe it, but somehow Israeli (pearl) couscous grains are both big and small at the same time.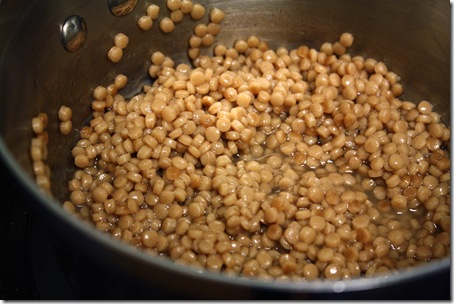 They cook reallllly quickly, going from hard little pellets to gorgeous plump pearls in no time at all.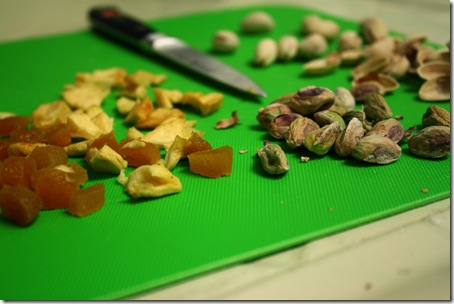 Sweet 'n Spicy Israeli Coucous (for one)
1/3 cup Israeli couscous (yields ~2/3 cup cooked)
4 dried apricots, chopped
4 dried apple rings, chopped
20-25 pistachios
1 tsp lime juice
1 tbsp olive oil
1/2 tsp cinnamon
1/2 tsp paprika
1/2 tsp cumin
salt & pepper (to taste)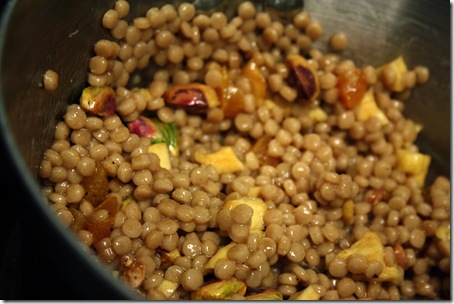 Sounds like an odd combo, no?  Well let me tell you, the lime zing with the sweetness of the dried fruit was awesome.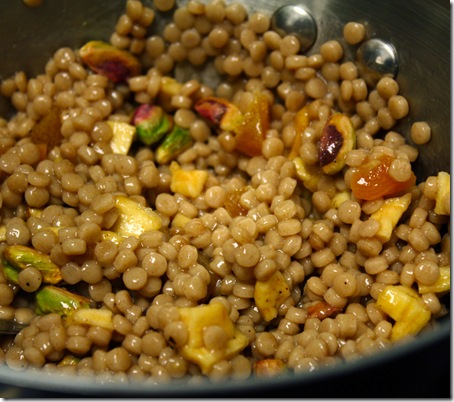 To go in the more hearty and savory direction, you could add black beans and avocado.  But personally, I may opt for some raisins next time because I love the sweeter profile combined with lime juice.  It makes my tongue dance.
The pistachios are best added at the very end if you want them to stay crunchy.  That said, the leftovers won't be quite the same in terms of texture (read: soggier nuts).
J is for jicama…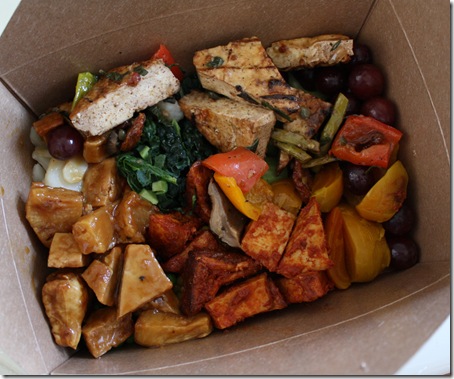 I cheated with this one, because I couldn't find fresh jicama to save my life.
I'm pretty ok with this though, because if you've ever seen jicama, you'll know it's not exactly a treat to hack up.  I bet you can't even find it in the above smorgasbord.  I had an unexpected work day today, so I didn't have much food packed to bring to the hospital.
Enter Whole Foods.
Let's break it down.
Corner 1: sweet & sour glazed tofu with pineapple chunks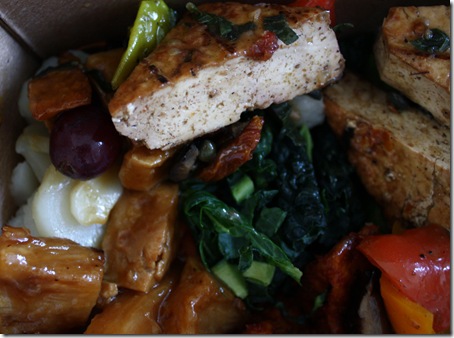 Corner 2: kale, jicama, grapes, balsamic tofu salad, marinated bell peppers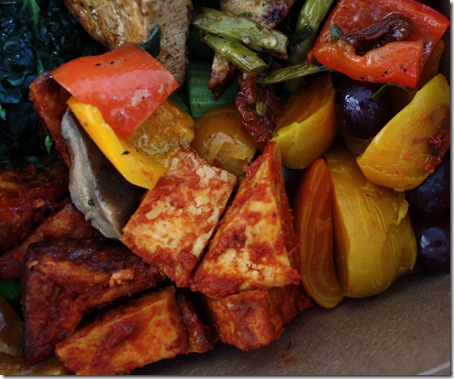 Corner 3: BBQ tofu, golden beets, grilled veggies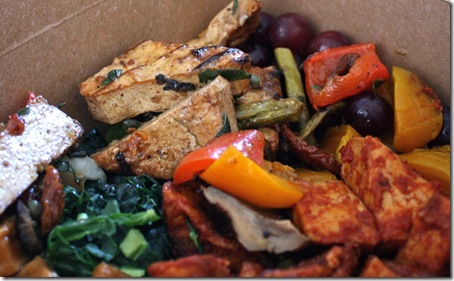 Underneath it all: carrots, peas, corn, kale and (more) jicama
Basically, a little bit of everything.  I have no sensor.
Jicama is one of my favorite things to add into massive salad beasts because it provides a big crunch factor.  The flavor is really mild, so it doesn't distract you from any of the other ingredients.  However, it does offer texture variation with a slightly sweet hint of flavor.  Love.
For dessert I made love to some fresh ground almond butter.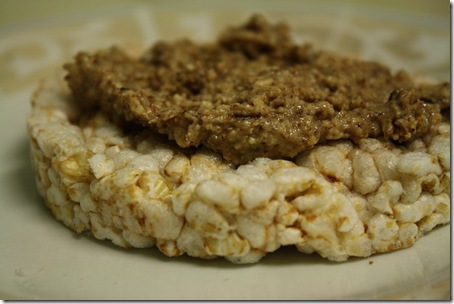 Rice cakes were only one of several vehicles I used to get it into my mouth (graham crackers and pretzels were also in the mix).
It was definitely a bottomless pit kind of night.  I didn't take pics of very much else though because I was busy slothing it up in my PJs.  I'm a little more full now than I would like, but c'est la vie.
This everythingtarian post is getting too long, you must be dozing off by now.  I work this weekend, so having tomorrow off will be critical to get caught up.  Now what shall I make with a "k" food?