A little background:  Kyle's parents are fabulously open-minded when it comes to food.  My veganism has never been an obstacle when dining with them, and has in fact been embraced with open arms.  It's always a blast eating with them.  Whether we are feasting out or cooking in, they go above and beyond to make sure there are delicious vegan options available at all times.  Much to my delight, they kicked off 2011 with the Daniel Fast, a plant-based eating plan (combined with the spiritual component of prayer).  After 21 days, the results from this vegan experience have extended far beyond healthier bodies. 
It has been so neat for me to hear all about the fun and delicious recipes they have been creating.  Even more, the success the diet has brought them has reignited my own passion to continue to experiment and push myself to try new and different foods.  Their approach to the Daniel Fast was nothing like Oprah's overly-processed, pre-prepared, product heavy plan (any caveman carnivore could figure out how easy it is to swap Boca burgers and Lightlife soy bacon for their meat counterpart).  They dove in head first, making real food from real ingredients.  And they didn't shy away from the more difficult recipes either!  Within a week of learning about vital wheat gluten they were making seitan sausages from scratch.  Can you tell how impressed I am?  They were taking on recipes that even veteran vegans would shy away from.  And, clearly, they were having a grand 'ol time with it.
Since they were enjoying the process and learning so much along the way, I asked if they'd be interested in doing a guest post.  Mom2 (aka Bev) was happy to share her story, along with that of her fellow "soul sistas."  [In true Bev fashion, she managed to recruit a few friends to join in.] 
So now, in her own words, here's Bev on her experience with a 21 day vegan diet (followed by some of their favorite recipes – perfect for Superbowl Sunday):
The Journey to the Superbowl…
Unfortunately this has very little to do with football and LOTS to do with food and the big game celebration!  But like every victory it starts with the journey getting there.  And it all started with three "Soul Sistas" and the Daniel Fast.
We began the journey after being encouraged through our church to join the 21 day Daniel Fast for spiritual reasons, and from there, all the unforeseen benefits and blessings were merely bonuses.  I looked at this too as a wonderful opportunity to get even closer with my new daughter- in-law!  And what better way than through FOOD!!
Here are the players: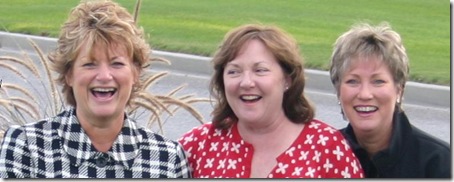 We all shared the desire (just needed an action plan) for a healthier lifestyle.  Tackling (yeah have to add some football terms here and there) the abrupt change with dear friends made it successful.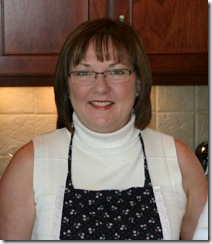 Bev: Carnivore for her 53 years, not a fan of fruit – hasn't been without coffee or wine in a good 25 years – and a few (let's be kind) pounds overweight.  Remember this is now a WAS…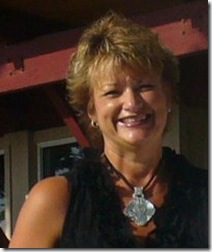 Carol: Single, Caucasian, 54 year old female, Restaurant and Wine Shop Manager looking for (oops…this isn't a dating blog?!) – hasn't been without meat, coffee or wine for a good 25 years.  Constantly surrounded by meat chicken, seafood and wine distributors.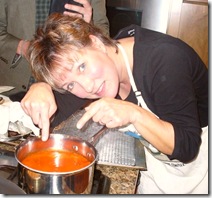 Cristi: 52 years old, and Carol's MUCH younger sister!  Lover of fruits, veggies, seafood, cheese and a glass of wine with friends (and my hubby) on the patio…and of course, dancing!  Love to cook and eager to learn about a new and healthy lifestyle…WOOHOO!!!
The plan was 21 days long; and in addition to committing to a vegan diet, we were also excluding all caffeine, sugars, and yeasts – and NO WINE.   We emotionally "high fived" and committed – but what in the world did that mean?  Just salad?   Nope we three sistas each took our love for food and made this a party and celebration.  How we got there?  We learned to read labels!
Thank goodness for Elise – her timely blog post on food preparation got us started.  We had a planning session (huddle) and decided to each cook two entrees at home and meet back the next week to share with each other.  This gave us each 6 entrees in the freezer!  Vegan chili, butternut squash & carrot soup, Asian noodle salad, and curried veggies with brown rice.
After some time, we were getting tired of beans and rice (sometimes a deadly duo – a new version of the opposing team).  So the post on tofu cooking inspired Cristi and helped her on the one thing she was missing most – feta.  A cheer from the crowd!
Another thing we found ourselves missing after a while were sweets.  We just needed a little something sweet so we concocted a cobbler with no sugar!  Using blueberries, apples, raisins, dried cranberries, apple juice and dates with a topping of ground almonds, walnuts, dates, oatmeal and unsweetened coconut with EVOO!  Score!
We got creative – and loved every bite.  And we all enjoyed the new us.  We felt better, and dang we even LOOKED better – so Carol said (now that is support).  We all got something out of this lifestyle change – and we hope a lasting impression.
We decided to END our official Daniel fast with a SUPERBOWL party to show our success and prove we could pull off a fun tasty (and all vegan!) party.  The one common bond between the sistas – we love to cook and love to entertain – so the food needed to taste good and look good!
Superbowl Menu
Grilled Black Bean Dawgs with toppings (grilled onions and peppers, avocado, tomatoes, sauerkraut)
Vegan Chili
Vegan Hot Wings
Quinoa and Bean Salad
Avocado and Pomegranate Dip
Greek Hummus Dip with Fake Feta
Stuffed Peppers Poblano
We really enjoyed both the challenge and the change; and so much good has come out of our choice to GO VEGAN.  Thank you Elise for taking my emergency calls, like "what is nutritional yeast?"
And now for the recipes :)  Enjoy!!!
Grilled Black Bean Dawgs
Ingredients:
1/2 cup black beans, rinsed and drained
1 cup cold vegetable broth
1 tbsp olive oil
2 tbsp soy sauce
2 cloves garlic, minced
1 1/4 cups vital wheat gluten
1/4 cup nutritional yeast
1 1/2 tsp fennel seed, crushed
1 tsp red pepper flakes
1 1/2 tsp sweet paprika
1 1/2 tsp dried oregano
fresh ground black pepper
Directions:
Smoosh up the beans with a fork (or food processor) and fold in all the other ingredients.   Use about 1/2 c of mixture for each dawg.  Lay it on an 8×11 size piece of aluminum foil and roll into a log, sealing off the ends with a twist of foil.
Using a steamer or a big pot with a metal steamer on the bottom, make sure the water is steaming and put the dawgs in.  You can layer them too and that works!  Steam for 30 minutes.
We threw them on the grill after to get the grill flavor and the marks.
Makes approx 4-5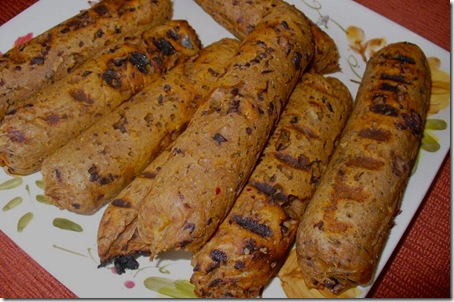 Vegan Chili
Ingredients:
1 tbsp oil
1-3 cloves garlic, minced (I used 2)
2 bell peppers, chopped
1 sweet onion, chopped
3 carrots, chopped
1 tbsp cumin
3 tbsp chili powder
pinch sea salt
pinch cayenne
1 can each: black beans, white kidney beans, red kidney beans (rinsed)
1 large can diced tomatoes with juice
2 tsp oregano
1 can organic mushrooms, drained
Secret Ingredient –> 2 tbsp CHIA SEEDS (it thickens up the sauce soooo much!)
Directions:
In a large pot, add the EVOO and heat over medium.  Add garlic, peppers, onion, carrot and sauté until everything is soft (approximately 5 minutes).  Add the rest of the ingredients, cover, and cook for about 30-40 minutes on low to medium heat.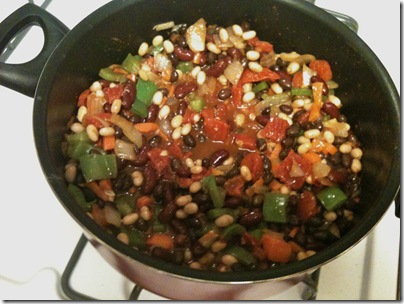 Vegan Hot Wings (adapted from VeganDad)
Ingredients:
Wings
12 mini bamboo skewers
1 1/4 cup vital wheat gluten
1/3 cup [vegetable] broth powder
1/2 tsp onion powder
1/2 tsp garlic powder
1 tsp paprika
freshly ground white pepper
2 tbsp oil
1 1/4 cup water
Breading
1 cup plain soy milk
2 tbsp oil
1 tbsp ground flax seed
1 tsp lemon juice
1/2 tsp onion powder
1/2 tsp garlic powder
1/2 tsp paprika
1/2 tsp salt
1 1/3 cup panko bread crumbs
Sauce
1 minced onion
1 small can stewed tomatoes
2 c water
1/2 c apple cider vinegar
1/4 c vegan worchestershire sauce
1/8 c soy sauce
1 tsp paprika
2 tsp chili powder
handful of raisins
salt & pepper to taste
Directions:
Preheat oven to 400 degrees
1.  Line a dark baking sheet with aluminum foil.  Spray with oil.
2.  Mix flour, veg stock powder, and spices together.  Add oil and enough water to make a dough (it should be somewhat stiff, but able to be kneaded).  Knead for a few mins then shape into a log and slice into 12 to 16 pieces. Stick a bamboo skewer into each piece of dough and shape around the stick (you may have to wet your hands).
3.  Whisk together soy milk, oil, lemon juice, and flax seed in a shallow dish.  In a separate shallow dish, mix together bread crumbs and spices.
4.  Roll seitan in soy milk mixture, then in bread crumbs.  When all seitan has been coated, repeat the above steps (rolling it again in soy milk and pressing it into the bread crumbs to get a thick coating).  Place on prepared baking sheet.
5.  Bake for 20 – 25 mins, until crumbs are golden and seitan has plumped up. While seitan is cooking, make sauce.
6.  Remove cooked seitan from oven and spoon sauce over each wing.  Return to oven and cook for 5 mins.  When it's done serve with leftover sauce on the side.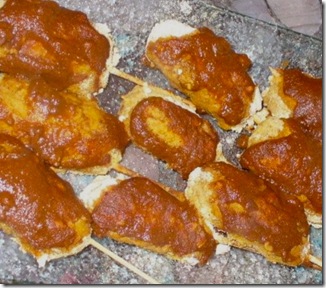 Quinoa and Bean Salad
DRESSING Ingredients:
5 tbsp fresh lime juice
1 tsp salt
1 whole garlic clove, finely minced
1/2 cup fresh cilantro, finely chopped
1 tsp ground cumin (or to taste)
⅓ cups olive oil
½ tsp freshly ground pepper (or to taste)
SALAD Ingredients:
1-½ cup quinoa
1 tbsp salt (add to boiling quinoa)
1 can (14 oz.) black beans, drained and rinsed
1-½ cup corn (fresh or canned)
1 cup bell peppers, finely chopped
1/2 cup fresh cilantro, finely chopped
¼ cups green onions, finely chopped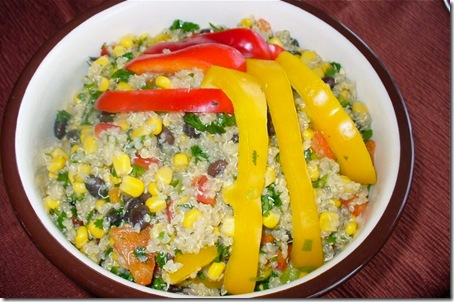 Avocado and Pomegranate Dip
Ingredients:
2 avocados, peeled and diced (do not use avocados that are over ripe)
2 T. fresh lime juice
2 c. fresh peeled orange slices, diced
1 c. pomegranate seeds
½ c. green onion, thinly sliced
1 c. cilantro, minced
½ tsp. salt
Directions:
Mix all ingredients together and let sit for at least 1hr in the fridge. Serve with salted vegan tortilla chips or Triscuits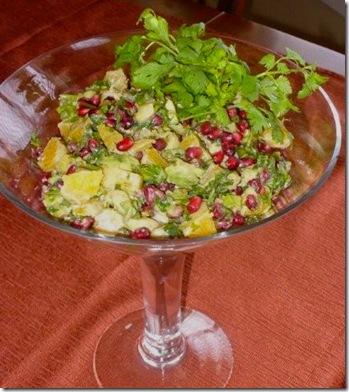 Greek Hummus Dip
Ingredients:
Hummus (I buy the Traditional Meza Hummus from Costco)
Cucumbers, chopped
Red onion, chopped
Tomatoes, seeded and chopped
Crumbled feta cheese*
Kalamata olives, chopped
Rosemary (to garnish)
Directions: 
Layer ingredients and serve with chips, pita wedges, crackers or flatbread.
*see fake feta recipe below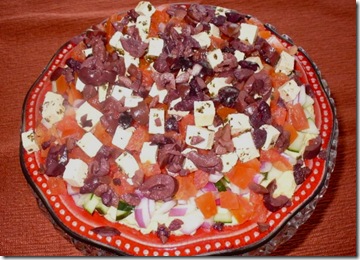 Fake Feta
Ingredients:
1/4 c olive oil
1/4 c water
3/4 c red wine vinegar
2 tsp salt
1 tsp dried basil
1 tsp dried oregano
1 lb firm tofu
Directions:
Mix first six ingredients together. Dice the tofu and add to the mixture; mix well.  Let marinate over night.
These recipes look great.  I can't wait to give them a try 🙂
Thanks Bev, Carol, and Cristi (and Kevin) for having such fun with the vegan diet and sharing your story with everyone.  It makes me so happy to know that you got such positive results, but more than that, that you enjoyed the process, too! 
Go Packers!!