This weekend Kyle and I visited my G-ma in Newport Beach, went to a friend's baby shower in Fullerton, attended a wedding in Temecula, and stayed with Kyle's parents in San Clemente.  If you do the math, that's over 300 miles of driving (6+ hours!!!).

Check out how fun this looks.
Just our luck – gas prices reached $5.50 per gallon this weekend!  Isn't that fabulous?  Of course record breaking fuel prices would coincide with such a jam packed weekend on the road.
Anyway.  Sarcasm aside, it was pretty awesome to see so many family members and friends.
After working Wednesday and Thursday last week, I had big time errands to accomplish on Friday since we were leaving after Kyle got home from work.  But then I woke up feeling like hell (this is probably [definitely] TMI, but I've been dealing with mega constipation as this baby gets bigger and bigger).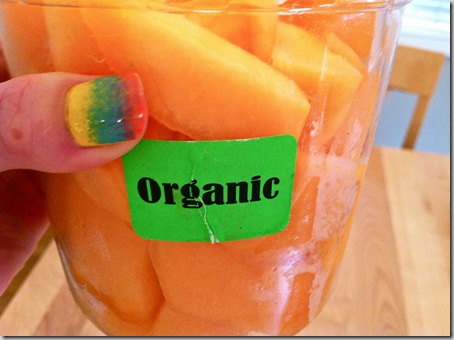 My former (first trimester) trick of eating melon and drinking lots of water has been failing me now that I'm in the later stages of the second trimester.  I ate half this cantaloupe and then threw up.  Lovely.
I waited a while before attempting some toast with Earth Balance.  Since I managed to keep it down I then decided to go for a walk (to get Kyle's dry cleaning and do a few other random tasks in Santa Monica).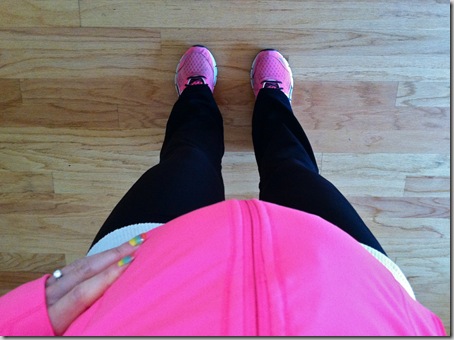 My view from above.
I got hungry and faint on the walk and swooped into WF for a veggie juice.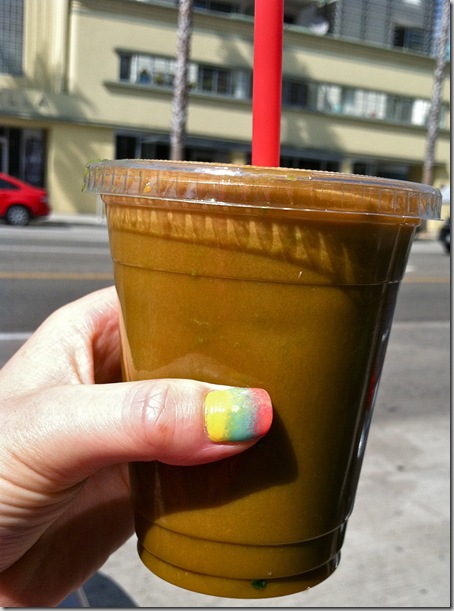 Life saver.
The rest of the day included more boring stuff, like packing, wrapping presents, cleaning, etc.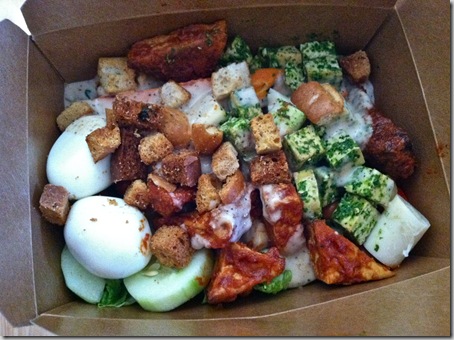 This monster salad was both lunch and dinner.  It had two kinds of tofu and a bunch of other veggies and quinoa and stuff.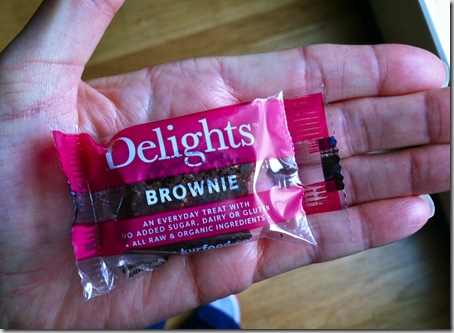 I had a kur organic brownie in between meals.  More on these superfoods later.
The rest of the weekend was a blur of fun.  I have random pics that are mostly non-food…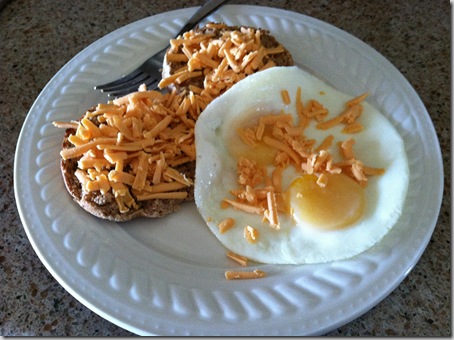 Rise and shine – breakfast of eggs, Ezekiel english muffin and lots of daiya on top.  I woke up (without an alarm) at 6:45 am.  Not exactly the relaxing weekend game plan I was hoping for but oh well.  I made sure to get out of bed noisily so Kyle wouldn't be too far behind me.  I'm really sweet like that.
After food we were off to Newport to show off my bump and see my g-ma, cousins, aunts, uncles, mom & dad, sister and the kiddos.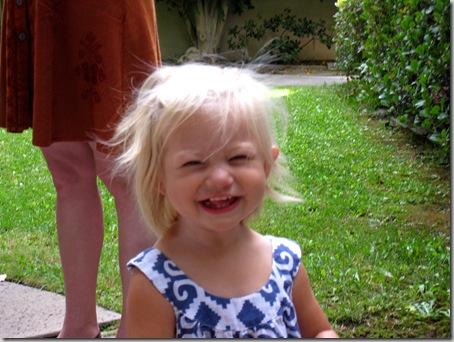 Look at this face!!!  Does it get any cuter?
Since we had a shower to get to in Fullerton, we had to peace out early.  Off to Native Foods for lunch!
Scorpion burger for Kyle, sesame kale & tempeh macro bowl for me.
By the time we got to Fullerton, I was ready for a nap, but I rallied because I'm a champ (who doesn't like missing parties).  Plus, the baby shower wasn't exclusively women, so I got to see lots of our friends.
The boys chugged beer from baby bottles and tried rocking their own balloon "bumps".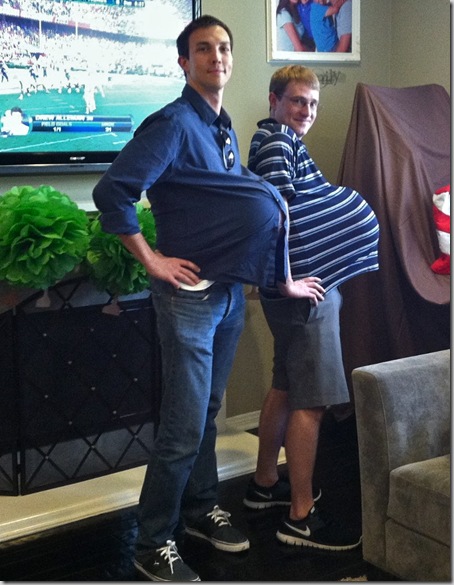 And before I knew it, we had to ditch the party early (again) to drive to the wedding.
Kyle changed into his suit before we left, but I was indecisive in choosing my outfit, so I wound up doing a car change on the freeway (not easy or fun).  Then I fell asleep on the commute to Temecula.  Stellar co-pilot, huh.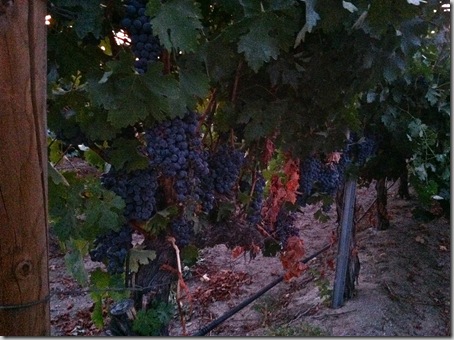 The wedding was at a winery.  All those grapes and not a drop of wine for me. 🙁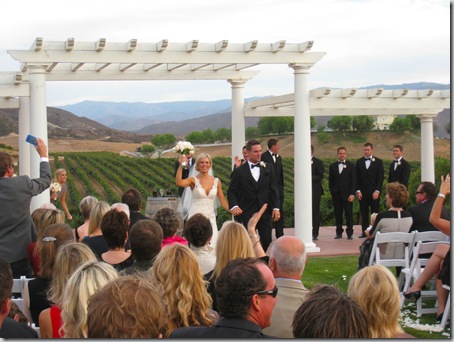 The couple is basically your modern day Barbie & Ken – not kidding.  Almost as gorgeous was the orange-pink sunset.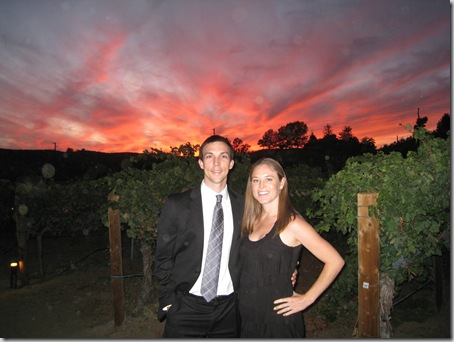 Photo op.
My mom and sister got to feel some kicking.
Dinner was okay.  The vegetarian option was a stack of grilled veggies – kinda boring, but at least it was vegan.  Kyle wasn't into it, so he had another dinner when we got back to San Clemente at 11:30 pm.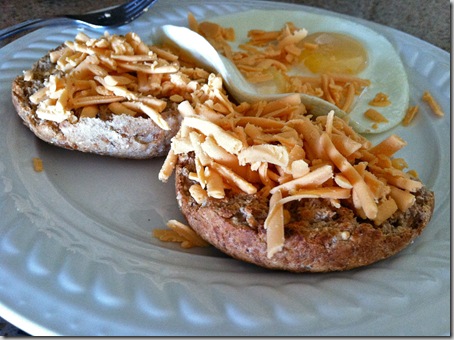 Sunday's breakfast was the same as Saturday's.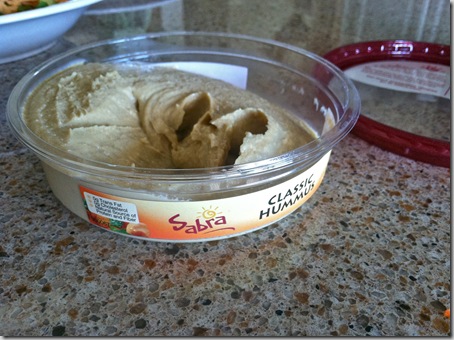 I made a Mexican salad for lunch with greens, tomato, salsa, avocado, daiya "cheese", beans, and hummus.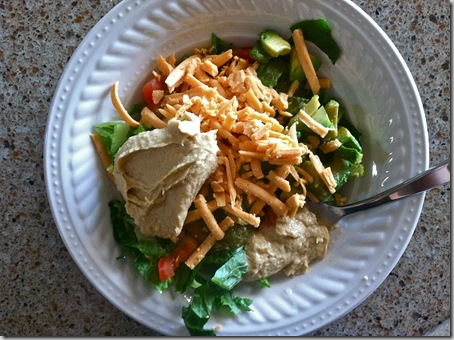 And later in the afternoon, we had some home-made vegan ice cream.
Just two ingredients – canned coconut and sugar.  Easy peasy!  Topped with shredded coconut.
We lounged around watching football until reality set in, and we reluctantly said goodbye to my in-laws.  Back to Santa Monica to get ready for the work week – grocery shopping, laundry, and lunch prep, oh my!