Sometimes when I work night shifts, I forget to make dinner for Kyle.  I usually realize it around 5 pm – right about the time I should be packing up my stuff and heading to the hospital.  This isn't a tragedy by any means, he's a great cook, and could certainly make a good meal for himself.  But I like making things easy for him when he gets home from a long work day (and hideous commute).  Plus, it makes me happy (and I know he loves it).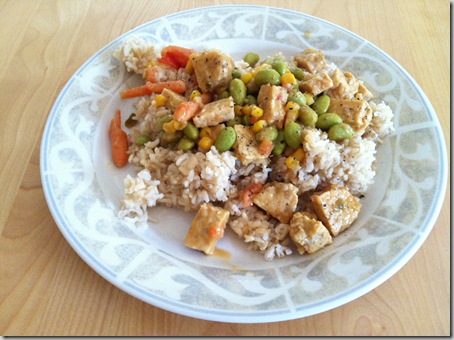 Doesn't this look gourmet?  I'm sure Kyle thought I put serious effort into it, but it actually took 15 minutes. 
[Yes, he takes photos of his food and asks me later if I want to blog about it or not]
Here's how this went down:
Look at clock, realize it's time to hit the road. 
Look in the fridge to see if there are leftovers Kyle can eat.  Nada. 
Panic.  Survey the pantry and freezer. 
In the freezer section: edamame, corn
In the fridge: baby carrots (too lazy to chop them!), Sabra asian fusion garden hummus, Lightlife tempeh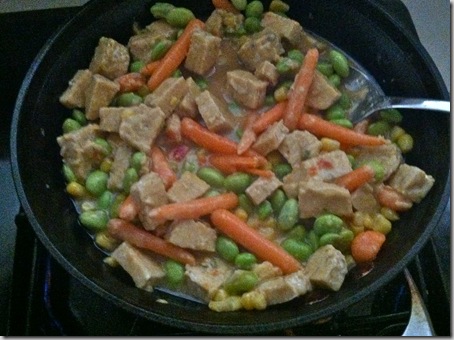 I don't know that there's any method to this madness, but I added sesame oil to a pan and let the frozen veggies thaw, added the tempeh and fresh veggies, and then added a huge (really huge) blob of hummus.  [The first time I tried Sabra's Asian Fusion hummus I immediately envisioned it in a stir-fry.  It's got hints of tahini, ginger, and works so well as a sauce with veggies]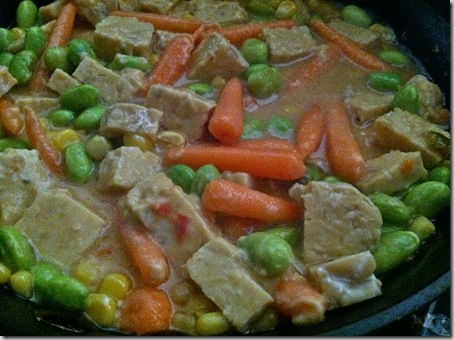 Simmah.
As soon the veggies were cooked and the sauce looked thick, I turned the stove off, covered the pan, and left it for Kyle to serve once he got home from work.  I also started rice in the cooker before I left.
My dinner was made by Whole Foods.  [In case you forgot, I'm no longer riding my bike to night shift, which means I have to deal with traffic, which means I have to leave waaaay sooner than I had to previously, which means I have waaaay too much time to kill in Westwood, which means I end up feasting at WF to pass the time.]
I got sweet potato fries, gardein chili-lime chik'n breast, and a kale & white bean soup that I bulked up with peas and corn from the salad bar.  I snacked on these all night long.
Meanwhile, Kyle sent me these pics of his dinner.
I love Whole Foods, but this looked way better.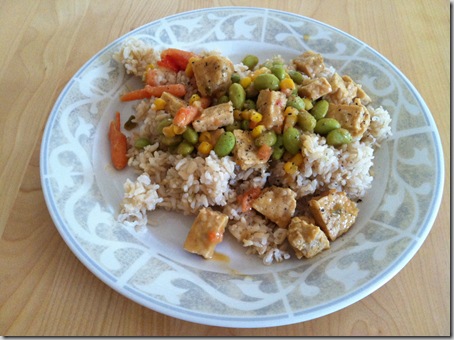 Hello protein.  Edamame, tempeh and hummus, oh my!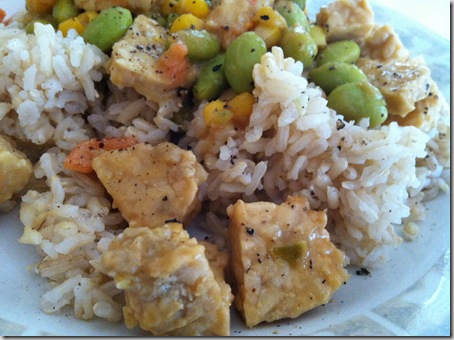 And thanks to the already perfectly seasoned hummus, I didn't have to add anything spice-wise to the dish.  Kyle said it had all sorts of great flavor going on. 
After night shift, I made my way home, ate bread with tons of Earth Balance, showered, and passed out.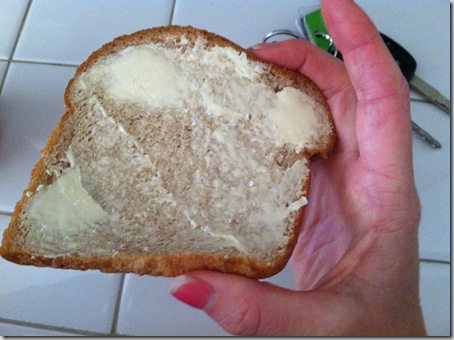 Good night!