We went from your average weekly planners to uber type A budgeters this January.  I actually started a spread sheet on excel to track our monthly grocery expenses so that we could really stick to our financial goals.  Of course the primitive nature of the document was hilarious to Kyle, who could make something a million times more sophisticated in his sleep.  So then I signed us up on mint.com (it's a site that tracks your credit card statements and payments and all that jazz).  Way easier.  Way more practical.
It's hard to say how much we should be allotting to food each month, because (I feel like a dummy admitting this) I've honestly never kept track of it before.  Quality food is one of those things that I feel is super important (the most important) so I'm willing to spend whatever on it.  That doesn't mean I love dropping mega Gs – I'm definitely a frugal shopper, always using coupons and picking sale items and shopping with penny pinching tendencies.  Waste not, want not.  But in terms of where I prioritize my paycheck, food is definitely at the top of the list.  Make of that what you will…
Really, the main goal is to be conscious of where we spend (and probably stop reduce impulse buys and lazy already prepared dinners from the WF hot food/salad bar).  I mean, I'm on maternity leave.  I have no excuse to not cook for us every night.
So that's that.  Fingers crossed it saves us money without making me loathe the kitchen.
Do you keep track of how much you spend on groceries monthly?  How much do you allot?  Has the amount changed over the years?  Where do you prioritize food in your expenses? 
We are also going back to the world of bulk this year.  For Christmas my parents renewed our Costco membership.  However.  There are going to be big changes in what we use the membership for this time around.  I think that may be a post for a different time though.
For now I'll give you a cheap and easy meal I made for Kyle last week.  [I wasn't feeling super great, so I opted for a FODMAPs free meal of savory oats instead.  Boring but necessary.  I've been having some yucky GI days lately and I think I need to get back to my more disciplined low FODMAPs eating to reset my body.]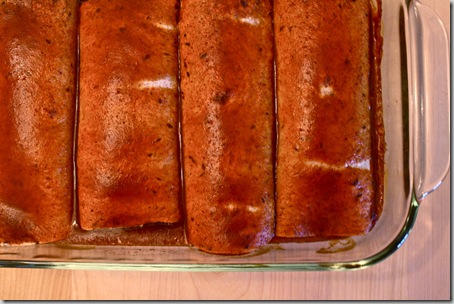 Cuatro Enchiladas [vegetarian*]
Ingredients:
4 small tortillas
1/2 block tempeh, crumbled (I used Lightlife three grain)
1/3 cup corn
1/3 – 1/2 cup plain greek yogurt (I used 2% Chobani)
2 tsp spices (1/2 tsp onion, 1/2 tsp garlic, 1/4 tsp paprika, 1/4 tsp cumin, 1/4 tsp chili powder, 1/4 tsp coriander)
8 oz red enchilada sauce
*GF, FODMAPs, & vegan substitution notes at the end.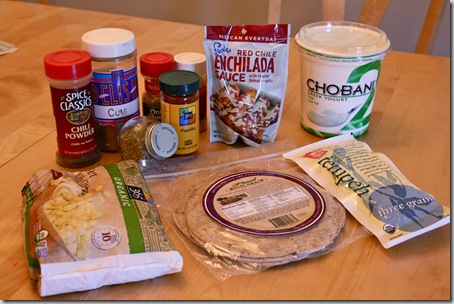 Directions:
Pre heat oven to 350 degrees.
Crumble tempeh (you can use a cheese grater or your hands).  If this is your first time with tempeh (or you are sensitive to the aftertaste, like me), feel free to steam it first.  It takes the harsh edge off the fermented flavor and (bonus) it's easier to crumble too.
Mix corn, tempeh, spices and greek yogurt together.
Spray pan with non stick and then pour a little enchilada sauce into the pan so that the bottom is just covered with a layer of sauce.
Taking a tortilla in your hand, line the center with the tempeh filling, then roll it up.  Place it fold side down in the pan.
Repeat until the enchilada stuffing in gone.
Then pour the remainder of the sauce over the tortillas making sure to coat them entirely (so no bare tortilla is left).
Cook in the oven at 350 degrees for 15 – 20 minutes.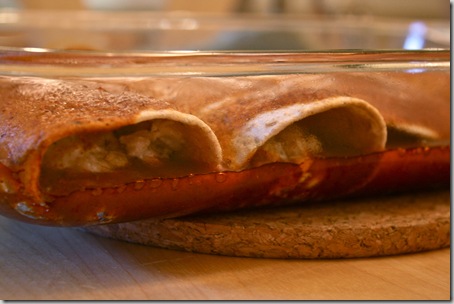 Play by play photos ahead.
The Rick Bayless enchilada sauce was on sale and the ingredients were clean, so we went for it.
Above: tempeh/corn/spice mix; below: with greek yogurt added.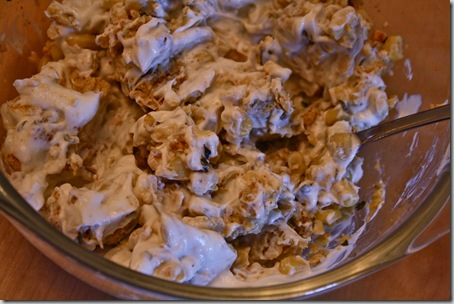 Spooning into tortillas.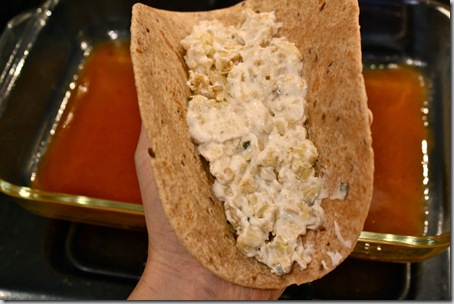 Four ducks in a row.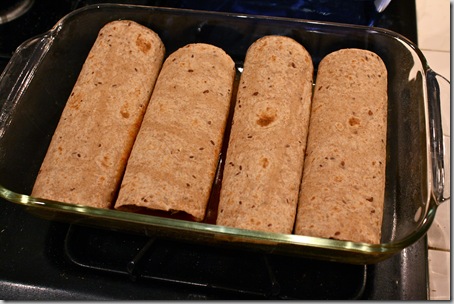 Plus sauce.
And the finished product…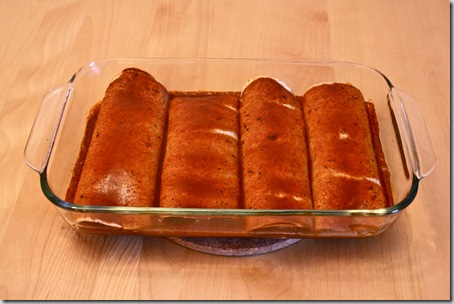 Kyle had two for dinner and the other two for lunch the next day, so this recipe yields enough to serve two people (at two enchiladas per person).  Increase for larger groups or to make enough for leftovers.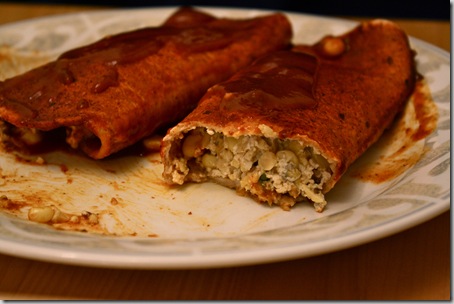 Notes: You can adjust spices to your preferences (to reduce FODMAPs omit onion and garlic).
To make gluten free (and FODMAPs friendly), use corn tortillas.
To make vegan (and dairy free), sub greek yogurt for plain coconut yogurt (or vegan sour cream or hummus).