Top of the morning!  I finally woke up today feeling like my normal self.  Stomach woes be gone.  Thanks for all your well-wishes throughout my sick days week. 
Even though I woke up at 8, I decided to go back to bed because extra zzzzz's are invaluable when I'm in recovery mode.  Plus, the apartment was cold, our internet connection was down, and the warm down comforter was calling my name.  Excuses, excuses. 
Needless to say, I was ready to get my brunch on when I finally did get up.  Enter Justin's maple almond butter.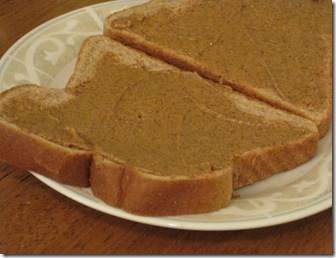 After spreading this on my two pieces of toast, I sucked the life out of the squeeze pack…just to make sure I got every last drop of nutty goodness. Do you lick the top of containers?  Hummus lids?  Spoons?  Yogurt tops?  Coffee stirrers?  I lick all of the above.  Never leave a man behind, right?  Kyle totally makes fun of me, but he actually finds it endearing how much I love food.  I think he would actually be worried if I stirred my Starbucks, and then threw away the stir stick without licking off the foam. 
Lunchie time.
Amy's lentil soup and a side of veg.  In a new bowl, too.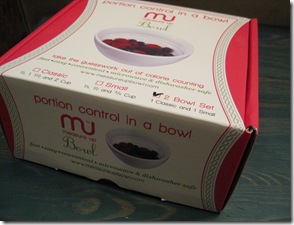 I got the 2 bowl set which includes a classic (large) bowl and small bowl.  These are SOOOO cool!  They are sleek and pretty, and on the inside there are engraved measurements to let you know exactly how much you are eating.  I'm not even a measure-my-food kind of person, but I can already see how instrumental these bowls can be in portion control.  Next time you are pouring oats into a measuring cup and then into a bowl, remember this product.  It cuts out the middle man and looks cute, too.  You can purchase them in my shop.
The large bowl has markings at the 1/2 cup, 1 cup, 1 1/2 cup, and 2 cup amounts. 
The small bowl has markings at the 1/4 cup, 1/2 cup, and 3/4 cup amounts.
So when you want to know exactly how much is in your heaping bowls of cereal, you can no longer claim ignorance…this bowl helps you stay accountable for actual portions.  Whether it's a large bowl of popcorn or a small bowl of nuts, the Measure-Up bowls can hold whatever.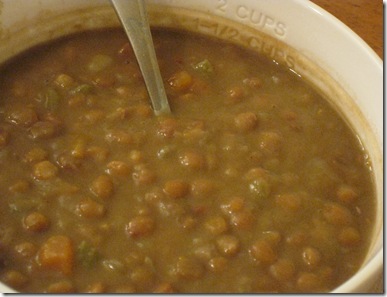 1 1/2 delicious cups of lentil soup.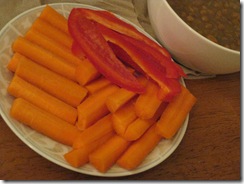 I dipped the carrots and red bell peppers in the soup, but also busted out some hummus just for good measure.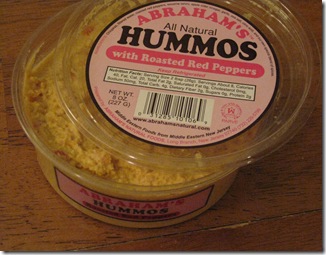 NOT. A. FAN.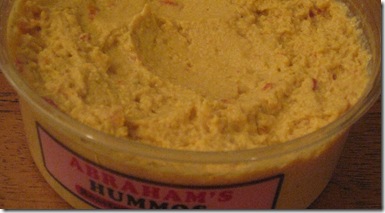 I never thought I would come across a hummus I didn't like, but Abraham's roasted red pepper was just was not tolerable.  It tasted like a sour salsa was mixed with hummus.  It was not roasted red pepper flavored at all, and it was blech.  A la garbage it went :(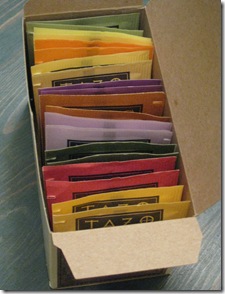 Taste the rainbow!  After getting so many great tea suggestions, I decided to get a Tazo variety pack in addition to a few other newbies.  Tazo has never disappointed me, so I am really excited to try all these new flavors.  And it looks really pretty 🙂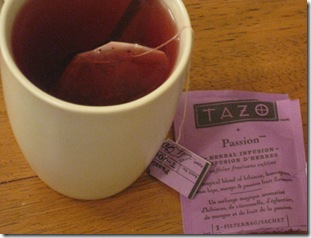 Passion tea was first at bat.  Such a beautiful color, and wonderful flavor. 
To gym or not to gym – that is the question.  I decided to suck it up and give it a whirl on the hamster wheel elliptical…I brought Chelsea Chelsea Bang Bang because I wasn't feeling super into it.  That helped a lot, so at least I made it through 30 minutes.  Better than nothing.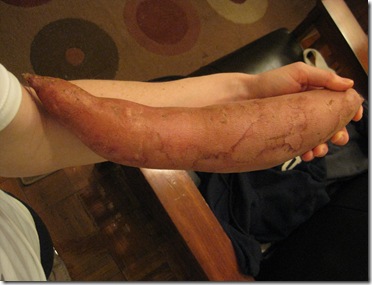 So freakin' huge.  I bought it because I was in awe of the sheer size of the thing, so I knew I had to show it on the blog.  But once I got home, I realized it was going to pose a bit of a problem to eat.  Uhhhh…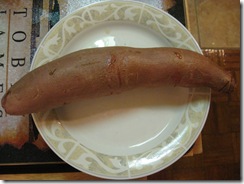 It didn't even fit on the plate!  I ended up eating the two ends, and saving the mid section for later.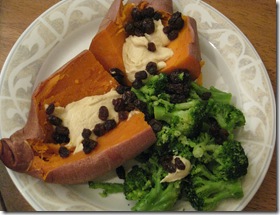 I steamed some broccoli and then covered it all in hummus (Cedar's OG tahini hummus) and raisins.  Sweet taters and hummus are my new obsession (how often do I say that about foods? every other day?).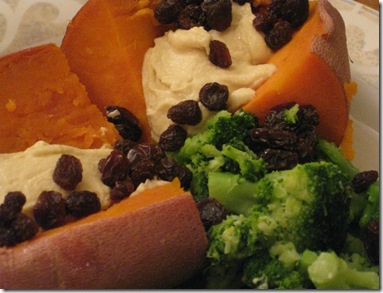 Amore.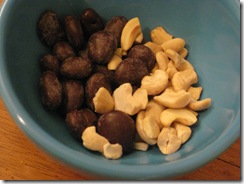 I snacked on a few bowls of these (carob covered raisins and cashew pieces) while Kyle and I played Scrabble.  For the record, I won. 
While Kyle and I did registry stuff (OMG – so fun!), I had a mug of Tazo Decaf Chai tea and two apples with cinnamon (one yellow, one gala). 
Off to bed.  Is warm weather in the cards soon? 
Elise March 16, 2010 Amy's, carob covered raisins, dried mixed fruit, hummus, lentil soup, nutbutter, nuts, potatoes, soup, tea Read more >