I realize it's pretty late to be recapping last weekend but I'm going to do it anyway because (a) these are my favorite posts to read and write and (b) my sister loves feeling in the loop with the family goings-on.  So.  This past weekend we went to visit my parents to celebrate my mom's birthday.  I thought we were going to have to cancel because P got a GI bug last week that was annihilating him but he turned a corner on Saturday.  Thank goodness.  Poor baby was trying his best to be happy but it wasn't pretty.  In true "when it rains it pours" fashion, he also took a big spill and got a goose egg unlike any other I've seen on his head.  Sometimes life is a doozy packman.  Might as well learn it when you're young.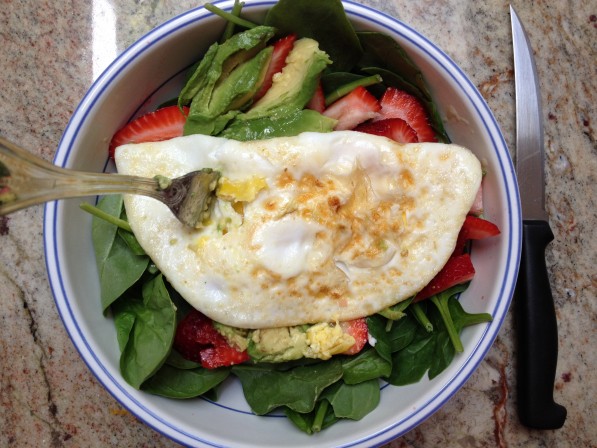 Annnyway, we made it to their place in time for lunch, so I threw their fridge contents in a bowl. Spinach, strawberries, avocado, and fried eggs.  Topped in EVOO and TJ's balsamic glaze.
P grubbed too.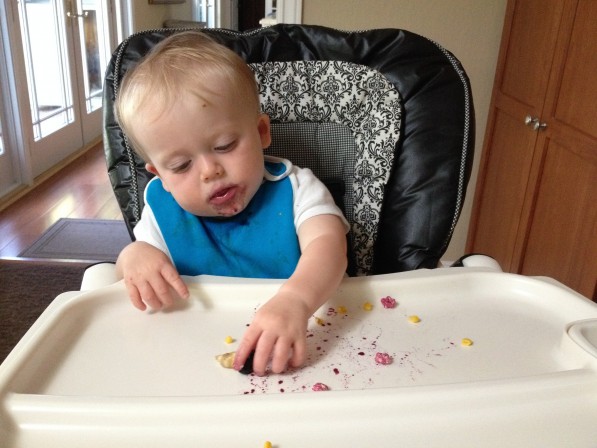 Blueberry goatee.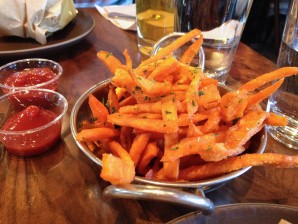 We were supposed to head into the city (SF) for dinner on Saturday night but I cancelled the reservations on Friday because (at the time) P was still ailing.  He had 3 am wake-ups the two nights prior and lots of blow outs that required full baths so I wasn't really in the mood to make a big fuss for a date night.  Still, we took advantage of my parents staying home to watch him and went out for a bite at Roam (it's minutes from my parents' house).  We've gotten take-out from this place before but it's more fun being in the scene.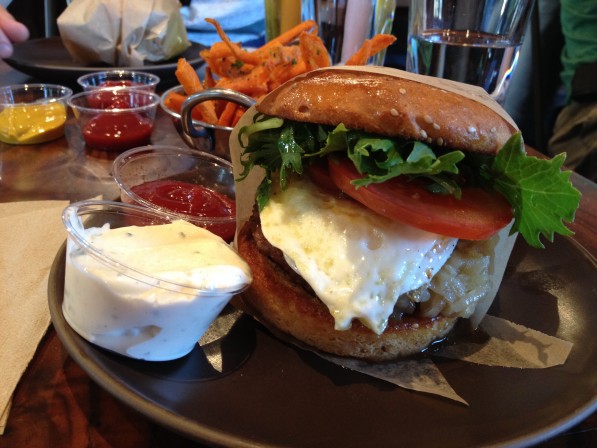 In addition to the sweet potato fries I got a bison burger with a fried egg on a GF bun.  I also got extra herb mayo on the side.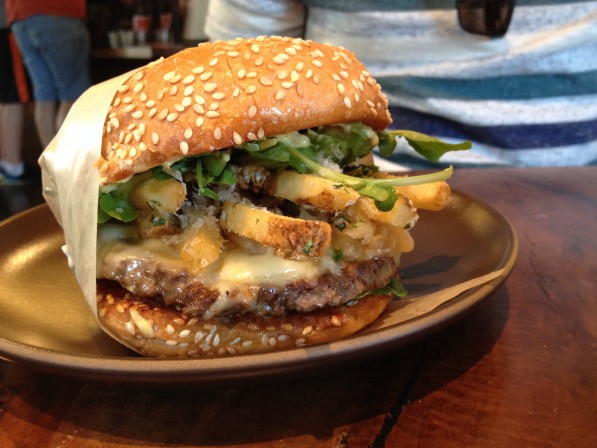 Kyle got the "French & Fried" which has fries IN the burger!
It was an early night for us though, and I'm glad it was because P woke up (again) in the middle of the night.  As much as I'd love to have a nice full night of rest, I really and truly love snuggling with him in the dark.  He's such a love bug and it melts my heart that I get to share those precious moments with him.
Per our Sunday tradition, we went for a family run around the neighborhood.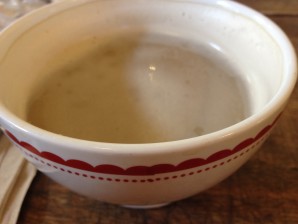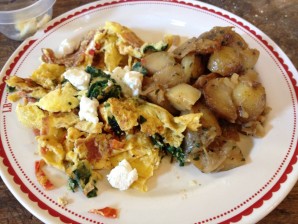 After everyone else got up and I fed P his breakfast, we all walked to La Boulange for breakfast.
I got an egg scramble and fried potatoes with a decaf soy cafe au lait.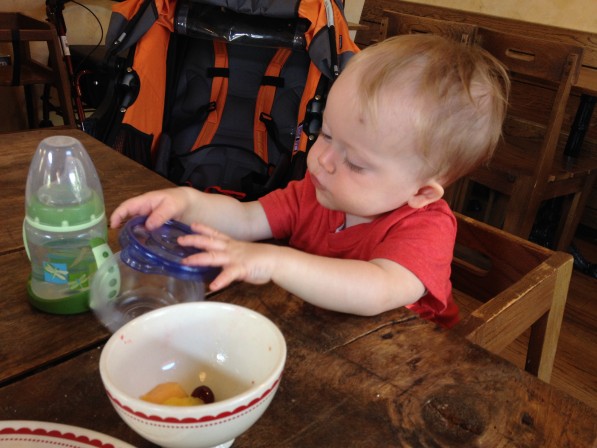 Pattycakes ate a second breakfast (making up for lost time after that GI bug!) and swiped much of the fruit on the table.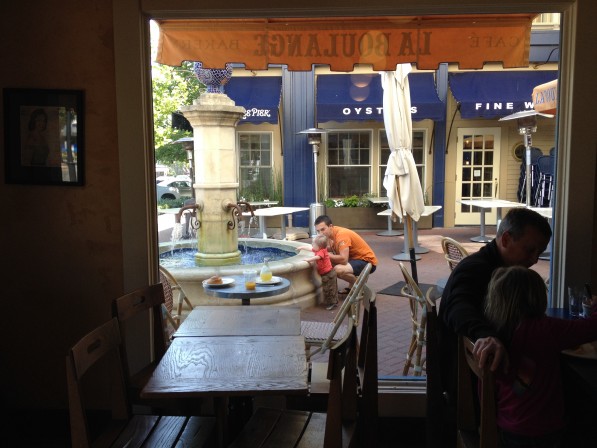 The fountain outside was a big hit for the water baby.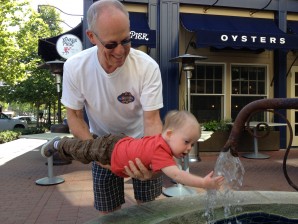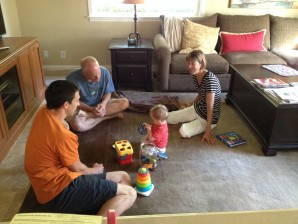 Think he gets enough love and attention?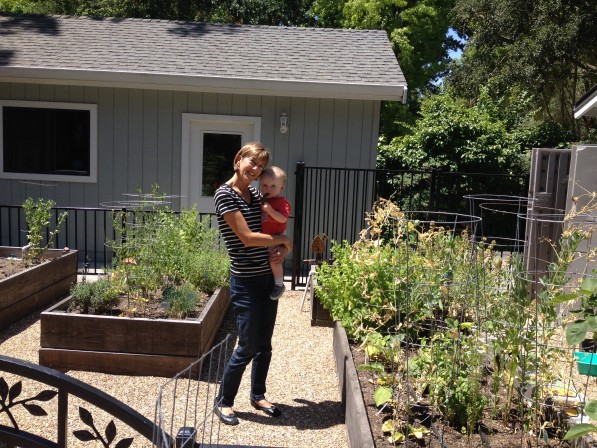 After his morning nap my parents worked on the yard and the rest of us supervised.  My mom showed P her garden which is a way more massive version of ours and not long after it was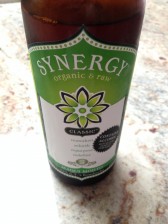 Eventually we lunched.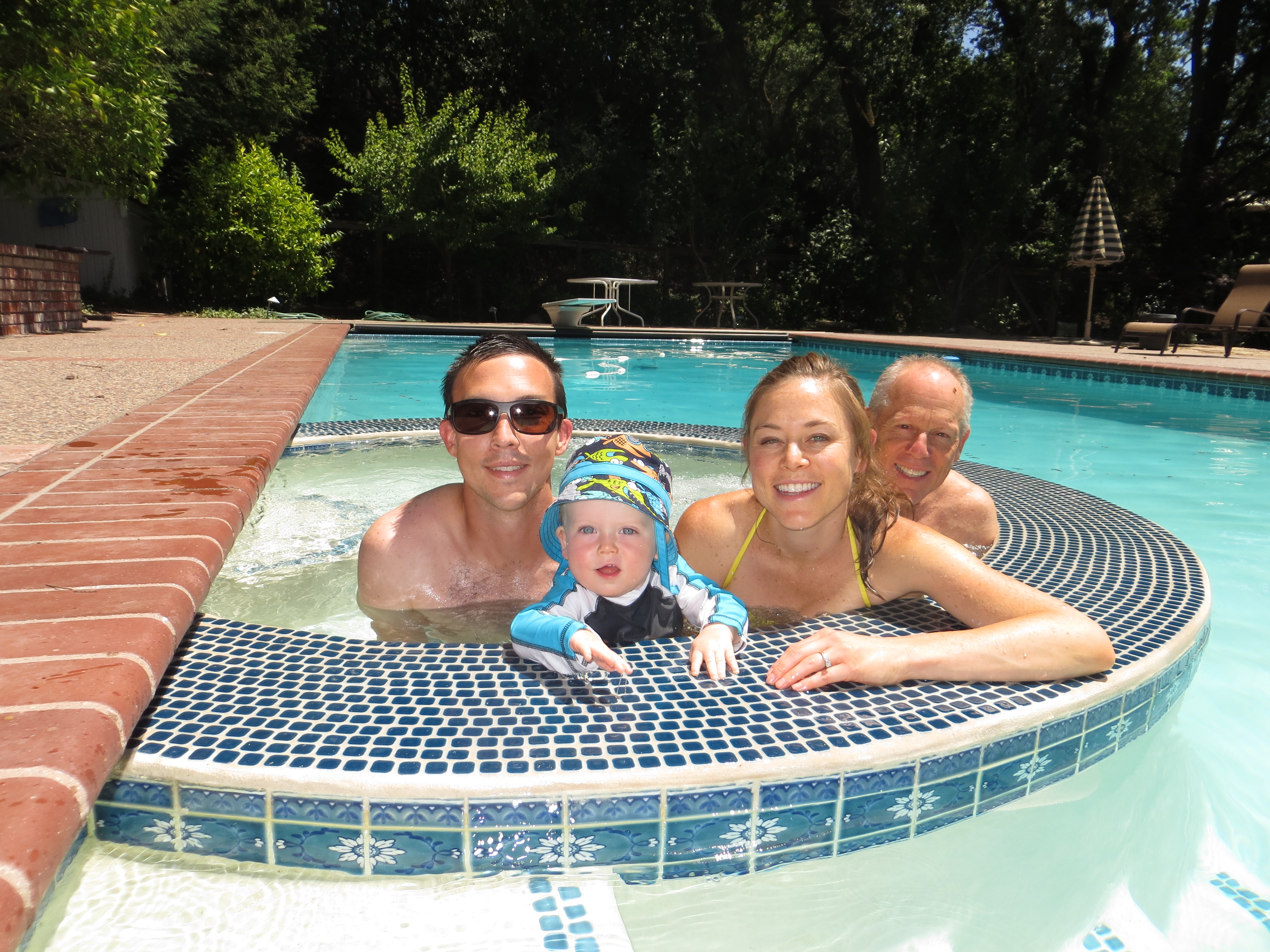 And then dipped in the pool!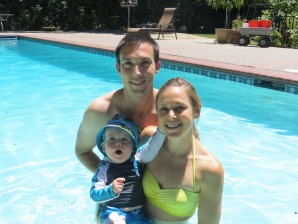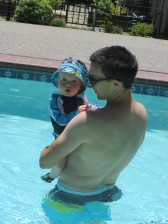 The pool was 78 degrees!! It took patty-cakes some time to warm to the situation but he was into it once he started splashing.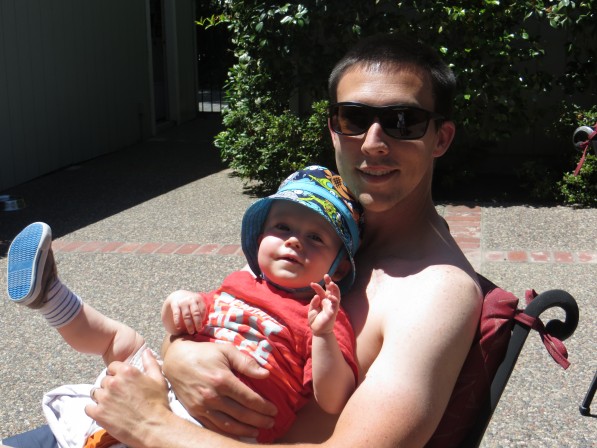 Just a nice lazy Sunday.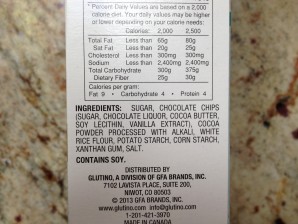 Little man boycotted his afternoon nap so he and Kyle played with the dogs while I made my mom's birthday brownies.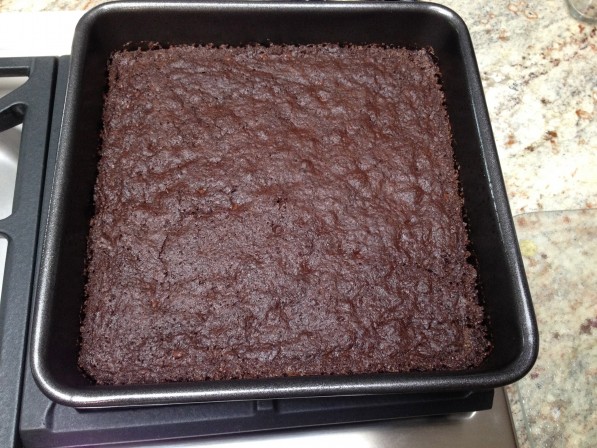 I used coconut oil and 2 eggs, but when I poured it into the pan it didn't seem like very much batter.  Hmmm…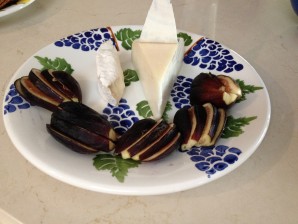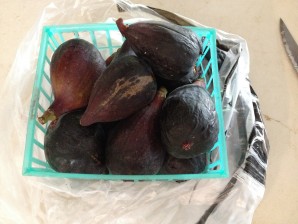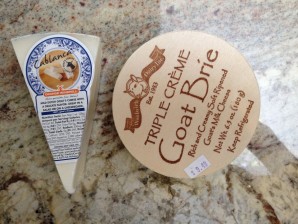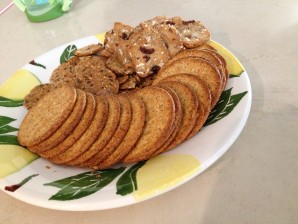 Afternoon apps!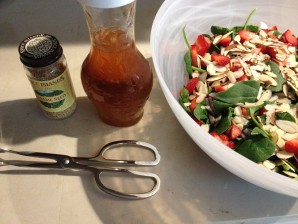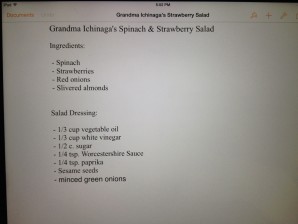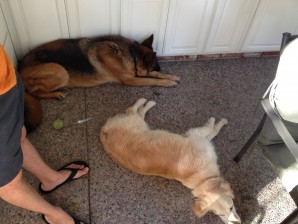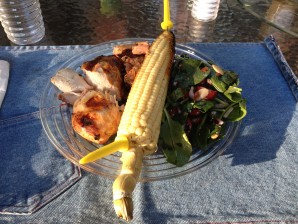 My dad BBQ-ed for dinner.  The dogs helped.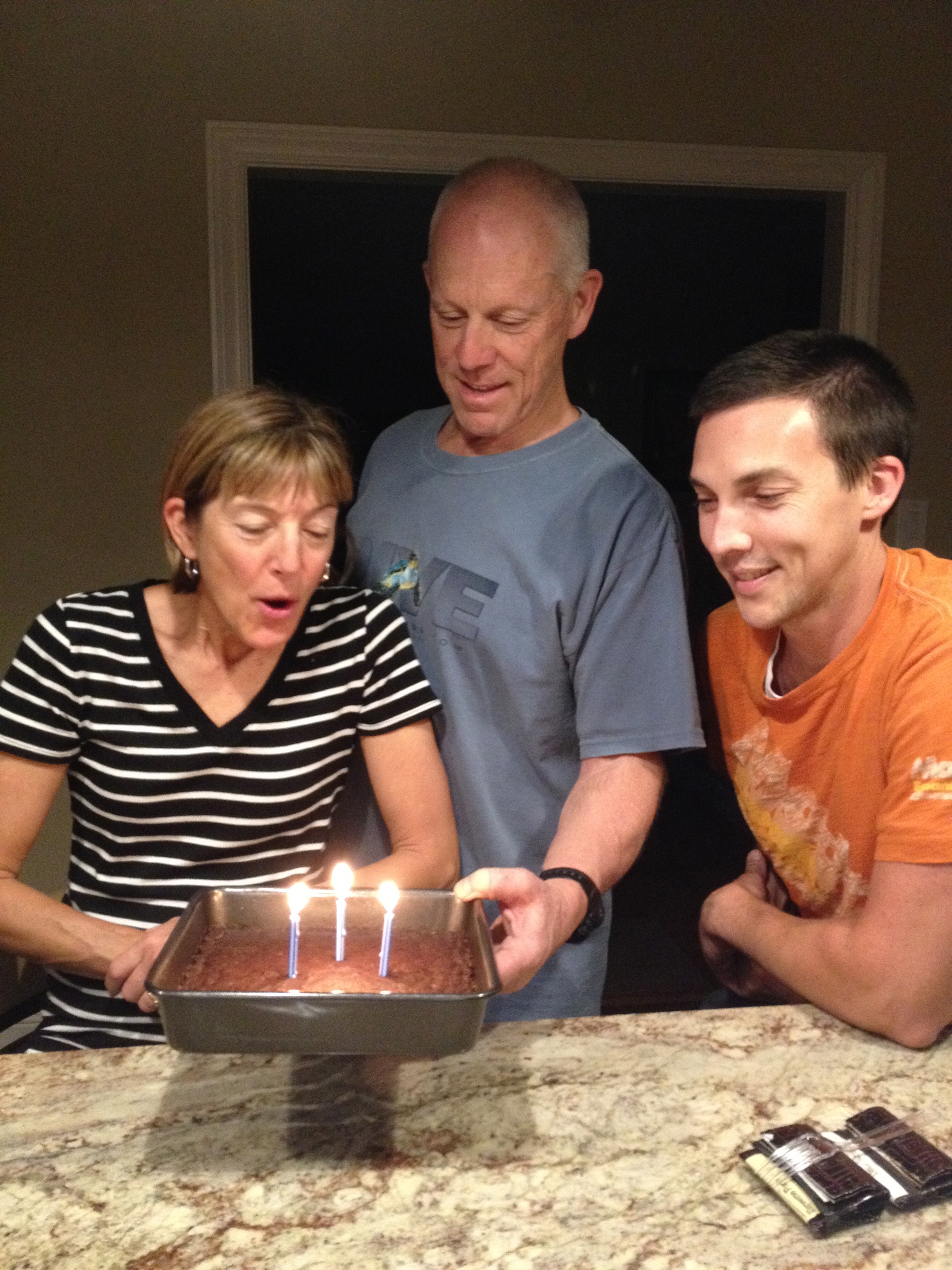 Then we sang happy birthday!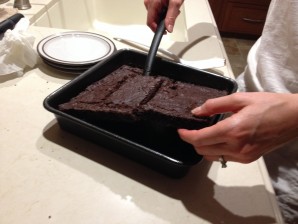 And about those brownies…
Ummmm…"crunchy" is how I'd describe them.  It was impossible to cut and serve out of the pan (without a chainsaw that would ruin the pan), but after I pried the first bit out, I was able to grab the entire thing in one piece.  The edges were hard (but still edible), while the middles were soft.  I don't think I'd make glutino brownies again, but we all went back for seconds so that says something, right?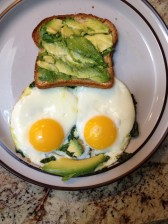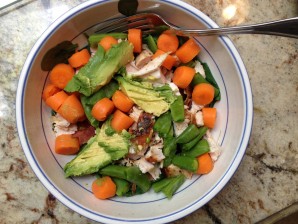 Breakfast: a man with a hat (aka eggs with spinach and Canyon Bakehouse toast with avo)
Lunch: salad with leftovers
My sister stopped by to play with her 'phew for a bit before his nap so she got to see his walking skills in person.  I spent the afternoon running very important errands (See's candy and WF) and shopping (Old Navy).
Kyle was away for a business dinner and my dad was spending the night at the vineyard (my grandpa just got out of the hospital) so it was just the girls for dinner.
Melon is soooo summer.
P devoured 1/4 of the melon in 3 seconds flat before doing a complete 180 and shunning it like I was trying to poison him.  Such a bizarre thing to watch.  But it left the rest for our salad.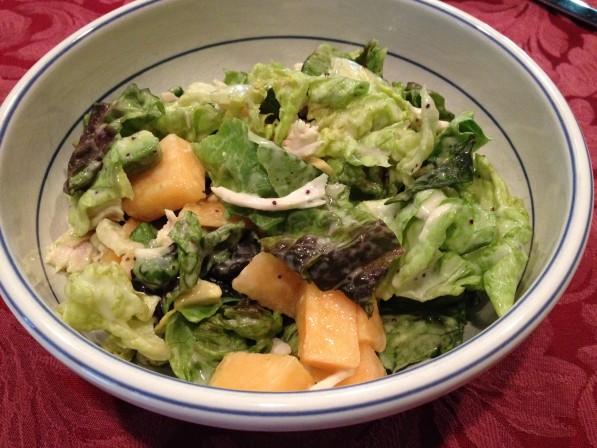 Yup, it's the butter lettuce, avocado, cantaloupe salad with poppyseed dressing.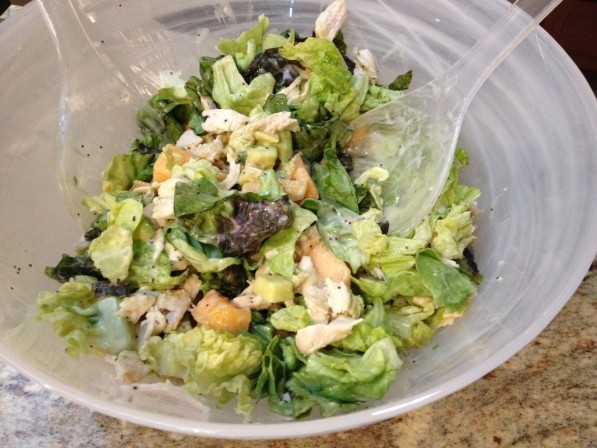 With chicken to call it a meal.  My sister joined us after she got off work and we all had a nice relaxing time chatting over fresh summer fare.  Mmmm…
I waited til Kyle got back to dig into the brownies for dessert.  Naturally we finished them all off.
Tuesday morning we hit the road early (P woke up at 4 am anyway) and it was back to the grind.
But now it's already another weekend and we have big plans to soak up this 100 degree weather.  🙂
Elise June 7, 2014 avocado, bbq, big salad, brownies, chicken, chocolate, coconut, dessert, eggs, glutino, goat cheese, potatoes, roam, Uncategorizedrestaurant review Read more >