Here are some products I've tried lately. Some were bad, some were okay, some were good, and some were awesome. So I figured I'd share. I have no affiliation with any of these companies. These are simply my honest opinions.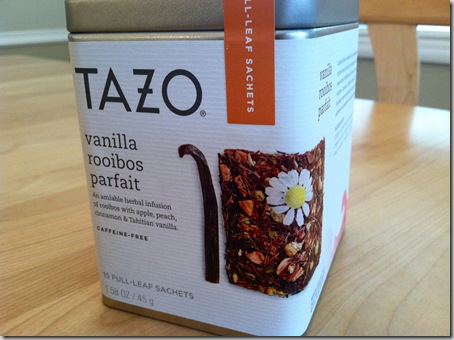 1. Tazo vanilla rooibos parfait (from Starbucks)
Because I like my tea really (almond) milky, I'm always on the lookout for new decaf varieties that aren't fruity and don't have mint or chamomile in them (the two herbal flavors I am not a fan of).  It's surprisingly hard to find.  And lately fennel is all the rage.  No thanks.  This tea is pretty good.  It's actually more fruity than I was anticipating, but there's still more vanilla than anything else.  I make a misto with it (half hot water, half almond milk) and happily gulp it down all day long knowing there's no caffeine. 
Will I buy again?  Yes.  As long as I'm breast feeding I need as many decaf tea options as possible.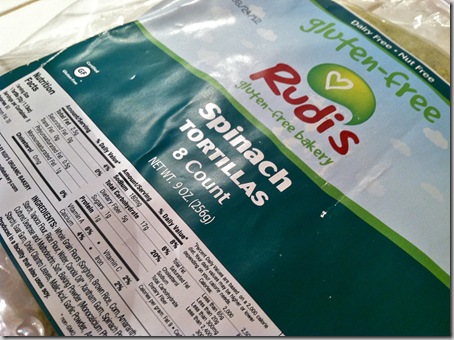 2. Rudi's gluten free spinach tortillas
I've tried the plain and the fiesta before.  I liked the plain, but the fiesta was just meh in my book (didn't really have much flavor to differentiate it from the plain to be honest).  I was kinda expecting the same problem with the spinach but I'm happy to say they were flavorful and didn't crumble or crack like Food For Life's GF tortillas.  You can store them in the freezer and use them infrequently too (just pull them out to thaw slightly before separating how ever many you need).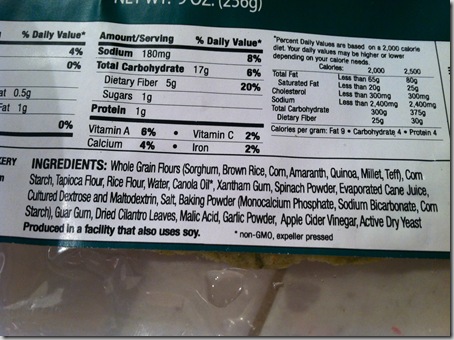 The ingredient list is semi long, but everything is recognizable and they didn't upset my gut at all.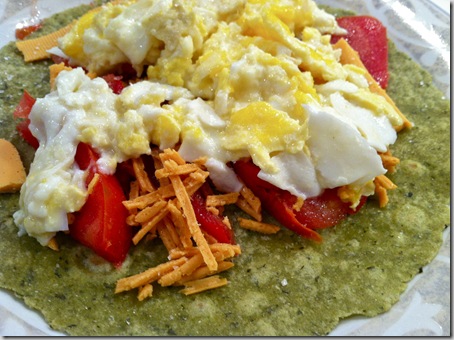 I was way too ambitious with this burrito (tomato, daiya cheddar cheese, and scrambled eggs), so I turned it into a quesadilla.  That required a fork…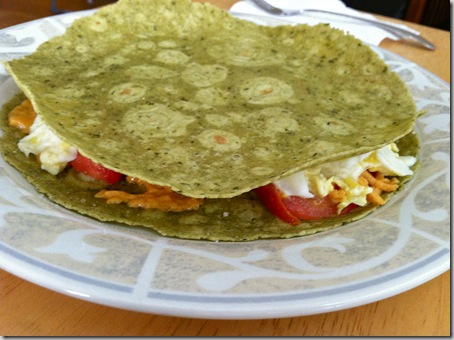 Definitely too packed.
I made another quesadilla with just mozzarella daiya, which actually melted and could be picked up.
Would I buy again?  Yes, yes yes.
3. Hi I'm skinny veggie tortilla sticks
These are basically fluff food, but they are really tasty.  Kyle was obsessed with them.  He loved the sweet onion flavor as well.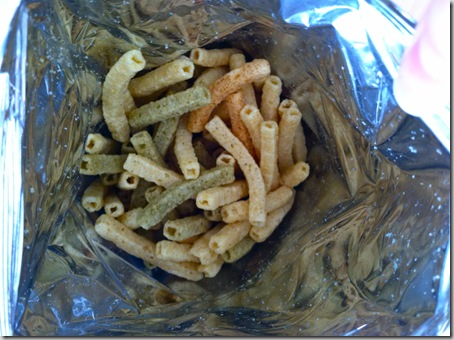 They aren't labeled as gluten free, but from what I can tell they don't have wheat or gluten ingredients (unsure about "tortilla flour" though).  The ingredient list is actually relatively short, with vegetable seasonings dominating it (after corn).  Don't worry it's non GMO. 
Would I buy again?  Yes, for Kyle, because he couldn't stop talking about how good they were.  For me, I'd pass.  I prefer popcorn if I'm in the mood for light snacking.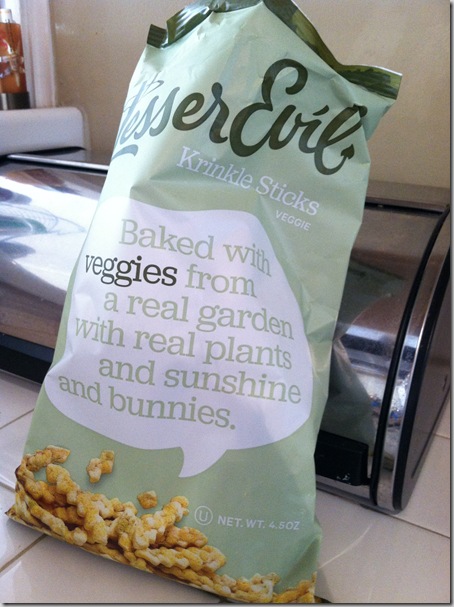 4. Lesser Evil veggie krinkle sticks
These are basically the same as the previous and when I asked Kyle which he liked better he looked at me in a confused way that let me know he thought he was eating the same product. 
These are slightly more nutritious in that they have actual vegetables (potato, corn, spinach, and broccoli) and whole grains (wheat, barley, buckwheat, millet, quinoa, and white corn) in them.  But as you can see, they are not gluten free. 
Would I buy again?  Probably not this flavor (I liked the sea salt ones more).  Even though I preferred these to the Hi I'm Skinny sticks, they aren't gluten free and I tend to try to stick to wheat-less snacks for FODMAPs reasons.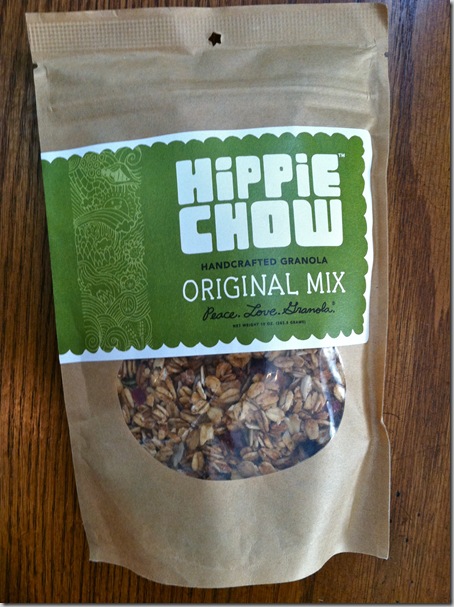 5. hippie chow original granola
Usually I make my own granola, but my parents saw this when they were on vacation and bought it for me because the name is too cute to pass up.  It was awesome!  A great balance of oats, nuts, seeds, and dried fruit (it had dried cranberries, sunflower seeds, pepitas, almonds, and pecans FYI).  I ate it plain and/or atop oatmeal rather than as cereal with milk. 
Would I buy again?  Since it's not available where I live, no.  But that's only because I'm too cheap to buy something online that I already make on my own 24/7.  It's really good though, so if you see it in your area, try it!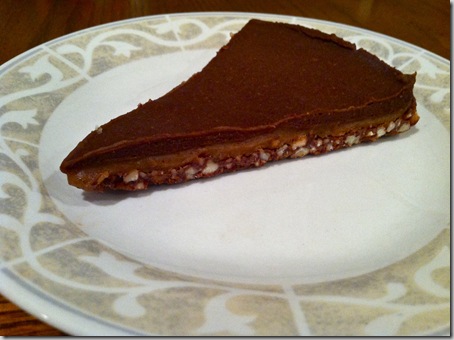 6. Pure Market Express turtle pie
These raw vegan desserts are CRAZY good.  This was the most decadent one yet (I've tried a few before).  I shared it with Kyle and he agreed (and he usually doesn't like raw food – apparently chocolate and nuts are the exception).  I do have to acknowledge the kcals though (almost 500 for that tiny sliver!).  While I don't track calories or even pay attention to how much I eat on any given day, I know for a fact that's a lot for a small dessert.  Since it's made of quality ingredients, it's way different than an ice cream sundae of equivalent caloric value.  In the end, I suppose it makes for a good treat once in a while, but definitely not something on the regular. 
Would I buy again?  Sadly, it's too expensive to justify.  But if Pure Market Express' items were available locally (they require shipping) then most definitely.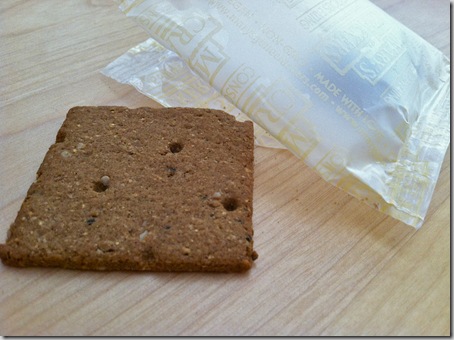 7. Mary's Gone Crackers (new??) crackers
I can't find what these are called on the website because apparently they haven't been debuted yet?  They were samples from Expo West, and they taste just like graham crackers.  They're delicious.  Like the rest of Mary's Gone products, they are gluten free and vegan. 
Would I buy again?  Yes!  I loved them.
8. Pacific original unsweetened hemp milk
I rarely buy hemp milk and I can't recall previous brands I've tried (we are an exclusively almond milk family).  While I appreciate the protein content in hemp milk (as opposed to other non dairy milks), I'm not in love with it's flavor.  It tastes chalky.  Like protein powder-y milk.  And it doesn't mix into coffee or tea (it separates and looks like miso soup).  I used it in cooking, so the flavor was masked, because I didn't like it plain.  I could see it being okay in a protein shake though since it lends itself to that kind of texture and flavor.
Would I buy again?  Nah.  I wish there were non dairy milks with better protein content, but the good nutritional stats in hemp milk still don't outweigh the flavor.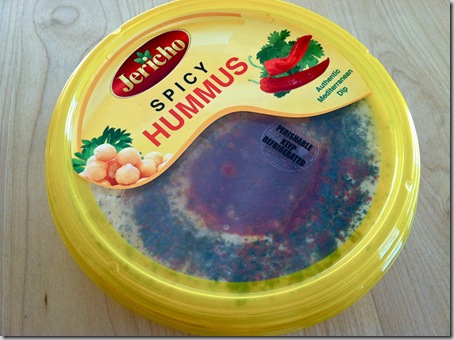 It's not often (ever?) that I stray from Sabra, but every once in a while I'm tempted to sample new brands of hummus I see.  Jericho was showcasing at Expo West but I haven't seen their products elsewhere. 
Their hummus was really thick, a plus in my book, and had a strong tahini flavor.  The herbs on top were also really fresh tasting!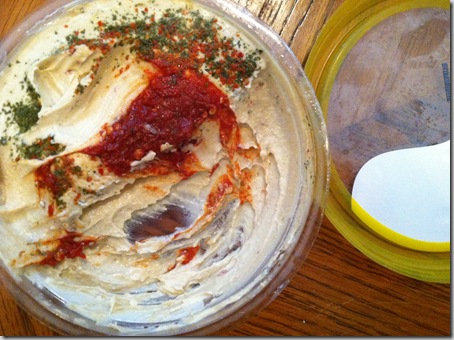 This flavor was a bit too spicy for me, but Kyle was a fan. 
Would I buy again?  Probably but I don't know where to find them.  I'd like to try the original (or any of the other flavors), but I have no idea where to buy them.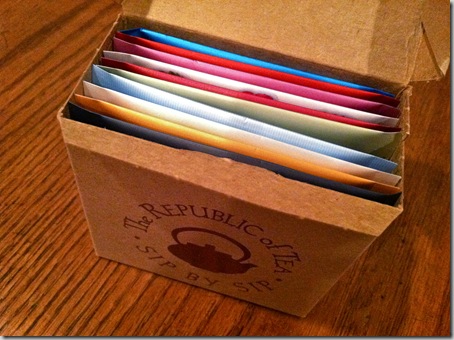 10. The Republic of Tea sampler
I haven't tried all of the flavors yet, but of the ones I have tried, here's the deal.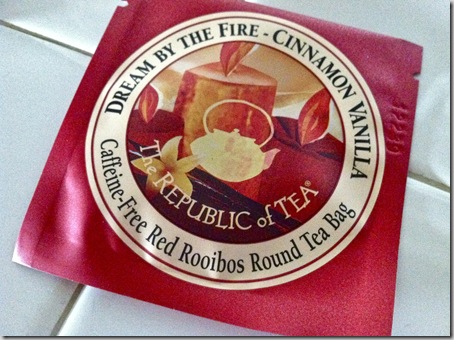 Cinnamon Vanilla – sounds heavenly, tasted like cough syrup.  Very weird.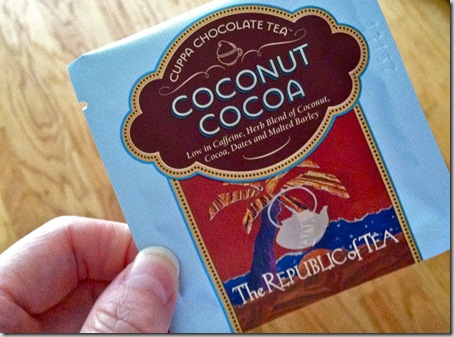 Coconut Cocoa – a totally dreamy tea bursting with chocolate-y coconut flavor.  Love!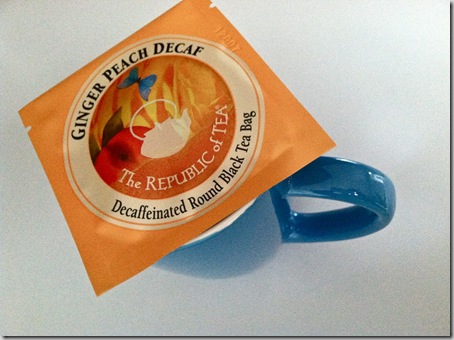 Ginger Peach – more peach than ginger.  For a fruity tea it was okay.
I haven't tried the rest because they either have caffeine or mint or chamomile.
Would I buy again?  Yes to the coconut cocoa.  No to the rest.
Elise April 29, 2013 Daiya, granola, hemp, hummus, lesser evil, Mary's Gone Crackers, pure market express, raw, rudi's, tea, tortilla wrap Read more >