You have to say that like Jack Donaghy.  Oh 30 Rock, I miss you.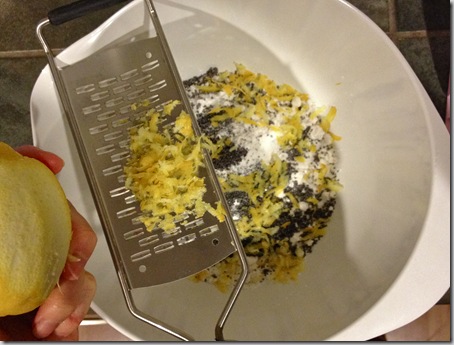 I really don't crave lemon too often.  Especially in winter.  Citrus seems summery to me, despite the fact that all the orange and lemon trees in our neighborhood are just now bursting with fruit.  Anyway, I picked a few lemons from our neighbor's tree because I was in the mood for lemony things. 
I swear my brain thinks up all the best recipe ideas in the late night hours as I lie in bed trying to fall asleep.  [Which is actually 9:30 pm for the record]  That's when these lemon poppyseed muffins came to me.  I was sure I'd forget the next morning so I made a reminder in my phone.  Seriously, I'm not normal.
I also had a big shipment of NuNaturals latest products burning a hole in my pantry.  I love love love their stevia.  It's the only kind I use.  The above is the pure rebaudioside-A extract, NuStevia Reb99.
Forgive the Breaking Bad reference but this stuff is like the blue rock of the stevia world.  Pure.  Perfection.  Nothing else but the clean taste profile of stevia.  A little goes a LONG way with this product.
Lemon Poppy Seed Muffins
[sugar free, gluten free, dairy free, nut free, soy free – yield 12 muffins]
2 cups gluten free all purpose flour (I used Trader Joe's brand)
2 tbsp poppy seeds
1 tsp baking powder
1/2 tsp baking soda
1/4 tsp salt
1 cup coconut milk (canned)
1 lemon (zest and juice)
2 eggs
2 tbsp coconut oil, melted
Directions:
Pre-heat oven to 350 degrees F.
In a large bowl, mix dry ingredients (flour through salt).  In a separate bowl melt the coconut oil.  Then zest the lemon and add it to the oil.  Finally add in the lemon juice and coconut milk and eggs.
Stir wet ingredients together and then combine with the dry ingredients.
Pour batter into greased muffin tin. 
Bake for 25 minutes (or until a toothpick inserted into a muffin center comes out clean).  [They don't bronze on top much so they may not look done, but they are] 
Enjoy as breakfast, snack or dessert. 
Notes:
If you don't tolerate/like coconut, swap another milk (almond, soy, etc.) for the coconut milk and another fat (canola oil, butter, etc.) for the coconut oil.
I'm not sure because I haven't tried it, but I'd venture to guess a whole wheat flour or (non GF) all-purpose flour would work just as well.
Since coconut oil is solid at room temp or colder, I recommend eating them warm out of the oven or re-heating them before you enjoy.  They'll be less moist if eaten cold.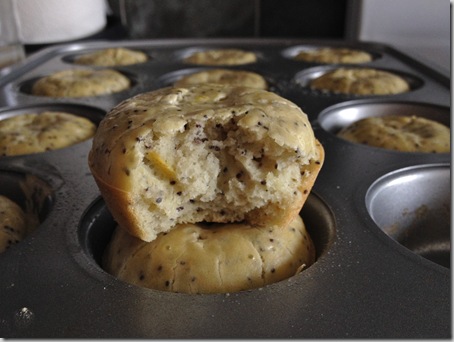 These are lemony and delicious with a sugary taste and no blood sugar spikes.
Yum!
Elise January 27, 2014 lemon, nunaturals, poppy seed, Stevia, trader joe'srecipe Read more >