I took pics of the days surrounding Kyle's 30th, but never shared them!  Never too late to celebrate?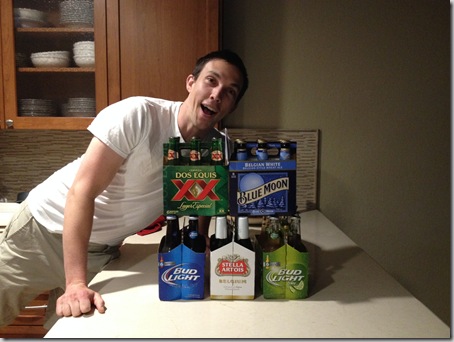 Here's the young man and his tower of 30 beers.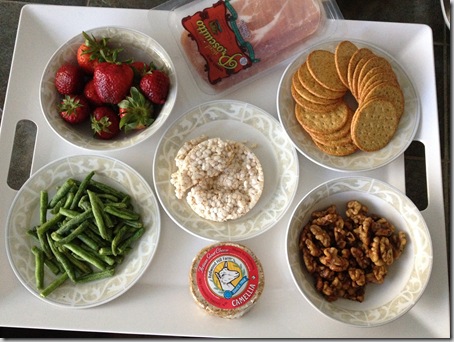 Kyle requested an al fresco themed birthday dinner, and since it was gorgeous weather it seemed like a brilliant idea.  We hit up the farmer's market that day and hung out in the park with friends, soaking up the social scene.  It was a taste of what it to come (once the weather finally commits to warmth in entirety). 
The above platter had some old & some new items, including Redwood Hill Farm's camellia goat cheese (strong and pungent!) with crackers and rice cakes, (home-made) candied walnuts, TJ's baked green beans, strawberries, and TJ's prosciutto.  With champagne on the side.  Cheers to three oh.
The next day we headed to my parents' for the weekend.  I had a lunch with my sister, my mom and some of her friends (who I've known my whole life) and P got to meet his new buddy, Jack!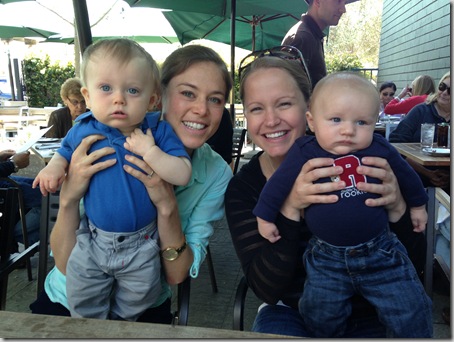 Don't they look like besties already?
I was INCREDIBLY late on account of the most embarrassing jet lag fiasco ever (I was up at 5 am but somehow fell back asleep and didn't wake back up until 10:30!!).  Yikes.  After running around like a cuckoo bird, I finally made it out the door.  The drive to my hometown is just under an hour so I made it as everyone else's plates were cleared.  Ha!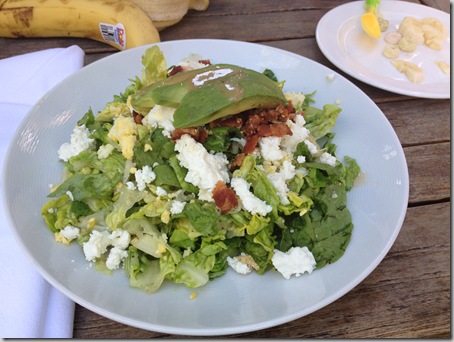 I still ordered a salad anyway.  My sister fed P and I caught up on everyone's lives.  Luckily everyone was able to hang out for a while so I didn't really miss too much. 
Later on my sis and I took P for a walk around the res.  Then she headed into work and my mom and I got started on dinner.  Kyle didn't get home til after I did the bedtime routine (and dinner) so he didn't get to see the little guy all day.  🙁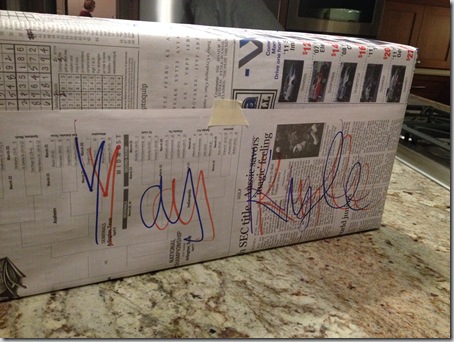 But he had a present waiting for him when he arrived so that counts for something!?  Wrapping was done by my dad, FYI.
We made a simple dinner for the three of us (my parents and myself) since Kyle was in the city for a work dinner.
"Foil chicken" is the most passed around recipe in my family and so I figured I should share it on the blog.  I've made it with tofu in the past and it didn't work as well but I never tried tempeh so perhaps that could work for a vegan option.
Foil Chicken [gluten free, dairy free]
Ingredients:
4 boneless skinless chicken breasts
dijon mustard
oat flour
4 green onions, sliced
4-8 mushrooms, sliced
4 tbsp tamari
4 tbsp Earth Balance
Directions:
Lay out four pieces of foil and pre-heat oven to 350 degrees F.
Rinse and pat dry each chicken breast.  Spread mustard over surface of chicken and dip both sides in flour.  Place on foil (repeat for each breast).  Top each breast with onions, mushrooms, tamari, and Earth Balance.  Wrap foil tightly around each breast.  Place on baking sheet and bake for 30 minutes.
Serve over rice and/or veggies.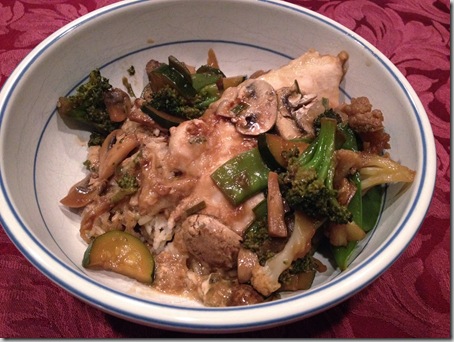 We had ours with brown rice and stir-fried broccoli, zucchini, and snow peas.
The next morning I worked out while my mom played with P.  Then I made us both breakfast.  Flax4Life has several GF muffins and I'm slowly working my way through all of the flavors.  Last time I was home I had the carrot ones.  I think I like blueberry best so far, but I know they make a chocolate one so let's be real.
For lunch I had a few pieces of GF toast with avocado and goat cheese mozzarella.  Canyon Bakehouse bread is maybe the best at replicating wheat bread.  
For Kyle's birthday dinner my dad BBQ-ed and my mom made cake.
I made a salsa for the fish with mango, avo, yellow tomato, cilantro, and lime juice.  Guess what wine that is?  Should be no surprise to regular readers.
The spread!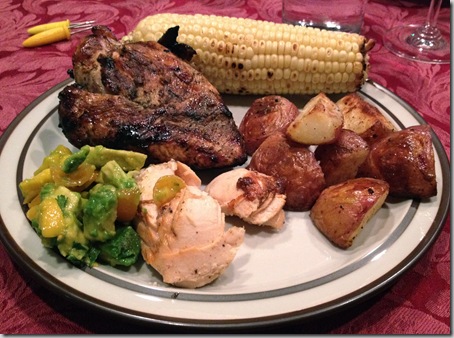 Happy birthday Kyle!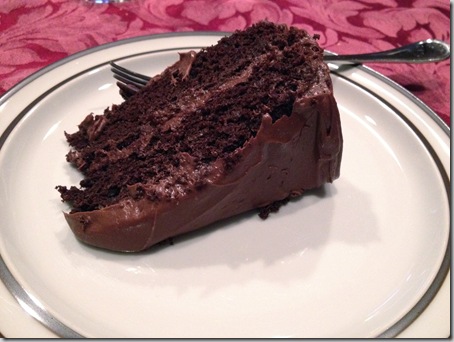 This is the same cake my mom made me for my birthday, but she made this frosting instead. 
I love chocolate so much. It was hard to not go back for a second (or third) slice.
We slept in the next day and I went on a run by myself, which ended up being one of my longest runs since having a baby.  It wasn't anything crazy but I'm starting to feel like I'm getting my endurance back.  Slowly but surely.  There are no races in my future, but I do see distance increases (if I'm being ever so hopeful).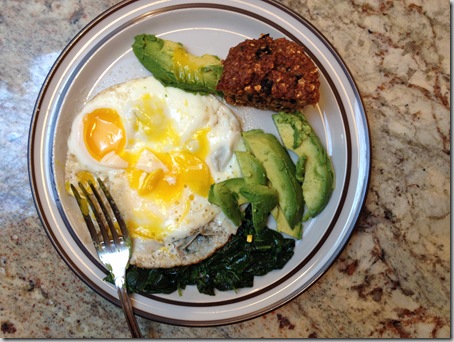 I made eggs with sautéed spinach that I topped with avocado and a GF blueberry muffin (half of which was eaten while I cooked the eggs). 
We enjoyed NCAA basketball and the sunshine as a family.  Weekends are the best.
We ate lunch outside (leftovers made into a salad) while P practiced walking all over the yard.  He is getting so good at walking!  Sorry for the surprise photo mom!
We went back home after lunch (timing our drive with P's afternoon nap) and watched more basketball until dinner.  I made us taco salads.  And definitely had quadruple the amount of chips shown.  So much, in fact, that I didn't have room for leftover cake.  Now there's something you won't hear from me often ever again.  Don't worry, I made up for it the next night.  🙂
And for those interested in baby travel crap, P has not been adjusting to the jet lag/daylight savings time changes AT ALL.  Rather than post about it (which would come across as a confusing mumbo jumbo with no helpful tips whatsoever), I am just going to address it quickly now.  I'm trying my best to sort it out, but in the meantime we are all in agony, so yeah.  Sleep fail, rock on.
Elise April 5, 2014 avocado, chocolate, chocolate cake, eggs, goat cheese, Kombucha, mexican food, nuts, stir fry, strawberries Read more >