I followed last week's fitness and meal plan almost 100% (like 97%)!  [I'm just as shocked as you are]
The only thing I'm not posting a recipe for is the lentil "meatloaf" – but that's because I've shared a few others already.  This one was most like the mushroom version (the first link).
The kale salad I made is basically this one.
The chili recipe is here.
And last, but NOT EVEN REMOTELY least, is the sausage & spinach stew.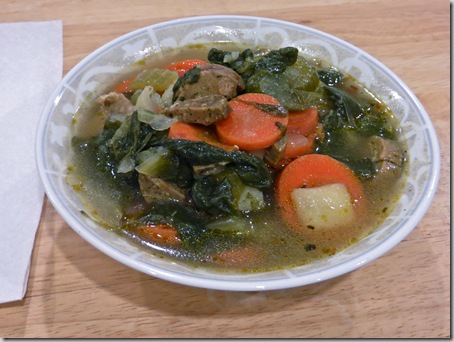 Okay, so this is my favorite dish at the moment.  I had the leftovers for lunch and dinner and then lunch twice more.  And each time I couldn't wait to dig in.  So warm.  So comforting.  Hearty and filling while also light and clean (and vegan).  I'm already planning on making it again next week.
Italian Sausage & Spinach Stew [vegan]
Ingredients:
3 tbsp olive oil
1/2 large yellow onion, diced
3 large handfuls of spinach
5-7 basil leaves, chopped
2 Italian flavored vegan sausages, sliced into half moons (I used tofurky brand)
3 large celery stalks, sliced
2 large carrots, sliced
3-5 yukon gold potatoes, diced
4 (+/-) cups vegetable broth
Directions:
In a large soup pot, add oil and sauté onions until translucent.  Next add spinach, basil and sausage.  Let the sausage bronze and the greens wilt, then add the veggies and broth.  Increase or decrease the broth depending on how thin or chunky you want the soup to be.  Then cover with a lid and let it simmer until the veggies are cooked. 
If you want, you can chop a few of the potatoes smaller so they over-cook a bit and get mushy to thicken the soup even more.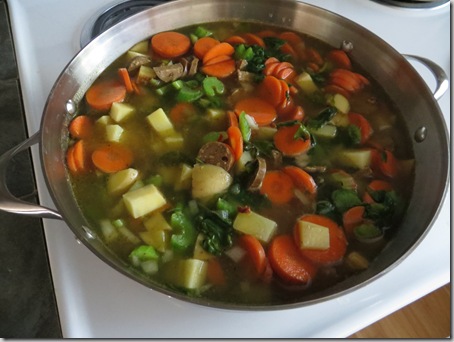 Before cooking (above) and ready to serve (below).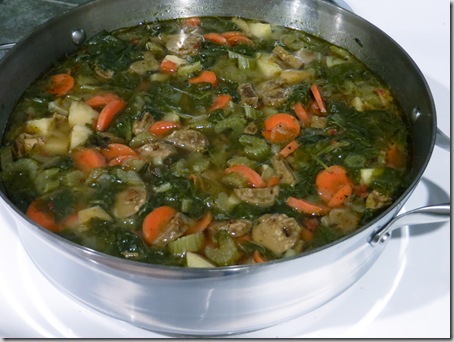 Freakin' fantastic.  This is like leftover Thanksgiving stew for vegans.  Mmmmm…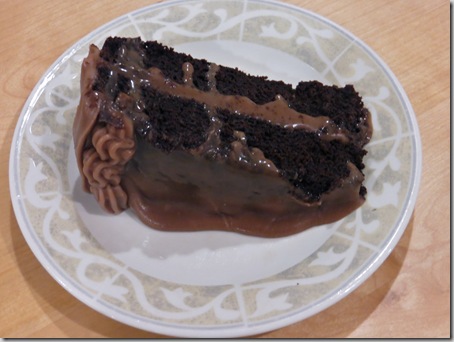 On the dessert front, I only have one slice of birthday cake left.  🙁
Good thing I have Halloween candy and cookies exploding from the treat drawer.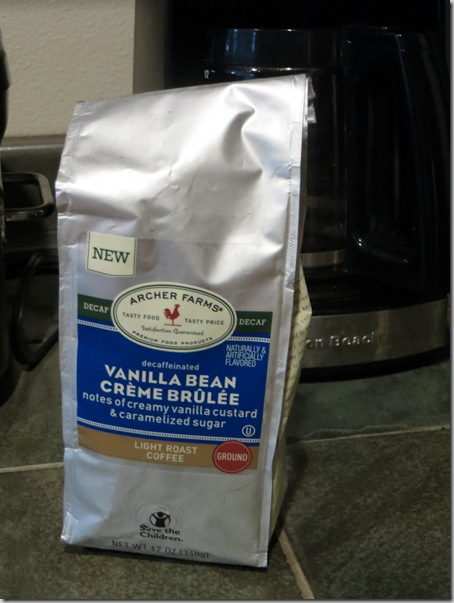 On the beverage front, I'm obsessed with both of these guys.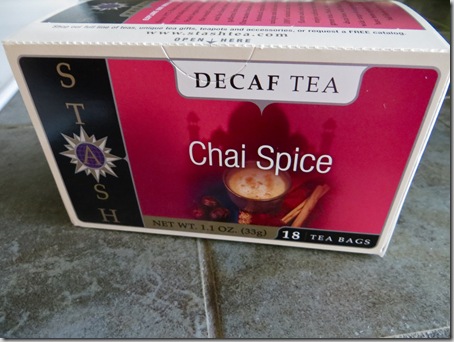 I only bought the vanilla bean crème brulee coffee because Target was all out of the decaf pumpkin flavor.  Boo!  But this was a winner of a backup, so I'll buy it again.  The Stash tea is the only decaf chai variety that I've ever liked in the history of ever, so I'm pretty stoked.  I'm a chai-a-holic, but haven't been into any of the non caffeinated versions I've tried (there aren't many to choose from).  This is also one of the cheapest teas I've ever bought.  Pretty good stuff. 
I'll be back later with the game plan for this week.