I know Thanksgiving was ages ago, but I'm only just getting around to uploading photos and such because my week/end was SO packed I couldn't be bothered to worry about blogging in a timely manner.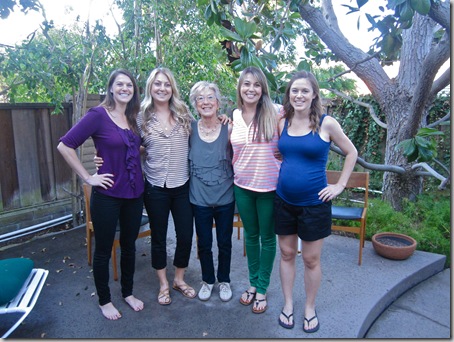 Shorts and a tank top in late November…must be Southern California…
For the first time in as long as I can remember ever (!!) I got the holiday – PLUS it's surrounding days – off of work. 
Kyle and I took full advantage, and drove down to his parents' house in San Clemente on Wednesday afternoon, to stay through Sunday.  Mini vacay!
He had a half day of work, so I took the opportunity to fill my morning with last minute errands and food prep.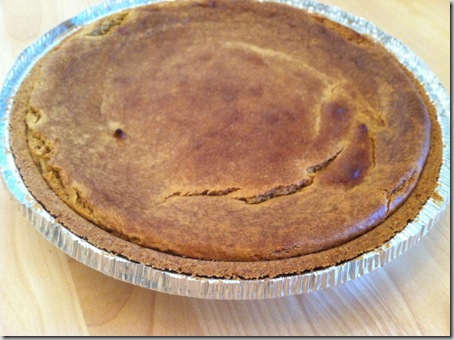 I made a pumpkin cheesecake (above) for my family's Thanksgiving and roasted nuts (below) for a kale salad I was going to make for Kyle's family's Thanksgiving.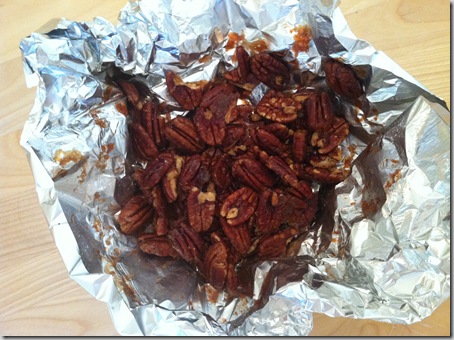 Recipes coming.
I had pumpkin butter & cream cheese oatmeal for breakfast, which was as brilliant and delish as it sounds.
But since I went to such great lengths to use up every last (perishable) food before we headed out of town, our fridge was completely bare by Wednesday afternoon.  Which meant I had to go to Whole Foods for lunch.  Such a sacrifice.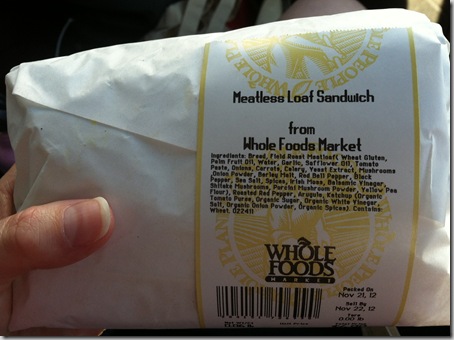 This is my new favorite thing. 
Made to order sandwich with gluten free bread, field roast loaf, avocado, mustard, vegenaise, lettuce & tomato.
I ate it in the car while Kyle was trying to navigate through the most intense LA traffic ever and naturally spilled on my belly.  Twice.  Washed it all down with a gingerberry kombucha.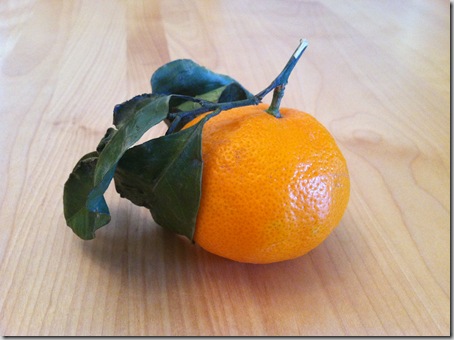 For dessert I had a few tangerines.  I'm obsessed with citrus at the moment, and these are on sale at WF for cheap cheap cheap.  They're almost easy enough to peel that your hands don't get all sticky.  Almost.
It took us a rather miserable 2+ hours to get to San Clemente.  [A trip that should be an hour long. Max.]
After we decompressed a bit, Kyle's dad fired up the BBQ and we threw together a quick dinner.  Nothing like a low key meal before the big day.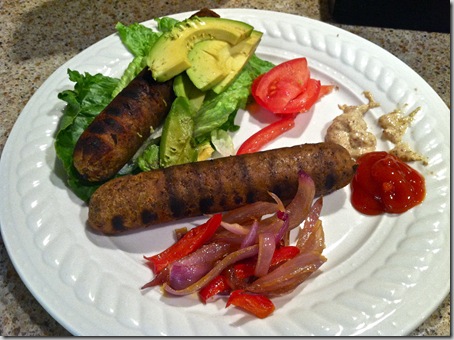 I had two Field Roast sausages with all the toppings, but no bun.  I was saving my (wheat) FODMAPs for Thanksgiving the next day.
I never took a picture of dessert, but we had vanilla coconut ice cream.
The next day was the big day.  Evidently I didn't photograph my breakfast either, but it was my preggo standard – two fried eggs with toast and a pound of Earth Balance.
I made a lunch out of appetizers – with hummus & guac aplenty on corn chips and carrots (I still dodged the wheat).
On the left: Kyle reading his mom the directions to make vegan gravy.  On the right: the full spread.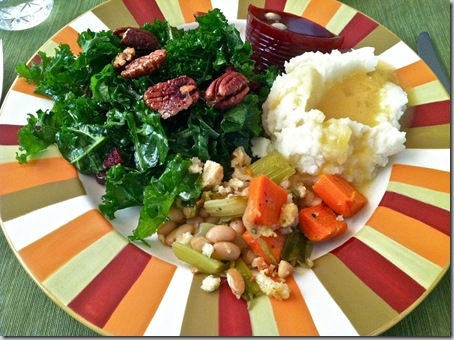 I think 50% of my plate was kale salad.  The rest was vegan mashed potatoes with vegan gravy (yum!), vegan cassoulet, and cranberry jelly (from the can, obvs).  I had seconds of kale salad, but otherwise didn't really stuff myself.  Even my normal portions make me so uncomfortable, it's really miserable feeling packed to the gills while pregnant.  Pre-pregnancy I thought the holidays would be so awesome – eating heaps and heaps with the excuse that you're "eating for two".  What a load of crap.  I think I ate less this holiday season than any other.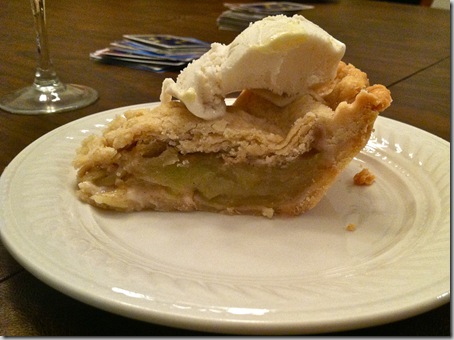 Anyway.  After dinner we played cards until it was time for dessert.  Kyle had apple pie a la mode, while I had a vegan carrot cake with cream cheese frosting (made by Whole Foods).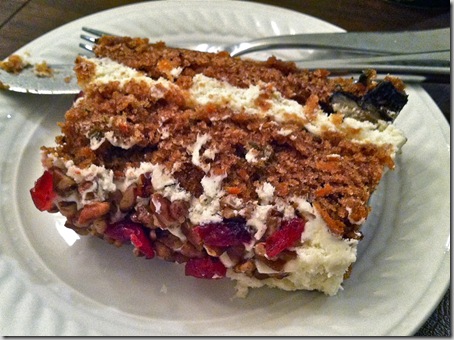 I had to pick around the walnuts, but otherwise it was fantastic.
The next day was one of recovery.  I slothed it up in the morning, reading my book, watching football, and just being a lazy bum.  I had the eggs & toast (again) for breakfast.  And by noon I was ready for something more active, so Kyle and I went for a walk around the neighb.
Lunch was, of course, leftovers.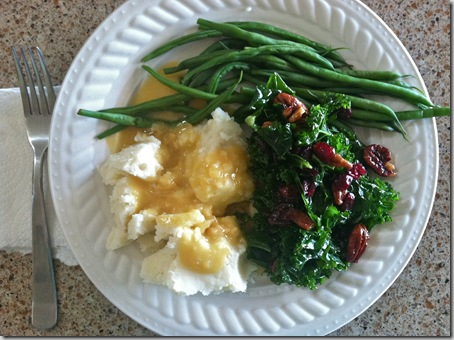 Including the green beans that I somehow missed the previous night.
Later on Kyle and I headed to Newport Beach to my G-ma's house (where my family was spending the weekend). 
How many people does it take to arrange a table for nine?
TACO NIGHT!!!!
Even though this was supposed to be a mellow night (before Thanksgiving #2 on Saturday), it turned into quite the elaborate production. 
With both corn (fried and un-fried) and flour tortillas, black and refried beans, grilled peppers and grilled fish, regular cheddar and daiya, avocado, tomato, lettuce, and salsa.  And probably other stuff I'm forgetting.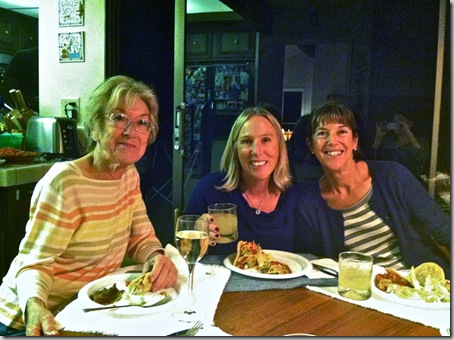 G-ma, Auntie Wendy, & mom.
We all sang happy birthday to Laura and then dug in.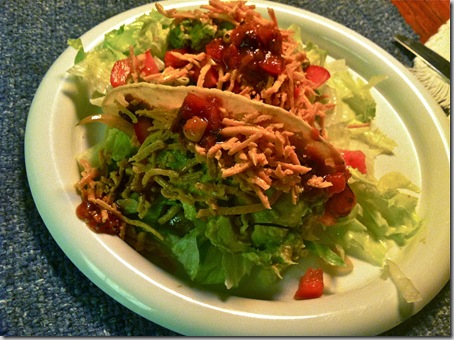 Yum.  I was way too ambitious with this plate and ended up saving half of my second taco for the car ride back to San Clemente. 
Kyle had coffee once we got back to his parents' house, but I crashed almost right away.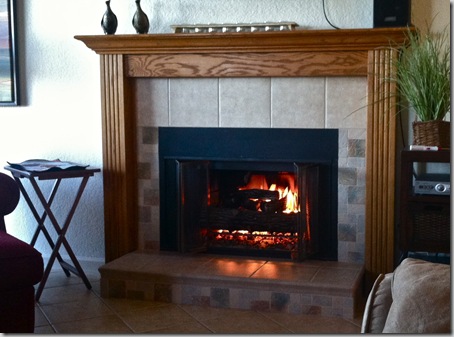 Another relaxing morning by the fire with eggs & toast.
Then we headed back to Newport Beach for Thanksgiving with my mom's side of the family.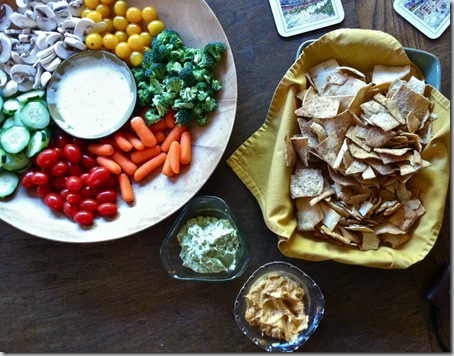 This time the pita chips lured me in.  🙂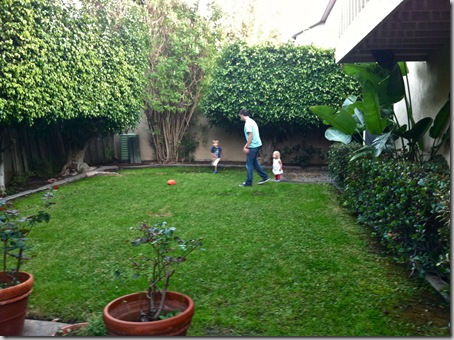 Finn discovered Kyle's inability to say no and exploited it the rest of the day requesting him as a play buddy.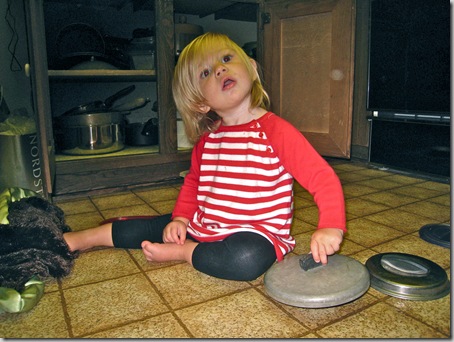 Ivy was more easily entertained.  With tupperware, pots and pans.  My cousin's kids are too cute for words.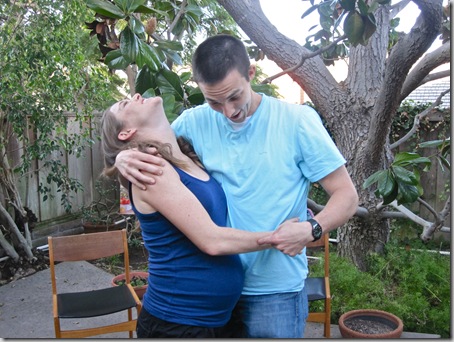 We took a lot of family photos, but this is really the only one worth showing.  I mean, it says it all, doesn't it?  Holy crap, we're going to be parents?!?!?
On the left: Murphy Goode merlot mocking me.  On the right: dad carving the turkey.
In total, I think there were about 20 people to serve.  So we had a TON of food.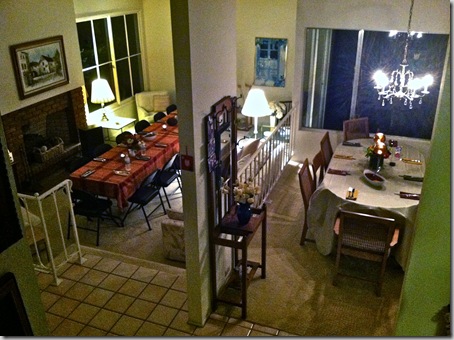 [Cool] Kids table on the right.  🙂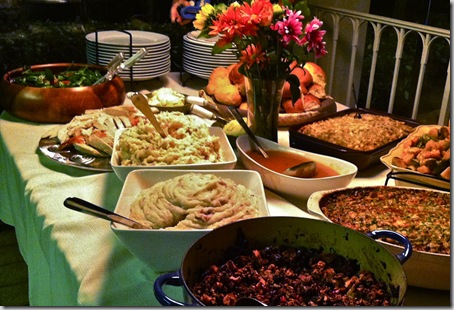 The food…where oh where to begin…
Cranberry jelly. Rolls.
Vegan mashed potatoes (there were reg ones too).  Spinach salad.
Jello.  Vegetarian (turkey-less) stuffing.
Roasted veggies.  Green bean & pea cheese casserole.
And so much more.  I'm even finding things in these photos that I somehow missed on Saturday!?!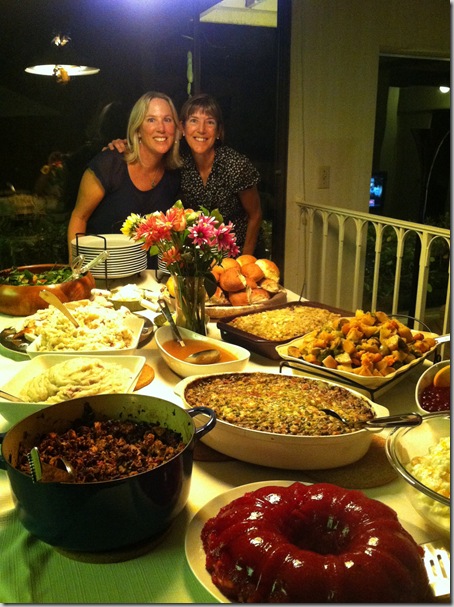 My mom and Aunt were responsible for cooking almost everything.  Seriously.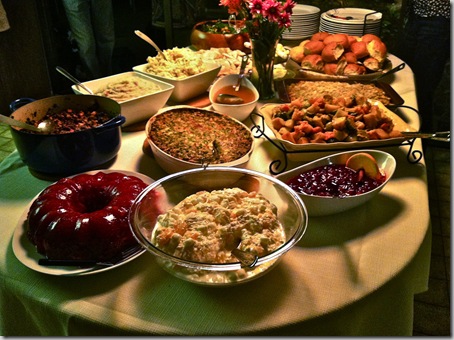 So much to be thankful for this year.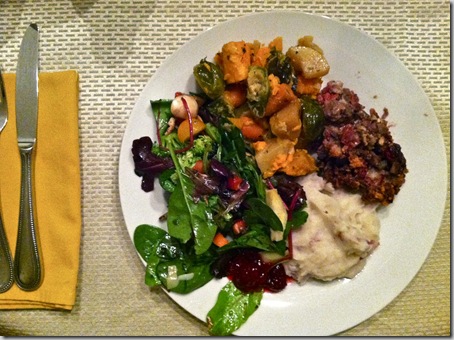 Can you believe it – this measly plate left me feeling stuffed to the brim.
I didn't even have room for dessert (including my own pumpkin cheesecake).
After helping clean up (while getting heaps of leftovers "forced" upon us [gladly accepted]), Kyle and I headed back to San Clemente.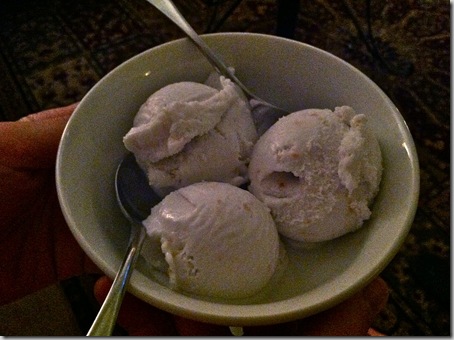 I managed to find room for dessert after all.  :)  Kyle and I watched Home Alone with his parents and enjoyed some of his dad's home-made coconut ice cream. 
For some reason I took a photo of my breakfast the next morning.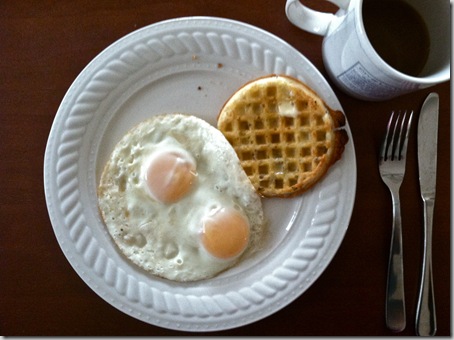 This is probably because I tweaked my routine (ever so slightly) by switching out toast for waffles.  And not just any waffles.  These are Vans vegan and gluten free blueberry waffles.  Two thumbs up, by the way.
After breakfast Kyle and I hit the road (yet again).
This time we were headed down to San Diego for the Chargers vs. Ravens game.  Being a huge football fan, it may seem surprising that I've never been to an NFL game, but this was my first, and to say I was excited would be a huge understatement.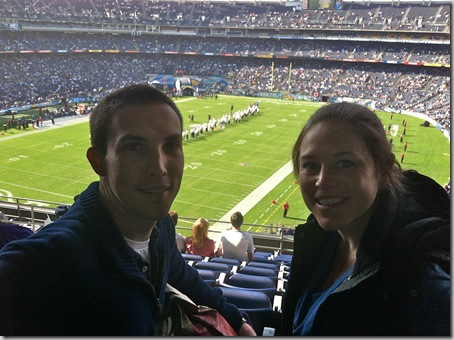 I did some research on Qualcomm stadium and since you're allowed to bring in your own food, we decided to stop at the Escondido Whole Foods on the way.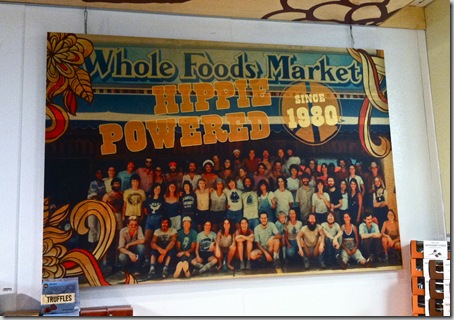 Because I never turn down the chance to explore a new Whole Foods. 🙂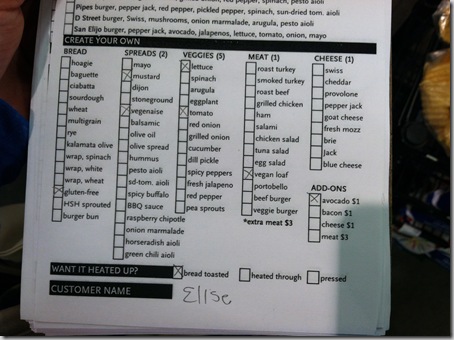 Does this look familiar?  I wasn't joking when I said this is my new favorite.
The traffic getting off the freeway and into the stadium was obnooooooxious.  And by the time we made it to our seats we were both ready to dig into our lunches.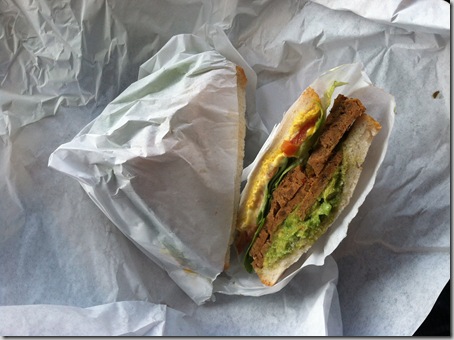 I took my last bite just in time for kickoff.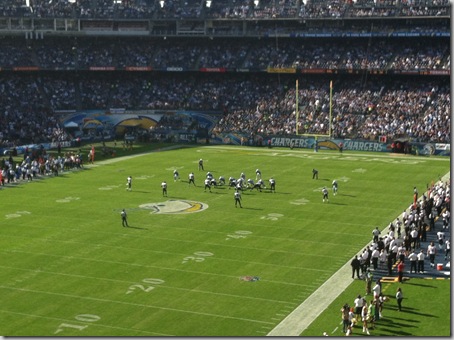 Kyle got us tickets as my 30th birthday present and it was such an exciting game.  It went into OT and was basically the most fun I've had in a long time.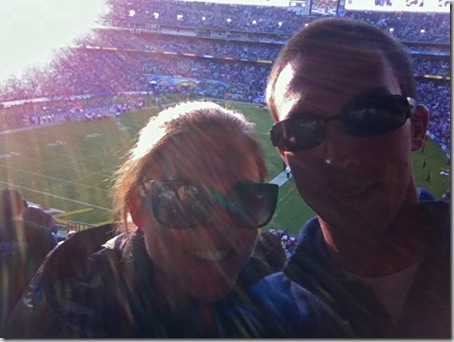 And now I can cross it off my fake thirty by thirty list.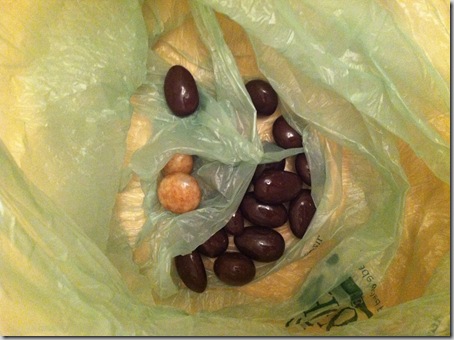 Even though I snacked on dark chocolate covered almonds throughout the game, I was still ravenous by the time we left.  And thanks to the horrendous traffic and disorganized exit situation, we weren't actually on the road until nearly 6 pm.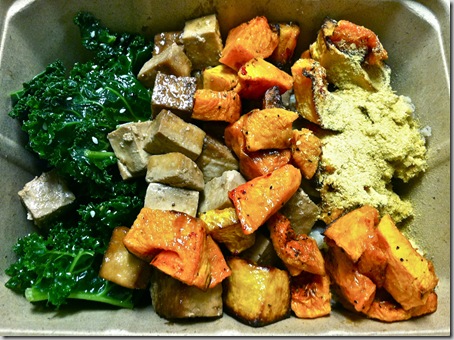 So we went back to WF again.  Underneath the baked tofu and roasted butternut squash is emerald kale salad and vegan mashed potatoes (which I topped with nooch).  I think it's safe to say I got enough Thanksgiving food this weekend!
After a quick pit-stop at Kyle's parents' house, where we packed everything back into the car, we were back on the road, heading home to Santa Monica.
What a holiday!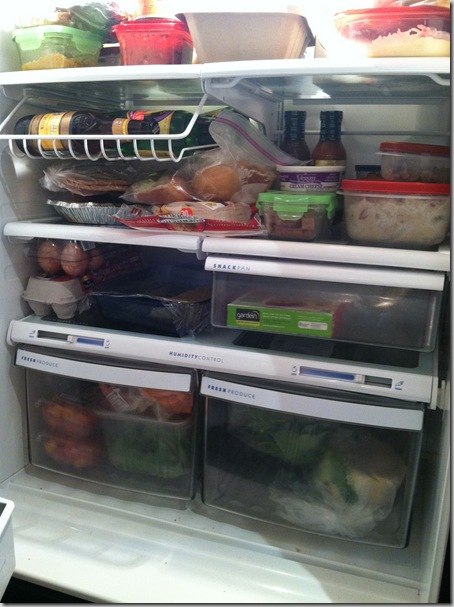 And somehow I wound up with enough leftovers from all the Thursday through Sunday meals that our previously empty fridge is now packed.
Time to get ready for Christmas…
PS It's hard to believe, but I'm a couple days shy of 30 weeks!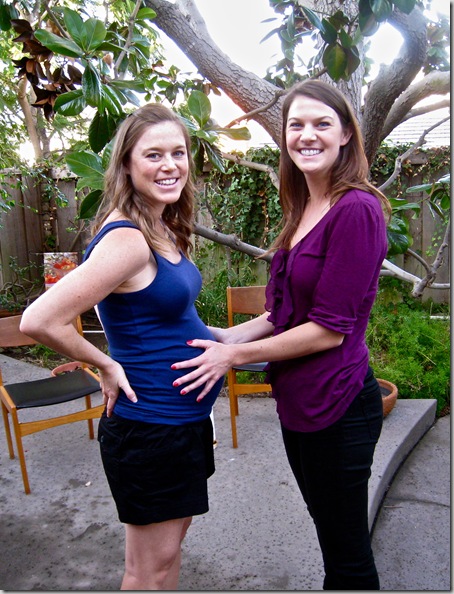 Elise November 27, 2012 avocado, bbq, chocolate, coconut milk, Daiya, dessert, earth balance, eggs, field roast, kale, mexican food, nuts, potatoes, pumpkin, root veggies, spinach salad, vegan cake, vegan stuffing, waffles, WF tofu, whole foodsThanksgiving Read more >